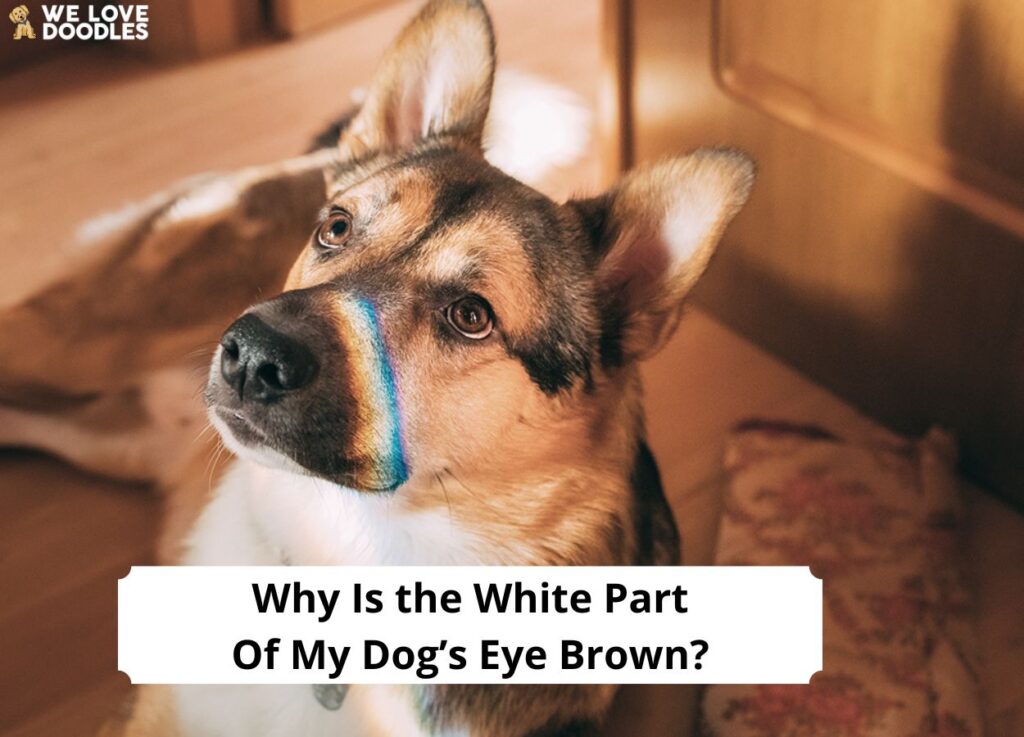 If you have ever noticed a brown spot on the white part of your dog's eye, you may be wondering what it is.
Don't worry – you are not alone. Caring dog owners are curious about this phenomenon and determining if it's an emergency. Many other influencing factors and related conditions cause the white part of the eye to turn brown in a dog.
This article will explain why the white part of a dog's eye can sometimes turn brown. It also discusses diagnosing and treating the eye condition called pigmentary keratitis with your veterinary.
However, if your pet has a cancerous condition caused by eye melanoma, a more drastic approach may be recommended.
Before you scroll down to a more in-depth answer to this question you can check out these other dog-related guides: How To Clean Dog Eye Boogers and Dog Eye Bleeding (What Should You Do?)
What is Pigmentary Keratitis?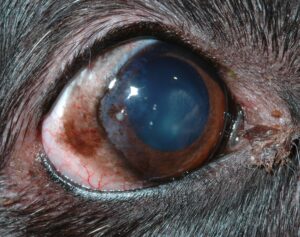 Pigmentary keratitis (PK) is commonly apparent in broad short skull breeds of dogs and displays as a brown pigment in the white of a dog's eye.
Boxers, Bulldogs, French Bulldogs, and Pugs are very susceptible. This condition may explain your dominant concern, why is the white part of my dog's eye brown?
The deposit of pigmented melanin granules causes this brownish-black discoloration of the eye's surface. The facial conformation of these breeds and genetic factors contribute to the formation.
Treatment of pigmentary keratitis typically involves topical ocular lubricants and using anti-inflammatory medications. Some cases require surgical intervention necessary to remove the build-up of pigment on the eye's surface.
What Causes Pigmentary Keratitis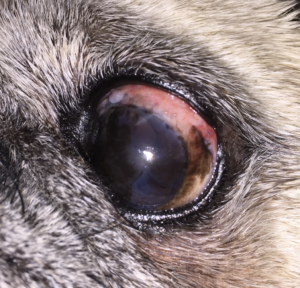 Pigmentary keratitis is a relatively common condition in dogs, especially those with lighter-colored eyes.
The condition can happen if the eye is chronically irritated or inflamed, leading to the deposit of melanin granules within the cornea.
Symptoms of pigmentary keratitis include decreased vision, squinting, and tearing. If left untreated, the condition can eventually lead to blindness.
One of the most common causes of pigmentary keratitis in dogs is entropion. An eyelid rolled inwardly characterizes this condition. Untreated, this condition can cause trauma to the eye's surface and affect the cornea and conjunctiva.
Other factors for pigmentary keratitis include ectropion. These conditions can lead to chronic irritation and inflammation of the eye, resulting in pigmentary keratitis. A veterinary may suggest surgery to correct the underlying disease and prevent further damage to the eye.
PK is a condition that causes the formation of pigment in the cornea. However, the underlying cause remains undiagnosed in some instances.
Even after addressing the underlying cause, pigment can continue to form. Genetics may play a role in persistent pigment formation. Pigmentary keratitis can cause blindness if left untreated.
Early diagnosis and treatment are essential to preserving vision. Treatment options include topical steroids, cyclosporine, and surgery. Research is ongoing to identify the genes involved in this condition and develop better treatments.
What Clinical Symptoms Do Vets Evaluate In Dog's Suspect With PK?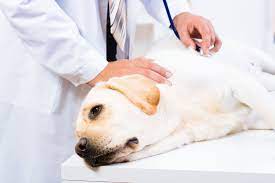 Pigmentary keratitis displays as a visible pigment deposit within the cornea of dogs. The appearance can vary from pale brown freckles to darker patches that may obscure the dog's visual acuity.
Some owners observe pigmentary during daylight or household light conditions. Others are more difficult to detect and require a physical exam with optometric instruments to reveal the potentially damaging situation. Clinical signs of pigmentary keratitis typically include decreased vision, tearing, and eye inflammation.
In some cases, pigmentary keratitis can lead to cornea scarring and blindness.
How Does a Veterinarian Diagnose Pigmentary Keratitis?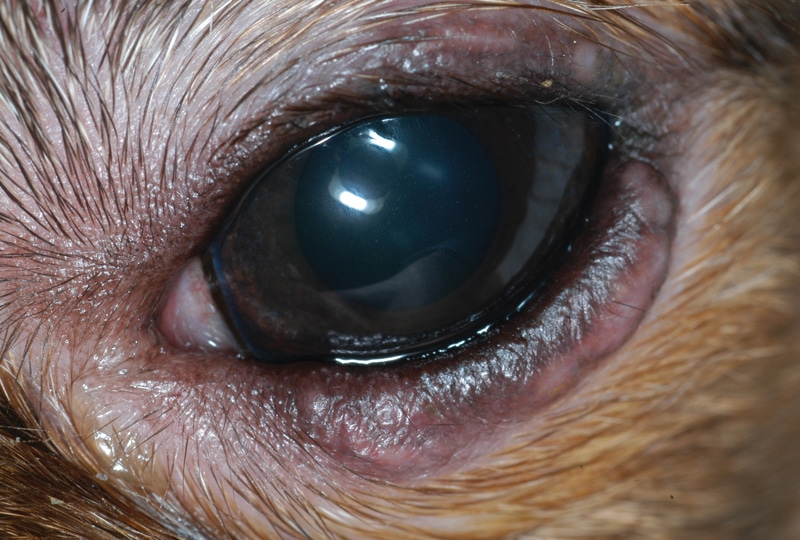 Your trusted veterinarian may typically detect pigmentary keratitis during routine physical exams.
Your veterinarian may examine the cornea with an ophthalmoscope and evaluate other related eye problems and changes.
Once your veterinarian concludes the examination, they will recommend treatments to address underlying causes.
During the exam, your veterinarian will closely examine all aspects of your dog's eye, including the eyelid and eye reflexes, and look for other irritation causes to the eye's surface.
Your veterinarian may also recommend additional testing, including blood work, urinalysis, and X-rays, to eliminate other potential causes of irritation to the eye.
With prompt and proper treatment, most dogs with pigmentary keratitis recover fully.
Treatment Options for Pigmentary Keratitis in Dogs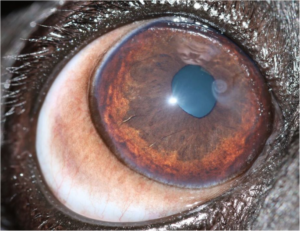 Treating the causes or conditions of pigmentary keratitis is paramount.
Specific treatment options are applied to correct the underlying influences that cause the inflammation. It is possible to stop additional pigment from being deposited on the cornea.
Certain eye conditions such as eyelid tumors, eyelash abnormalities, entropion, and ectropion may involve surgical correction.
These surgical procedures aim to give the eye its normal contour and prevent future trauma to the cornea.
In other cases, medical management with topical and systemic medications may be sufficient to control the inflammation and prevent further pigment deposition.
Regardless of the approach taken, close monitoring by a veterinarian is essential to ensure the best possible outcome for your pet.
Prescribed Treatments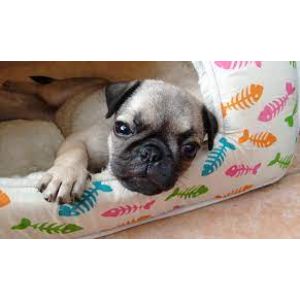 Treatment for pigmentary keratitis typically includes topical or systemic steroids to decrease inflammation. Frequent cleaning of the affected eye is a crucial remedy.
If left untreated, pigmentary keratitis can cause significant discomfort. Left untreated, it may lead to permanent vision loss.
Eye Melanoma in Dogs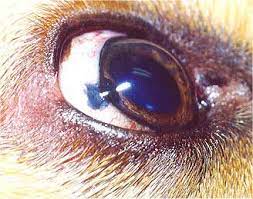 Ocular melanoma, also known as eye melanoma, is a type of cancer that affects the cells in the eye that produce melanin. Melanin is the color deposit of pigment that defines the color of the skin and other tissues.
Eye melanoma can be either malignant or benign. Anyone who suspects a new or unusual change in their dog's eyes should always proceed with caution and consult the family veterinary.
How Is Ocular Melanoma Treated?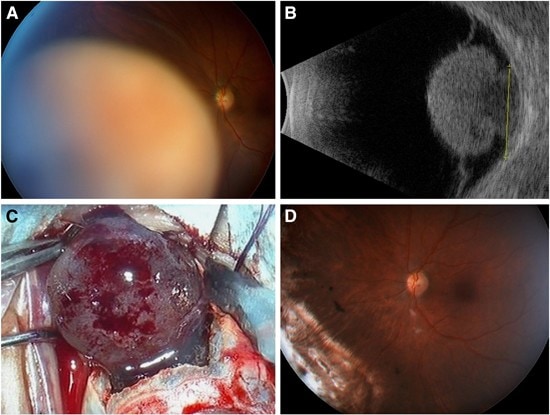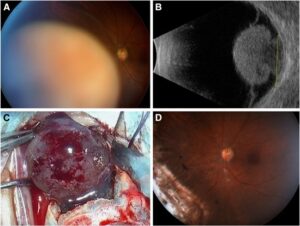 Treatment for eye melanoma in dogs typically depends on the size, location, and type of tumor. Consulting with the family vet is the best place to start.
Small, slow-growing tumors may not require treatment, while larger, aggressive tumors require surgical procedures.
In worst cases, radiation or chemotherapy are alternatives. Significant advances in animal cancer treatment see continued survival rates.
After a thorough examination, you and your veterinarian will decide which treatment to pursue.
Regardless of the course of treatment, it is vital to regularly have your dog's eyes checked by a veterinarian to ensure that the tumor does not return or grow more prominent.
At Home Visual Inspections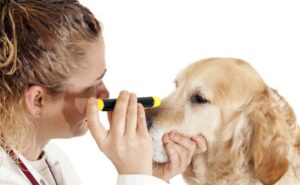 Pet owners know their dogs and notice subtle and aggressive changes in their bodies and temperaments.
Just as important to check our pets for pests, checking our dogs' soulful eyes is also important.
For Anyone Suspecting Changes In the Dog's Eyes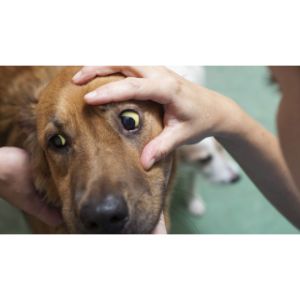 Knowing your dog's physical attributes and changes is a good starting point to keep them healthy. Recording changes and notifying your veterinarian is vital to maintaining a dog's eye health in good condition.
Pigmentary Keratitis
A dark and flat spot or freckle
Spot becomes noticeable on dog's sclera turns from white to brown
Spot invades cornea (Clear or transparent film covering the eye)
Dark spots may stay the same size
If your pet is a brachycephalic breed (flat-faced dogs)
Ocular/Eye Melanoma
The suspect area is bumpy, protruding, and domed
The affected area has a definite outline
Location is on iris, choroid, or limbus
Suspected area changes and increase
Accompanying redness and itching
Related Eye Conditions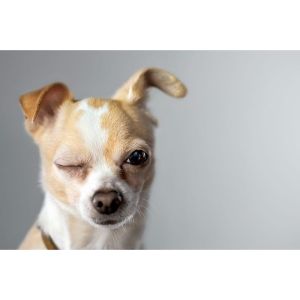 Evaluating a dog's eye condition involves a determined process and ruling out other similar causes and conditions.
Entropion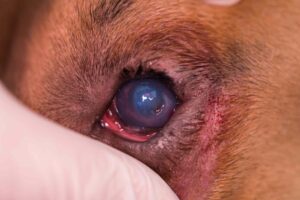 Entropion in dogs is an ocular condition that causes the eyelids to roll inward. This condition makes the eyelashes and other hair around the eyes rub on the cornea (the surface of the eyeball), leading to irritation.
Entropion can involve both the upper and lower lids, and it may appear in one or both eyes.
Most cases of entropion typically appear in dogs under a year of age. However, a dog of any age may experience the condition.
Eye diseases can progress rapidly without treatment. If your dog is showing any eye abnormalities, contact your vet.
Symptoms of entropion in dogs may include squinting, pawing at the eye, tearing, or redness. In severe cases, corneal ulcers may develop. If left untreated, entropion can lead to permanent vision loss.
While entropion is most often a congenital condition (present at birth), injury or inflammation of the eyelids can also cause the same problem.
In some cases, entropion may be temporary and will resolve independently. However, surgery is sometimes the only option to correct the problem successfully.
If your dog has entropion, your vet will prescribe a treatment to make your dog comfortable.
Dogs Breeds Susceptible to Entropion:
A veterinarian can rule out entropion through a thorough examination. However, some breeds have a natural predisposition:
English Bulldogs
Poodles
Great Danes
Rottweilers
Bullmastiff
St. Bernards
Cocker Spaniels
Springer Spaniels
Chow Chow
Elkhounds
Ectropion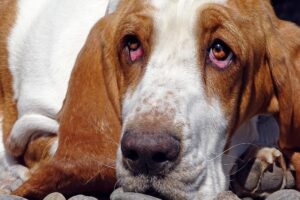 Many people find the droopy-eyed look of some dog breeds appealing, but they may not realize that this look is often the result of ectropion.
In dogs, ectropion occurs when the lower eyelid rolls away from the eye, exposing the delicate mucous membrane or conjunctiva. This exposed tissue is vulnerable to exposure and can quickly become irritated or infected.
While many modern dogs feature the droopy-eyed puppy-dog look, ectropion can manifest in other breeds. Dogs may develop the condition due to various health issues, including nerve inflammation and damage, injury or severe chronic inflammation, and eye infections.
Whether your pet has a specific look, ectropion may partner with other underlying health issues. It is crucial to contact your veterinarian if signs of irritation or redness in your dog's eyes occur and persist. Early treatment is the best course to prevent serious complications.
Dog Breeds Susceptible to Ectropion:
Ectropion features are prominent in modern breeds, such as:
Bloodhounds
Bullmastiffs
St. Bernards
Chow Chows
Great Danes
Newfoundlands
St. Bernards
Frequently Asked Questions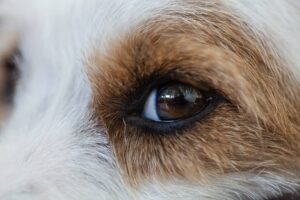 If your pet's health is in question, always consult a professional. Health issues may work themselves out, but why risk it? If you have the following concerns, address them.
Why Does my Dog Have Brown in His Eyes?
The short answer is suspected pigmentary keratitis. This treatable condition causes inflamed cornea tissue complicated by dry eye and eyelash abnormalities.
Will the Brown Spots on my Dog's Sclera go Away if Left Untreated?
Not if the causes are part of the four primary eye conditions we discussed here. These conditions require medical attention.
Does Entropion or Ectropion Cause my Dog Pain?
Dogs experience pain and discomfort just like people. Eye irritations like entropion or ectropion can be very painful and uncomfortable.
Will Ocular Melanoma Spread?
Eventually, ocular melanoma may rupture and invade the eye socket. In rare cases, it may spread to other parts of the body.
Conclusion For "Why Is the White Part Of My Dog's Eye Brown"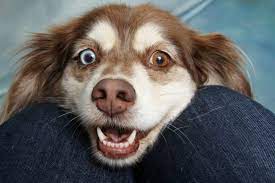 Keeping dogs healthy requires teamwork. Partnering with a veterinarian is an excellent method to prevent and treat prevalent health concerns. They may also explain why the white part of the dog's eye is brown.
Treatment options for pigmentary keratitis, eye melanoma, entropion, and ectropion vary. The severity and nature of the condition and its underlying cause determine a course of action.
If you find this guide, "Why Is the White Part Of My Dog's Eye Brown," helpful, you can check out these other dog-related guides from our team:
You can learn more about dog eye problems by watching "Top 10 Most Common Eye Conditions In Dogs | How To Treat Eye Infections In Dogs | Vet Explains" down below: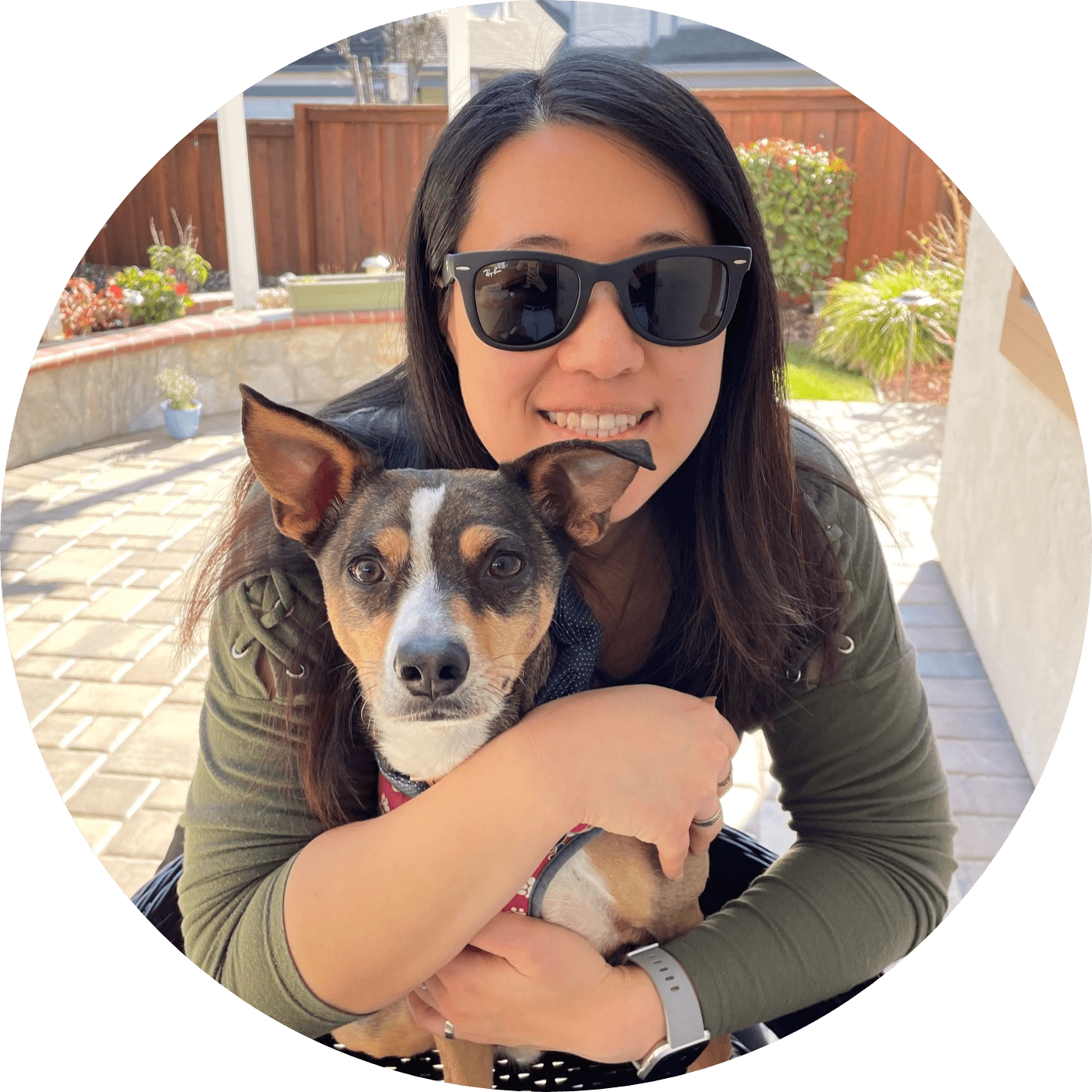 Dr. Sabrina Kong graduated from the Royal Veterinary College in England in 2016 and has been working at a small animal clinic in Northern California since then. She grew up in the Bay Area and got her bachelor's degree from Cal Poly San Luis Obispo. She also became a Certified Canine Rehabilitation Practitioner through a program at the University of Tennessee.
When she isn't in the clinic taking care of her four-legged patients, she enjoys traveling and trying new foods with her friends and her three-legged dog, Apollo. She adopted Apollo from her clinic when he was a puppy with numerous health issues. Dr. Kong truly cares about taking care of animals.