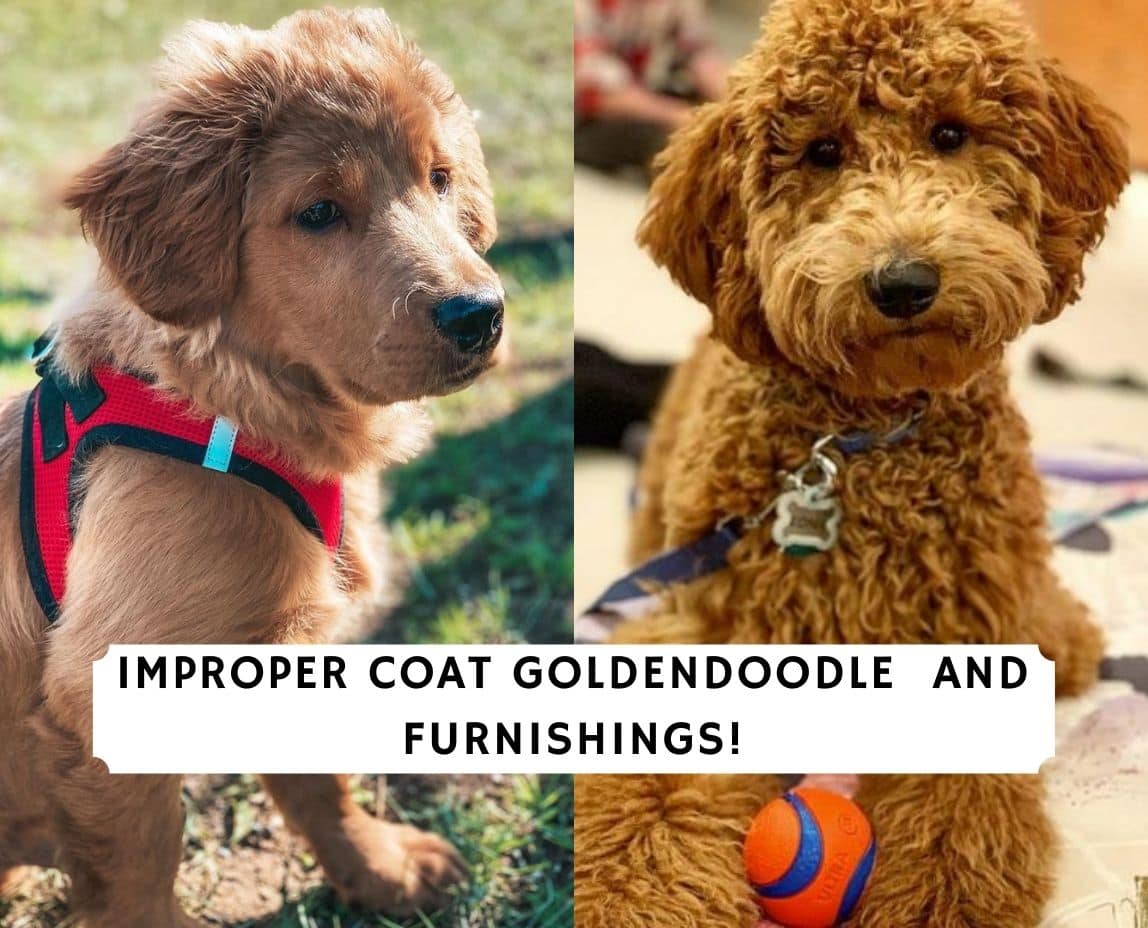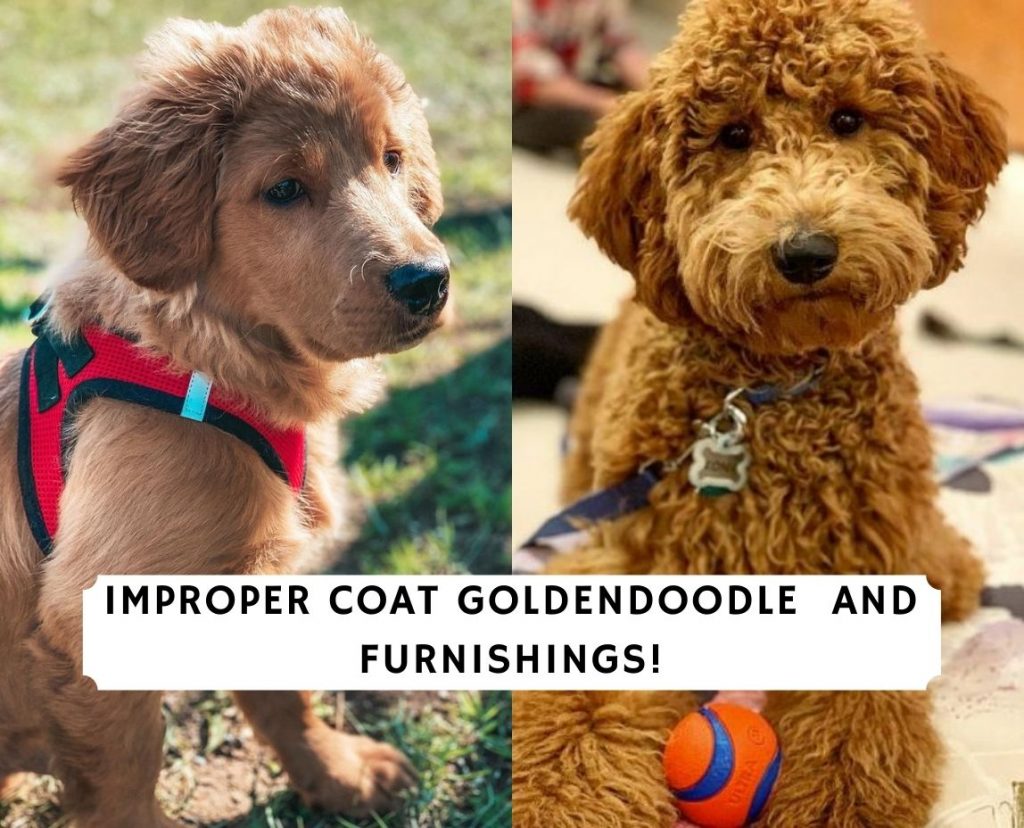 I've seen tons of questions recently about Goldendoodle puppies shedding which is mainly due to having an improper coat (IC) and a non furnishing gene. I will explain why your Goldendoodle is shedding due to their genetics and how you can prevent it.
In general, there are three common types of Goldendoodle coats: straight/flat, wavy, and curly. Almost all Doodles that shed are going to have a straight or flat coat due to inheriting the Golden Retriever's improper coat genetics. If you have an improper coat Goldendoodle, they won't be nonshedding and hypoallergenic like you see most wavy or curly Goldendoodles.  So how does a Goldendoodle get an improper coat with no furnishing gene?
Related: Golden Retriever vs. Goldendoodle
What is an Improper Coat & Furnishings?
An improper coat is technically characterized as the short hair on a Doodles head, face, and leg region because they don't have a dominant RSPO2 gene (it's also commonly called IC Locus). In reality, this means that your Goldendoodle likely has straight or flat hair throughout their body and they look like a Golden Retriever. This can happen for any Doodle breed, but it's most commonly seen in F1 Goldendoodle and F1 Labradoodles.
In addition, improper coat Goldendoodles don't have longer mustaches or eyebrows that are commonly seen in wired dogs. The longer mustache and eyebrow hair is the furnishing gene and produces this specific growth pattern. You can easily tell a furnishing gene from a curly-haired Goldendoodle because they have distinguishable mustaches, eyelashes, and eyebrows.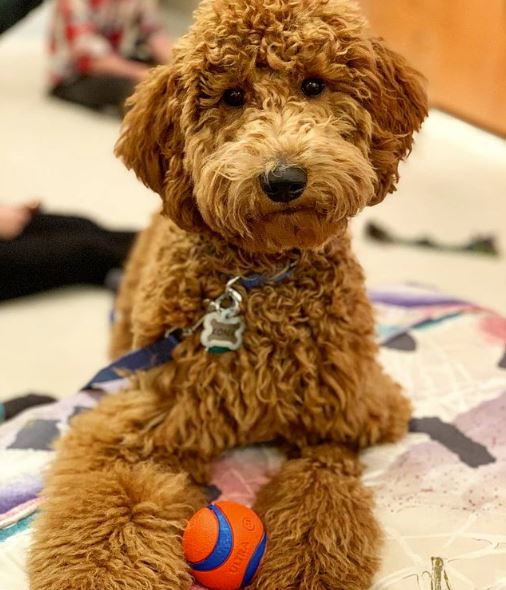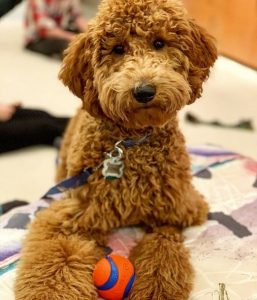 How does my Goldendoodle get an improper coat?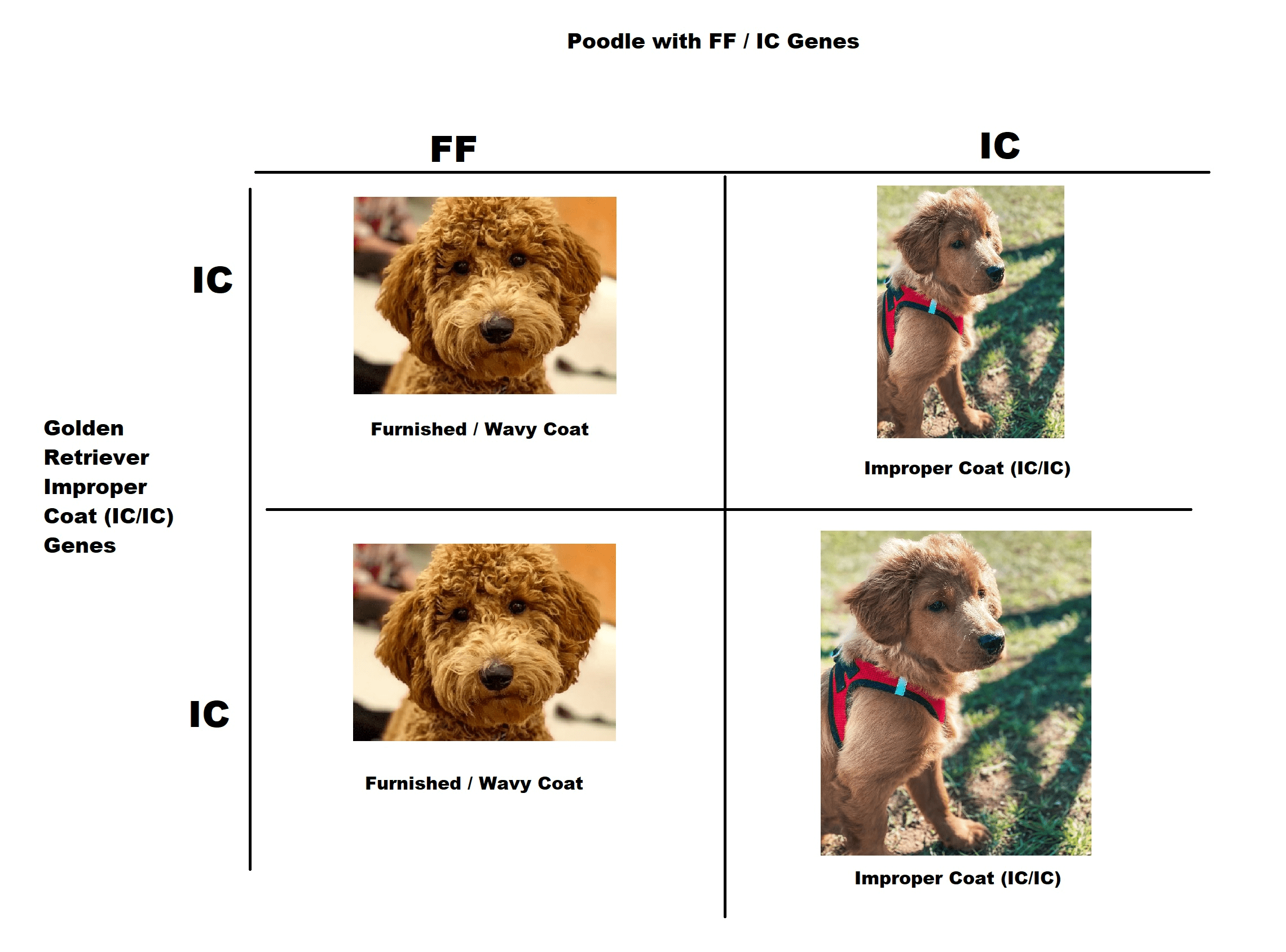 I'd like to preface this section by saying that an improper coat isn't necessarily a bad thing. It's simply a gene that your Goldendoodle puppy can inherit from their parent dogs.
In general, Golden Retrievers are going to be double Improper Coat (IC) carriers because they shed hair. This is standard for Goldendoodle retrievers. On the other hand, Poodles can either be Fully Furnished (FF) or carry a recessive improper coat gene and be (FF/IC). This gives them the typically curly coat that is nonshedding and hypoallergenic. Fully Furnished genes are dominant genes when mixed with an improper coat.
If a Goldendoodle breeder does not genetic test their Poodle and they breed a Poodle that is (FF/IC) with a Golden Retriever (IC/IC), the result is going to be F1 Goldendoodles that have a 50% chance of shedding with an Improper Coat (IC/IC) genes. This is why many Goldendoodles shed because the parent Poodle is a recessive carrier of the improper coat gene (FF/IC).
If a Goldendoodle breeder does a genetic test for their parent Poodle, they will likely choose to breed with a dog that is fully furnished (FF/FF). For the most part, this prevents any Goldendoodle puppies from shedding because each puppy will inherit a fully furnished gene that is dominant.
There are slightly more variations to improper coats and furnishings, such as a weak furnishing gene. We included this straightforward example to help you understand furnishings and improper coats. However, genetics is not always that simple so you can read up on the full improper coat and furnishing genes from Paw Print. You can also see weak furnishings which is classified as (Fw) and can potentially cause coats that shed.
How can you prevent an Improper Coat on your Goldendoodle?
Improper coats can be prevented for the most part with breeders that genetic test their parent Poodle or Goldendoodles ahead of time. The easiest way to prevent an improper coat and allow for furnishings is to breed with a Poodle that is fully furnished with (FF) genes. However, many breeders don't conduct genetic tests prior to breeding and they use a Poodle with (FF/IC) and they are a recessive carrier for improper coats. Breeds that don't genetic test their Poodles have become a huge problem since Doodles have become so popular over recent years.
In order to prevent an improper coat on your Goldendoodle, you will want to look at the genetic test results from a breeder. You will want to see fully furnished genes (FF) or weak furnished genes (Fw). If you see a Poodle with improper coat (IC) genes, then your Goldendoodle many shed. If you want to high chance of a nonshedding and hypoallergenic coat, you will need to see the genetic testing results of the parent dogs.
Why does my F1B / F2B / F1BB Goldendoodle have an improper coat?
Multi-gen Goldendoodles or even Goldendoodles that are backcrossed to a Poodle (F1B) can have improper coats and non furnishing genes. Ask your breeder for genetic test results of the parent dogs they are breeding. You'll see a mix of fully furnished (FF), weak furnished (Fw), and improper coat (IC) genes.
If you want your Goldendoodle to be curly and wavy without any shedding then you will need to opt for FF genes. If you see Fw genes with IC genes, then there is still a chance that your Goldendoodle will shed.
How to tell if your Goldendoodle has Furnishing or an Improper coat?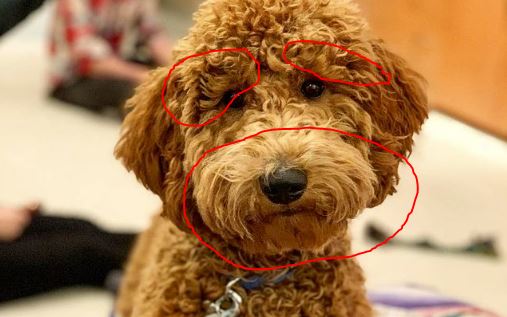 My Goldendoodle is very curly and you can easily distinguish whether or not he has furnishings by looking at their facial region. You will notice that they have distinguishable mustaches and eyebrows. This is one of the easiest ways to tell if your Doodle is furnished just by looking at them. The most conclusive way to tell if your Goldendoodle is furnished is by getting a genetic test. The presence of the IC Locus gene will tell you if your Goldendoodle has furnishings.
A Goldendoodle with a flat or straight coat is the easiest way to identify an improper coat without genetic testing. Goldendoodles with improper coats will look more like a Golden Retriever than they will a Poodle. 
Conclusion for Improper Coat Goldendoodle and Furnishings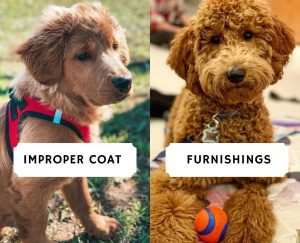 Improper coats on Goldendoodles aren't necessarily a bad thing. However, this typically means that your Goldendoodle will shed and release more pet dander. Thus, it won't be hypoallergenic and nonshedding like most Doodle owners are expecting. In order to prevent your Goldendoodle from having an improper coat, you will want to make sure that your breeder does genetic testing on the IC Locus gene. In addition to the IC Locus gene, you can also test the hair shedding gene called MC5R. For more information on the hair shedding gene, you can check out Animal Genetics.
Check out these other articles:
Garrett loves animals and is a huge advocate for all Doodle dog breeds. He owns his own Goldendoodle named Kona. In addition, he volunteers at the Humane Society of Silicon Valley, where he fosters dogs and helps animals. Garrett enjoys writing about Doodles and believes that dogs can teach humans more about how to live than humans can teach a dog.
Why Trust We Love Doodles?
At We Love Doodles, we're a team of writers, veterinarians, and puppy trainers that love dogs. Our team of qualified experts researches and provides reliable information on a wide range of dog topics. Our reviews are based on customer feedback, hands-on testing, and in-depth analysis. We are fully transparent and honest to our community of dog owners and future owners.