There's nothing quite as adorable as a puppy adorned with charming curls. While many curly-haired breeds are available in Toy or Miniature sizes, a big dog with an exquisite head and a body covered in curly locks is simply irresistible. In addition, they possess a captivating beauty and exude a sense of self-awareness.
Among the magnificent large dogs with curly hair are Standard Poodles, Barbets, and Portuguese Water Dogs. These dogs typically belong to the gundog or farm dog categories, indicating their working breed nature.
They thrive on plenty of physical exercises and mental stimulation to stay content and fulfilled. These dogs can grow to over 50 pounds, so be prepared for a substantial canine companion.
Here are the best big curly-haired dog breeds to consider.
Before you read this list of big curly-haired dog breeds, check out: Dogs with Curly Black Hair – Top 7 Breeds! (2023) and Small Dog Breeds With Curly White Hair – Top 6 Breeds! (2023).
1. Irish Water Spaniel
Firstly, the Irish Water Spaniel is one of the most impressive large dog breeds boasting a stunning curly hair coat. These courageous and industrious canines have a zest for enjoyment. Their playful nature and agility make them excellent strolls and energetic run companions.
Standing at up to 24 inches, the Irish Water Spaniel can weigh between 45 and 68 pounds, showcasing their surprisingly substantial size.
Dense, tightly-formed curls characterize their soft coats. Moreover, these curls are waterproof, adding to their remarkable features. As a result, the hair on their heads is longer and fluffier while maintaining its curly nature.
2. Curly-Coated Retriever
The Curly-Coated Retriever stands out as one of the most intelligent breeds. These remarkable creatures are exceptionally affectionate, smart, and gentle, displaying a fondness for playfulness and protection. Furthermore, their obedience and trainability make them a joy to work with.
When fully mature, Curly-Coated Retrievers typically reach a height of 25 to 27 inches, while their weight can range from 60 to 95 pounds. Despite their larger size, they remain active and agile.
They thrive on ample exercise and mental stimulation to prevent boredom and destructive behavior. So it's crucial to keep them engaged and satisfied.
Their physical appearance resembles a Retriever, featuring a well-proportioned body but with a distinctive trait — tight curls. In addition, these Curlies come in captivating shades of black and brown.
3. Bouvier Des Flandres
The Bouvier des Flandres is an exceptional and dignified large dog breed with curly hair. Originating from Flandres, this intelligent and dynamic watchdog has earned a reputation for its invaluable assistance on farms. Moreover, they are profoundly affectionate, making them steadfast and devoted companions.
Characterized by a robust and muscular build, Bouvier des Flandres dogs exhibit a curly coat that is both resilient and weatherproof. Typically found in solid shades of black, blue, gray, and brown, their coats are a testament to their striking appearance.
Additionally, these remarkable canines sport long, curly waves that extend to their distinctive, untamed beards.
4. Kerry Blue Terrier
The Kerry Blue Terrier is a large dog with a splendid curly coat, known for its exceptional qualities as a family pet. Their kind and affectionate nature makes them excellent companions, particularly for families with young children.
However, it's important to note that Kerry Blue Terriers are a high-energy breed that thrives on ample exercise and mental stimulation.
Regarding socializing, walks, and runs are preferable for Kerry Blue Terriers as they may not fare well in dog parks or in the presence of unfamiliar dog packs.
These Terriers boast soft, curly coats that exhibit beautiful shades of blue, black, and gray. While they are born with black coats, the color fades to the subtle blue-black shade that defines the breed as they mature.
Their dense hair necessitates regular brushing and trimming to prevent matting. Additionally, their non-shedding characteristic makes them suitable pets for individuals with allergies.
5. Labradoodle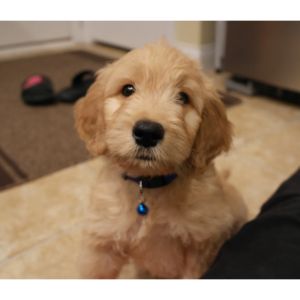 Labradoodles have gained fame as a delightful crossbreed between Labradors and Standard Poodles. Their playful nature and gentle temperament make them immensely popular as family pets. Labradoodles are known for being trainable, although they can be lively and energetic.
When fully grown, Labradoodles typically weigh around 65 pounds and reach a shoulder height of up to 24 inches. With an average lifespan of 12 to 14 years, they provide years of companionship and joy.
Their coats exhibit a wide range of colors, including tan, sandy brown, and black. Depending on the dominant traits inherited from their parents, Labradoodles boast long wavy curls that add to their distinctive appearance.
6. Airedale Terriers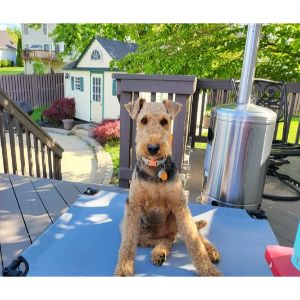 Airedale Terriers, the giant breed among Terriers, can reach a weight of 70 pounds once fully grown. These big dogs with curly hair are known for their intelligence, courage, and boundless energy. However, while their sharp minds make them quick learners, it also means that training them can be a bit more challenging.
Nevertheless, Airedale Terriers are fiercely loyal and make devoted companions. They tend to bark frequently, but early socialization as puppies can help mitigate this behavior and make them more amicable toward unfamiliar dogs. Keeping them mentally and physically active is also essential to their well-being.
Traditionally, Airedale Terriers sport black and tan coats adorned with long, wavy hair. Notably, they possess distinctive long hair on their muzzle and chin, lending them a distinguished and wise appearance reminiscent of an old gentleman.
7. Chesapeake Bay Retriever
The Chesapeake Bay Retriever, hailing from America, is an affectionate and high-energy dog known for its ease of training. However, these clever and sensitive sporting dogs possess sharp protective instincts. They fall into the medium-to-large size category, standing between 24 to 26 inches tall and weighing a maximum of 80 pounds.
Their coats are of medium length and display a mix of wiry and wavy curls. Notably, their skins are naturally oily, a beneficial trait for activities such as hunting and swimming. Chesapeake Bay Retrievers exhibit shades of tan and brown, occasionally with white markings.
If you desire to introduce a patient, friendly, yet protective dog to your family, the Chesapeake Bay Retriever is an excellent choice.
8. Barbet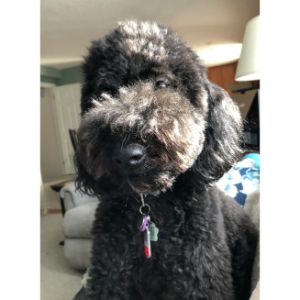 The Barbet, originating from France, is a large hunting dog renowned for its curly hair. These dogs excel in tracking and retrieving waterfowl with great skill.
Barbets possess a sweet and affectionate nature, displaying a remarkable ability to adapt quickly to unfamiliar situations. In addition, they are loyal companions to their families and demonstrate a keen aptitude for learning.
Regular and consistent exercise is essential for Barbets to prevent boredom and ensure their well-being.
In terms of size, Barbets are medium-sized dogs, standing at a height of 24 inches. They typically weigh between 35 to 65 pounds. Despite their size, their tight and wiry curls give them a larger appearance.
Barbets are remarkably swift and agile canines, surpassing their visual impression.
Their long and dense coats require regular grooming and trimming to prevent tangling or matting of their curls.
9. Bedlington Terriers
With their charming and loyal nature, Bedlington Terriers are beloved dogs characterized by their curly hair. Standing at a shoulder height of 15 to 17.5 inches, they typically weigh up to 23 pounds.
Originating from England, Bedlington Terriers make excellent family companions, delighting in cuddling and lounging with their owners. Despite their affectionate demeanor, they possess an active and energetic disposition, showcasing the characteristic springy steps of the Terrier breed.
These Terriers thoroughly enjoy engaging in activities such as running, taking long walks, playing fetch, and indulging in their instinct to chase birds and small animals — provided they are in a secure, fenced-in yard.
Their coat features crisp curls, lending them a fluffy and uniform appearance. In addition, it possesses a soft texture that grows while shedding very little. Bedlington Terriers also sport fleecy heads and tasseled ears, adding to their charm. They come in various colors, including blue, tan, and brown.
10. Komondor
The Komondor is one of the most distinctive large dogs with curly hair. Long, cord-like curls in shades of white characterize their unique appearance. These great curls, resembling dreadlocks, serve as a protective barrier against the elements and potential predators.
Originating from Tibet and Hungary, the Komondor is a breed with a rich history spanning centuries. Primarily used as herding dogs, they employ their muscular physique, long strides, and agility to manage various livestock skillfully.
Consequently, their solid protective instincts often make them less inclined to get along with unfamiliar dogs.
While Komondors possess a stubborn and independent streak, proper training and early socialization during puppyhood are essential for managing their behavior. In addition, consistent obedience training and providing ample exercise are vital to keeping them mentally stimulated and entertained.
On average, Komondors stand at a height of 25 to 27.5 inches at the shoulder, weighing around 100 pounds. They have a lifespan of 10 to 12 years.
11. Standard Poodle
The Standard Poodle is one of the most renowned large dog breeds with curly hair. These dogs exude sophistication and aristocracy, boasting a low-allergen, curly coat. Standing at a minimum height of 15 inches at the shoulder, Standard Poodles possess an elegant stature.
Their coats exhibit a variety of colors, including black, white, and brown. They are often distinguished by their iconic "Poodle cut," a distinctive haircut.
Originally bred as water dogs for hunting waterfowl, they trim the Poodles' coats along the legs and back to enhance their swimming abilities, while the fur around the head and chest was left intact to provide warmth.
This haircut style remains popular, particularly among Poodles participating in dog shows.
Poodles make exceptional family pets, known for their intelligence and eagerness to please. They thoroughly enjoy training sessions and exercise routines. Standards Poodles are especially enthusiastic swimmers and skilled retrievers and eagerly accompany their owners on long walks or runs.
Frequently Asked Questions
What dog is big and has curly hair?
One giant dog breed that has curly hair is the Irish Water Spaniel. They are known for their distinctive curly coat, which is dense and waterproof.

The Irish Water Spaniel is a medium-to-large-sized dog with a height ranging from 21 to 24 inches at the shoulder and weighing 55 to 68 pounds. Their curly hair adds to their unique appearance and protects them in water and harsh weather conditions.
What is the name of a curly-haired dog?
A specific breed of dog known for its curly hair is the Poodle. Poodles come in three sizes: Standard, Miniature, and Toy. Their dense, curly, and hypoallergenic coats set them apart. The Poodle's curly hair is a defining characteristic of the breed and can be groomed and styled in various ways. In addition, Poodles are highly intelligent, versatile and make excellent companions.
What is the curliest dog breed?
The curliest dog breed is the Curly-Coated Retriever. As the name suggests, this breed has a coat tightly curled all over its body. The curls of the Curly-Coated Retriever are well-defined, dense, and protected from water and cold weather.

They have a unique combination of small, tight curls and a smooth, sleek appearance. The Curly-Coated Retriever is known for its distinctively curly coat, setting it apart as one of the curliest breeds among dogs.
What Dutch dog breed has thick curly hair?
The Dutch dog breed with thick curly hair is the Nederlandse Kooikerhondje, commonly known as the Kooikerhondje. The Kooikerhondje has a dense and curly double coat consisting of a soft undercoat and a weather-resistant outer coat.

The curls of their hair are not as tight as some other breeds but are still considered curly. The Kooikerhondje's thick curly hair helps protect them from the elements and provides insulation. It is a medium-sized breed with a friendly and active temperament, initially bred for hunting and retrieving in the Netherlands.
What dogs have thick curly hair?
Several dog breeds are known for having particularly thick curly hair. Some of the notable examples include:

Poodles

Poodles are renowned for their dense, curly, and hypoallergenic coat. They come in different sizes (Standard, Miniature, Toy) and have a distinctively curly hair texture.

Irish Water Spaniels

This breed has a thick, curly double coat that is dense and waterproof. Their curly hair provides insulation and protection in water and cold weather.

Portuguese Water Dogs

Known for their thick, curly, and non-shedding coats, they have a dense and tightly curled hair texture that helps them stay buoyant in water.

Bichon Frise

Bichon Frises have a dense and curly white coat, which is soft and plush. Likewise, their curly hair requires regular grooming to prevent matting.

Bedlington Terriers

Bedlington Terriers have a unique curly and woolly coat that gives them a particularly fluffy appearance. As a result, their hair is dense and requires regular trimming and grooming.

Komondors

Lastly, Komondors have a distinctive corded coat of long, thick, and curly hair cords. Their fur helps protect them from various weather conditions.

Above all, these are just a few examples of dog breeds with thick and curly hair. It's important to note that the texture and thickness of a dog's fur can vary even within a specific species.
Conclusion for "Big Curly-Haired Dog Breeds"
Big dog breeds with curly-haired looks possess a captivating beauty and charm that is hard to resist. Breeds like the Irish Water Spaniel, Curly-Coated Retriever, Bouvier Des Flandres, Kerry Blue Terrier, Labradoodle, Airedale Terrier, Chesapeake Bay Retriever, Barbet, Bedlington Terrier, and Komondor showcase the diversity of large dogs with curly hair.
These breeds range in size, temperament, and coat characteristics, but they all share the common feature of having thick and curly hair that adds to their unique appearance.
However, owning a big dog with curly hair requires a commitment to their grooming needs and providing them with sufficient exercise and mental stimulation. If you're considering adopting one of these breeds, be prepared for a substantial canine companion that will bring joy and love into your life.
After reading this list of big curly-haired dog breeds, check out:
Learn even more by watching "10 Curly-Haired Dog Breeds" down below:
Garrett loves animals and is a huge advocate for all Doodle dog breeds. He owns his own Goldendoodle named Kona. In addition, he volunteers at the Humane Society of Silicon Valley, where he fosters dogs and helps animals. Garrett enjoys writing about Doodles and believes that dogs can teach humans more about how to live than humans can teach a dog.
Why Trust We Love Doodles?
At We Love Doodles, we're a team of writers, veterinarians, and puppy trainers that love dogs. Our team of qualified experts researches and provides reliable information on a wide range of dog topics. Our reviews are based on customer feedback, hands-on testing, and in-depth analysis. We are fully transparent and honest to our community of dog owners and future owners.