If you are searching for the best Chesapeake Bay Retriever breeders in the United States, then this list will have everything you need. Chesapeake Bay Retrievers or Chessies can serve many different purposes. From hunting buddies to companions. Finding trustworthy Chesapeake Bay retriever breeders is almost an arduous task. Most claim to have puppies that have been sired from the pristine bloodline. However, it's mostly untrue. Read about the leading Chesapeake Bay retriever breeders near you.
Before scrolling down this list of the best Chesapeake Bay Retriever breeders in the United States, check out these similar breeds: Best Rottweiler Breeders in the United States and Best Saint Bernard Breeders in the United States.
Chesapeake Bay Retrievers For Sale in the United States
Essentially, you should purchase them from experienced breeders to ensure they are healthy and live a long, whole life. Check out our top suggestions below.
Chesapeake Bay Retriever Product Recommendations: Best Device To Stop Dog Barking and Best Flea and Ticker Collars For Dogs.
1. Pond Hollow Chesapeake Bay Retrievers
First on this list of the best Chesapeake Bay Retriever breeders in the United States is "Pond Hollow Chesapeake Bay Retrievers." Pond Hollow Chesapeake Bay Retrievers started as a family business in 1976 and have been running since then. It has bred the extraordinary bloodline of the Chesapeake Bay Retriever puppies. These dogs have grown into active breeds involved in different activities or skills such as field competitions, agility, obedience, conformation, hunting, and tracking.
But specifically, they are sound and well-behaved companions and guard dogs. The breeders at pond hollow have accumulated about forty-two years of experience in the care, breeding, and grooming of Chesapeake Bay retrievers. They have the proper knowledge to help pick the perfect puppy for your home and family. You can count on them to assist with health, training, or competition matters as they arise. With the immense amount of intelligence, love, beauty, and devotion, the Chesapeake Bay Retriever has to give.
Pond hollow believes that prospective parents should partake in it. Pond hollow dogs are popular and respected both locally and internationally for their renowned standard. Furthermore, you would observe that other kennels are beginning to adopt the hollow pond name, particularly the ones with pedigree. Nevertheless, it is a result of the excellent condition of their breeding technique.
Pond hollow is situated in Central Pennsylvania, which is approximately half an hour north of Harrisburg. The kennel is on a 35-acres land with access to the pond, woods, streams, and meadows. Their serene environment is perfect for the adults and puppies to play and enjoy as it gives room for exercise.
It is crucial to note that you have to complete a restricted registration to get a sole companion puppy. However, you can make amendments or change your mind to purchase a dog with conformation abilities or even breed your pet. Additionally, it's essential to come to pick up a companion dog, except you have visited or met the puppy previously. You may opt to fly in or drive; however, puppies can count as carry-on luggage.
Pond Hollow Chesapeake Bay Retrievers Details
2. Silvercreek Chesapeakes
Joanne Silver, owner, and Breeder of Silvercreek Chesapeake has dedicated years to perfecting her dogs' art of breeding and care. She started breeding dogs in 1973 but focused solely on the Chesapeake bay retriever in 1989, which lead to establishing the silver creek Chesapeakes. Joanne and her husband, Stan, manage the business and focus on producing a happy and healthy dog that can adapt and perform vast purposes.
Joanne's devotion to the silver creek Chesapeake is both a vision and a result of her love for the dog species. She is committed to retaining and enhancing the quality of their puppies. The dogs are sound, have excellent health, temperament, and top-notch performance. With over 40-years of experience, Joanne and Stan follow ethical breeding procedures, which encompass genetics tests. All Chesapeake Bay retriever breeding stock meets the American Kennel club requirements.
They offer dogs for pet therapy, obedience, show or conformation, hunting, and most essentially, love and companionship. Joanne has been training dogs in conformation, field, obedience, and hunting for approximately 30 years. She has multiple certifications from AKC, CD Am/Can, CKC, CDX, UD, awards or merits, and field titles. However, Joanne is an expert obedience trainer specializing primarily in puppy kindergarten training. She is a member of the AKC and participates in their events; also, her breeding stock undergoes a health screen. Her titles and vast accomplishments have continues to grow and manifest in her dogs from the silver creek.
Silvercreek Chesapeakes Details
3. Blucollar Chesapeakes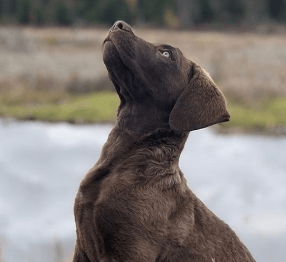 Blucollar Chesapeake comprises small-scale breeders, and it is situated in Amsterdam, New York. The kennel is owned and managed by Michelle and her husband, Barry. They started with one Chesapeake Bay retriever, which they bought from a south Carolina breeder during a field event in 2002. The following year, they bought a female puppy from Virginia. They both turned out to be the foundation bloodline of the Blucollar Chesapeake.
Michelle Dunn and Barry White focus on training their breed to compete in hunting, obedience, field, and conformation. They are members of conformation dog training, the black creek retriever club, and the American Chesapeake Club. Due to the amount of thought that goes into breeding excellent Chesapeake bay retrievers, the Blucolar kennel produces limited litter from time to time.
They focus on quality by ensuring their puppies are sound, less susceptible to genetic or hereditary disease, and excellent temperament. Their dogs also are active hunters with instincts, exciting personalities, and trainable. Blucollar Chesapeake dogs are athletic companions due to genes and training, so they triumph during competitive activities, especially during upland bird hunting.
Blucollar Chesapeakes Details
4. Hickory Creek Chesapeakes
Hickory Creek Chesapeake is a small family business situated in Oklahoma. They have 217-acres of land, which gives the dogs ample room to exercise and play. The breeding practice is centered on producing all-purpose Chesapeake Bay retrievers. The dogs have excellent hunting ability, show conformation, temperament, and obedience.
Hickory creek requires you to pay a deposit of $300 which initiates the adoption process, but they only accept payment after a successful ultrasound. It is because they want to be sure that your puppy is and would be available. However, except for varied circumstances, you may get a refund, but it is not condoned as deposits are non-refundable. Also, sometimes puppies may become available when an expected large litter is born.
Hickory Creek Chesapeakes Details
5. TakeMeHome Retrievers
TakeMeHome Retrievers are a small kennel located in Florida. They breed selectively and produce sound Chesapeake Bay retriever puppies that are well-rounded. Moreover, the dogs can act as friends or companions, serve on a show ring or field, or train for obedience and therapy purposes. They test the adult dogs before adoption and ensure they are healthy.
The screening includes DNA and Hip x-ray. To ensure they are healthy, the TakeMeHome Retrievers feed their dogs the proper nutrients they individually need. They have successfully bred and trained a female dog in search and rescue. The dogs are expert companions that can transition between a friend or family member to a guard dog seamlessly. The Chesapeake is fondly referred to as a Velcro because they are very attached and love human company.
During field activities, they exhibit profound intelligence and mastery. They adapt to any weather condition, even in harsh situations, and remain willing. With the proper levels of training, they can become your best friend. The breeder of the TakeMeHome retriever is a certified member of AKC, and the American Chesapeake club has taken part in various AKC events.
TakeMeHome Retrievers Details
6. Camptown Chesapeakes
Camptown Chesapeake was established in 1990 and has been operational since then. It is located on a 30-acre land in Hudson, New York, so the dogs exercise often. Valerie Duda manages and breeds Chesapeake Bay Retrievers for temperament, hunting capabilities, and soundness. Overall, dogs from Camptown are show champions and have titles from obedience and hunting.  The kennel is small, so most dogs live in the house and have constant care and attention.
They breed a litter or two yearly; they are thorough and pay attention to details. The dogs in the kennel are tested, and Campton guarantees healthy eyes and hips. Valerie has received the AKC Breeder of merit many times. She advises new parents to perform research and a question list when they come to adopt. It helps her know that you are choosing the specific breed and breeder that meets your need.
Camptown Chesapeakes Details
7. Chessieville Bay
Chessieville Bay has been breeding Chesapeake Bay Retrievers since 1995. It is a run as a hobby kennel, and the dogs can compete in agility, hunting, conformation, and obedience. Without obedience training, the dog may frustrate the owner, but an investment in training changes it positively. Heike Frattalone Is a trainer at Chessieville, and she has many years of experience and understands how training enhances the relationship between dog and man.
Chessieville Bay produces healthy best friends with sound temperament. The dogs enjoy the large acres of land that the kennel is built. There are streams, meadows, ponds and other natural outdoor essential that makes hunting dogs excited. Most importantly, you can contact Chessievile Bay at any time, even after an adoption process, so feel free to ask health, performance, or training questions for as long as the dogs live.
Chessieville Bay Details
8. Chesagrove Kennels
Chesagrove Kennels has been breeding Chesapeake bay retrievers since early 1986. They promise healthy, premium quality puppies with natural abilities. They have litters often but would only accept deposits after they can confirm the pregnancy. The kennel offers breeding, handling, and training (such as obedience, agility, tracking, conformation, dock diving, and hunting). Dogs from Chesagrove have taken part in different competitive events and won titles and awards.
Nevertheless, Chesagrove Kennel is an expert dog breeder with puppies that can smoothly transition from a seat-at-home companion to show ring champions. They produce breeds with fascinating personalities, capabilities in hunting, conformation, and obedience. The litters they have are sound, healthy, good temperament, intelligent and loyal.
Chesagrove Kennels Details
9. Susqudilla Kennels
Susqudilla Kennels is located in Bainbridge and has been breeding Chesapeakes bay retrievers since 1992. Robyn Haskin manages Susquidiila kennel, and he is indeed an expert at what he does. He puts in love and commitment into breeding exceptional dogs that surpass expectations. The dogs are successful in whatever role you expect them to play because Susqudilla kennels have trained them accordingly.
They can serve as working field dogs or indoor pets or show ring competitors. The dogs maintain a zeal to please and meet up with your prospects. These great family-oriented dogs are healthy and happy with a good temperament. Susqudilla kennel performs intense research, evaluations, and testing to ensure their breeds are sound, intelligent, and fit.
Susqudilla Kennels Details
10. Blizzard Bay Chesapeakes
Last on this list of the best Chesapeake Bay Retriever breeders in the United States is "Blizzard Bay Chesapeakes." Blizzard Bay Chesapeake has been committed to breeding Chesapeake Bay Retrievers since 2012.  With over six years of sales experience, one of the fundamental goals here at Blizzard Bay Chesapeake kennel is to find loving families for the puppies. The name blizzard bay comes from the kennel region. It is very close to Presque Isle Bay, and the dogs they produce have exceptional ability in conformation, hunting, and companionship.
The kennel is situated in Pennsylvania, and Blizzard bay trains the dogs to hunt geese and ducks from the lake, stream, and pond around it. However, the dogs spend a considerable amount of their time in the house with their breeder; they show they care and give them attention individually. Furthermore, the breeding stock from blizzard bay is healthy and genetically tested to ensure they produce only strong puppies.
Blizzard Bay Chesapeakes Details
Conclusion For The "Best Chesapeake Bay Retriever Breeders in the United States"
Dog adoption is more overwhelming than people take it. The longevity, health, and soundness of a dog come partly from its genes and care. However, breeders play crucial roles in maintaining or enhancing the quality of the Chesapeake Bay Retriever. Make sure to contact a credible kennel with superior knowledge when you are ready to adopt a Chessie.
For more dog breed recommendations, you can check out:
To learn more about this breed, watch "Facts About The Chesapeake Bay Retriever" from Brooklyn's Corner down below: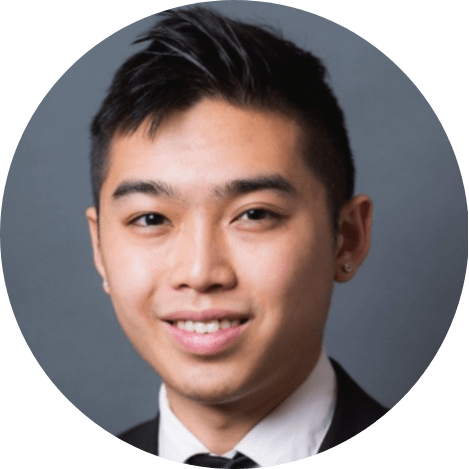 Andy is a full-time animal rescuer and owner of a toy doodle. When he's not saving dogs, Andy is one of our core writers and editors. He has been writing about dogs for over a decade. Andy joined our team because he believes that words are powerful tools that can change a dog's life for the better.
Why Trust We Love Doodles?
At We Love Doodles, we're a team of writers, veterinarians, and puppy trainers that love dogs. Our team of qualified experts researches and provides reliable information on a wide range of dog topics. Our reviews are based on customer feedback, hands-on testing, and in-depth analysis. We are fully transparent and honest to our community of dog owners and future owners.