In this buying guide for the best shampoo for the Sheepadoodle, we'll help you find the perfect product to keep your pup's coat clean and healthy. Sheepadoodles go by many names, including Sheep-a-poo, Sheeppoo, Sheepdoodle, and Sheepdogpoo. 
Whether looking for fast relief for itchy ears and skin or just a high-quality dog shampoo for your Sheepadoodle, it's key to remember slicker brushes, combs, and combination pet shampoos help to keep your Sheepadoodle's skin and coat healthy and clean.
Our shopping guide will provide products that cut your grooming time in half. We'll also offer tips on how often to shampoo your Sheepadoodle and avoid common mistakes that can lead to dry, damaged skin and fur. 
By following these simple tips, you can help to keep your dog healthy and your Sheepadoodle's coat healthy and looking its best. Here's the takeaway:
Product
Best Overall
We Love Doodles Dog Shampoo, Conditioner, and Detangler
Best For Sensitive Skin
Kenic Kalaya Ultra Moisturizing
Best For Smell
Nature's Miracle No Wet Dog Smell Supreme Odor Control Hypoallergenic Shampoo
Image
Best Overall
Product
We Love Doodles Dog Shampoo, Conditioner, and Detangler
Image
This is our top pick because it is a 4-in-1 formula that will save you time and money. The shampoo cleans, conditions, detangle, and moisturizes your dog's coat in one easy step. It is also made in the USA with certified organic ingredients. All the ingredients are safe, non-irritating, and natural, and clean and condition your dog's coat. 
The eco-friendly formula is safe for dogs and gentle on their skin. This product features no parabens, sulfates, formaldehyde, alcohol, or synthetic dyes. We like this shampoo for Doodles because it's a Doodle specific shampoo that targets Doodle skin and coat care. 
It promotes healing and coat care- all in one bottle. The chamomile is known for its calming effects, and also helps to support dry and itchy skin, and even skin that's inflamed from a bug bite or sting.
Features
Certified organic
Hypoallergenic
Lavender chamomile scent
Vet approved
Affordable
4-in-1 shampoo, detangler, conditioner, and moisturizer
Kenic Kalaya Ultra Moisturizing & Restorative Emu Oil Pet Shampoo is a luxurious restorative shampoo formula that is a proven and effective method for combatting skin irritation, promoting healing, and re-moisturizing sensitive, dry skin for dogs and cats. Kenic, crafted by Glo-Marr, is free of harsh detergents and soaps and is proudly endorsed by pet industry professionals. 
Kalaya Emu Oil Shampoo will leave your Sheepadoodles skin and coat with a healthy sheen while preventing dry skin and tangled fur. Made with papaya and botanicals, this formula will gently clean while replenishing the skin's and coat's natural moisture balance. 
We like this shampoo for Sheepadoodles because it features natural anti-inflammatory ingredients and has a tropical papaya scent that's not overwhelming. Unfortunately, this cruelty-free pet grooming product has been around for over 55 years.
Features
Anti-inflammatory properties
Ultra-moisturizing shampoo
Crafted with kalaya emu oil
Omega 3 & 6 aid in the healing process of skin
Affordable
Cruelty-free
Small batches for sustainability
Used by pet professionals
An extensive array of pet products
Made in the US
Nature's Miracle Supreme Odor Control Hypoallergenic Shampoo & Conditioner is formulated with an odor neutralizer and deodorizer to eliminate tough pet coat odors effectively. This hypoallergenic shampoo and conditioner are soap-free and safe with spot-on flea and tick products. 
It is ideal for sensitive skin and leaves your pup's coat clean and conditioned without any scent. We like this shampoo from the Sheepadoodle because of its exceptional cleaning, deodorizing, and moisturizing properties! It is an excellent choice for those Sheepadoodles with skin issues that need regular baths.
Features
No wet dog smell formula
Hypoallergenic
Odor neutralizing formula
Enriched with aloe vera
Affordable
Earth Friendly Products Natural Pet Shampoo is an excellent option if you're looking for a natural, hypoallergenic shampoo for your pet. This shampoo is made without dyes, optical brighteners, parabens, phosphates, and 500+ other harsh chemicals. It is also 100% vegan, and EPA Safer Choice certified. It includes vitamin E oil and glycerin to promote healthy skin.
This pet shampoo is made in the USA using thoughtfully sourced global ingredients. It is also never tested on animals and is made in a Climate Positive factory that uses 100% renewable wind and solar energy. We like this shampoo for the Sheepadoodle because it is very gentle and leaves their coat looking shiny and smelling great! This is a Climate Positive pet product.
Features
Climate Positive pet product.
Peppermint scent
Conditioning shampoo for Sheepadoodles
Plant-powered formula for dogs
Cruelty-free
Hypoallergenic blend with vitamin E and peppermint
100% vegan
EPA Safer Choice certified
No dyes, optical brighteners, parabens, phosphates
If your dog has been extra stinky or you don't have time for a full bath, Paw Choice's Dry Dog Shampoo is the perfect solution! This waterless, foaming mousse is gentle and safe for sensitive skin and removes odor rather than just masking it. This formula features a natural coconut-derived formula with pomegranate and mango.
Plus, it's more economical and environmentally friendly than wipes or spray bottles. Made in the USA with only the highest quality ingredients, their dry shampoo is cruelty-free and perfect for baths, active dogs, traveling, senior pets, after surgery, and those that don't like water or getting wet. 
We like this dry foam, no water pet shampoo for the Sheepadoodle because it's another cruelty-free biodegradable pet product that's earth friendly. This product is made in a state-of-the-art, certified GMP facility with the highest quality ingredients and safety standards.
Features
Cruelty-free
Mango pomegranate scent
No rinse all natural foam pet shampoo
Affordable
No harsh chemicals and no sodium laureth sulfate.
Pure and Natural puppy shampoo is another cruelty-free and tearless product that will keep your pup's coat clean and healthy. This shampoo is made with natural ingredients like organic lavender oil, organic calendula oil, and organic oatmeal extract, known for their calming properties.
Additionally, the formula is free of sulfates and other harsh chemicals, making it safe for puppies with sensitive skin. 
If your Sheepadoodle puppy has been scratching a lot lately, this shampoo can also help to relieve itching. This formula moisturizes and soothes and is safe and gentle to use on your pup's skin. It will not affect flea and tick formulas and is safe for pups six weeks and older. We like this formula for pups because it's cruelty-free, Leaping Bunny certified, and does not feature soap, dye, or foaming agents.
Features
Cruelty-free
Organic lavender oil
Crafted with organic lavender oil, organic calendula oil, and organic oatmeal extract 
Tearless
pH balanced for puppies
Relieves itching
All-natural
If you have a horse or dog with skin problems, this anti-fungal and anti-bacterial medicated pet shampoo is exactly what you need! Their earth-friendly unique formula contains marine collagen, which provides a rejuvenating and moisturizing source for a glossy, healthy coat. 
Sea-Sourced Amino Acids via Marine Collagen fortify hair fibers and repair damage while providing a deep-skin, gentle-cleansing, moisturizing solution for both skin and coat. You can use this dog and horse shampoo for common issues like scratches, fungus, rain rot and ringworm, itchy mane and tail, dermatitis, and itchy skin.
Soap-free and containing no parabens, alcohol, steroids, or other harsh chemicals, Bannixx dog shampoo is safe and easy to apply. Simply wet the coat with plain water, apply the shampoo with your hand or a sponge, and work it gently into the skin to create a lather. 
For particularly problematic areas, allow the suds to remain in place for several minutes. This medicated shampoo is vet-recommended and trusted by pet owners around the country. 
Banixx is made in the USA; this shampoo is earth-friendly and easy on your budget. We like this medicated pet shampoo because if you're like us parenting dogs, horses, cats, and other furbabies, you can easily tackle common skin issues affordably. This veterinarian pet product is soap-free with no parabens or toxic chemicals.
Features
Veterinarian recommended
Includes marine collagen
No Parabens, No alcohol, no Steroids 
Non-toxic
Safe and easy to use
Made in the US
We like TrueBlue for Sheepadoodles because it is a tearless, conditioning formula that is easy to rinse and moisturize.
This formula is crafted with organic and natural ingredients and is free from harsh detergents, alcohol, phosphates, and parabens. TrueBlue is also cruelty-free and made in the USA. This formula is crafted with organic green tea because it's a natural antioxidant and organic chamomile to add sheen to the coat.
This formula is also crafted with vitamins A, C, and E to promote healthy skin and coat. Veterinarians and expert botanists also develop this TrueBlue formula to be the best for pet health and beauty.
The TrueBlue team has also worked with University veterinarian experts to pick the safest and most effective botanical ingredients and create formulas that work while being easy on the environment. This makes TrueBlue a top pick for those who want the best for their Sheepadoodles.
Features
Cruelty-free
2 in-1 shampoo and conditioner for pets
Green tea and chamomile scent
pH balanced for pets
Numerous product options
Safe, organic, and natural
Crafted with organic green tea and chamomile
It also features vitamins A, C, and E to promote healthy skin and coat
We like this dog shampoo because it's made with probiotics, which are suitable for your dog's skin and coat. This shampoo is also fragrance-free so it won't irritate your dog's skin. 
This environmentally responsible and socially conscious pet grooming product has no harsh toxins or chemicals. Instead, all the topical probiotics support a natural and non-medicated approach to solving common skin issues in pets, like excessive itching, funky odors, shedding, and even inflammation.
It's safe to use around children and other pets and supports your pet's natural defenses against itching, dryness, odor, and irritation. This is a 97% natural product with live topical probiotics. It's also made in the US.
Features
Crafted with live topics, probiotics
97 % Natural
Nice product line to choose from
Unscented
Eco-friendly, vegan and cruelty-free
No detergents, alcohol, phosphates, or parabens.
pH balanced
The Sheepadoodle
The Sheepadoodle is a mixed breed dog — a cross between the Old English Sheepdog and Poodle dog breeds. Intelligent, affectionate, and easy to train, Sheepadoodles make great family pets. They are also known for being low-shedding and hypoallergenic, making them a good choice for people with allergies. 
Thisdelightful breed inherits intelligence and easy trainability from both sides and is bred to carry the minimal shedding and low allergy-triggering coat from the Poodle. Mini Sheepadoodles are a cross between a Miniature Poodle and a standard OES or Sheepadoodle, and range of 30-50 lbs. They are a popular choice for families with young children.
When it comes to grooming, Sheepadoodles need regular brushing and combing to prevent mats and tangles. They should also be trimmed or clipped every few months. And while they don't need excessive bathing and grooming, this playful teddy bear look-alike does well with regular grooming. Daily brushing is key to maintaining a gorgeous coat. 
Since we're dealing with two very different coats- Poodle and Old English Sheepdog– you should remember that different coats do well with different shampoos and brushes. 
That said, clipping your Sheepadoodle in a teddy bear cut will minimize the amount of grooming you'll have to do at home. By fully understanding coat care for both the Poodle and Old English Sheepdog, you'll be able to properly take care of your Sheepadoodle coat.
Poodle type "Wool Coat"
Sheepadoodles who inherit the Poodle hypoallergenic curly coat, or wool coat, will require more grooming than those with the Old English Sheepdog coat. This coat is curly and dense and does well with regular brushing to avoid matting and tangling.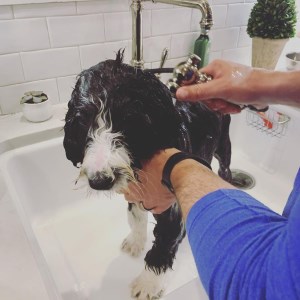 The American Kennel Club (AKC) says that unless you plan to keep your Poodle clipped in a short trim, you will need to learn how to brush him daily to keep his coat from matting. 
The AKC adds, "If you do not brush and comb a full-coated Poodle completely to the skin, the hair will mat near the roots and have to be shaved off to start all over with new growth." 
Poodles need professional grooming and clipping every six weeks or so, and although this is a non-shedding breed, the Poodle coat is a high-maintenance coat. You'll need to avoid matting and coat tangling in a Poodle coat by understanding the types of Poodle clips- Sporting clip, Puppy clip, English Saddle clip, or Continental clip.
Old English Sheepdog type "Double Coat"
Sheepadoodles with an Old English Sheepdog coat will have a double coat that is thick and sometimes on the oily side. The straight-haired coat or flat coat will need more maintenance than the curly-haired coats, and tends to shed the most. This is the least hypoallergenic coat type and tends to have a wavy appearance. Daily brushing stimulates circulation and also removes dead hair.
This type of coat does best with the We Love Doodles gentle slicker brush and a comb to avoid mats and tangles. The undercoat is water-resistant, while the outer coat is textured and shaggy .This breed needs thorough grooming down to the skin to maintain their full coats. 
The American Kennel Club (AKC) explains that "Puppy trims" are good options for the Old English Sheepdog, but they require regular brushing between baths and haircuts. 
The AKC adds, "Keeping the feet clipped ('Poodle feet') will minimize problems and cleanup. Potential owners need to be prepared to spend the time required to do this, or pay a professional groomer, for several sessions each month for the life of the dog."
Sheepadoodle coat
Sheepadoodles are almost always born with a combination of black and white colors. As they age, the black often can fade to shades of gray, a trait often inherited from the OES. 
The coat of a Sheepadoodle can be straight, wavy, or curly and is often described as hypoallergenic. Their adult coat can vary significantly from how they looked as a puppy, while others keep their same puppy colors and pattern into adulthood. Some Sheepadoodles can be almost entirely black or entirely white as an adult. 
Often there is a variety within one litter, with straight, curly, or wavy coats and various colors. A Sheepadoodle's coat will require weekly brushing and occasional professional grooming. You may also need to use a detangler on their coat if it becomes matted. 
How often you groom your Sheepadoodle depends on the coat's length and texture. For example, F1b Sheepadoodles are more likely to have kinky or curly hair than F1's. However, their coats may be more prone to matting and require more grooming.
Sheepadoodle coat maintenance
To ensure that your Sheepadoodle's coat remains in good condition, it is essential to brush and bathe them regularly. In addition, it is also important to trim their nails and clean their ears regularly. Here are some tips on how to best take care of your Sheepadoodle's coat:
1. Regular brushingis essential to keeping your Sheepadoodle's coat healthy and free of tangles. Be sure to use a brush specifically designed for dogs with long coats. Sheepadoodle coats will require more maintenance than some other dog breeds, 
If you're not prepared to put in the time and effort required to keep your coat healthy and looking good, then a Sheepadoodle might not be the right breed. 
Instead, we recommend combining a de-matting slicker brush from We Love Doodles and a regular pin brush to work through their entire coat paired with the We Love Doodles 4-in-1 conditioning and detangling shampoo. Keep in mind that a puppy clip or teddy bear makes everyday life with a Sheepadoodle so much easier. 
Summer cuts are also popular, as are mohawks and lamb clips, with the kennel cut being the shortest, leaving an inch of puppy fur.
2. Bathe your Sheepadoodle as needed, but no more than once every 2 to 3 weeks. Use a dog shampoo designed for dogs with long coats to avoid stripping the natural oils from their fur.
3. Trim your Sheepadoodle's nails regularly to prevent them from getting too long and causing discomfort.
4. Clean your Sheepadoodle's ears regularly to prevent infection. Use ear wipes or a cotton ball soaked in dog-specific ear cleaner and brush his teeth every day with a dog toothbrush and special dog paste.
FAQ's The Best Shampoo for a Sheepadoodle
How often should I bathe a Sheepadoodle?
Your Sheepadoodle will need a bath as frequently as every 4-6 weeks. Bathing your Sheepadoodle too often can strip away the natural oils in their coat and lead to dry, itchy skin. When y bathe your Sheepadoodle, be sure to use a mild dog shampoo like the We Love Doodles organic pet shampoo, which is sulfate-free and designed for sensitive skin.
How do you keep a Sheepadoodle clean?
Regular brushing is the best way to keep your Sheepadoodle clean in between baths. Be sure to use a gentle Doodle slicker brush to avoid damaging their coat. You can also use a detangling and moisturizing shampoo to help manage knots and tangles.
Do Doodles need special shampoos?
Doodles are prone to dry skin and do well with hypoallergenic dog shampoos like the dog shampoo and conditioner specially formulated for Doodle breeds. 
This shampoo will cleanse and moisturize your Doodle's coat without stripping away the natural oils that protect their skin. It is also free of harsh chemicals, sulfates, and parabens that can irritate your Doodle's skin. For the best results, use this shampoo conditioning combo every few weeks or as needed to keep your Doodle's coat clean and healthy. 
How do you take care of a Sheepadoodle's hair?
A Sheepadoodle's hair requires regular brushing and combing to prevent mats and tangles. The amount of grooming needed will depend on your dog's length and type of coat. 
Sheepadoodles with shorter coats will require less grooming than those with longer, denser coats. You should also trim your Sheepadoodle's nails and brush its teeth regularly. If you're a new Sheepadoodle pet parent, visit a professional groomer and get some grooming tips.
Conclusion For The Best Shampoo For A Sheepadoodle
Sheepadoodles are wonderful, loyal companions that are great for people of all ages. They are relatively easy to train and make excellent family dogs. So if you're looking for a cuddly, fun-loving dog, the Sheepadoodle is the perfect breed! That said, keeping your pup's skin and coat healthy and looking its best can be challenging. 
The key is to find a good quality dog shampoo for healthy skin and coat and to brush your Sheepadoodle regularly with a gentle Doodle slicker brush. Remember that your dog's diet is also key to a healthy coat, so ensure you are feeding your Sheepadoodle high-quality, nutritious food. 

Claudia Bensimoun is a writer who specializes in dog content and veterinary topics! Aside from writing for We Love Doodles, Claudia also writes for other major dog blogs like Fido Friendly, Animal Wellness Magazine, and the United States Dog Agility Association (USDAA). She has a ghostwritten over 50 different dog e-books. Her passions include animal welfare, veterinary research, and wildlife conservation.
Why Trust We Love Doodles?
At We Love Doodles, we're a team of writers, veterinarians, and puppy trainers that love dogs. Our team of qualified experts researches and provides reliable information on a wide range of dog topics. Our reviews are based on customer feedback, hands-on testing, and in-depth analysis. We are fully transparent and honest to our community of dog owners and future owners.