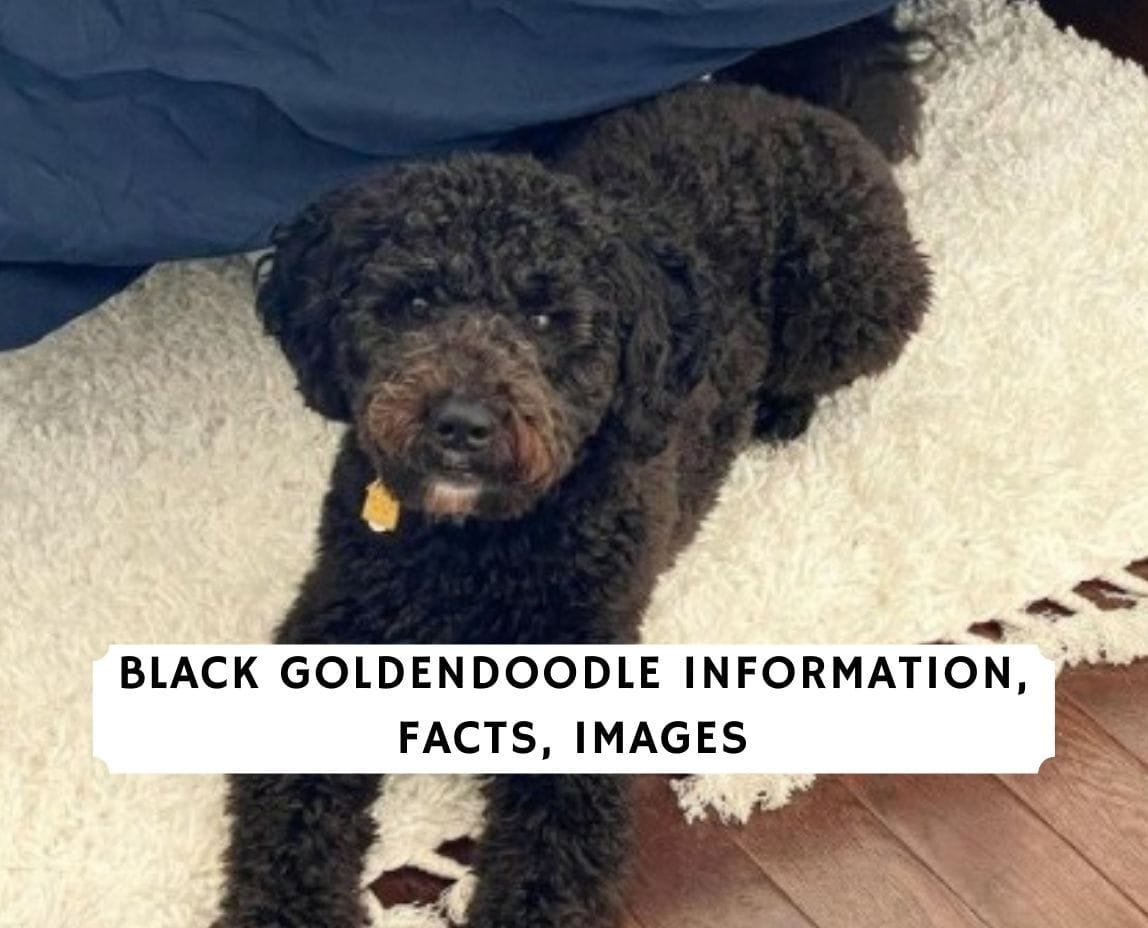 Does a black goldendoodle exist? The short answer is yes! While most goldendoodles are light in color, there is absolutely such thing as a black goldendoodle. 
In this guide, we're going to take a look at how this coloration comes to present itself in the goldendoodle breed. We'll also talk about coat types, the lifespan and temperament of the dogs, and how you can best care for your black golden doodle. Ready to get started? Let's explore the goldendoodle breed. 
Before you begin this black goldendoodle guide, check out these similar topics that might interest you: Chocolate Goldendoodle Guide and Red Goldendoodle Guide.
How Does a Goldendoodle Get a Black Coat?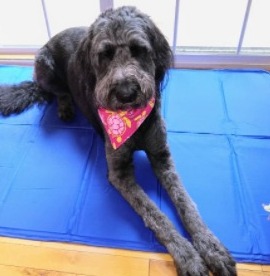 The goldendoodle is a hybrid mix of the golden retriever and the poodle. They're designer dogs and they're well-loved worldwide, despite the fact that they're a new breed relative to some others. While most goldendoodles are born with or grow into light coloration, some black goldendoodles may present themselves. 
Golden retrievers only come in cream and red colors, but poodles come in a virtual rainbow! If your goldendoodle is born dark, like black or brown, it inherited its color from the poodle parent. Grey goldendoodles also exist, but they're typically just dark goldendoodles that are aging. 
Coat Types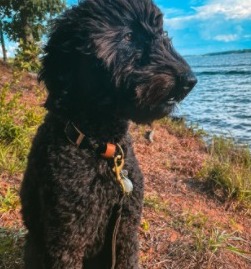 Goldendoodles, including the black golden doodle, can be born with different coat types. Variation in the coat is attributed to the dominance of genes from each parent. Golden retrievers have straight hair, while poodles are curly; this combination of genetics can lead to various textures for a goldendoodle. When grooming a goldendoodle, there's no one-size-fits-all approach! Each coat type's differing textures require unique grooming to ensure your black goldendoodle looks and feels its best.
Curly Coat: Curly coated black goldendoodles get their hair from their poodle parent. However, the length and tightness of the curls can vary from dog to dog. Some dogs have loose curls, while others have very tight curls. The tightness of the curls is affected by the poodle lineage of your pup. Curly coat goldendoodles tend to shed less, so these are the best choice for allergy sufferers. Dogs with this coat type require daily brushing to avoid matting; cutting the hair short can also alleviate this problem.
Wavy and Shaggy Coat: A combination of the golden retriever's straight coat and the poodle's curly coat, this is the most common coat type for a black goldendoodle. This wavy coat is also the easiest type to maintain because it sheds minimally, like the curly coat, but only requires weekly brushing.
Straight Coat: A black goldendoodle with a straight coat is rare. This coat requires weekly brushing and is more likely to produce some shedding.
Temperament
Black goldendoodles, and goldendoodles in general, have fantastic temperaments that make them great companions. They are a perfect combination of their parent dogs. Goldendoodles inherit the intelligence of their poodle parent and the loyal, friendly demeanor of the golden, making them perfect for families and for seniors! Their patience and gentleness makes them great companions to children, too. 
However, because these dogs are so social, they may begin to misbehave when not given the attention they need to thrive. Intelligence is beneficial when training a dog. Black goldendoodles' high intelligence makes them quick learners, so they are very receptive to training. Because of their high intelligence, goldendoodles are a popular breed for service and therapy dog training.
Remember, although a dog has inherited some traits from its parents, it doesn't mean you can neglect socializing and training your puppy. Make sure your dog is getting the attention it needs to live up to its full potential.
Size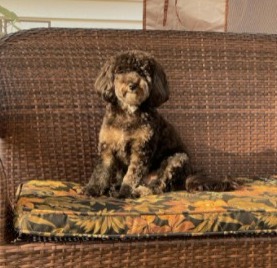 As you shop for your black goldendoodle, note that you have options. There are three sizes of goldendoodles: miniature, medium, and standard. These sizes are determined by the poodle parent. If you're looking for a goldendoodle breeder, make sure their poodle parents are the right size for you. Talk to your breeder about the specifics, and to view pictures of puppies they've produced in the past.
Related: When is a Goldendoodle Full Grown?
Lifespan and Health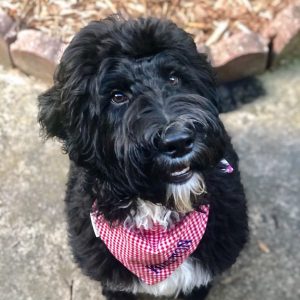 A black Goldendoodle has an average lifespan of 10 to 15 years. These dogs are generally healthy; however, goldendoodles are predisposed to some conditions that require you to stay vigilant. Just as they inherit their coat and temperament from their parents, black goldendoodles can also inherit common health issues of both breeds. Below are a few of the common health problems black goldendoodles can face.
Hip Dysplasia: This condition is common among large dogs and involves a gradual deterioration of the hip joint over time. This common ailment can be treated with medication, although sometimes surgery is needed. This condition is common among golden retrievers and poodles.
Patellar Luxation: Another condition often found in parent breeds, patellar luxation, involves the kneecap moving out of its proper position. This condition requires surgery to correct.
Sebaceous Adenitis: A disease that commonly affects black goldendoodles' skin, Sebaceous Adenitis can cause your dog discomfort. This disease is a result of inflamed glands along your dog's skin. Typically dogs with this condition are given special shampoo. You can also give your dog specially-made food to prevent irritation of sensitive skin.
Price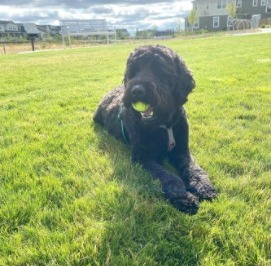 Goldendoodles, in general, are highly sought after. Black is often seen as a rare color among goldendoodles, so these dogs' demand is even higher than your average goldendoodle. Black goldendoodles typically start at $1,500 and can reach up to $3,000. These prices may vary based on the size and coat type of the dog. Remember, there are ongoing costs you must account for when purchasing a black goldendoodle. As mentioned above, goldendoodles will require regular grooming to maintain a healthy and beautiful coat. Grooming contributes to your dog's overall maintenance cost. Additionally, you may need to buy specialized food to combat skin sensitivities.
Related: How Much Does a Goldendoodle Cost?
Conclusion For "Black Goldendoodle Information, Facts, Images"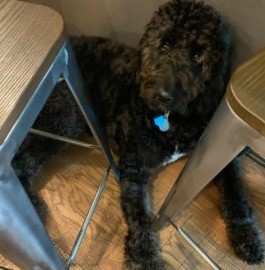 Now that you know a bit more about the black goldendoodle, you can decide whether the breed is right for you. The black golden doodle is a friendly, intelligent, and stunning designer breed, and the pups make excellent companions for just about anyone from children to seniors!
As you shop, be sure you're looking for reputable goldendoodle breeders. The best goldendoodle breeders will pay more attention to their puppies' health and temperament than their color, so be prepared to be placed on a waiting list. 
For more Goldendoodle guides from WeLoveDoodles, you can check out:
To see a black Goldendoodle in action, watch "Goldendoodle Colors":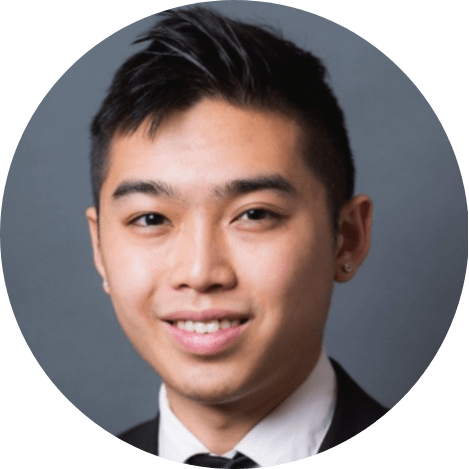 Andy is a full-time animal rescuer and owner of a toy doodle. When he's not saving dogs, Andy is one of our core writers and editors. He has been writing about dogs for over a decade. Andy joined our team because he believes that words are powerful tools that can change a dog's life for the better.
Why Trust We Love Doodles?
At We Love Doodles, we're a team of writers, veterinarians, and puppy trainers that love dogs. Our team of qualified experts researches and provides reliable information on a wide range of dog topics. Our reviews are based on customer feedback, hands-on testing, and in-depth analysis. We are fully transparent and honest to our community of dog owners and future owners.