These adorable puppies can make incredible companions, whether you call them Newfypoos or Newfiedoodles. The affectionate and playful Newfydoodle is an increasingly popular breed, especially among families.
Before your family settles on a Newfypoo, you probably have some key questions to help you determine if they are a good fit for your household.
When is a Newfiedoodle full grown? How big will they be when my Newfydoodle is full-grown? At what age will they stop growing? Read on to learn everything you need to know about the Newfydoodle full-grown sizes.
Before you continue down this guide "When is a Newfiedoodle Full Grown," check out these other guides with mentions of the Newfypoo: Best Giant Doodle Breeders and Best Large Doodle Breeds.
What Age Are Newfypoos Fully Grown?
Before talking about sizes and weights, it helps to know at what age Newfypoos reach their full growth potential. Think about it. You bring home a tiny, clumsy furball who can't get far without tripping over its own feet.
Then all of a sudden, you notice that the furball is twice the size, and you don't know how (or when) it happened. This is because dogs grow at different rates, depending heavily on their size. Smaller dogs typically reach full size by 12 months, while larger breeds take 18 months.
Of course, some dogs keep growing until their second birthday. Deciphering when your Newfypoo puppy will stop growing depends heavily on their size, but you can get a pretty good idea by the time they are six months old. Most dogs reach at least half their expected size by six months, and then the growth tapers off a bit.
Newfiedoodle Sizes: Miniature, Medium, and Standard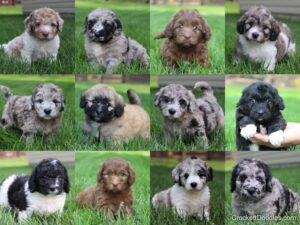 Let's talk about Newfypoo sizing and what the different names mean. Typically, dogs are classified by weight, but some people like to know what to expect with height.
Dog Weights and Classifications
Weight is easy to measure with a scale unless your puppy doesn't sit still. Based on weight, dogs fall into one of three categories:
Small dogs weigh less than 20 to 25 pounds
Medium dogs weigh up to 55 to 60 pounds
Large dogs weigh over 60 pounds
Of course, some people use additional categories, but these are the three most common weight categories.
Dog Heights
Figuring out how tall a dog is can be more challenging, especially for active breeds. You might need somebody to help you keep your pet still enough to get a measurement. However, knowing a dog's height enables you to figure out a proper kennel size, among other things.
To determine your dog's height:
Have them stand on all fours with feet spread evenly.
Locate the highest point between the shoulder blades, known as the withers.
Measure from the bottoms of their feet to the withers to get the accurate height.
What to Expect With a Newfypoo
So, how big do Newfiedoodles get? It depends. You can typically find standard and mini Newfypoos, though miniature is a misnomer when it comes to this particular breed.
Newfypoos come from breeding standard Poodles with Newfoundlands. Since standard Poodles are typically 40 to 70 pounds and Newfoundlands can weigh up to 150 pounds, Newfypoos tend to be larger dogs.
Some breeders pair Newfoundlands with slighter Poodles or miniature Poodles to breed a smaller, "mini" version. Miniature Poodles weigh 10 to 15 pounds, but Newfoundlands are still large dogs so a mini Newfiedoodle will be a medium-sized dog given the lineage.
There is some variation depending on which parent is the Poodle and the Newfoundland, given that males tend to be larger than females.
How Big Do Mini Newfiedoodles Get Compared to Standard Newfypoos?
Remember that Standard Newfiedoodles come from two larger breeds, so a Mini version is not the same as miniatures of other breeds. Also, mini Newfypoos are closer to medium-sized dogs, so don't expect to fit one in your purse.
Typically, "mini" Newfypoos end up around 18 to 21 inches tall and weigh in at 35 to 65 pounds. It's a wide range because the breed is relatively new and not yet standardized.
In comparison, Standard Newfypoos are undeniably large dogs. Even if a puppy favors the Poodle parent more, they can reach up to 28 inches tall and tip the scales at 80 to 130 pounds.
It's important to understand that a so-called "teacup" Newfiedoodle does not exist. Even though breeders have attempted to create "teacup" versions of most breeds, it's often seen as unethical, especially with larger dogs, like Newfeypoos.
Attempting to create "teacup" versions typically involves pairing the litter's smallest dogs to make even tinier puppies. This approach doesn't always work, and with it does, it often results in health issues, including heart defects.
If you encounter any breeders attempting to sell "toy" or "teacup" Newfiedoodles, it's best to move on to a different source. Either they aren't completely honest about the puppy's pedigree, the dogs are unhealthy, or the breeder did something unethical to achieve the "toy" size.
The Generation Effect on Newfiedoodle Size
Genetics plays a huge role in determining a dog's size. The generational effect can have a more significant impact on mixed breeds than pure breeds. Let's see if we can simplify things a little.
Breeders pair one Poodle parent with one Newfoundland parent to create a Newfypoo. Basic genetics tells us that the puppy is half of each parent and a first-generation Newfiedoodle. You get a large, fluffy, affectionate dog.
So what happens if you breed a first-generation Newfypoo? Pairing two first-generation Newfypoos means you still have a fifty-fifty blend of Poodle and Newfoundland. So instead, you get a similar-sized puppy that's a second-generation Newfypoo.
Beyond those pairings, things get muddier. When you start mixing and matching generations or pairing the first generation with a purebred Poodle or Newfoundland, all bets are off, and ratios get messy.
For example, if you pair a first-generation Newfiedoodle with a pure Poodle, the puppies would still be Newfoundland and Poodle mixes, but they would have more Poodle genes. You would likely get a slightly smaller dog with more Poodle characteristics because it would be 75% Poodle and only 25% Newfoundland.
That said, genetics are curious factors, and even if you use a purebred Poodle parent with a purebred Newfoundland parent, you can't control which characteristics the puppies take on. Just like human kids, puppies can favor one parent over the other.
Newfypoo Size Predictions
You might hear many comments about ear size and paw size, but they are not reliable indicators of a puppy's adult size. Scientists discovered years ago that dog size relates to a particular gene, explaining why Newfiedoodles take after their parents.
Knowing something about your furry companion's parents can provide insight into how big your puppy will end up. While there are exceptions to every rule, typically, you can expect a standard Poodle and Newfoundland to produce a large Newfypoo.
Pairing a more miniature or slighter Poodle with a Newfoundland could result in a smaller puppy, but not by much. Newfypoos should never be smaller than 35 pounds because the parents should never be small enough to produce offspring that tiny. That said, there's a massive difference between a 50-pound dog and a 130-pound dog.
Other Factors Affecting Newfypoo Size Predictions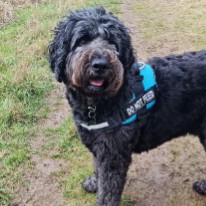 Several factors can impact a dog's size, including gender, diet, and health issues during the puppy years.
Like many other species, male Newfypoos tend to be larger than their female counterparts.
A puppy's position in its mother's stomach can impact its size.
Health conditions during the early years can stifle growth, like joint dysfunctions and illness.
Please don't overdo it with exercise because excessive, strenuous activity can impact a puppy's development.
Finally, puppies must have dog food made for younger dogs. A nutrient-insufficient diet can impact more than a puppy's health. It can keep them from reaching their full growth potential.
Estimating Your Newfypoo's Size
It's important to note that many puppy growth charts and weight prediction calculators exclude crossbreeds, like Newfiedoodles. Some smaller custom sites by breeders might offer guidance based on experience, but it's always an estimate.
If you get your puppy from a breeder, you should get information from the parents. With that information, you can make a fair estimate.
However, it might be more challenging to estimate adult size if you adopt your Newfypoo from an animal shelter. That said, you can apply some standard calculations to find your estimates on your own.
For medium-sized dogs, take your dog's weight at 18 weeks old and multiply it by two to get an estimate. If you have a large Newfypoo, use their weight at 23 weeks and double it to get your full-size estimate.
When Do Newfiedoodles Stop Growing?
It depends on whether you have a standard or mini Newfypoo. Standard Newfypoos are typically large dogs that can take up to two years to reach their full size. The "mini" Newfiedoodles stop growing a little sooner and reach full size in 12 to 18 months.
There is no hard and fast rule about when dogs stop growing, only estimates. If you're considering a Newfypoo, it's best to expect a larger dog with plenty of energy and affection for everyone in the household.
For more guides similar to "When is a Newfypoo Full Grown," you can check out:
You can learn more about the Newfypoo by watching "Newfypoo Dog Breed Information" down below: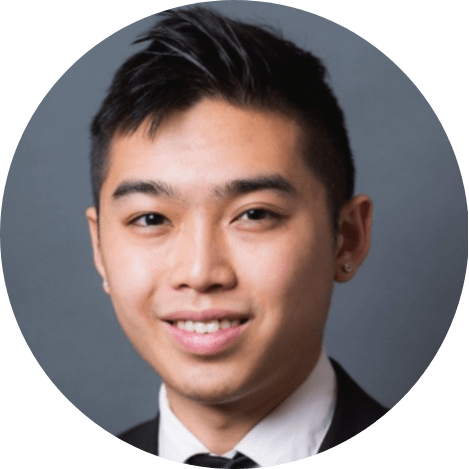 Andy is a full-time animal rescuer and owner of a toy doodle. When he's not saving dogs, Andy is one of our core writers and editors. He has been writing about dogs for over a decade. Andy joined our team because he believes that words are powerful tools that can change a dog's life for the better.
Why Trust We Love Doodles?
At We Love Doodles, we're a team of writers, veterinarians, and puppy trainers that love dogs. Our team of qualified experts researches and provides reliable information on a wide range of dog topics. Our reviews are based on customer feedback, hands-on testing, and in-depth analysis. We are fully transparent and honest to our community of dog owners and future owners.