The Newfypoo isn't a pure breed. It is a mixture of Newfoundland and the Poodle dogs. It is a combination of intelligence, wits and is also a little temperamental. These adorable little puppies are a fan favorite because of their loving nature and charming personalities. They are also known for their cute looks. They are large dogs with curly fur. They also come in a large variety of colors. One look at the parent dog can make almost accurate assumptions about how the offspring will look like.
This large breed designer dog is suited for families that preferably live in a large house with an even larger backyard. Newfypoos require plenty of space to play around. They manage to get along reasonably well with everybody as they are socially outgoing dogs. They can quickly adapt to various families and their lifestyles if you're wondering whether getting yourself a Newfypoo is the right choice for you.
We also made a video on the Newfypoo if prefer to watch instead of read. Check it out below:
Before scrolling down this Newfypoo dog breed guide, feel free to check out other mixed breeds: Best Poodle Mixes and Best Giant Doodle Breeds.
Origin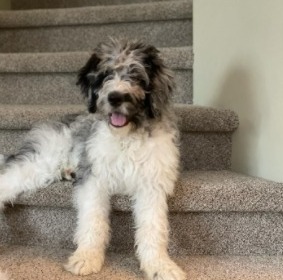 When it comes to dogs specially bred, it is kind of hard to pinpoint where their legacy began. Over the years, numerous cross-breeds have existed all around us. It is considered that moment when breeders decided to mix two breeds to procreate a Doodle dog intentionally. The purpose behind mixing two breeds of dogs is that people hope to achieve desirable traits of both the parents in one dog while praying to eliminate the negative ones. For Newfypoos, it is quite possible to shed less, have an amicable personality, and have a beautiful appearance.
Related: WeLoveDoodles' List of Doodle Breeds.
Food and Diet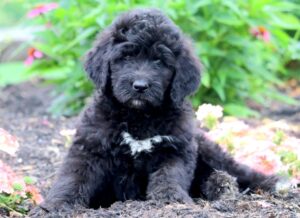 Just like many other dogs, Newfypoos prefer high-quality dry food. As long as it is made from high-grade natural ingredients and meets their individual nutritional needs, you're good to go. It would be best if you also kept in mind their size and age while preparing their food. If you're worried about whether your puppy is getting the required nutrients in sufficient quantity, consult your vet. They will be able to help you prepare a diet plan for your puppy.
Newfypoos are heavy eaters, and they require a lot of food. They're also quite picky about it. When feeding your dog, make sure to divide their calorie intake and spread it across the entire day. This will prevent your companion from both over-eating and under-eating. You need to be careful and not let your puppy become overweight or obese because you'll be surprised at how much your cuddle buddy can eat.
Dog Food Recommendations: Best Dog Food with Vitamins and Minerals and Tips For Choosing a Good Dog Food.
Weight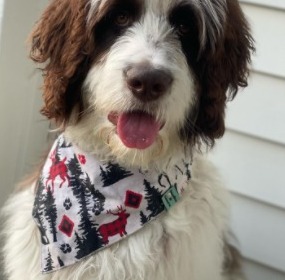 If you look at the larger breeds, a Newfypoodle will likely weigh anything between 70 and 150 pounds. This big boy is more of a furry roommate than a pet.
Life Expectancy
Usually, dogs have a life span of about 10 to 12 years. Your Newfypoo companion is no different. How long this breed lives depend on how you raise it and if it'll encounter any health issues along the way of its journey.
Are Newfoundland Poodle Mixes Good Family Dogs?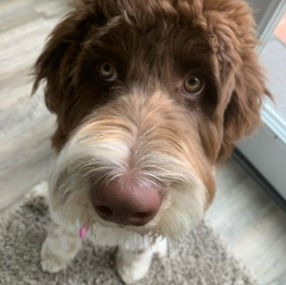 Families that can take out time for their dogs, take them on long walks, play fetch with them quite often can take care of a Newfoundlanddoodle. Newfypoos are incredibly active and energetic dogs that love to play around.
Finding a Newfypoo Companion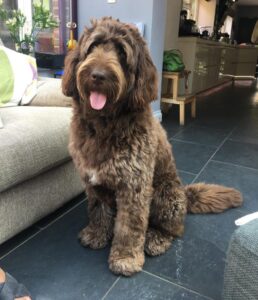 Finding the puppy of your dreams might be a little rare, especially since the mix in itself is. If you want to get a Doodle with specific personality traits or looks, it is best to use a reputable breeder.
Similar Dog Breeds: Best Hypoallergenic Dog Mixes.
Newfypoo's Behavior
If you want a cuddle buddy that is large but has an even bigger heart, Newfypoo is your go-to dog. Amicable, docile, lovable, affectionate, and even-tempered, these dogs are a fan favorite. They're loyal to their owners and will do anything to keep them happy. Social and playful, these dogs get along quite well with other people, children, and even pets. It is tough to come across people who wouldn't fall in love with these large and charming Newfypoos. These puppies are so cute that they'll warm your heart and fill it with love. Although don't let their looks fool you, even these dogs can turn to be extremely bold and fierce when it comes to protecting their owners.
Are Newfiedoodle Dogs Hypoallergenic?
Most people expect the Newfypoo dogs to shed a lot because of their thick coats, but that's not the case. Their shedding is as minimal as possible. It's safe to say that no dog is entirely hypoallergenic. If you regularly bathe your dog and frequently brush its hair, the shedding will no longer be a concern. If you're concerned about your allergies, you can spend quite some time with your companion before bringing them home to make sure they do not trigger your allergies.
Related Article: Tips For Grooming Your Doodle at Home.
Are Newfoundland and Poodle Mix Good With Children?
While Newfypoos usually do well with people, there should always be an adult present when a toddler is around. Due to their large size, they may unknowingly hurt young children. While they do bite around while playing with you, they also might get a little aggressive and start biting you fiercely. Sometimes, you need to properly train your dog to socialize to always be on their best behavior.
Exercise
All dogs need outdoor activities every day to keep them fit, and their heart pumped. They would highly appreciate you taking them on long walks or spending a lot of your time playing with them. This helps them stay mentally and physically fit. Make sure that you plan your dog's exercise routine according to their needs and wants. While dogs usually hate taking a shower, some of them love to go for a swim.
Ideally, Newfypoos should at least get about an hour of vigorous exercise every day. Doing so would also keep your dog cheerful and joyous. If their energy is spent in the right direction, they are less likely to get irritable or feel frustrated. Sometimes your dog's aggression can be terrible for their own and your health, so you need to find your dog healthy coping mechanisms for the same.
Exercising Dog Product Recommendations: Best Weighted Vest For Dogs and Best Dog Playpen For Hardwood Floors.
Pros of Getting a Newfydoodle
They are loyal, affectionate, caring, and amicable
Usually, they shed minimal hair
They are witty and intelligent, and eager to please you
They come in a vast range of colors and sizes
Cons of Getting a Newfydoodle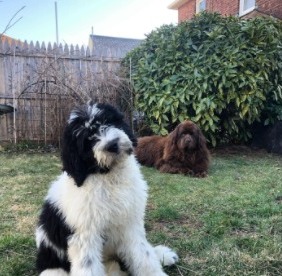 Their instincts might take over, making them want to hunt and chase other animals.
It is a little tough to maintain their looks as their grooming sessions take much longer because of their size.
They are only suitable for households that have plenty of space
It is impossible to give an accurate prediction of how the doodle will turn out
Related: Chesador Dog Breed Information and Big Curly Haired Dog Breeds
Training Your Newfiedoodle
Your dog is likely to listen to your commands and follow them to the core as they are naturally inclined to do so. Training a Newfiedoodle is relatively easy and doesn't take up a lot of your time as they are quick learners. However, to ensure that you have given your dog the proper training, you need to incorporate some of these methods. Use positive training methods to teach your dog how to socialize, which is an integral part of their interaction with humans. For them to form a bond or a connection, they need to be able to trust you and vice-versa.
This can be developed or worked on in training. Another thing to keep in mind is to begin your dog's training at an early age. Once they've grown up, they're less likely to follow your commands unless they've been taught how to, ever since they were puppies. Due to their intelligence and wits, they are likely to respond well to training. They have the desire and the ability to please their owners. If both the parents have a history of working alongside humans, their offspring are also likely to be naturally friendly.
Dog Training Articles: Best Training Collar For Small Dogs and How To Get Your Dog To Respect You.
Common Health Problems
As the Newfypoos are hybrid dogs, they are likely to inherit some medical conditions from their successors. Sometimes, these might not even be inherited but can be developed with age or other external factors. There is no guarantee that your dog will be sick, but on the off chance that it might be, you can read the below-mentioned list.
Subaortic Stenosis: This is a heart problem in which the aortic valve becomes narrow. Already present in puppies from birth, your companion's heart will need to work harder to pump blood, leading to further complications and even cause muscle failure.
Dilated Cardiomyopathy: This occurs when your companion's heart muscles start degenerating, which causes the muscle walls to become thinner and thinner. They also begin to stretch. All this eventually leads to a larger heart, which can be quite an uncomfortable experience for your fur buddy.
Epilepsy: This is a neurological disorder that can cause seizures. In 2014, scientists conducted a study to find epilepsy to be the most common chronic neurological disorder in dogs. This issue is often treated only with the help of medications.
Progressive Retinal Atrophy: This is inherited from the parents, and it eventually leads to blindness. However, don't let yourself get confused because the symptoms of this disorder are quite similar to those of many other problems. It is best to get it tested and keep in regular contact with your companion's vet.
Cataracts: This causes a clouding in your companion's eye lens. Your dog will likely need to undergo surgery. Although, you need to keep in mind that finding a veterinarian qualified enough to perform such surgery is costly and complex.
Glaucoma: This can also cause blindness in dogs. The causes of this disorder might be other diseases like tumors. You need to ensure to get those treated as well.
Cherry Eyes: In this, the third eye of your fur buddy prolapses. This can also only be solved by getting surgery.
Hip and Elbow Dysplasia: Another issue common in hybrid dogs which are large is hip and elbow dysplasia. It occurs on the malformation of the ball and socket of your dog's joint. Getting your dog regularly tested can reduce the risk of its offsprings inheriting this disorder.
Patellar Luxation: On the rare occurrence of your dog's kneecap moving out of place, patellar luxation is caused.
Sebaceous: This is a skin disorder. It leads to dry and flaky skin and also causes hair fall and hair loss. This problem causes Newfypoos to lose the curl in their fur.
Diabetes: Dogs with diabetes cannot produce insulin, or if they do, they do so in large quantities. You need to take good care of your companion if it has diabetes because it can severely affect his diet.
Bloat: Bloating (gastric dilation volvulus) is a potentially life-threatening disease, and your Newfypoo might be prone to it. Because of their large size, these dogs eat plenty of food, so your puppy's food intake should be carefully monitored. Feel free to discuss it with your veterinarian and keep them in the loop about everything.
Dog Health Articles: Best Dog Foods For Joint Health and Rare Dog Diseases Every Owner Should Know.
Conclusion For "Newfypoo Information, Facts, Images"
One thing to keep in mind while looking at your cross-breed is that the outcome is quite unpredictable. There is no way you can accurately tell what the offspring of two different breeds will be like. The vast majority who want to buy a Newfypoo are looking for a large breed that is witty, intelligent, adorable, and cute, all-in-one. They're likely to be looking for a dog that doesn't shed too much.
If you're looking for a comparatively smaller dog, you can look for a Newfoundland mixed with a mini Doodle. These dogs have all the characteristics of Newfypoos and are much easier to handle. These weigh about 60 to 80 pounds and are as dynamic as the rest. In short, if you're wondering whether to get yourself a Newfypoo or not, the answer is yes. Don't hesitate to get yourself a best friend and a cuddle-buddy.
For more helpful articles for your Newfypoo companion, check out:
To learn more about this Poodle mix, watch "Newfypoo Dog Breed":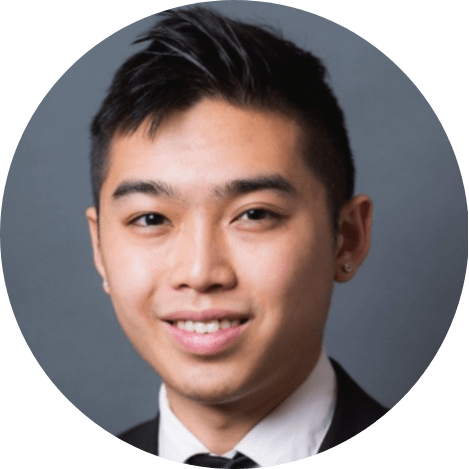 Andy is a full-time animal rescuer and owner of a toy doodle. When he's not saving dogs, Andy is one of our core writers and editors. He has been writing about dogs for over a decade. Andy joined our team because he believes that words are powerful tools that can change a dog's life for the better.
Why Trust We Love Doodles?
At We Love Doodles, we're a team of writers, veterinarians, and puppy trainers that love dogs. Our team of qualified experts researches and provides reliable information on a wide range of dog topics. Our reviews are based on customer feedback, hands-on testing, and in-depth analysis. We are fully transparent and honest to our community of dog owners and future owners.