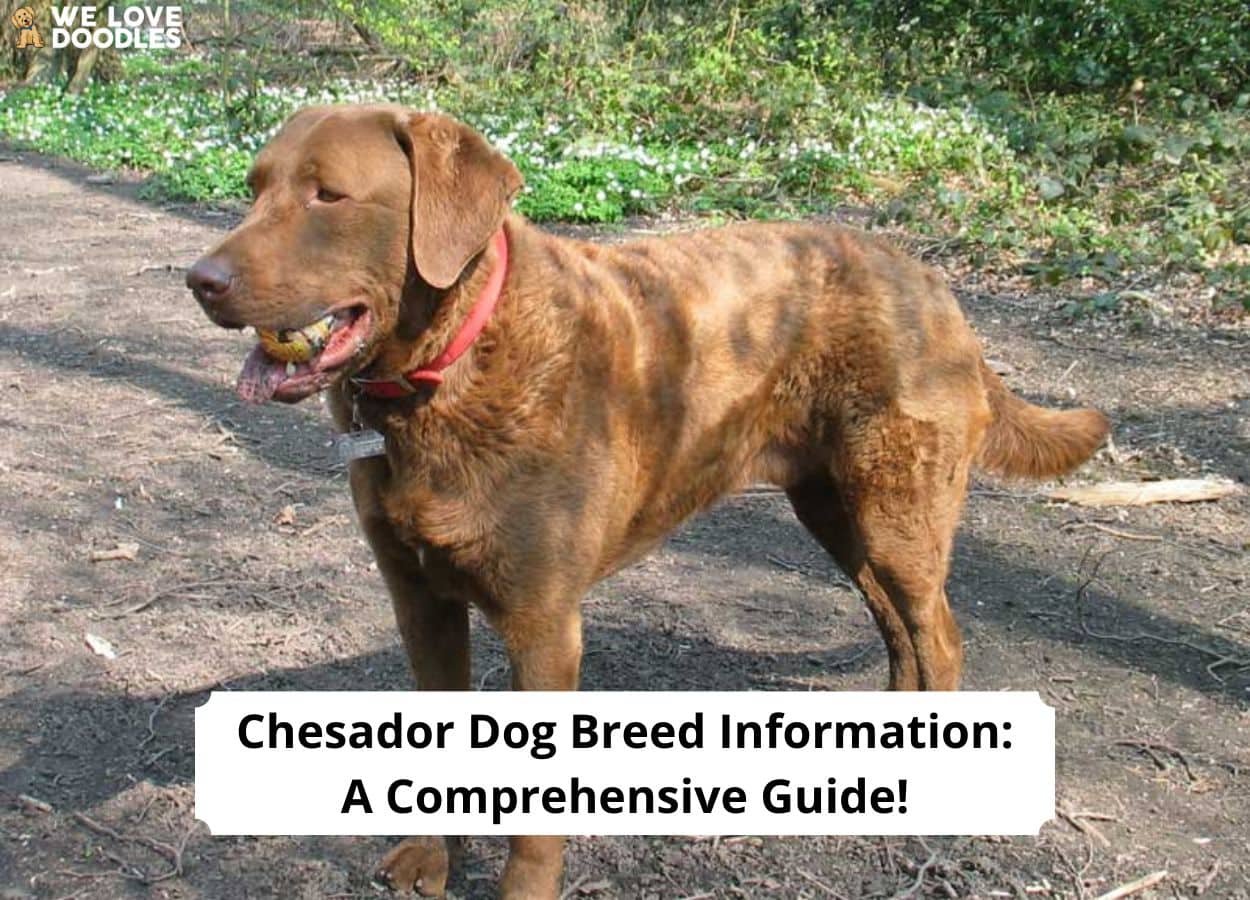 If you're curious about the Chesador dog breed, you're in the right place. Adopting a dog of any breed is a serious decision that should not be taken lightly. This is true of the Chesador more than any other dog. You should give serious thought to whether this is the ideal dog breed for you.
Chesadors are a mix between two popular dog breeds: Labrador Retriever and the Chesapeake Bay Retriever. They live for a very long time, have a lot of energy, and need a lot of love and attention.
This guide has everything you need to know to decide if a Chesador is right for you.
Before scrolling down this Chesapeake Bay Retriever and Labrador Retriever mix guide, check out: Boodle Dog Breed Information and Newfypoo Dog Breed Information.
About the Chesador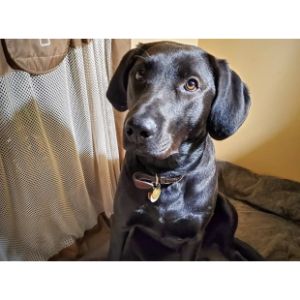 The best way to learn about this unparalleled designer dog breed is to research its two parent breeds, the Chesapeake Bay Retriever, and the Labrador Retriever. Once you do that, it won't take much creative thinking to understand how the Chesador evolved into the dog it is today.
The Chesapeake Bay Retriever is one of the few dog breeds with a known historical ancestry: its two parents were saved from a sinking ship in Maryland in 1807. The original Chesapeake Bay Retrievers can be traced back to a male and female St. John's Water canines, Sailor and Canton. They were adopted by local households and bred with local canines.
While Chessies are most famous as duck-hunting dogs, they also do quite well in agility and stamina activities. Aside from their natural protective instincts, these dogs are incredibly sociable.
The Labrador Retriever is a breed of dog that originated in Canada, well to the north of its Maryland relative.
The Labrador Retriever is a popular dog breed due to its good nature, friendliness, and sociability as well as its work ethic and affectionate nature. They get along nicely with both other dogs and smaller animals, making them a great choice for a family pet. This breed has also become known for being service dogs because of the relative ease with which they may be trained to perform a variety of tasks associated with providing assistance to people with disabilities.
Labradors have earned the reputation of being the most popular dog breed in a large number of regions across the globe.
As a cross between these breeds, the Chesador is a winning designer dog breed because it combines two popular and well-behaved breeds. It's an extremely outgoing and loving canine, full of vitality and excitement for life. A Chesador is the kind of friend you can count on no matter what happens in the years to come, making them an ideal companion for all your exploits.
Chesador Size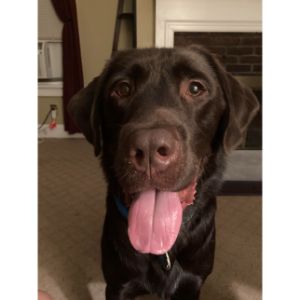 The Chesador dog breed tends to be on the larger side of average. Their typical body mass index is anywhere between 55 and 100. These canines are of ideal height for making long, high-flying jumps. Their height ranges from 56cm to 62cm (22-24.5 inches) at the shoulder.
They also have a double coat to regulate their temperature in any weather. Their coat hair is short, smooth, and straight. Both parent breeds have above average shedding coats, so regular grooming is recommended. These canines come in a wide range of colors, from black and brown to reddish-yellow and tan.
Chesador's Lifespan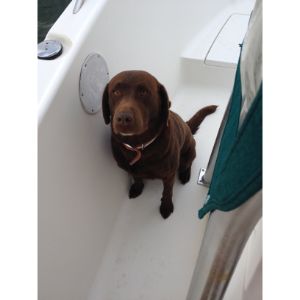 Chesador mixes are friendly and outgoing. They reach full maturity at the age of four. Daily walks help them keep their positive attitude and physical health in check.
This explains why they outlive other large dog breeds. Their typical lifespan is between 10 and 13 years. Some Chesador-mix dogs have lived to be 15 years old, even with illnesses.
Choosing the Chesador
Chesadors are protective dogs that will always keep an eye on their owner whenever they walk together. Chesadors have gained popularity recently, so you may find one available for adoption at a shelter or rescue group.
A Chesador is not a good breed to get if you lead a hectic lifestyle, as they develop depression and anxiety when left alone. However, they can be quick to adjust to any given setting thanks to their adaptability. These dogs do well even in a modest home or apartment.
Chesadors inherit their amiability and gentle demeanor from their parent breeds. As a result, the hybrid is popular not only with most family members, including children. They also do well with other pets, including dogs. Despite having a natural propensity for hunting, it treats others with kindness.
They are incredibly devoted to their owners, and it won't take much effort to teach them to be security dogs or watchdogs. The dogs' ancestors are very protective, to the point where they'll sacrifice everything to keep their owners safe.
Chesador Cost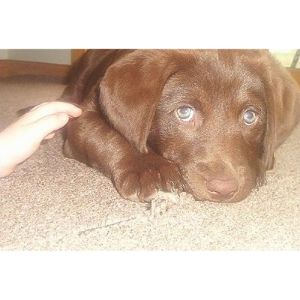 The cost of a Chesador mix is higher than that of other large canines. Their typical cost could be anywhere from $1,200 to $6,000 from a reputable breeder. Price differs based on location and demand. The price of this breed drops significantly when obtained through a rescue organization or shelter. Their puppies are more costly than their full-grown dogs.
So, consider your financial situation before making a purchase. You'll need to invest in their health, hygiene, and checkups after you've adopted them. Day-to-day, their upkeep is simple.
Health Problems
Because these dogs are a combination of two breeds, they have an increased chance of good health due to the diverse gene pool. However, hip dysplasia is common in both Chessies and Labs, as well as a few other health issues that are common in older dogs. Degenerative eye disease is also a potential issue for older Chesadors.
Yet, joint support supplements like glucosamine and chondroitin can reduce the degree of dysplasia and arthritis. Preventative care and frequent examinations are essential for your dog's health. As a result, you may be able to give your dog a far better quality of life.
Hip Dysplasia
The ball and socket mechanism can be seen in action at the hip joint. When a dog has hip dysplasia, the ball and socket do not align properly or develop normally, causing painful rubbing and grinding. Over time, this causes the joint to deteriorate and stop working altogether. Hip dysplasia can be identified with an x-ray at about three years of age.
Hip dysplasia in dogs is caused by a combination of environmental and hereditary causes. Large breed dogs, such as the Great Dane, Saint Bernard, Labrador Retriever, and German Shepherd Dog, are more likely to have hip dysplasia due to genetic predisposition.
This susceptibility can be exacerbated by environmental and lifestyle factors such as rapid development, inappropriate amounts of exercise, poor weight management, and an unhealthy diet.
Arthritis
Many dogs suffer from painful arthritis, which is caused by inflammation of the joints and makes moving around difficult. Arthritis in dogs occurs when the cartilage in a joint (hip, elbow, etc.) deteriorates or is destroyed, making the surface less lubricious and increasing the likelihood that the bones will rub against one another.
This rubbing can be unpleasant at best and harmful at worst since it exacerbates cartilage degeneration. When new bone grows around a joint because of increased friction, the joint becomes rigid and hard to move (known as degenerative joint disease).
Although the early onset of arthritis is more common in senior dogs, developmental issues in the bones and joints can cause the ailment at any age. Your dog's arthritis could affect just one joint, or it could affect all of them.
PRA (Progressive Retinal Atrophy)
Dogs can go blind from a genetic condition called progressive retinal atrophy (PRA). PRA is a non-painful condition that tends to slowly worsen over time, typically beginning with a diminished ability to see properly at night.
PRA can be caused by a number of different gene mutations, but it always has the same effect: cell death in the retina, located in the posterior part of the eye.
Rods and cones are the two types of retinal cells. Cones aid in daytime vision and color perception, whereas rods aid in nighttime vision and motion detection.
Degenerative PRA affects the rods and cones of adult dogs, which are otherwise normal at birth. However, the rate of degeneration and the age at which the majority of eyesight is lost will differ from breed to breed and from individual to individual.
Night vision is the first to be impacted by PRA because rods die before cones. Achromatopsia, often known as "day blindness," is a disease caused by the premature degeneration of the cones.
Puppies born without fully developed rods or cones are more likely to suffer from a rare kind of retinal disease that causes rapid blindness. These diseases are now more commonly known as PRAs, but they are more accurately classified as retinal dysplasia. All known PRA gene variants eventually lead to irreversible blindness.
Chesador Activity Requirements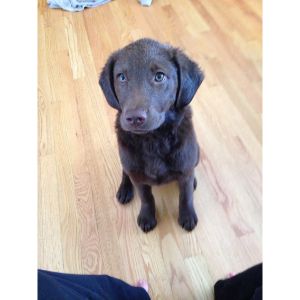 The Chesador needs a lot of exercise to stay in shape and fight against boredom. These dogs are often well-behaved indoors, but they might develop destructive tendencies if they don't have enough to do.
Hiking, swimming, long walks, playing fetch, taking walks to the dog park, and running are all great ways to spend time with your Chesador.
You can take them hunting with you because they make great companions and retrievers. Agility challenges are a lot of fun for these dogs, and regular practice can ensure that your companion stays fit. Chesadors need at least 60–90 minutes of vigorous exercise every day.
Chesador for Families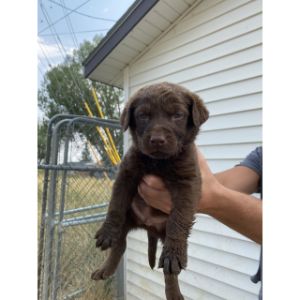 Chesadors are a great option for families of any size because they are a mix of two dog breeds that are noted for their friendliness and gentleness around youngsters. They enjoy the company of kids of all ages and can be a relief to parents who need a break from the demands of entertaining young children at home.
These loving canines will watch over your family even as they get older.
Chesadors are also great with other dogs and other small pets, although they only occasionally "retrieve" cats and other small animals and bring them straight to your feet. The Chesador is highly trainable and adapts well to living in a household with other dogs and small animals.
Things You May Not Know About the Chesador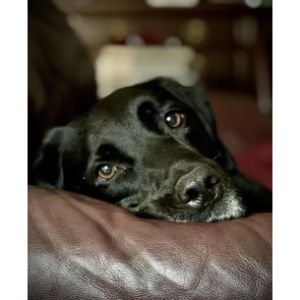 Here are three things you may not know about the lovely Chesador.
Cold Water Swimmers
The Chesador is an absolute natural when it comes to swimming in icy waters due to the fact that both of its parent breeds are well-known for their enthusiasm for the water and originate from more northern regions.
The fact that they aren't disturbed at all by getting a little wet when they're out on the trail increases their usefulness as a hunting and retrieving dog because it increases their versatility. The Chesador is an excellent pet for people who live in frigid climates.
Chesadors and Food
Chesadors have incredibly fast metabolisms and seemingly endless stores of energy, both of which allow them to consume an excessive amount of food without feeling the slightest bit guilty about it.
If you don't keep a close eye on how much they consume, this might quickly result in weight gain or obesity, which would put them at an increased risk for a variety of inherited diseases. If you enjoy giving your canine companion more treats, you will need to ensure that they get lots of extra exercise in order to burn off the additional calories.
Famous Parent Breeds
Chesapeake Bay Retrievers have been owned by notable figures like Theodore Roosevelt, General George Armstrong Custer, and Senator John McCain. Bill Clinton's Labrador retrievers, Buddy and Seamus, and Vladimir Putin's dog, Konni, have brought the breed even more modern notoriety.
Former President George H.W. Bush was accompanied in his final six months by a Labrador Retriever named Sully, who helped with his care while he was bedridden in a wheelchair.
FAQs
What is a Chesador dog?
A Chesador is a cross between a Labrador Retriever and a Chesapeake Bay Retriever. While they are similar, they are considered to be different breeds. Like their parent breeds, Chesadors are good-natured, easy to train, and loyal companions. However, they are energetic dogs and require plenty of exercise.
How big do Chesadors get?
Chesadors are between 56cm to 62cm (22-24.5 inches) tall at the shoulder. They weigh between 60-75 pounds. The range of size of Chesapeake Bay Retrievers is slightly larger than Labradors, so Chesadors are as large or larger than Labradors. However, Chesadors have the classic endless appetite of their parent dogs so their weight should be carefully maintained.
How long do Chesadors live?
The lifespan of a Chesador is 10-13 years. Labradors live for an average of 10-14 years, and Chesapeake Bay Retrievers live for 10-12, so Chesadors are average between the two. Regular exercise and a quality diet will lead your Chesador to a long life.
Conclusion For "Chesador Dog Breed Information"
Now that you know all of the important information about the Chesador dog breed, you can make an informed decision about whether this dog is the right breed for your home and lifestyle.
Rest assured, with their good nature and playful demeanor, you'll fall in love with your Chessador in no time.
For more mixed breed guides similar to this Chesador article, check out:
You can learn more about the Chesapeake Bay Retriever by watching "Chesapeake Bay Retriever – Top 10 Facts" down below:
Garrett loves animals and is a huge advocate for all Doodle dog breeds. He owns his own Goldendoodle named Kona. In addition, he volunteers at the Humane Society of Silicon Valley, where he fosters dogs and helps animals. Garrett enjoys writing about Doodles and believes that dogs can teach humans more about how to live than humans can teach a dog.
Why Trust We Love Doodles?
At We Love Doodles, we're a team of writers, veterinarians, and puppy trainers that love dogs. Our team of qualified experts researches and provides reliable information on a wide range of dog topics. Our reviews are based on customer feedback, hands-on testing, and in-depth analysis. We are fully transparent and honest to our community of dog owners and future owners.