Everyone has seen dogs pick up their favorite squeaky toys only to shake them erratically from side to side — ever wonder why? While it's a common tendency for most dogs, the behavior can seem alarming. It's only normal to wonder why your dog behaves in this way.
By shaking a toy, a dog exercises the hunting techniques his instincts tell him are essential for survival. Puppies can learn this trick from an older dog with the help of a toy. These deadly instincts of your dog can be safely and appropriately released indoors with the help of dog toys.
Before you scroll down, check out these other guides: Why Do Dogs Arch Their Backs? (2023) and Why Do Dogs Rub Their Face? Top 11 Reasons! (2023).
Why Does My Dog Enjoy Shredding Toys?
When hunting in the wild, wolves often kill their prey by shaking it to death. They seize the animal in their fangs and snap its neck with that violent head swaying back and forth. A quicker kill time means a faster feeding time.
While we no longer require pets to rely on hunting for food, their desire to catch and kill remains. Yet for the majority, a stuffed animal is the closest thing to a squirrel or a rabbit they can obtain. Shaking a soft toy satisfies the very same natural urge as shaking a rodent, genetically speaking.
That drive is increased by the internal squeaker. Most dogs find the high-pitched noise to be irresistible because it resembles the sound of an animal in distress.
Some dogs then proceed to dismember their capture, taking out the contents and that squeaker as if it were the ultimate reward after the toy is nice and "dead" after a vigorous shake. Not all dogs shake to kill initially.
Some of them aren't very concerned with the "killing" aspect of the game. Instead, they would rather curl up and tear the toy apart with their paws. That's a component of the predatory drive as well, but it's what's left behind after breeding has "turned off" the catch-and-kill urge in a dog's genes.
Dogs historically bred for labor may be more likely to exhibit all three aspects of the predatory urge — capture, kill, and eat — than just one or two, despite the fact that many dogs shake, dismember, or do both with their toys.
Terriers are particularly skilled at killing toys because many of them were raised to hunt for and kill rodents. For the same reason, northern breed dogs are generally prey-oriented since they are more closely related to the wolves from which domesticated dogs descended.
Nevertheless, if you ask your dog why they do it, it's likely that they won't be able to answer — and not only because they are mute. Most dogs probably enjoy the feeling of having a job, so they enjoy shaking and destroying their toys. After all, weren't fangs and claws designed for just that?
Why Do Dogs Shake Their Toys?
The following are some of the reasons why dogs shake their toys.
Hunting
Your dog imitates the method used by wolves and other wild canines to kill tiny prey when he rattles his toy. The prey's back or neck is intended to be instantly snapped by the shaking motion. Your dog may well be a cute, cuddly furball — but he still has those primal urges and has to occasionally "attack" toys.
Provide him with some toys that are the same size as potential prey. For instance, a little dog would require a shakeable toy the size of a mouse. On the other hand, a large breed might require a toy comparable to a duck.
Playing
Your dog undoubtedly enjoys shaking toys because it's entertaining, despite the fact that his roots are in survival hunting. Don't be startled if he takes a toy, dives in front of you, and rattles it ferociously when he's eager for you to play. It's how he says, "Check me out! Play with me!"
In order to add another aspect to the play, he could shake a toy that you just threw for him to collect as he sprints back to you. He might believe that shaking it can lure you into another round of tug if you end the game before he's through playing.
Frustration
Dogs will intentionally shake their toys in an attempt to destroy them when they are bored or frustrated. According to the ASPCA, this most frequently occurs in dogs that have been left alone for a prolonged period of time or those with acute separation anxiety.
This might result in your home being a complete mess when you return from work, with fluffy toy stuffing all over the place.
Apart from the obvious mess, your dog's conduct is mostly problematic since it is unlikely to end with mere toys. He may start chewing on your blankets, pillows, and knickknacks if he badly needs you to notice him.
The majority of the time, this is simple to correct, and your dog may only require a greater energy outlet. Your dog will be able to explore their natural inclinations instead of taking them out on their toys with the help of frequent play sessions, lots of exercises, and interactive play.
Aggression
The majority of dogs simply shake toys while they play, but others do so to display anger. When they are shaking a toy, pay special attention to your dog's posture. He's having fun if he's bouncing about in a humorous manner or dropping his upper body while shaking.
But if he is gently leaping up, lifting his head, or swinging a toy over you or a smaller animal, this might be hostile behavior. Stopping the aggressive shaking behavior is crucial since it may result in him attacking and shaking smaller pets or even young children.
Create a strategy to stop the behavior with the help of your veterinarian or an animal behaviorist. This may involve ignoring him when he adopts an aggressive position, rewarding good behavior, and penalizing aggressive behavior appropriately.
Is Toy-Shaking a Bad Behavior?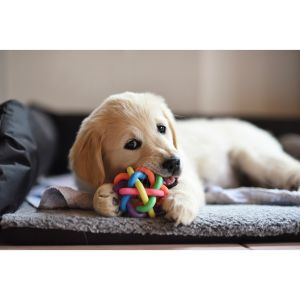 Watching your dog shake their toy is amusing, and while the practice is mostly innocuous, it can sometimes cause problems. It's time to take action if your dog is shaking anything that isn't a toy, gets too protective of their toys to the point of hostility, or chews on toys with an obsession.
Training is crucial since, if not addressed, this behavior may spread to other tiny animals or even kids. Teaching your dog to understand that anything other than their authorized toy is off-limits, whether it's an old shoe or another dog's toy, is the first step.
Give your dog a stern "no" command if they pick up something other than their chosen toy, and then replace it.
It could take some time, especially if your dog is stubborn about holding onto the item. The last thing you want to do is take it away from them against their will. To prevent any future problems, you'll need to teach them to drop everything — including their own toys — on command.
What Some Breeds Shake Toys More Than Others
Several dog breeds, like Terriers, are notorious for toy shaking; therefore, if you're here because you want to know why, it's likely that you have one of those dogs. Although it is a fairly common breed, the likelihood that you own a Labrador Retriever is much lower. What breeds shake their toys the most, and why?
Every Terrier has a high likelihood of shaking toys. It seems logical that these dogs have a much higher killing impulse than many other breeds since they were developed to hunt and kill vermin.
For example, Jack Russells still keep rodents under control on farms because they can fit into tight spaces, have lightning-quick reflexes to grab their prey, and can also kill them with a powerful head shake.
Strong shake-to-kill tendencies are present even in companion dogs as a result of years of selective breeding of canines that are better at killing.
Gundog breeds, however, hardly ever shake their toys. These canines are typically bred to have what's known as a "soft mouth." After all, you wouldn't want to do unnecessary damage by shaking a freshly shot pheasant too vigorously.
While it is possible to teach any dog not to shake, generations of selective breeding have produced dogs who are delicate with their retrieves (and consequently, their toys), which has resulted in an innate shift away from killing and more towards careful carrying. Surprisingly, dogs like Spaniels can carry a hen's egg around in their mouth all day long without ever shattering the shell.
Several dog breeds, of course, serve purposes that don't neatly fall into the Kennel Club's categorization. Look into the breed history of your dog if it shakes a lot to determine whether there's a valid cause for it. Take into account the history of the parent breeds of crossbreeds and designer breeds.
However, keep in mind that every dog is unique. Why some dogs shake their toys while others do not can stem from their personality and early experiences.
Frequently Asked Questions
Is it okay for dogs to shake their toys?
Generally speaking, you should allow — and even encourage — normal, safe playtime with toys, which typically includes shaking.
Why do dogs shake their blankets?
Dogs, especially puppies, may vent by shaking their blankets. It's also possible they have too much energy, boredom, or separation anxiety.
Can dogs get bored of their toys?
Over time, dogs can grow tired of their toys. You can try to make them fresh again by playing with them in a new way or using treats.
Conclusion for "Why Do Dogs Shake Their Toys"
Every dog owner has seen their pet destroy a toy by vigorously shaking it. The majority of the time, there is nothing to worry about. But if your dog exhibits extreme possessiveness toward their toy or other items, you must act fast to stop it.
If you find this guide, "Why Do Dogs Shake Their Toys," helpful, you might also like:
You can learn about other dog behaviors by watching "9 Weird Dog Behaviors Explained" down below:
Garrett loves animals and is a huge advocate for all Doodle dog breeds. He owns his own Goldendoodle named Kona. In addition, he volunteers at the Humane Society of Silicon Valley, where he fosters dogs and helps animals. Garrett enjoys writing about Doodles and believes that dogs can teach humans more about how to live than humans can teach a dog.
Why Trust We Love Doodles?
At We Love Doodles, we're a team of writers, veterinarians, and puppy trainers that love dogs. Our team of qualified experts researches and provides reliable information on a wide range of dog topics. Our reviews are based on customer feedback, hands-on testing, and in-depth analysis. We are fully transparent and honest to our community of dog owners and future owners.