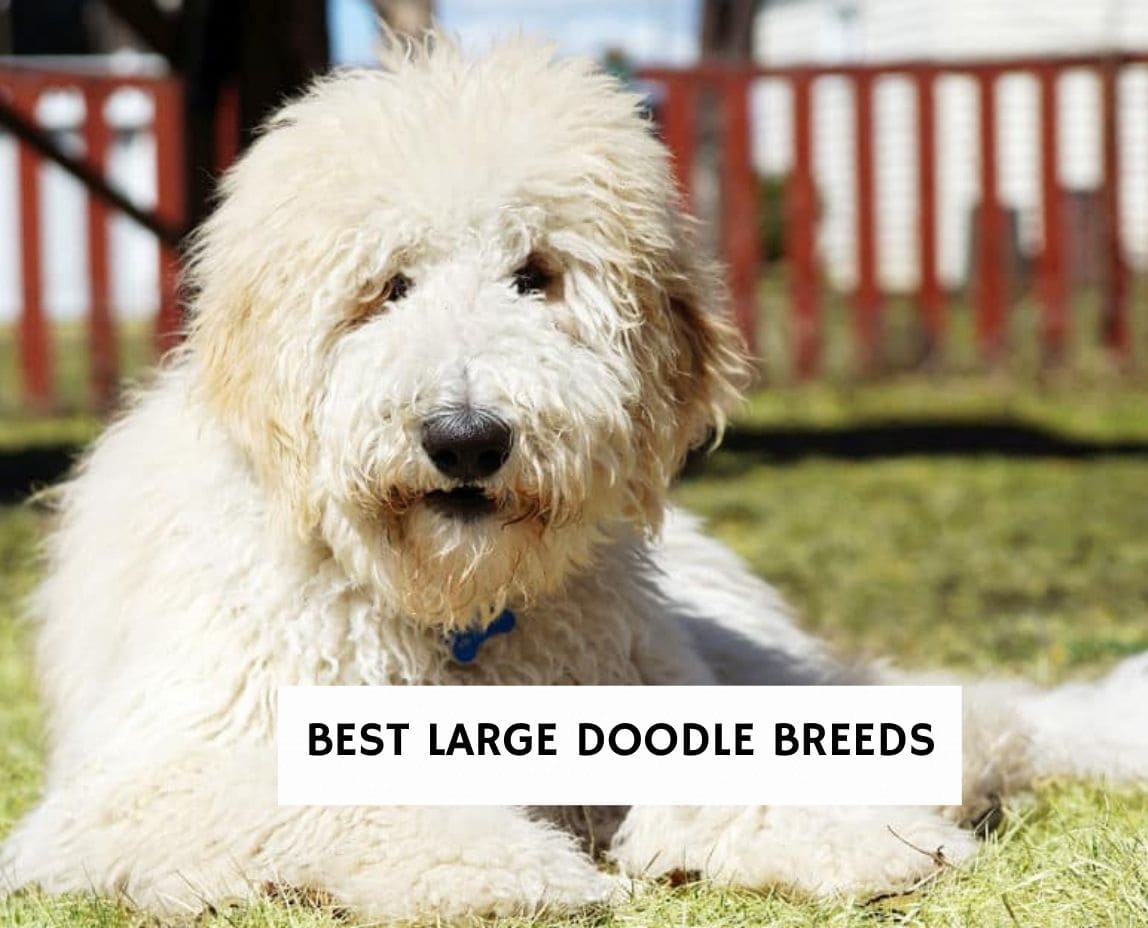 There are probably many large Doodle breeders that you haven't heard about. When you hear conversations about Doodle breeds, you have a mental picture of a small or medium-sized dog due to familiar notions of Doodle dogs. Therefore, it might seem unusual to know that Doodle breeds weigh far beyond 50 pounds, the standard weight for large dog breeds.
Doodles are products of pairings between the Poodle and other dog breeds. Over the years, breeders have made numerous pairings with the Poodle, resulting in a large class of Doodle species. As a result, the breed's classification operates in three weight categories: small, medium, and large breeds, which is the one in focus.
Before scrolling down this list of large Doodle breeds, check out out these Doodle guides: Best Giant Doodle Breeds and What is the Best Doodle Breed?
What Are Large Doodle Breeds?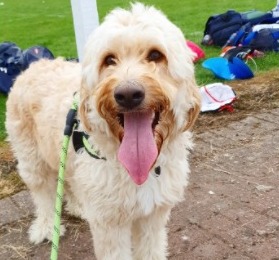 Doodle breeds that fall into the large category weigh up to 50 pounds and measure up to 24 inches in height from toe to shoulder. More than ten Doodle breeds satisfy those requirements, all of which you will know subsequently.
Related: Large Non-Shedding Dog Breeds.
What Is The Largest Doodle Breed?

A difference exists when referring to the most hulky Doodle based on stature and bulk due to word ambiguity. The Saint Berdoodle holds the plaque in body mass, registering up to 150 pounds and measuring 30 inches at maturity. Simultaneously, the Mastidoodle trumps the Berdoodle in tallness, measuring up to 36 inches and weighing 120 pounds. The Saint Berdoodle owes its massive weight to its parents; Saint Bernard, one of the giant dog breeds, while the Mastidoodle inherits its domineering loftiness from its Mastiff parent.
The table below shows the largest Doodle breeds in their height and weight categories.
| | | |
| --- | --- | --- |
| DOODLE BREED | WEIGHT RANGE | HEIGHT RANGE |
| Saint Berdoodle | 110 – 150 pounds | 24 – 30 inches |
| Mastidoodle | 90 – 120 pounds | 25 – 36 inches |
| Irish Wolfadoodle | 90 – 120 pounds | 24 – 30 inches |
| Newfypoo | 70 – 110 pounds | 22 – 30 inches |
| Pyre Doodle | 75 – 100 pounds | 15 – 32 inches |
| Great Doodle | 80 – 100 pounds | 23 – 30 inches |
| Bernedoodle | 70 – 90 pounds | 23 -29 inches |
| Rottle | 60 – 90 pounds | 12 – 27 inches |
| Shepadoodle | 50 – 90 pounds | 22 – 28 inches |
| Flanodoodle | 55 – 85 pounds | 22 – 28 inches |
| Standard Labradoodle | 50 – 65 pounds | 21 – 24 inches |
Related: Best Mini Doodle Breeds.
What Are The Factors For Their Massive Features?

The first and most important factor is the genetic traits of their parents. The parent breed plays a significant role in providing their Doodle offspring with an increased weight despite mating with a much smaller breed like the Poodle. In most cases, the Doodle offspring would likely outsize even its Poodle forebear mainly because of the other one's genetics.
You should know that there will be variation in the Doodle sizes because the level of weight the non-Poodle parent holds will have a severe effect on the offspring despite being of the same breed; hence, the range in species size. For example, if you pair two St. Bernard dogs of 110lbs and 150 lbs with two Poodle of the same weight, their broods would differ in size due to the difference in importance in the non-Poodle parents despite being of the same strain.
Mating large purebred dogs with toy Poodles could result in having offspring that are much smaller in size. Another critical factor is the food your dog consumes, especially when they are very young. Puppy food embodies specific nutrients and vitamins that allow dogs to grow bigger as long as you treat them accordingly. However, it would be best to be careful not to overfeed your dog to avoid exposing it to unhealthy situations, specifically for Doodles with high tendencies to develop disc problems.
Related: Best Poodle Mixes.
When Do These Doodle Breeds Grow Large?
Most large Doodle kinds partly reach their adult mass at 4 to 6 months and stop increasing around 12 to 16 months when they attain the height of 19 to 24 inches.
Related: Best Micro Doodle Breeds.
What Are The Common Health Problems That Affect Large Doodle Breeds?

Large Doodles' common health problems include Bloating, Arthritis, and joint issues. Bloating is very common in Doodles, but large Doodles are at an increased risk since they have an increased disposition at inhaling food while eating because they consume meals rapidly. To prevent this problem's recurrence, you need to correct the attitude by employing a feeder bowl and elevated dishes, which does an excellent job in breaking the inhaling habit's tendencies. Arthritis and joint problems in large Doodle breeds occur when they get older.
To prevent your dog from suffering these predicaments, place your Doodle on a healthy diet to limit the likeliness of obesity and immobility. Meals with the right balance of nutrients, natural vitamins, and supplements improve their joint health in their older years. It is also advisable to take your large Doodle on frequent visits to the veterinarian, even if it doesn't have any problems whatsoever.  The reason for these periodic checkups is because they help spot health predicaments in your dog long before they take effect.
Related: Aussiedoodle Health Issues to Prepare For and Ways to Prevent Bernedoodle Health Issues.
How To Care For Large Doodle Breeds?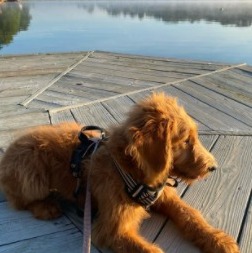 There are serious fears about how large Doodles are cared for due to their high intelligence and weight, which might be a turn-off for you, but you should know that large Doodles are manageable. Despite having different care preferences and needs, they are not that demanding as smaller ones. The most important thing about their care has to deal with their food because their meals should have the right balance of fats, calcium, and protein to aid proper growth.
Another part is frequent visits to the vet, as this helps you see how healthy your dog is and know if you are raising them right. It also allows you to detect if it might suffer any predicament shortly. The last part about the care of large Doodle breeds is an exercise that makes their joints healthy and strong enough to withstand their twilight years' physical weakenings.
How Should Large Doodles Be Exercised?

Large Doodles are brilliant as expected of a standard Doodle breed, but large ones need a varied form of exercise that ranges from physical to mental activity. First, your Doodle needs to have obedience training because it connects them to the behavior you expect from them and, it also creates a bond with you and the dog, which proves to be very helpful in working situations.
In terms of physical exercise, they need long walks and sprinting. Since they are high-energy dogs, playing fetch or taking them for long strolls around the park helps sharpen their joints to take on the physical demands expected of them to remain healthy.
Related: Best Medium Non-Shedding Dog Breeds.
Conclusion For The "Best Large Doodle Breeds"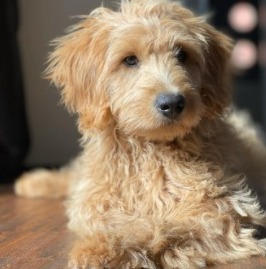 Large Doodle breeds are fun to be with, intelligent, and very helpful in working situations. They are also good at finding things if you correctly trained them. So if you are indeed considering one, try out the breeds stated in the table above. If you want one with the weight, the Saint Berdoodle seems a perfect choice, and it has a moderate height. If your need for a taller Doodle breed trumps that weight, the mastiff fills that purpose quite well. You also have to adhere to the principles required in caring for this breed, which goes a long way to benefit you and your family.
For Doodle comparison guides, you can check out:
To discover other Poodle mixes, watch "15 Poodle Mix Breeds That Will Melt Your Heart" from Dog World down below: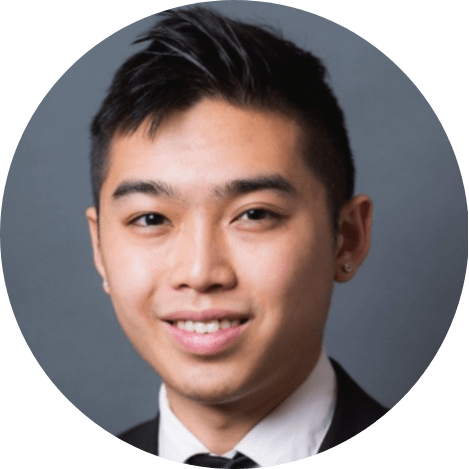 Andy is a full-time animal rescuer and owner of a toy doodle. When he's not saving dogs, Andy is one of our core writers and editors. He has been writing about dogs for over a decade. Andy joined our team because he believes that words are powerful tools that can change a dog's life for the better.
Why Trust We Love Doodles?
At We Love Doodles, we're a team of writers, veterinarians, and puppy trainers that love dogs. Our team of qualified experts researches and provides reliable information on a wide range of dog topics. Our reviews are based on customer feedback, hands-on testing, and in-depth analysis. We are fully transparent and honest to our community of dog owners and future owners.