The Shih Poo perfect dog for those who love to go on adventures but want a small companion that's easy to transport even when full-grown. These dogs are stunning designer breeds made using two small dogs and can come in many sizes. Shih Poos come from Shih Tzus and a Poodle, Miniature Poodle, or Toy Poodle.
Each type of Shih Poo is unique, and although they share similar traits, they are fun-loving, cheerful dogs who are happy to spend their time curled on their owner's laps. These dogs are ideal for family road trips and adventures, especially if they are Teacup, Toy, or Miniature sizes.
Read on to learn more about Shih Poos, their sizes, and the age when they are full-grown.
Before scrolling down this guide, "When Is a Shih Poo Full-Grown," check out: Are Shih Poos Hypoallergenic? (2023) and The 7 Best Dog Brushes for a Shih Poo! (2023).
Full-Grown Shih Poo Sizes
Shih Poos can be different sizes when they are full-grown. These dog breeds can come in many sizes and may grow anywhere from five inches to 15 inches and weigh up to 18 pounds. However, some might only weigh a stunning five pounds.
How Big Is a Full-Grown Shih Poo?
A Shih Poo, at its full-grown size, can be anywhere from five to 18 pounds, but the size will depend on many factors, including environment, diet, and genetics.
An environment with plenty of space for proper rest and exercise will help your Shih Poo grow and enhance its life, making its body more capable of reaching its full potential.
A diet rich in proper nutrients and vitamins is essential for a Shih Poo. Some breeders might scale back on how much a Shih Poo puppy eats to keep them a certain size, but this can lead to health conditions that affect their skeleton and internal organ function.
Additionally, access to proper veterinary care can impact the size of your Shih Poo. These dogs may suffer from diseases or conditions that stunt their growth, making it harder for them to reach their full potential.
Finally, genetic makeup will impact how big a Shih Poo gets the most. Regardless of any external factors, genetic makeup will determine whether your Shih Poo is capable of growing to a certain size.
Teacup Shih Poo
A Teacup Shih Poo full-grown will only weigh anywhere from five to eight pounds. These Shih Poos are the smallest of all Shih Poo varieties and will only grow about eight inches tall. These dogs may be small but don't lack in the personality department.
Teacup Shih Poos are dedicated, affectionate, and playful. These dogs may yap and bark a lot to get attention from those around them. Yapping and barking will help prevent accidental injuries to either themselves or other people. This type of Shih Poo enjoys making its presence known and won't have a problem barking to grab your attention.
Teacup Shih Poos don't shed, and you aren't likely to find many stray hairs around the home. Although there are no hypoallergenic dogs, Teacup Shih Poos are famously close to hypoallergenic and are safe for families prone to pet allergies.
Toy Shih Poo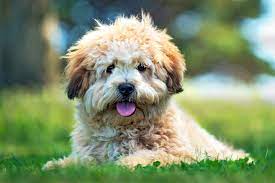 When a Toy Shih Poo is full-grown, it will likely weigh around 10 pounds and be about 12 inches tall. These dogs are just as yappy and barky as Teacup Shih Poos because they need to alert others to their presence to keep themselves safe. Toy Shih Poos are a perfect size for sitting on a lap or being carried around in a shoulder bag.
Toy Shih Poos may be aggressive when they think their families or owners are in danger, but a quick one-handed scoop can get them under control and in your hands before they have a chance to charge in and defend you.
This type of Shih Poo doesn't shed and will leave the home in a clean condition. Additionally, this dog breed is so small, the zoomies won't have them moving your furniture around or bumping into any expensive vases around the home.
Miniature Shih Poo
Miniature Shih Poos are small, but they may offer your family more fun and excitement since they won't get winded as easily as their Teacup and Toy Shih Poos cousins. These dogs may weigh up to 15 pounds and grow up to 15 inches. These dogs are a perfect size for lap sitting but may be harder to fit in a shoulder bag or other carrier.
Miniature Shih Poos are good with children and less likely to be injured while roughhousing. However, all children should be taught about boundaries and care when interacting with a small dog.
Miniature Shih Poos can easily sit in a lap, making them ideal companions for road trips and other adventures.
Standard Shih Poo
Standard Shih Poos are the largest Shih Poo variety. These dogs are usually around 15 pounds and can grow up to 18 inches tall. They are the most ideal for families with children and other animals since the risk of injury to the pet is minimal.
Standard Shih Poos adore their families and will gladly have you introduce yourself to neighbors and friends on daily walks. These dogs are perfect for adventures, road trips, and pet-friendly train rides since they are easily managed.
How Long Until a Shih Poo Is Full-Grown?
A Shih Poo will likely reach its full-grown size around its one-year mark. However, some Shih Poos may grow faster or slower, depending on their genetic makeup, environment, and diet. Keeping a log of their growth can help you identify when they'll stop growing for good since their growth will start to plateau.
Consider looking at your Shih Poo's paws to see if they look proportional to the rest of their body. Paws can be a good indicator of further growth spurts or overall growth in your dog. If your dog's paws still look too big, you can expect them to grow a few inches taller and tack on a few pounds.
What Does a Full-Grown Shih Poo Look Like?
Shih Poos of any age will resemble teddy bears, but full-grown Shih Poos may look like small Poodles more than their Shih Tzu parent. You can also change how your Shih Poo presents by utilizing haircuts to make them look more like one breed or another.
Some of the most common haircuts are the kennel cut and teddy bear cut, which can make your Shih Poo look young and vivacious, regardless of their age.
These small dogs are usually zippy and fun, but you may find them curled up like a croissant on their bed at the end of the day.
How to Tell When a Shih Poo is Full-Grown
There are plenty of ways to tell if your Shih Poo is full-grown. Whether you're charting your Shih Poo's weight on a graph or marking it on the wall, you may want a more accurate method of telling if you're Shih Poo is getting close to its full size.
Normal Looking Paws
Your puppy will likely have paws that look too big for its body. If your puppy maintains this paw size, you may see them grow taller and gain some weight as they get bigger and denser. Usually, a Shih Poo will grow into its paws within six to 12 months, so this method may not be an accurate way to tell when your Shih Poo is getting full-grown.
However inaccurate, this method can give you an estimation of when to expect your Shih Poo to be heavier and gain weight. Alternatively, you can look at how your Shih Poo's parents range in size and use that as a good indicator of how your Shih Poo will grow and thrive.
Growth Chart Plateau
Your Shih Poo may be full-grown when its growth chart starts to plateau. Often, your veterinary office will keep a growth chart of your dog's development, where you can see how much weight they've packed on since they were a baby.
Any plateaus in the chart can indicate they will stop growing or may be a lull in their development. Some plateaus may happen before a growth spurt. However, if your Shih Poo is about a year old, a plateau in its growth chart likely means they aren't going to grow anymore.
You can mark your Shih Poo's height against a door frame to monitor their growth and progress yourself. When you notice the notches between growth and development getting closer together, it may mean your dog is reaching their full-grown size.
Deepening Bark
Your Shih Poo is likely to reach its full-grown status when its bark begins to deepen. This change can happen incrementally and you may not notice it at all until one day their bark is much deeper than it had been months before.
A Shih Poo will likely have a high-pitched yap and bark, but as they get older, this bark will begin to deepen just a bit. Consider recording how your Shih Poo sounds when they first begin barking and use that recording as a reference going forward.
Are Shih Poos Good With Children and Other Dogs?
Shih Poos come from two dog breeds that adore children and will gladly spend all of their time running around the backyard, cuddling, or laying in their families' laps.
These dogs adore children and do best in homes with plenty of children to play with during the day or after they return from school. Shih Poos will also mesh well with any other dogs in the home, making them perfect candidates for busy and rowdy families with plenty of animals.
However, small Shih Poos like Teacup and Toy Shih Poos should be monitored with small children. It can be easy for small children to forget how delicate and small their Shih Poos are and use them as toys instead of treating them like living beings. Carefully integrate members of your family by supervising their interactions until you are certain your children and Shih Poo can coexist happily.
Frequently Asked Questions
Do Shih Poo puppies change color?
Your young puppy's coloring may radically change by the time it turns one. If you go back and look at older pictures, you will be amazed to see the difference.
How often should I bathe my Shih Poo?
Ideally, aim to give your Shih Poo a bath every three weeks.
How often should I walk my Shih Poo?
A half-hour walk each day is ideal for your Shih Poo.
Conclusion for "When Is a Shih Poo Full-Grown"
Shih Poos are fun-loving, intelligent dogs who adore spending their time with family members and enjoy a warm place to lounge. There are four different sizes of Shih Poos, each with its personality and character traits. While Teacup and Toy Shih Poos are a little yappier, their larger counterparts are quieter but friendly.
A Shih Poo will likely hit its full-grown size within 12 months, but some Shih Poos may achieve their full size sooner or later, depending on environmental and dietary factors. You can use math, your dog's parents, or a look at your puppy's paws to decide if your Shih Poo is getting close to full-grown.
For more guides similar to this topic, you can check out:
If you want to learn more about this breed, watch "Shih Poo Dog Breed Information – The All-Person Wonder Dog | Shih Poo Dogs 101" down below:
Garrett loves animals and is a huge advocate for all Doodle dog breeds. He owns his own Goldendoodle named Kona. In addition, he volunteers at the Humane Society of Silicon Valley, where he fosters dogs and helps animals. Garrett enjoys writing about Doodles and believes that dogs can teach humans more about how to live than humans can teach a dog.
Why Trust We Love Doodles?
At We Love Doodles, we're a team of writers, veterinarians, and puppy trainers that love dogs. Our team of qualified experts researches and provides reliable information on a wide range of dog topics. Our reviews are based on customer feedback, hands-on testing, and in-depth analysis. We are fully transparent and honest to our community of dog owners and future owners.