In this review of the six best dog wagon strollers in 2022, we're going to look at some of the best available models on the market. We'll do this by taking a closer look at what makes these particular wagons so great and, if you're looking for something in particular, we've also included some other popular types of dog wagon strollers in our top picks for the best dog wagon strollers for pets in 2022!
Dog wagon strollers offer pets some extra space and mobility; they are great for walking, jogging, or simply transporting your pet without any effort.
While most models share the same basic design, some significant differences among them will help you pick the best dog wagon stroller for you and your furry friend. First of all, they come in different sizes – for big dogs and small canines – and other types that allow you to choose the best one for your pet.
On top of that, there is a unique dog wagon stroller suitable for specific activities like jogging or simply transporting your pet from point A to B. And then they can have all kinds of things like the suspension system, cup holders, and other equipment designed to make your life easier.
Of course, the best pet wagon strollers may cost more – but the good news is that you don't have to spend a fortune on a quality model as there are some affordable options available on the market. This review will look at some of those models and compare their main features. Our goal is to help you find the best dog wagon stroller to save you time and money!
Best Beach/Outdoor Pet Dog Wagon Stroller
Product
New Release
Ibiyaya Noah Dog Wagon Stroller
Best Overall
Pet Gear No-Zip Dog Wagon Stroller
Budget Pick
Ibiyaya Pet Stroller for Large Dogs
Image
The Ibiyaya Noah All-Around Dog Wagon Stroller is the only dog stroller you'll ever need! With a large pet compartment, flat canopy top, and mesh sides, this pet wagon for dogs keeps your pets safe and comfortable while letting them get fresh air.
Ibiyaya has included mesh areas for your pet to look out of while they feel secure in their own space. These pet strollers are made with your pet's comfort in mind and feature plenty of ventilation and viewing.
The canopy can be opened, closed, or removed as needed with removable, washable covers for easy care. The stroller has automatic brakes and it also has a large storage basket for storing items when out walking or at the beach. The front wheels will lock straight to prevent tipping over on the sand or going up and downstairs.
To give your pet a smooth ride, the stroller is equipped with large wheels that swivel effortlessly in any direction you go. This is our top pick for pet wagons because it features a staircase for easy access. It's also perfect for a beach day for pets and children.
Features
Pacific blue color or Sand & sea

Crafted with staircase for easy access

Recommended weight: 110 lbs. 

Quick-release wheels

Crafted with single clip break control

Large sun protection hood

Large mesh windows with detachable canopy
If you're looking for a model that's suitable for walking, jogging, or simply transporting your canine with ease, then you should check this option from Pet Gear.

This SUV of pet strollers is perfect for those who want to make their pet's life comfortable and straightforward. It has plenty of space inside and comes with a large mesh panel that allows your furbaby to look outside and take some fresh air. This dog wagon stroller also features a soft rubber handle for easy grip and cup holders and storage pockets that you can use to store treats, toys, and other equipment.
The best thing about it is the zipperless entry system which allows you to place your pet inside without any effort. Simply attach your pup's leash around the handlebars, and it will enable your furbaby to step inside on his own – no hassle at all!
Another advantage of this model is that it's one of the most lightweight models available on the market. It weighs just 26 pounds which makes it easy to transport from one place to another, not to mention that it also has 8″ front and 12″ rear swivel wheels that allow for hassle-free navigation on various surfaces.
In addition, this model can be used by pets up to 150 pounds in weight. We like this model because it comfortably fits a large breed, and there are two easy-locking doors where you can load up your pets quickly from the front or back. This product has over 1,000 positive reviews.
Features
Four sizes available

2 Color options

600 Denier Nylon material

Dark platinum color

No zip, push-button entry

Multi-position handle

Dual entry

Spacious protective pet compartment

A Pet Gear product
It is spacey and gives your pets enough space to move around get some exercise and fresh air while you do your jogging/ walking in any all-weather conditions. The Ibayaya features two extra-large top and front zipper multi-entry doors to hitch and access pets with ease, mesh windows for air and ventilation, canopy and safety tethers for protection, etc., ensuring a quality ride for pets. 
We like this pet wagon because it features large heavy-duty quick-release suspension tire wheels with puncture resistance for comfort and safety. It also features a unique army green cabin made of durable, coated canvas fabric perfect for outdoor pet adventures.
This makes it easy to use on all terrains, rough or smooth, and the brake locks for less worries and optimal pet safety. It also has a suspension system (rear/ four wheels) to make the ride smoother and protect your dogs' spine. It also has cup holders, a lockable front swivel wheel, one pull parking brake, an under-seat storage compartment, and an adjustable handle for your convenience.
The stroller is easy to assemble (no tools required). This is a compact folding lightweight design of 31.1 inches in height, perfect for storage in the back of your car.
Features
Nylon, canvas, & leather material

Comfortable leather handle

Dual top & front entry for easy access

Recommended weight limit: 55.2lbs

Heavy-duty quick-release suspension tire wheels

Puncture resistance wheels

Army green color

Folding lightweight design of 31.1 inches in height

Rear storage pocket
With the Aosom pet trailer, you can exercise with your furbaby and know that they're comfortable and safe. It is designed to be durable, compact, and versatile. This cart has three entrances that will easily lead your pet in/out. The mesh screen is perfect for ventilation and can also be used as a safety barrier if necessary.

The large wheels add comfort and make it easier to pull the cart through all types of terrain. This pet wagon features a weather-resistant canopy that will help keep away wind, rain, sun, and road debris. It's water-resistant, easy to fold, and very lightweight. You can take this trailer on your bike or car using the included straps.
This is a perfect choice for any pet lover. We like this pet wagon stroller because it's crafted with durable Oxford fabric built on a super-strong steel frame. You can use this pet wagon in all types of weather and terrain.
Features
Affordable

Steel, oxford fabric material

Max weight capacity: 44 lbs.

Color: Blue

Compact pet bicycle cargo trailer

Zippered mesh screen at the front, top, side, and back

An Ibayaya pet wagon stroller
The Best Choice Products 2-in-1 Pet Stroller and trailer is a much-appreciated pet accessory that can take your furry friend for a walk or even attach it to the back of your bike. You can also use this as a stroller or a cart, so no matter what mode of transportation you choose for yourself, there's a matching option for your pet. 
This cart has an open-style design, four quiet and smooth-rolling wheels, a safety latch system to keep the pedal closed while walking or cycling, reflective tape for better visibility in low light conditions, and adjustable shoulder straps for added comfort. It also comes with two storage bags – one on the back of the cart and another attached to the handle.
The Best Choice Products 2-in-1 Pet Stroller and Trailer weighs 15 pounds, is red, and has over 1,000 positive reviews.
Features
2 in 1 pet stroller wagon

 Suitable for pets up to 66 lbs.

Sturdy, lightweight steel frame. 

 Affordable

 Ideal for medium to large dogs

Safety flag and reflectors on the wheels 

180 adjustable handles 

 Built-in hand brake system for optimal pet safety

Over 1,000 positive reviews
The Schwinn Rascal Bike Pet Trailer is an excellent option for those who want to take their pet with them every time they go cycling. The best thing about this model is that it can be mounted on any bicycle via a universal coupler. The pet trailer is made from steel and aluminum, which means that it's lightweight and rustproof. A rear doggy door allows for accessible entrance and exit with Fido.
The pet bicycle carrier can be folded instantly, making it easy to store even when space is at a premium. The large mesh windows on the sides and the top provide enough airflow to keep your pet comfortable during those hot summer days.
When it comes to safety, the bike pet trailer is fitted with a flag and reflective stripes that make you more visible in low-light conditions. The universal mounting system allows for quick and easy attachment and detachment of the trailer from point A to point B.
The pet trailer dog wagon for outdoor sporting activities with Fido comes with a weather and bug screen, well as a leash tether that keeps your dog close but doesn't constrain his movements. Instead, it folds down, taking less storage space when not in use. This product has over 3,000 positive reviews.
Features
 Affordable

 Blue color

 Two sizes: small (up to 50 lbs.) & large ( up to 100 lbs.)

 Suitable for pets up to

 Good for pets up to 160 lbs.

 Crafted with a removable, non-slip lining that's easily washable

 Over 3,000 positive reviews
Choosing a Dog Stroller Based On Your Dog Type
Sprawler 
If your dog loves to stretch, he's a sprawler, so you should aim to get a stroller with lots of room so that he can be comfortable. Senior dogs and pups with mobility issues do well with strollers or pet wagons meant for sprawlers.
A sprawler fit means these dogs need to spread out more, but they can fit comfortably in a traditional stroller as well as long as it has enough room for their legs to stretch out. Be sure to choose a stroller with plenty of additional width space.
Leaner
Leaner dogs tend to stand up in their pet strollers and look out the window. They also dart from one side of their stroller to the other to get a look at their surroundings.
Leaner dogs need a sturdy pet stroller that they can't tip out of or break. They need to have enough room to look out the front window without the stroller being too large for them. Leaner dogs need to keep an eye on their surroundings. Choose a stroller with mesh windows that you can roll up or fold for your leaner so he can stick his head out of the window.
Climber
Climbers like to get as high as possible in the pet wagon stroller and see everything from up there. Climbers do not do well inside a stroller because it keeps them too low for them to enjoy the view, so they'll try to claw their way up. Instead, you'll need to get a stroller that is large and has excellent mesh window space. It's essential to get the right support so they do not hurt themselves while in the stroller or pet wagon.
Sitter
Suppose your pup is a sitter and enjoys relaxing while in his pet wagon; you won't have to worry so much about his comfort. A pet wagon with a removable canopy or mesh area is perfect for a sitter because it gives them somewhere to look out while laying down. When purchasing a pet wagon for your sitter, ensure that you have an additional 2 inches at the top.
Curler
If your furbaby is a curler, you'll do well to find a pet stroller that is the right size with the features you need to give him room to curl up in. For example, a curler wants to have enough room to fit inside their pet wagon, so if your dog enjoys the extra room, buy a larger model. Curlers also like tight spaces where they can feel secure, so consider getting one with sturdy sides for them to lean against.
Consider your dog's personality when shopping for a pet wagon. If you have a sprawler, climber, or curler, choose one big enough so they can have room to stretch out and be comfortable in their space. It would help to consider what your pup wants or needs to feel safe, happy, and secure. Ensure you have enough storage space for their items and check to see if it has a water bottle holder.
Remember to think about your dog's breed and personality when choosing a pet wagon. For example, if you have a leaner, sitter, or senior dog, choose a sturdy one with mesh windows to see out of.
Outdoor adventures & mental stimulation
Ready for something new? It's time to purchase the perfect pet wagon for your pup! Go on and find the one that best suits your pup's personality, then take him on his next adventure in style, where he can get plenty of mental stimulation.
Keep in mind that pet wagons are great for pet vacays, weekend camping trips, beach days and everyday fun with Fido! They're easy to fold up and fly with, pack into the car or RV, and keep your pup comfy and safe.
Benefits of a pet wagon stroller
A pet wagon stroller is an excellent choice for lots of reasons. When choosing a dog wagon, it's more than just your pet's weight that you should consider. You'll need to consider your pup's stroller style. Here's the takeaway;
A pet wagon is an excellent choice for lots of reasons. Pet parents use pet stroller wagons for numerous reasons. 
Helps senior pets or those with mobility issues
If you have a senior pet or one with mobility issues, then you'll be able to get them out the house sightseeing even if they cannot walk. You'll be able to share quality one on one time with your furbaby while you exercise.
Good for small breeds
Pet wagon strollers are also beneficial for small dog breeds who can't walk very far and tire out quickly. With a pet stroller, you can get to walk longer routes without feeling guilty or having to pick up your pup and carry him.
Protects your pup's paws from hot or frozen pavements
Pet strollers help during the hot summers or ice-cold winters and allow you to get your furbaby out of the house regardless of weather conditions. Just be sure to try exercise during the early morning or late afternoon during the hot summer months to avoid heat issues with your furbaby, most especially if they're a snow breed living in hot weather conditions.
Bring your kids along
Pet strollers and wagons allow you to bring your children and your pets for family bonding time. There's nothing nicer than enjoying the outdoors with your family and going to the beach, dog park, or camping site with everyone. They're also great for pet travel and easy to use at restaurants, airports, and pet friendly hotels.
What does your pet need?
When choosing a dog wagon, it's more than just your pet's weight that you should consider. What is your pet's personality? A leaner, sitter, or climber will have different needs, so make sure to purchase a wagon based on the dog using it. Your pet stroller should be comfortable, spacey, and safe. As usual, if you're unsure what size, you should opt for a larger size to give your furbaby additional space with plenty of room to stretch.
Some additional benefits of a pet wagon stroller include the following:
Easy to move around, stay on schedule and get things done with your furbaby and including him in family activities and outings.

Comfortable and secure place to rest – you can even use one as a dog crate if your pup is scared of being alone.

A relaxed way to stay in shape with your go-getter pup.

A safe place for a pup who needs a little extra space or one who can't walk far without resting.

Everyone will envy your sweet little pup when they see his pet wagon rolling around town while you're out shopping.
With all the great reasons you have to purchase a pet wagon for your pup, you might be wondering what to look for before you buy one. Here's what else you should consider when choosing a dog wagon for your furbaby:
Pet wagon stroller: What to look for?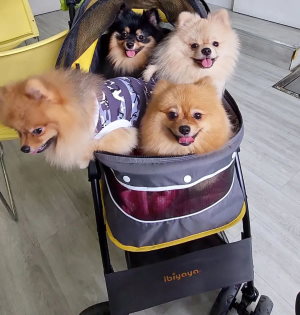 This is the most common type of pet wagon. It's light enough for just about anyone to pick up and move around without breaking a sweat but still sturdy enough to hold your pup. Most have attached storage space so you can bring along your pup's favorite blanket, leashes, toys, water, and treats. Dog wagon strollers work well for picnics, outdoor trips to the park, the beach, and camping adventures with Fido.
Wheels
If you live in a city, for instance, it's best to choose one with small wheels so you can navigate tight spaces and sidewalks. If you're traveling on rougher terrain, choose larger ones.
Storage space
Most come with attached storage space, but since this is the most common type of pet wagon, that shouldn't be too hard to find.
Pricing
Expect to pay anywhere from $100 upwards for a decent one, higher if you want something extra fancy or with all the bells and whistles.
Type
If your pet is too large for an average dog carrier, it will need a larger model such as a pet wagon, stroller, or even a car seat to get around safely in. You should contact the right size of stroller for your pet that is too small, he may get the feeling of being constricted. 
Make sure that your pet's chest can rest on the edge of the stroller for this reason. Many dog carriers also come with a safety belt to attach your pet in.
Optimal comfort
When shopping for dog strollers, you should think about whether your pet will feel comfortable inside. You may consider a pet carrier with washable and removable bedding, as well as a spacious interior for it to move around in. 
Recommendations & other helpful information
The most important thing to consider when shopping for a pet carrier is how much your dog weighs. 
If you want to exercise with your pet, you should consider a pet wagon or stroller made for sporting activities like jogging and biking. 
How to measure your stroller for your pet? 
You can measure your pet when they are in their favorite sleeping position. Then add a few inches to ensure they have enough room to stretch out comfortably in their new stroller.
Length: You'll need to measure your pup from nose to tail to get the correct stroller measurements.
Width: You'll need to measure the distance between the back feet.
Height: You'll need to measure from the top of your pup's head to his foot in the sitting position to get the correct measurements.
Materials: you want a pet carrier made from sturdy and durable materials like aluminum alloy, canvas, and durable nylon material. 
Still not convinced? Check out this video below for dog pet strollers: 

Claudia Bensimoun is a writer who specializes in dog content and veterinary topics! Aside from writing for We Love Doodles, Claudia also writes for other major dog blogs like Fido Friendly, Animal Wellness Magazine, and the United States Dog Agility Association (USDAA). She has a ghostwritten over 50 different dog e-books. Her passions include animal welfare, veterinary research, and wildlife conservation.
Why Trust We Love Doodles?
At We Love Doodles, we're a team of writers, veterinarians, and puppy trainers that love dogs. Our team of qualified experts researches and provides reliable information on a wide range of dog topics. Our reviews are based on customer feedback, hands-on testing, and in-depth analysis. We are fully transparent and honest to our community of dog owners and future owners.