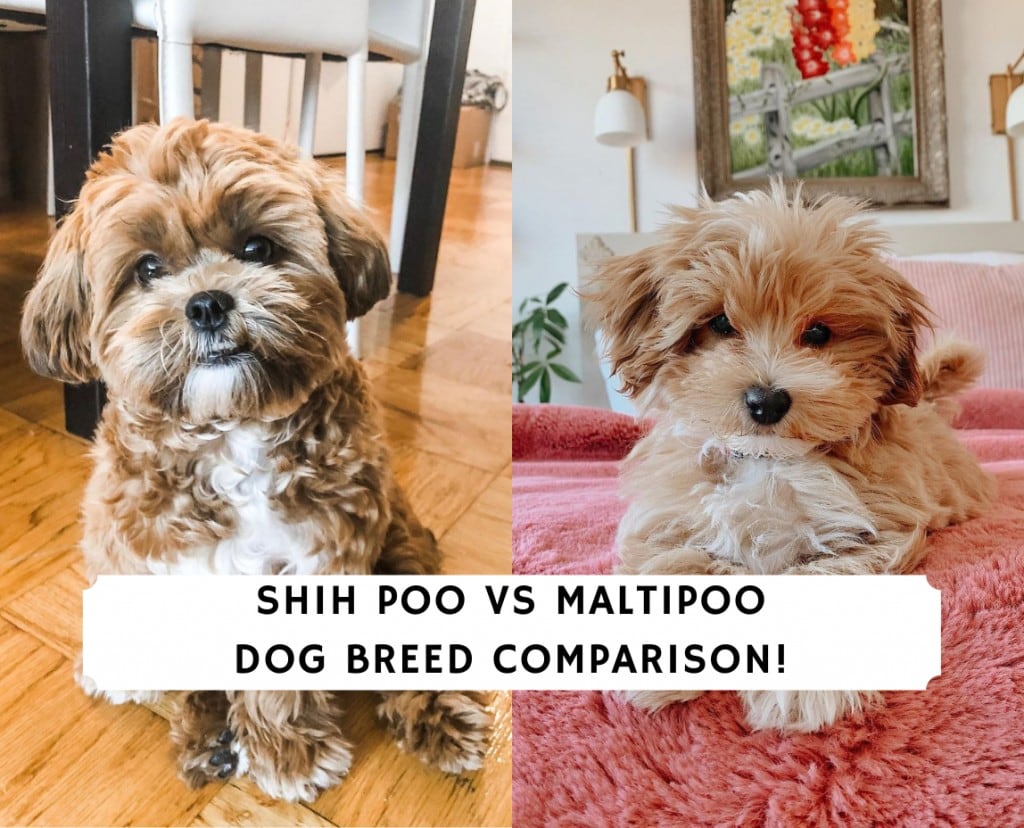 When it comes to finding the perfect small Doodle dog for your family, you've got a ton of options. Certainly, there are several different types of purebreds you're looking at. However, once you start to consider hybrid breed dogs, you can find an even rich diversity and opportunity with these lovable dogs.
Two of the most popular small hybrid Doodles breeds include the Shih Poo vs Maltipoo. Both are "designer" dog breeds, which means they intentionally carry two different breeds of dogs. If you're looking for a cute member to add to your family that is friendly and easy-going, the Shih Poo or Maltipoo can be great options for you. It's also great that they typically have a nonshedding and hypoallergenic coat.
As with all hybrid dog breeds, each litter comes with an exciting diversity and variance in personality and appearance. They don't hold purebred standards with the American Kennel Club (AKC) or the United Kennel Club (UKC) but do have typical traits you can expect to see in your puppy.
As both the Shih Poo and Maltipoo share one parent dog breed, they come with a lot of similarities and differences. However, their differences in a second parent bring in some important distinctions you'll want to keep in mind as you choose the dog that's right for you and your lifestyle.
Check out these other articles: Best Dog Food for a Shih Poo and Cavapoo vs Maltipoo.
Shih Poo vs Maltipoo Summary
To help you discover which breed of dog is the perfect fit for you and your family, here we share some important points to keep in mind. You'll find brief descriptions of each breed as well as a few points of comparison that are helpful to remember when making your selection. Here's a quick summary:
The Maltipoo is generally a little bit smaller than the Shih Poo. However, the size of the dog heavily depends on the size of the parents.
Both the Shih Poo and Maltipoo are considered nonshedding dogs which means they will need a significant amount of grooming to prevent tangles on their coat. Expect to brush them often and give them haircuts.
The Shih Poo tends to come in a variety of coat colors like tan, cream, or apricot whereas the Maltipoo tends to come in mostly white or light coat colors.
What is the Shih Poo?
The Shih Poo is a small dog that brings with it a cuddly and cute demeanor that is perfect for families. The Shih Poo is a designer breed dog that combines a Shih Tzu and a Toy or Miniature Poodle. However, most often, they are bred with Toy Poodles. With these two breeds, the Shih Poo tends to carry the best qualities out of both parents as they are family-friendly and intelligent.
However, their appearance and demeanor is heavily dependent on the parents' look and personality. This newer hybrid breed has grown in popularity among individuals and families due to their lovable qualities and adorable appearance.
What is the Maltipoo?
Like the Shih Poo, the Maltipoo is also a hybrid breed that comes with a wide variety of appearance and personality characteristics. The Maltipoo is a mixed breed that brings in the genetics of both a Maltese and either a Toy or Miniature Poodle. However, they are most often bred with Toy Poodles for a smaller size. The characteristics the parents have will heavily influence the appearance and temperament of the Maltipoo.
Shih Poo vs Maltipoo Size: Which is Bigger?
Among Poodle hybrids, there can be a variety of sizes of dogs. However, as both the Shih Poo and Maltipoo tend to have parents of the Toy Poodle variety, their sizes can be fairly consistent, even without breed standards.
The Shih Poo grows to a height between 8 and 13 inches tall and a weight of 8 to 18 pounds. Their adult size is based on the Poodle parent and is influenced by the smaller size of the Shih Tzu.
Similarly, the Maltipoo's size can vary based on the Poodle parent. However, they tend to be slightly smaller due to their Maltese parent. Their height ranges between 10 and 18 inches tall and a weight between 5 and 20 pounds. However, typically their weight is only between 6 and 8 pounds.
The small size of both the Shih Poo and the Maltipoo makes them ideal candidates for small living spaces such as apartments or other homes where there is not a lot of room to run outside.
Shih Poo vs Maltipoo: Temperament
With their Poodle parents, both the Shih Poo and Maltipoo tend to be highly intelligent and friendly. Their temperament is dependent on their parents, but most often have gentle and easy-going approaches to life. However, because they are hybrid breeds, their temperament may vary. Some characteristics of each breed may not be consistent for every dog.
The Shih Poo enjoys playing and cuddling with their family. They can be highly energetic and playful with people of all ages. However, it's important to keep in mind that their friendliness toward others may vary based on the dog's parents and socialization practices. Shih Poos are also fairly adaptable to different living spaces, making them great options for families with large or limited spaces. They can be great friends for retirees looking for some company or small children who love to race around and play.
For the Maltipoo, their temperament tends to be very lively and outgoing. They enjoy being around others and interact with their dog and people friends. Due to their small size and desire to be indoors, they make great cuddlers and can be great with small children. They also make great lap dogs as they crave attention from their owners and opportunities to be petted and played with.
Shih Poo vs Maltipoo: Life Span
Typically, smaller dogs tend to have longer life spans. That's also the case for Shih Poos and Maltipoos. The Maltipoo has a life expectancy that ranges between 12 and 15 years. The Shih Poo, similarly, has a life expectancy that ranges between 10 and 15 years. As always, dogs can live less than that span or live beyond 15 years as well.
As an owner, there are things you can do to help extend their life span to make sure they live a long, healthy life. Things like proper grooming, regular visits to the veterinarian, and other health and wellness practices can help them live as long as possible.
Shih Poo vs Maltipoo: Health
One key factor that influences life span is their potential for developing health conditions. One of the great things about hybrid breeds is that they tend to have a lower risk of diseases and detrimental health conditions than their parents. This is because the health conditions from parents are less likely to be inherited through the purebred breeding process. To help maintain your pet's health, it's important to provide them with regular checkups and visits to the veterinarian as needed.
Despite the lower risk of inherited, genetic disease, both the Shih Poo and Maltipoo are more prone to certain health conditions than others. For example, Maltipoos are more likely to develop eye conditions and liver issues. Additionally, tremors and epilepsy may be more apparent in Maltipoos.
The Shih Poo is also prone to dental issues, so it's important to brush their teeth regularly. Other concerns with their eyes and skin may also become apparent, so regular grooming is essential. Other issues such as hypothyroidism and renal dysplasia may be concerns to be more aware of as you care for your Shih Poo.
Maltipoo vs Shih Poo: Appearance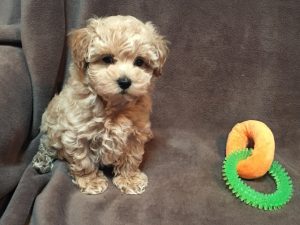 As with all hybrid breeds, the Shih Poo and Maltipoo can come with a wide diversity in their appearance. Much of what they look like is dependent on how much Poodle is in them. As Poodles have curly and hypoallergenic coats, each breed may have a coat that's similar or different.
The Shih Poo comes in different coat colors but is most often either black, apricot, or brown. Their ears tend to flop down along their head. Similarly, Maltipoos come in a variety of colors, yet they are typically cream or white in color. Their short tail moves gently when they run and have ears that perk up, showing their attention.
Shih Poo vs Maltipoo: Grooming
In order to help your Shih Poo or Maltipoo live their healthiest and happiest self then regular grooming is essential. Luckily, grooming your pet is not as involved or time-consuming as you may think.
The amount of grooming for either your Shih Poo or Maltipoo depends on what kind of coat they have. For coats that are more similar to a Poodle and therefore are curly then they will require more grooming. For Shih Poo coats that shed more, you may need to be doing a little more cleaning up of their hair, but less grooming. As a general rule, cleaning their coats at least once a week can prevent mats and keep them looking and feeling like their adorable selves.
Maltipoos, who don't shed, may not need as much maintenance in picking up their hair. However, they still require regular grooming and brushing of their fur at least every other day. Regular trimmings for both the Shih Poo and Maltipoo can keep their coats manageable. Having a consistent grooming routine also prevents skin conditions from developing or other health concerns that they are more prone to.
Shih Poo vs Maltipoo Training: Can They be Easily Trained?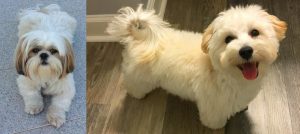 With their Poodle genetics, both the Shih Poo and Maltipoo are considered to be highly intelligent and can be fairly easy to train. However, that may not always be the case for every breed.
Shih Poos are intelligent, yet they can be slightly stubborn when it comes to training. As with all training approaches, having patience and an attitude of improvement can help you as you train and equip your dog to be the best they can be. Using positive reinforcement and rewards can help, as well as keeping your training sessions short so they don't lose interest or their willingness to learn.
Similarly, Maltipoos are considered to be quite intelligent and pick up on training and commands quickly. They may be slightly easier to train with their ability to hold attention for longer and strong memory.
Conclusion for Maltipoo or Shih Poo
When you're looking for a small dog that comes with a bright personality and a loveable demeanor, both the Shih Poo and Maltipoo can be great options. While they come with several similarities in both appearance and temperament, their differences are important to keep in mind as you choose the right dog for you. Use this guide to help you take the next step toward welcoming your new furry friend into your home.
Check out these other articles:
Garrett loves animals and is a huge advocate for all Doodle dog breeds. He owns his own Goldendoodle named Kona. In addition, he volunteers at the Humane Society of Silicon Valley, where he fosters dogs and helps animals. Garrett enjoys writing about Doodles and believes that dogs can teach humans more about how to live than humans can teach a dog.
Why Trust We Love Doodles?
At We Love Doodles, we're a team of writers, veterinarians, and puppy trainers that love dogs. Our team of qualified experts researches and provides reliable information on a wide range of dog topics. Our reviews are based on customer feedback, hands-on testing, and in-depth analysis. We are fully transparent and honest to our community of dog owners and future owners.