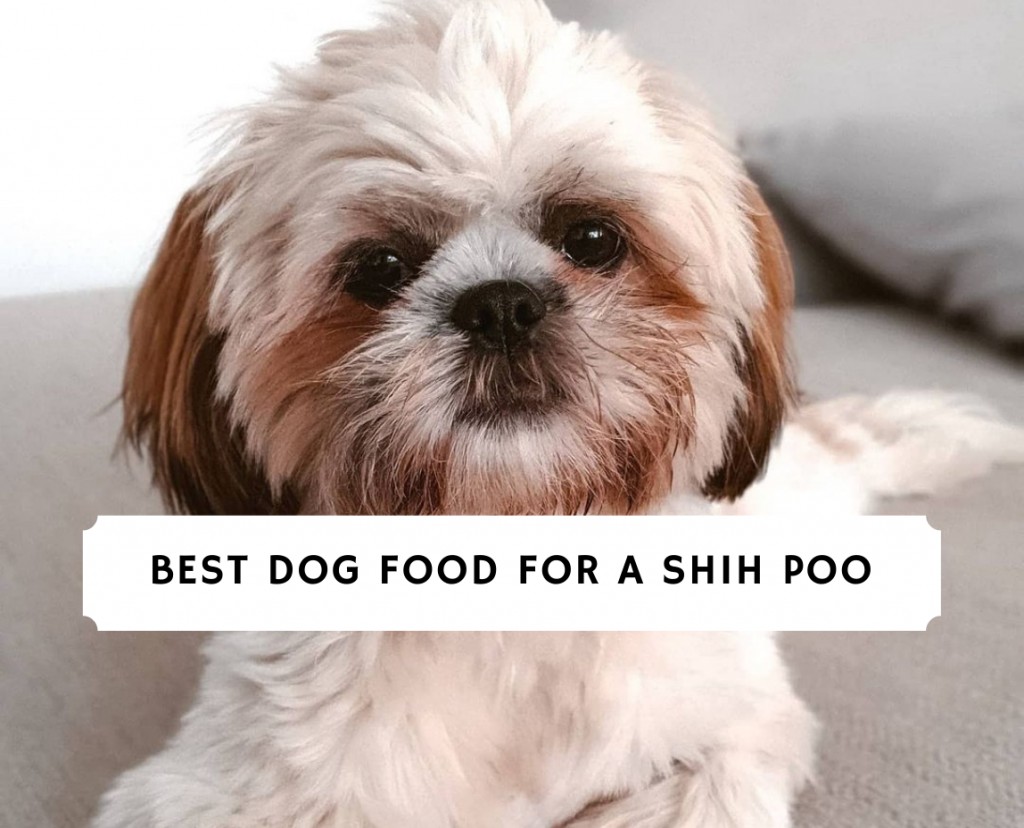 Shih Poo's are one of the fastest-growing Doodle dog breeds in the world. Mixing the Shih Tzu with a Poodle creates a highly intelligent, hypoallergenic, and nonshedding small house dog. Your Shih Poo will be your loving companion and friend for years to come. They are such sweet and playful dogs. Of course, if you have a Shih Poo or any other similar breed, you want to keep your puppy as healthy as possible. This means feeding them the proper diet to keep them healthy and strong.
Shih Poo's are a small dog breed and not just any dog food will do. Sure, you can go buy the cheapest dog food off the shelf, but keep in mind that food is often the only way your Shih Poo will get much-needed nutrition. You want to use a food that will provide them with appropriate nutrition for their size and lifestyle.
Some dog foods are made with fillers and have little nutritional value while others are designed for the supreme health of your Shih Poo. In addition, some dog foods make kibble that too large for your small Shih Poo to eat and digest. There are a lot of foods out there and choosing the right one can be a challenging task.
In this guide, we will share with you our top picks for the best dog food for a Shih Poo. We've tested, researched, and done all of the hard work to narrow down the market and share the very best 8 options with you! We think you will find that there are some really good choices here.
In a rush? Here are the top picks!
Product
Best Overall
Hills Science
Best for Puppies
Castor & Pollux
Best Wet Dog Food
Merrick
Image
The Best 8 Dog Foods for a Shih Poo
In these reviews, you will find a detailed overview and description for each of our top picks for the best dog foods for your Shih Poo puppy. We have full reviews for each of our dry and wet dog foods including a list of the pros and cons for each option.
Our first option comes from a brand that most people have heard of. Hill's Science has been reliably creating quality dog food for a lot of years and this is yet another highly-rated option of theirs. If you're looking for quality nutrition, you will definitely find it in their small breed dog food.
The ingredients in this small breed food are highly digestible. You can choose from chicken or lamb and rice as the main ingredients. You can also choose two different size options so you can get just the right sized bag of dry dog food for your Shih Poo.
This food provides small dogs with just the right protein that their little bodies desperately need in order to maintain lean muscle. Moreover, this is an antioxidant dog food blend that will support their immune systems for a lifetime. It also has vitamins and nutrients like Omega-6 and Vitamin E to keep their skin and coat beautiful and shiny as well.
This is our top choice of dog food for a Shih Poo because it was specifically designed for smaller dogs. The kibble size is going to be smaller than normal dry dog food which makes it easy for a Shih Poo to eat and prevents choking. In addition, the top ingredients are all high quality and you won't find any filler foods. Trusted by many veterinarians around the world, you can't go wrong with this Hill's Science small breed dog food.
Next on our list is a reliable option from a trusted brand name of dog food. This highly-rated option will be the perfect dry dog food for Shih Poo. It's made by Blue Buffalo who has a reputation for using wild and natural ingredients as much as possible in their dog foods to bring the best nutrients without awful fillers.
We feed our Doodle Blue Buffalo because it has a special formula that includes "Life Bits" in the food. These bits contain those antioxidants and vitamins that really benefit your dog's well-being overall as well as their coat and health. It meets high energy needs so it could be the best food for a Shih Poo puppy that is transitioning to adult food.
This comes in small kibble pieces so it is perfect for small dogs and can work just fine for growing puppies also. It is designed to be beneficial for dog joint function and health as well. This dog food is made with high-quality ingredients and real chicken is the first ingredient. There are several flavor options to choose from as well if your Shih Poo has a preference on taste.
Wellness is a lesser-known dog food brand in some areas but that doesn't make it any lesser quality. This dry dog food focuses on the core health and nutrient needs of your Shih Poo. You can choose grain free or choose an option with wholesome and healthy grains instead. You can also choose from 2 different size bag options.
The one we listed is the original flavor which has flavors of turkey, turkey meal, and chicken meal. It bears the stamp of approval for the Wellness Way for uncompromised nutrition and hefty quality standards. This is a family owned business and they only produce dry dog food with high-quality ingredients. They use no by-products or fillers and no artificial flavors or preservatives either.
This formula is designed for high energy Shih Poos because it has high-quality protein ingredients. It also has valuable nutrients to support hip and joint health as well as a healthy skin and coat. It is made in the USA with quality assurance for the ingredients and their sources.
This company is another family-owned dog food company but is well known throughout the world. They have been in operation since 1970, delivering quality food using stringent safety protocols and only the very best ingredients. This food is made in the USA but the ingredients are sourced from all over the globe for the best quality. 
You can choose from various bag sizes for your needs. They guarantee that their formula has 80 million CFU probiotics in it. The chicken meat also comes from cage-free chicken sources and is the number one ingredient in the dog food. You will find aspects of antioxidants, digestive support, DHA, Omegas, and vegetables and fruits as well.
The ingredients list is simple with natural and wholesome ingredients as well as a long list of nutrients that are guaranteed in the food. There are no artificial ingredients, colors, or flavors added to this dog food either. This dog food was specifically created for small dog breeds like a Shih Poo puppy. The kibble is a lot smaller to fit inside the mouth of one of these toy dog breeds which makes it easierto digest.
We liked the Wellness brand so much we decided to throw another option from them in our review. This dry dog food is a complete health blend that is designed to care for your Shih Poo's overall health with every aspect such as immune support, joint health, and more.
The Wellness brand has stringent guidelines for quality of ingredients and is a USA family-owned company that cares heavily about what they are feeding your dog. Their food is natural and contains vitamins, nutrients, minerals, and taurine. It's designed specifically for small adult dog breeds like the Shih Poo so won't choke on larger sized kibble.
This particular dog food is made primarily of turkey and oatmeal. The grains are wholesome and there are no by-products, fillers, or artificial additives in the recipe. The goal is to provide balanced nutrition for life and this food can be used for a Shih Poo puppy transitioning to adult food.
If you're looking for the best dog food for Shih Poo puppies or just general dry dog food for any dog age, this could be the choice for you. This is an organic dog food that is made with natural and wholesome ingredients. It is designed for both for Shih Poo puppies and other small dog breeds.
This dry dog food comes in both a grain-free and healthy grain option so you can choose your preference for your Shih Poo. This food is made in the USA and all ingredients are high-quality, including the free-range chicken used in the recipe.
There is no corn, soy, or other fillers that tend to be hard on a Shih Poo's stomach. One recipe has absolutely no grain while the other has only healthy and wholesome grains. This food has been labeled as America's #1 organic pet food and is USDA-certified as organic.
If you Shih Poo puppy prefers to use wet foods than Cesar's is a really great option. You can use them as Shih Poo puppy food or adult dog food for a Shih Poo as well. This option comes in a variety pack that has 6 different flavors you can mix it up. If you prefer, you can purchase individual flavors as well.
Cesar's is a loved brand in the wet dog food community. They are a USA-based company and their food is high-quality as well. The food is tender and flavorful and each can also has gravy in the food that dogs love. The #1 ingredient in every flavor is U.S. beef and it's not full of filler ingredients. One of main benefits of feeding your Shih Poo wet dog food is that they will stay hydrated. Since dry dog food removes most of the moisture out of the ingredients, your Shih Poo likely isn't drinking enough water on a daily basis.
Moreover, this company uses high-quality ingredients to provide your dog with the best possible nutrition. This wet dog food provides a complete and balanced meal that is portioned into individual cans. The wet food is friendly to sensitive dogs and it can also be used to top dry food if you like. The other benefit of wet dog food for your Shih Poo is that they tend to like it much better than dry dog food.
Merrick is a popular brand for small breed dogs and it is the perfect solution for your Shih Poo whether they are a puppy or adult. The good news is that dogs love this treat poured over their usual kibble and they often go crazy for this wet dog food.
This version comes in a variety pack but you could also choose their new slow-cooked BBQ flavor if you can find it in stock. These flavors practically have down-home cooking written all over them and have healthy ingredients. They contain large chunks of real beef as well as hand-made stuffed potatoes in the recipe.
In this pack, you get 12 large cans so they will definitely give you more than a single serving per can for your Shih Poo. The meaty chunks are complete in a flavorful gravy. They use real meat and high-quality ingredients that most dogs seem to love!
Nutritional Requirements for a Shih Poo
When it comes to choosing the best dog food for a Shih Poo, you should know just what your puppy needs to be healthy with their diet. Not just any dog food will do because you need to consider the size of your dog as well as their energy requirements and then purchase food accordingly.
Energy Level
As a general rule of thumb, you can expect a Shih Poo to have a medium to high energy level so you should look for foods that are geared towards this requirement. Choosing a high energy level food is just fine for a Shih Poo and will oftentimes contain a high amount of protein.
Small Dog Breed
Next, a Shih Poo is considered a small breed dog so choosing a dog food that is designed for small breeds is another optimal decision to take care of your dog's needs. The formulations and the size of the kibble are typically different and are more suited to your small Shih Poo and their energy.
Vitamins and Minerals
Many Shih Poo dogs are prone to dental issues. Choosing a higher quality food will help to ensure that your dog is getting the nutrients they need to supplement bone health and maintain their teeth better. This means that you'll typically want a dog food with vitamins and minerals to product supplemental joint and bone support.
Next, we don't typically recommend just free feeding a Shih Poo. In general, it's best to have a static feeding time on a schedule so avoid excessive weight gain. Overall, the needs of your dog could vary. It's a great idea to work with your vet to ensure you are meeting the health, energy, and weight needs of your Shih Poo as you choose a food for him or her.
How to Choose a Dog Food for Shih Poo?
We have a few tips to share as you continue to look at your Shih Poo food options. These tips are centered around helping you make an informed and educated decision when you pick out the best dog food for a Shih Poo.
Meat Source
A Shih Poo needs a lot of protein to build muscle and sustain energy. They tend to be medium to high energy level dogs and it's the protein in their food that supports this energy. For a Shih Poo, it is best to get the majority of the protein from the food from a meat source.
You will notice that many of our foods shared discuss the #1 ingredient as a meat source. You want the protein from meat to be reputable and a standout ingredient within the food to support your Shih Poo puppy's energy and lifestyle needs.
Size of Food
Shih poo dogs are a small breed. They sometimes have dental issues to contend with as well. It's a good idea to choose a dog food that is made with small kibble pieces so that your dog can take small bites and chew easily. This also prevents your Shih Poo puppy from choking.
This will also aid in the digestion of dry dog food for your Shih Poo. The sizes vary but most small breed dog foods are designed with small kibbles to accommodate the needs of a small dog.
Nutrients and Minerals
Find a dog food that has high-quality ingredients that are a natural support of health needs as well as important minerals and nutrients for their health. The key here is you don't want those minerals to come from awful sources and filler ingredients like corn or soy. You want quality ingredients to bridge the gap and fill the need for your Shih Poo's overall health and well-being.
Conclusion for Best Dog Food for a Shih Poo
Whether you like to feed your Shih Poo wet dog food, dry dog food, or a combination of both, we hope that you find a suitable option here that will work.  We've done a ton of research to find the best dog food for a Shih Poo in your home. In general, you will always want to read the ingredients listed on the dog food. Always verify that a protein source is the number ingredient there aren't many filler ingredients, artificial flavors, or artificial coloring. In addition, it's always a good idea to purchase small dog breed food because the kibble size is much smaller and easily digestible.
Other articles you might like:
You can also check out some other human foods that Shih Poo's can eat in the video below:
Garrett loves animals and is a huge advocate for all Doodle dog breeds. He owns his own Goldendoodle named Kona. In addition, he volunteers at the Humane Society of Silicon Valley, where he fosters dogs and helps animals. Garrett enjoys writing about Doodles and believes that dogs can teach humans more about how to live than humans can teach a dog.
Why Trust We Love Doodles?
At We Love Doodles, we're a team of writers, veterinarians, and puppy trainers that love dogs. Our team of qualified experts researches and provides reliable information on a wide range of dog topics. Our reviews are based on customer feedback, hands-on testing, and in-depth analysis. We are fully transparent and honest to our community of dog owners and future owners.