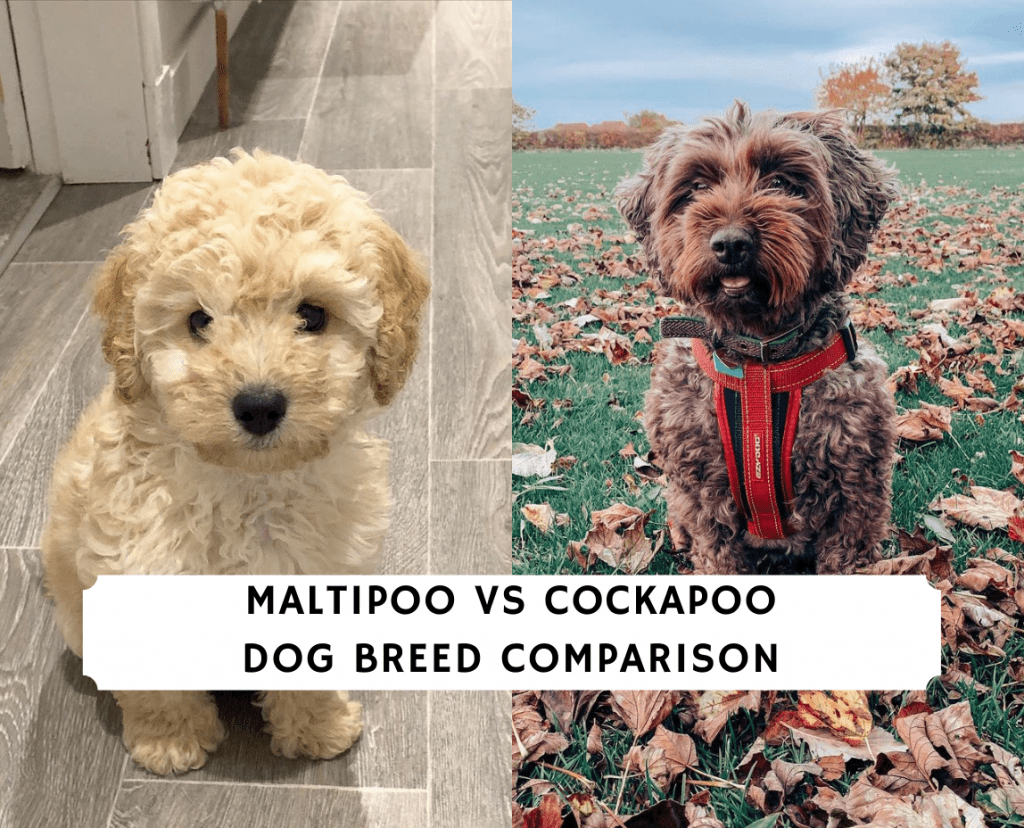 When you're looking to add a new furry friend to your family, you've got a lot of options. You may choose a purebred dog, meaning the parents are of the same breed. Or, you may get a mixed breed dog, where the parents are from different breeds. These mixed or hybrid varieties can come with an exciting diversity in appearance and temperament which may interest you as a dog owner.
Among hybrid dogs, the Maltipoo and Cockapoo are two breeds that have intrigued and delighted families of all ages. With their easy personalities and beautiful appearances, they've grown in popularity as companion pets. As hybrid breeds, they are not recognized by the American Kennel Club (AKC) or United Kennel Club and therefore don't hold to specific breed standards that are universal. There is a significant amount of diversity between a Maltipoo vs Cockapoo in terms of their coat color, size, and personality.
While both the Maltipoo and Cockapoo have many similarities, there are some key distinctions to keep in mind as you determine the right kind of dog for you and your lifestyle. Although they may look nearly identical, their differences in parent dogs lead to some important differentiators to keep in mind.
As a quick summary, here are the main differences and similarities between a Maltipoo and Cockapoo:
While both these are smaller Doodle dogs, Cockapoos are generally bigger than the Maltipoo because the Cocker Spaniel parent is bigger than the Maltese parent dog.
Cockapoos tend to come in a variety of different coat colors like reds, apricot, cream, tan, or white. On the other hand, the Maltipoo typically has a white or cream coat.
A Cockapoo tends to be slightly more intelligent than a Maltipoo. This comes in handy for training and obedient classes.
Both the Cockapoo and Maltipoo will require a significant amount of grooming. This including brushing them a few times a week and regular haircuts every 6 to 12 weeks.
Both of these Doodles are small and can thrive in smaller living spaces like an apartment, condo, or RV.
Cockapoos tend to do better with families that have small children. If your child steps on a Maltipoo, this could result in a significant injury.
Other articles you might like: Best Dog Food for a Cockapoo and Best Dog Food for a Maltipoo.
Maltipoo vs Cockapoo
To help you determine which crossbreed dog is the right fit for you, here is a brief breakdown of the two dog breeds. We'll describe what each breed is as well as offer a comparison to help you decide which dog is the best fit for you.
What is the Maltipoo?
Fun to say, even more fun to have, the Maltipoo is a hybrid breed of dog that takes on its parent's personality of being gentle, easy-going, and a family friend. They are a crossbreed between the Maltese and either a Toy or Miniature Poodle.
The Maltipoo is most known for its small size and white coat. Since the Maltipoo is one of the smallest designer dog breeds, they don't tell well around small children who may step on them. In addition, they can also come in a variety of different coat colors and are considered nonshedding. Moreover, if you have pet allergies the Maltipoo is a hypoallergenic dog.
What is the Cockapoo?
Like the Maltipoo, the Cockapoo is a hybrid breed of a Cocker Spaniel and either a Toy or Miniature Poodle. Since they are a crossbreed dog there can be a significant range of diversity within a litter. You'll rarely see a little of Cockapoos with the same coat color and same size puppies. Other names that people commonly call the Cockapoo are the Cockapoodle or Cockerpoo.
The Cockapoo is also considered a smaller doodle breed but they are definitely more sturdy and dense than a Maltipoo. You'll see Cockapoos come in a variety of different colors like apricot, cream, red, and multi-color.
Maltipoo vs Cockapoo Size: Which is Bigger?

While the Maltipoo and Cockapoo share the Poodle parent in common, their size tends to be quite different. Cockapoos can be standard, miniature, or toy based on the Poodle parent. For standard Cockapoos, they tend to be about 15 inches tall and can weigh north of 20 pounds.
Miniature Cockapoos can have a height between 11 and 14 inches and have a weight between 12 and 20 pounds. Finally, the Toy Cockapoo has a height of no more than 10 inches tall and a weight that's less than 12 pounds.
On the other hand, Maltipoos may have a size that's slightly smaller than the Cockapoo due to their Maltese parent. Like the Cockapoo, they can come in different sizes based on the parent Poodle. Most often, only MIniature or Toy Poodles are used in breeding, creating a higher likelihood of a smaller dog. Depending on the parent, a Maltipoo can have a height between 10 and 18 inches tall and a weight anywhere from 5 to 20 pounds. However, most Maltipoos often weigh between 6 and 8 pounds.
With their small size, both the Maltipoo or Cockapoo can do well in smaller living spaces, such as apartments, condos, or RV's. They also don't require extensive space to run around and be outside, which can be helpful if your space is limited.
Maltipoo vs Cockapoo Temperament: How do they behave?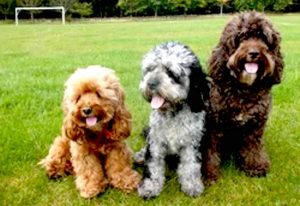 If you're looking for a family-friendly dog, either the Maltipoo or Cockapoo can be great options. They both have friendly and gentle personalities and temperaments that get along with others.
Maltipoos are generally outgoing and lively friends who like activity both indoors and outdoors. Typically, Maltipoo puppies are socialized to learn how to interact with others which a vital step in their development and prevents them from being aggressive towards animals and humans. As they tend to be slightly smaller than Cockapoos, Maltipoos may not require as much exercise time which means they are oftentimes calmer. They may also be a better fit for families and kids who are slightly older or who enjoy playing more time indoor.
Cockapoos are also very friendly and affectionate dogs. With their Poodle parent, they can also be highly intelligent and enjoy learning new activities. They may also have a slightly comedic personality as they play and live life with their family.
As social creatures, they love to be around their family and play both indoors and out. Their high energy and enthusiasm for life make them great fits for families with kids and other pets. Compared to the Maltipoo, the Cockapoo may do better with younger children due to their size and temperament.
Because of their love for people and need for socialization, both the Maltipoo and Cockapoo shouldn't be left alone for an extended period of time if possible. If they are alone for too much time, they will begin to feel deprived of that important human interaction that they crave in life.
Maltipoo vs Cockapoo Life Span: What's Their Life Expectancy?
The Maltipoo and Cockapoo have similar life expectancies, especially given their small size. The Cockapoo has a life expectancy between 14 and 20 years while a Maltipoo has a life expectancy that ranges between 12 and 15 years. Of course, both breeds can live past that maximum age if they are happy and healthy.
Proper health care on both a physical and mental basis can help extend their life expectancy and keep them around for longer. Genetics may also play a factor in how long your Maltipoo or Cockapoo stays in your family.
Cockapoo vs Maltipoo Health: Are They Prone to Health Conditions?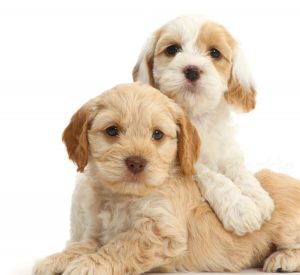 Like all dog breeds, the Maltipoo and Cockapoo may encounter certain health conditions that are important to be mindful of as you care for your pet. However, as a hybrid breed, these two dog breeds are less likely to develop the health conditions that are more common among their parents, especially when it comes to inherited conditions. This genetic trait is called Hybrid Vigor which essentially means that a hybrid offspring will be more healthy than a purebred offspring. This is because purebreds are bred to the same bloodlines over and over which passes down genetic diseases.
To ensure the health of your pet, be sure to choose a breeder or organization that is trustworthy and shares any and all historical information on the parents and the dog itself. In addition, verify that all genetic testing and health testing is real.
Both the Maltipoo and Cockapoo may experience health concerns similar to that of their parent breeds. For Maltipoos, conditions like eye issues, liver issues, and tracheal issues may be more apparent. For Cockapoos, conditions like renal disease, eye issues, and low blood sugar for small Cockapoos can be a problem.
Maltipoo vs Cockapoo Appearance: What do They Look Like?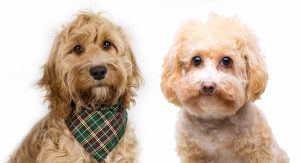 As a hybrid breed, both the Maltipoo and Cockapoo can have a great deal of diversity when it comes to their appearance. For many, this randomness and diversity is something very intriguing about the breed. Most of the time, two Doodles won't look the same!
Maltipoos come in a variety of colors but are most commonly either white or cream. Their coats can be either scruffy or curly, depending on the Poodle genetics that they inherit. They're small dogs with short legs and small faces. They have a short tail that moves gently and ears that perk when they run.
Cockapoos have coats that have short or long hair that can either be straight or curly. The condition of their coat is strongly affected by how much of a Poodle influence is in their genes. Cockapoos can also come in a variety of colors including black, tan, brown, cream, and white.
Cockapoo vs Maltipoo Grooming: How Much do They Require?
With the Poodle parent, both the Maltipoo and Cockapoo have coats that are fairly easy to take care of once you get a grooming routine down. While you may not be able to fully confirm they have a hypoallergenic coat, their Poodle genes give them a more allergy-friendly than most other dogs. Since they have Poodle genes, both the Cockapoo and Maltipoo need regular brushing and grooming. This is essential in preventing matts and tangles in the hair that are harmful to their skin.
The Maltipoo requires regular brushing to keep its coat tangle-free and fresh. Typically, daily brushing or brushing every other day is sufficient. If the Maltipoo has a coat that's very similar to a Poodle with curls, you may benefit from using professional grooming services once in a while.
The Cockapoo may also require daily brushing, particularly if the coat is extra curly. This need for consistent grooming is something to keep in mind when choosing a Cockapoo or Maltipoo. For both the Cockapoo and Maltipoo, owners have to be willing to spend time caring for the dog's appearance and health.
Maltipoo vs Cockapoo Training: Can They be Easily Trained?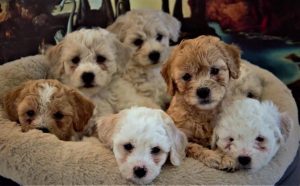 With their Poodle parent, both the Maltipoo and Cockapoo tend to be fairly intelligent which is a trait that comes in handy when training and obedience comes around. However, because Cocker Spaniels may be slightly more intelligent than Malteses, a Cockapoo may pick up on training and commands a little bit quicker. However, it all depends on the dog.
As both breeds are hypersocial and love to be around other people and other animals. It may be somewhat of a challenge for both breeds to get them to focus on the task at hand. Having patience and persistence in training can help you and them be successful in learning. With the right approach and understanding of the personality of your Maltipoo or Cockapoo, you can have a well-behaved family pet that becomes a member of your clan.
Conclusion for Maltipoo vs Cockapoo
With their curly coats and lovable personalities, both the Maltipoo and Cockapoo can be great options as small breed dogs for your family. While they are similar in a variety of ways, there are also some key distinctions between these two breeds that you'll want to be mindful of as you choose which dog is right for you.
First, Cockapoos are generally larger than Maltipoos. In addition, Cockapoos tend to come in more coat colors than Maltipoos. Due to their Cocker Spaniel genetics, the Cockapoo also tends to be slightly smarter than a Maltipoo. Use this guide to determine which breed better aligns with you and your family and lifestyle.
Other articles you would like:
Garrett loves animals and is a huge advocate for all Doodle dog breeds. He owns his own Goldendoodle named Kona. In addition, he volunteers at the Humane Society of Silicon Valley, where he fosters dogs and helps animals. Garrett enjoys writing about Doodles and believes that dogs can teach humans more about how to live than humans can teach a dog.
Why Trust We Love Doodles?
At We Love Doodles, we're a team of writers, veterinarians, and puppy trainers that love dogs. Our team of qualified experts researches and provides reliable information on a wide range of dog topics. Our reviews are based on customer feedback, hands-on testing, and in-depth analysis. We are fully transparent and honest to our community of dog owners and future owners.