There are many different Shih Poo haircut styles because this dog breed can take after different parents. Some have naturally short or long hair and show off a beautiful curly coat, while others have lustrous straight locks. It all depends on your dog.
A Shih Poo is an adorable dog made by cross-breeding a Shih Tzu and a Toy Poodle or two Shih Poos. These cuddly dogs are one of the best canine companions. They're incredibly affectionate, small, have hair instead of fur, and are very loyal.
Are you ready to discover the 11 best Shih Poo haircut styles for your dog? These adorable photos and haircuts will inspire your next groomer visit and give your Shih Poo the glow-up it deserves.
Before scrolling down this guide "Best Shih Poo Haircut Styles," check out these other articles: Best Dog Food for a Shih Poo – Top 8 Picks! (2023) and 10 Best Puppies That Don't Grow Big! (2023).
1. Teddy Bear Haircut
It's hard to imagine a Shih Poo getting any cuter, but the teddy bear haircut style makes your precious pet look like an adorable teddy bear.
To achieve the look of a teddy bear haircut, the groomer will evenly trim your dog's body, legs, tail, and face.
This popular dog hairstyle is similar to a puppy haircut and a kennel cut but is typically more sculpted to the shape of your dog. The groomer will round out the edges of the face and cut the hair on your dog's legs and tail to appear more teddy bear-like.
A teddy bear haircut is best suited to Shih Poos with straight hair or short curly hair. However, this stylish look is achievable on many dog breeds.
2. Puppy Haircut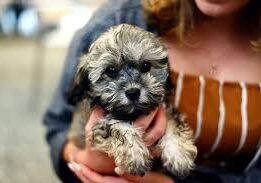 Despite its name, the puppy haircut is for dogs of all ages, not just puppies. The puppy haircut is one of the best Shih Poo haircut styles for medium to long-haired dogs.
A puppy haircut is similar to a teddy bear haircut because the groomer evenly trims all areas of your dog's body. The main difference is that a teddy bear haircut involves the groomer sculpting teddy bear-like features out of the hair.
With a puppy haircut, the groomer styles the hair on the face, legs, and tail to the dog's features, but does not emulate a plush toy. Instead, the cut will make your Shih Poo look younger and keep it cooler in warm weather.
3. Schnauzer Trim
The Schnauzer trim is famously worn by Schnauzers but is also a popular haircut style for Shih Poos with long straight hair.
With this classic dog haircut, a groomer trims your Shih Poo's facial hair to appear like a beard and thick, triangle-shaped eyebrows. By shaping the eyebrows, your Shih Poo will look like a wise creature who's lived many dog years.
A Schnauzer trim also includes the body; the groomer will shave your Shih Poo's body to an even coat but leave long furnishing on the belly and legs.
4. Show Cut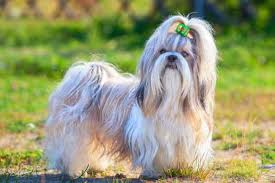 There are few Shih Poo haircut styles as eye-catching as a show cut. This adorable haircut is best suited for Shih Poos with long straight hair and pet owners who have time on their hands to regularly brush their dog and pick up long strands of shed hair.
With a show cut, the groomer leaves your Shih Poo's hair long but evenly trims it to floor length. This popular haircut is a high-maintenance dog hairdo since it needs frequent brushing to keep it sleek and tangle-free. A show cut uses a top-knot — a dog version of a high ponytail — to hold back the long strands of hair around your Shih Poo's eyes.
5. Lamb Haircut
The lamb haircut is one of the best Shih Poo haircut styles that's commonly worn by Poodles.
To create the lamb haircut, a groomer shaves the face, tail, and feet of your Shih Poo. Then, the groomer evenly trims the rest of your furry friend's body. The hair on the end of the tail, ears, and head is typically left long and fluffy.
A lamb haircut is an adorable haircut style that's customizable to any hair type or length. Whether your Shih Poo has long, straight hair or short curly hair, the lamb haircut is a stylish choice.
6. Kennel Haircut
Kennel haircuts are simple haircuts that make your Shih Poo look adorable and fluffy all around.
With a kennel haircut, a groomer evenly cuts all the hair on your dog's body. A kennel cut is typically shorter than other Shih Poo haircut styles with even-length cuts like the teddy bear or puppy haircut.
This haircut style suits Shih Poos of all shapes, sizes, and hair types. Dogs with curly hair will benefit from a kennel cut to tame the curls and fluffiness. Shih Poos with straight hair will look very different if they get a kennel haircut after a longer style like a show cut, but you can expect less shedding and less frequent brushing.
7. Poodle Haircut
The Poodle haircut is worn often by Poodles, but this haircut style can suit most Shih Poos well. A Poodle cut is noticeable by the shorter body hair and longer hair accentuating the face, tail, and paws.
A Poodle haircut can be simple, with slight length variations between the body hair and areas. That said, if you think about some of the fancy show Poodles, a Poodle cut can be intricate with various-sized tufts of hair for a dramatic yet iconic and prize-winning look.
This popular Shih Poo haircut style is best worn by dogs with curly hair or short straight hair. That said, straight-haired dogs can also rock this look, especially if there's a new collar to go with the new 'do.
8. Full Shave Haircut
If you're used to giving your Shih Poo dramatic hairstyles, your dog will eventually have to get a full shave haircut if you want to go drastically different than before. This easy haircut style for Shih Poos evens out all the hair on your dog so you can let it grow and try another style.
A full shave haircut is as it sounds: a groomer shaves the belly, body, head, legs, and tail of your Shih Poo. A full shave can be as short or long as you prefer or as your groomer recommends for your specific dog.
This haircut style is a fantastic choice for the summer — less hair can help keep them cool and reduce shedding.
9. Lion Cut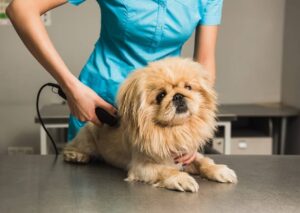 The lion cut is one of the best Shih Poo haircut styles because it gives your dog the mane of a lion.
A lion cut for a dog is when a groomer shaves or trims your Shih Poo's body hair short but leaves the hair on the face and tail long. Lion cuts for Shih Poos usually have longer fur on the paws to make them appear larger and more lion-like.
The lion cut is a stylish look for your dog during the summer when they'll enjoy having their body fur shaved short.
10. Top-Knot
The top-knot hairstyle is the perfect updo for a Shih Poo with long, straight hair.
This look is easy to achieve but requires patience while your dog's hair grows. Once it's long enough, make a ponytail with the hair on your Shih Poo's head. If you want more embellishment, add a bow.
To achieve this look, you'll need to let the hair on your Shih Poo's head grow long. Also, be sure to let your groomer know you're working on a top-knot or want to keep the hairstyle for your furry friend so they don't accidentally trim off the hair for the top-knot ponytail.
Regularly brush your Shih Poo's hair to help it stay free of tangles so it can get into the top-knot hairstyle in no time.
11. Modern Cut
Last but not least, the modern cut is an adorable haircut for Shih Poo dogs who have curly or straight hair.
To create the modern cut, a groomer will shave or trim the body hair short. The short hair on the body accentuates your dog's shape. Meanwhile, the groomer leaves the hair on the tail, head, and ears long. The long hair on these parts, paired with the small body shape, makes your Shih Poo look too cute to say no to.
This Shih Poo haircut style is popular for Poodles. If your Shih Poo takes more after its miniature Poodle parent, this is the perfect hairstyle for them.
Frequently Asked Questions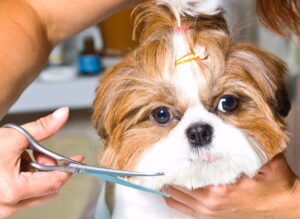 Learn more about the best Shih Poo haircut styles with answers to the most common questions.
How should a Shih Poos's hair be cut?
There's no one particular haircut style every Shih Poo should have. Instead, choose a Shih Poo haircut based on your dog's hair type. For example, a teddy bear cut is perfect for Shih Poos with short to long curly hair. For straight-haired Shih Poos, try a haircut style like the lion cut, show cut, or kennel cut.
Do Shih Poos need haircuts?
Yes. Shih Poos need haircuts to help tame their fur into a stylish look. Shih Poos with overgrown hair may have trouble getting around with hair in their face. Plus, trimming overgrown hair can help reduce skin irritations on your furry best friend.
How often should you cut a Shih Poo hair?
A Shih Poo should get a haircut every four to eight weeks. These adorable dogs have fast-growing hair that benefits from trimming to shaving within a month or two. Between hair cuts, brush your Shih Poo daily to help control shedding and reduce matted hair and tangles.
When should a Shih Poo puppy get their first haircut?
A Shih Poo puppy can get its first haircut when it's 10 to 12 weeks old. Trimming the hairs on its paws, around its eyes, and on its body will help the puppy move around more freely.
Shih Poo puppies can be lively, so start with an easy haircut style like a puppy cut or kennel cut instead of an intricate haircut like a detailed Poodle cut.
Conclusion for "Best Shih Poo Haircut Styles"
If you didn't think Shih Poos could get any cuter, we hope these examples of the top Shih Poo haircuts proved you wrong.
Shih Poos are adorable dogs that look great with almost any kind of haircut style. Whether it's summertime and you want a short trim or winter, and you prefer a thicker coat with defined body parts, there's a new haircut style waiting for your dog to try.
If you want to spruce up your dog's look, show your furry friend the 11 best Shih Poo haircut styles and see which one they approve of the most. Then, head to the groomer or try your hand at dog grooming at home.
But, of course, no matter which Shih Poo hairstyle you choose, your pup will look adorable!
For more guides similar to this list showing Shih Poo haircut styles, check out these articles:
If you want to learn more about Shih Poo grooming, you can, by watching "Grooming a Shih-Poo Tutorial" down below: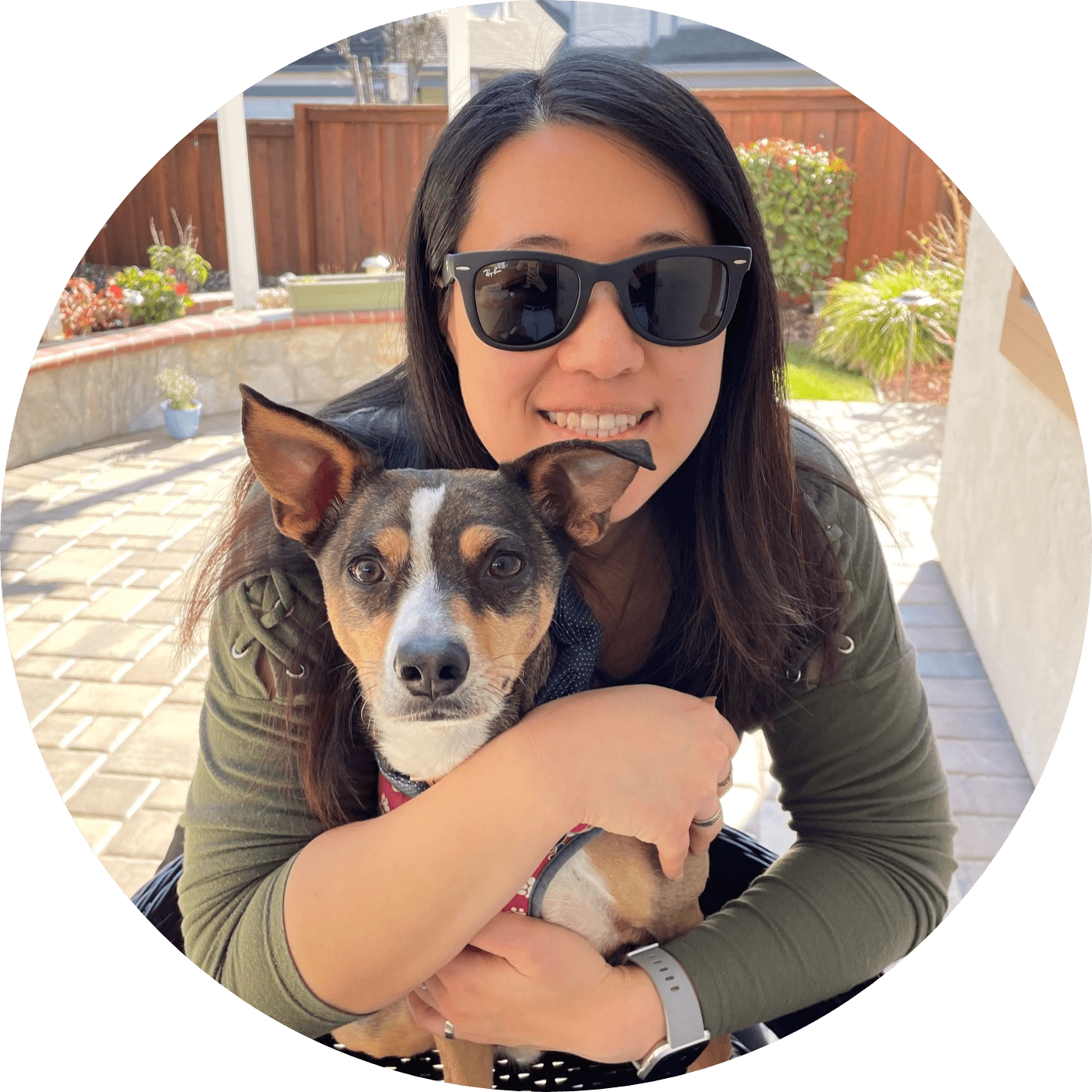 Dr. Sabrina Kong graduated from the Royal Veterinary College in England in 2016 and has been working at a small animal clinic in Northern California since then. She grew up in the Bay Area and got her bachelor's degree from Cal Poly San Luis Obispo. She also became a Certified Canine Rehabilitation Practitioner through a program at the University of Tennessee.
When she isn't in the clinic taking care of her four-legged patients, she enjoys traveling and trying new foods with her friends and her three-legged dog, Apollo. She adopted Apollo from her clinic when he was a puppy with numerous health issues. Dr. Kong truly cares about taking care of animals.