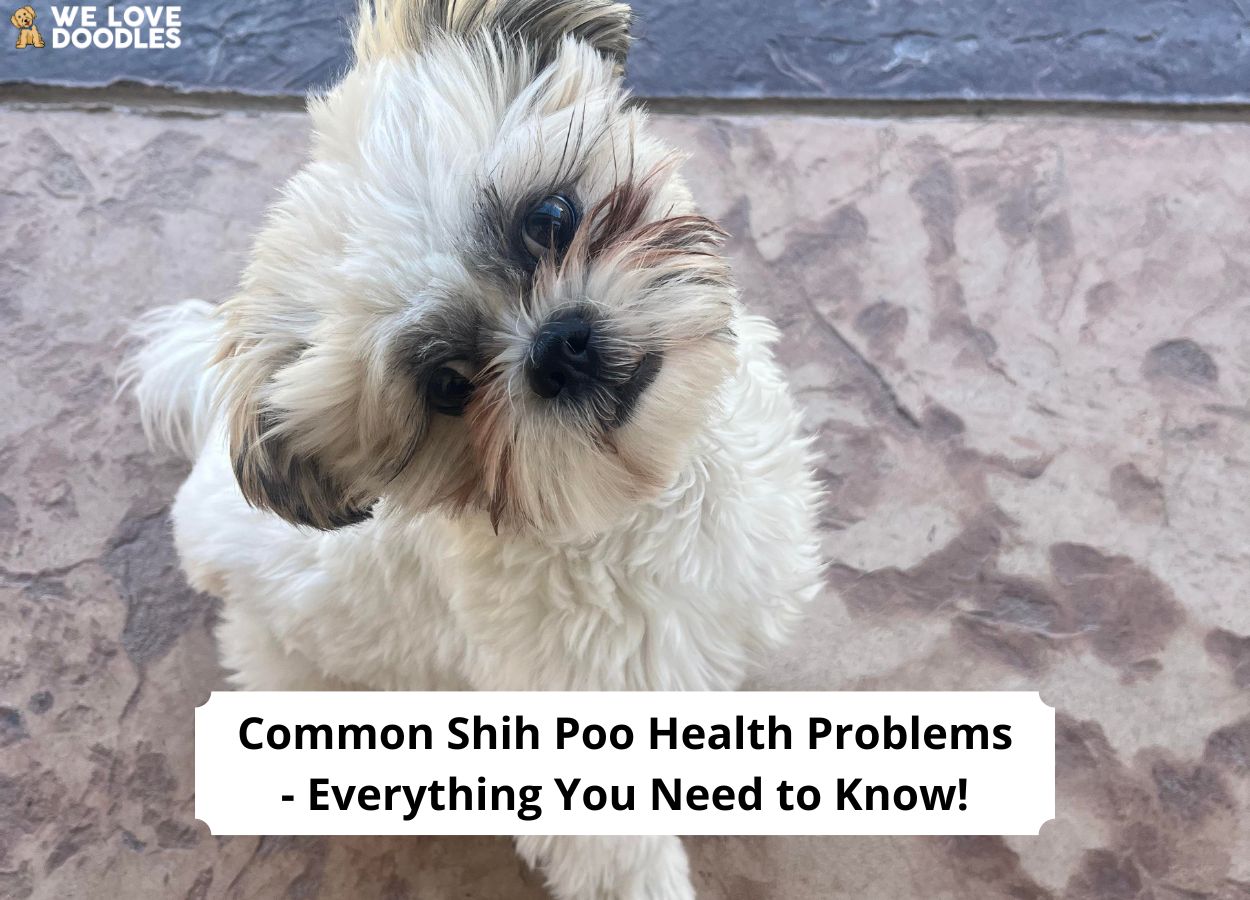 Shih Poos enjoy being the center of attention. They can adapt to any household reasonably well, they're smart, and they have friendliness to spare. However, they also need help to remain in tip-top shape. Sadly, common Shih Poo health problems can be severe, especially without proper care.
To ensure your family Shih Poo receives proper care, you must first learn about the health problems Shih Poos may face. Below, we'll cover everything you need to know to keep your companion healthy.
Before reading this guide, "Common Shih Poo Health Problems – Everything You Need to Know," check out: Are Shih Poos Hypoallergenic? (2023) and When Is a Shih Poo Full-Grown? (In Both Weight and Length) (2023).
What Is a Shih Poo?
The Shih Poo is a mixed-breed dog — a cross between the Shih Tzu and the Toy Poodle. The Toy Poodle parent is from Germany, and the Shih Tzu parent is from China.
Shih Poos inherited the cutest traits of their parent breeds, including the Shih Tzu's loyalty and the Toy Poodle's affectionate, attention-seeking personality.
Personality
The Shih Poo breed is an indoor dog with a lot of love and energy to spare. They are kind and enjoy being active, whether socializing or training, which they require daily.
They can't stay inside all day, so be sure they go out on walks and engage in fun activities with people and other dogs. When it comes to playtime, they typically favor older children, adults, and seniors.
Shih Poos are vulnerable and can be hurt by rough play from younger children, so supervision may be necessary if you have a young family.
Size
Shih Poos are well known for being small dogs. Most Shih Poos range in height from eight to 18 inches and weigh anywhere from eight to 18 lbs. The size of the Shih Poo will vary, just as it can with Shih Tzus and Toy Poodles.
Coat
The Shih Poo's coat can differ depending on whether it inherited the straight hair from its Shih Tzu parent or the curly hair from its Toy Poodle parent. Their coat color can vary, appearing in either black, white, brown, or another variation entirely.
Shih Poo Health Problems
Unfortunately, the Shih Poo didn't only inherit the cute traits of their parent breeds; they also inherited their health problems. The Shih Poo health problems like patellar luxation, hypothyroidism, Cushing's Disease, and more from Toy Poodles.
They also inherit oral diseases, breathing issues, and vision problems from Shih Tzus.
As such, the Shih Poo requires attention and care in the form of regular vet check-ups, dental cleanings, and grooming. Learn more about the health problems they may face below.
Oral Diseases
To protect your Shih Poo's general health, dental care is necessary. Without the right maintenance, plaque can build up into tartar, which can cause gingivitis and gum inflammation.
You should be aware of the various symptoms of oral diseases, including oral health issues like bad breath, gum inflammation, excessive drooling, loose teeth, and even tongue cysts.
Your dog may have periodontal disease if you notice any of these symptoms. This is a chronic condition that erodes the gums and bone as a result of oral bacteria. These illnesses may even affect a dog's heart, liver, lungs, and kidneys, later developing into serious medical conditions.
Vision Problems
Shih Poos may also inherit the Shih Tzu's susceptibility to vision problems. A Shih Tzu's decreased corneal sensitivity can cause several eye conditions, including corneal dryness, cataracts, and retinal detachment.
Sebaceous Adenitis
Shih Poos are susceptible to sebaceous adenitis, a rare skin condition they can inherit from their Poodle parents. This skin condition develops when the sebaceous glands, which produce natural skin oils, are affected by an inflammatory disease, resulting in hair loss, dandruff, and skin lesions.
Hypothyroidism
If your dog stops producing the thyroid hormones needed to regulate its metabolism, then it may have hypothyroidism. Hypothyroidism slows your dog's metabolism, which results in weight gain, problems with their coat, behavioral changes, and low energy.
As a result, nearly every organ in your dog's body is affected. This condition is inherited from Toy Poodles.
Patellar Luxation
Due to their small size, Shih Poos are susceptible to patellar luxation, which happens when a dog's kneecap slips out of place from its normal position. The dog may hold its hind legs for a few minutes until it returns to its normal position.
Addison's Disease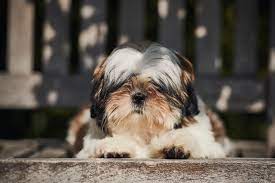 Addison's disease develops when the adrenal glands are unable to produce the hormones. The adrenal glands produce two of the most important steroids: aldosterone and cortisol. Without them, your dog could experience life-threatening complications.
Cushing's Disease
When the adrenal gland secretes an excessive amount of stress hormones, Cushing's disease develops. Usually, middle-aged to older dogs develop Cushing's disease.
If you ignore the illness's early symptoms, it will eventually result in symptoms like hair loss, fragile skin, increased appetite and thirst, decreased activity, and excessive panting.
Hip Dysplasia
Hip dysplasia is a skeletal disease that Shih Poos can inherit from their Poodle parents, and it typically occurs due to the malfunction of the dog's hip joint. This skeletal disease is known for developing in large-sized dogs, but, as you can see, it can also appear in smaller dogs.
Hip dysplasia is a painful condition, so if your dog refuses to exercise or walk, urgently seek a vet.
How Do I Keep My Shih Poo Healthy?
With all these health problems, you're probably wondering, "How long do Shih Poos usually live?" Thankfully, with the proper care, Shih Poos can live for 15 years or more.
As long as you continue to groom them, brush their teeth, and take them to the veterinarian regularly, you are golden. Here are the steps required to keep your Shih Poo healthy.
Care
Your Shih Poo requires care just like any other dog. To stay healthy, they need frequent potty breaks, two daily 10-minute walks, a bath every three weeks, and regular checkups. Getting your Shih Poo checked regularly is necessary to help you identify any health issues as soon as possible or treat ongoing issues.
Additionally, remember to thoroughly wash and dry your Shih Poo's ears during every bath; nobody wants a dog with infected ears. To keep your dog's coat in top condition, don't forget to brush them daily and give them monthly grooming.
Furthermore, to avoid any dental problems, you should also take good care of your Shih Poo's teeth. Routine dental cleaning is advised, which you can start by visiting your veterinarian.
Feeding
Maintaining a healthy diet for your Shih Poo is another way to ensure they are well taken care of. For dietary advice tailored specifically for your Shih Poo, ask your veterinarian. Their dietary needs can change as they develop as well, so it is always good to have a professional's opinion.
Also, Shih Poos have dental problems, so make sure they eat nutritious, high-quality foods. Free eating is prohibited since this generally results in overeating and gaining weight.
Treatments
Here, we'll go over how to prevent and treat the health issues that could affect your Shih Poo.
Oral Diseases
To prevent oral diseases, start early and establish a routine for your dog so that it becomes a healthy habit. Additionally, it is also highly recommended to visit the vet regularly, which is necessary to treat them in case their condition worsens.
Vision Problems
There are many vision problems your Shih Poo may encounter, from entropion to cataracts. Each has its treatment, such as surgery, eye drops, and ointment.
So, be sure to speak with your veterinarian to ensure you take the proper steps to treat
Sebaceous Adenitis
To treat this condition, you might need to take anti-inflammatory medications, antibacterial shampoos, or dietary supplements like vitamin A. Since sebaceous adenitis is an incurable condition, affected dogs may require lifelong treatment.
Hypothyroidism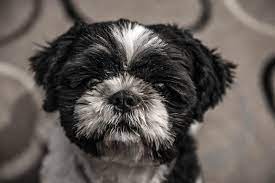 There is no cure for hypothyroidism in dogs, so ensure your pet has a balanced diet and hormone replacement therapy. They will need this treatment for life to ensure they can continue to live a sustainable life.
Patellar Luxation
Depending on the severity of the condition, there are various treatment options for patellar luxation in dogs. Grade I and II cases are generally treated with medications, while Grade III and IV cases typically receive surgery.
Addison's Disease
Admit your dog to the hospital so that it can receive intensive therapy for Addison's disease. Your vet will suggest a replacement hormone medication when they are no longer in immediate danger.
Your dog will need to take the replacement hormone dosage for the rest of its life because Addison's disease is incurable. Over time, the dosage may need to be adjusted.
Cushing's Disease
Veterinarians frequently administer Lysodren, a human chemotherapy drug, to dogs with Cushing's disease. Lysodren destroys the layers of the adrenal gland that make cortisol. However, it calls for close observation and has potentially harmful side effects.
Despite being incurable, dogs can live happy, healthy lives if their owners diligently take them for blood tests and checkups, monitor for side effects, and administer medication as prescribed.
Hip Dysplasia
Hip dysplasia treatment can vary from lifestyle changes to surgery, depending on the dog and severity.
Opt for joint supplements, physical therapy, anti-inflammatory drugs, and other treatments recommended by your veterinarian if your dog's hip dysplasia is not severe. Early detection and preventative treatment can help your Shih Poo avoid discomfort and even surgery later in life.
Frequently Asked Questions
What is the life expectancy of a Shih Poo?
A typical Shih Poo will live for 14 to 17 years.
How often should a Shih Poo be bathed?
You can give your Shih Poo a bath every three weeks, or sooner if it's dirty.
Do Shih Poos have sensitive stomachs?
It's not unusual for Shih Poos to be sensitive to new treats or food, so don't be too concerned if your dog has an upset stomach. Try to acclimate to a new treat or diet slowly.
Conclusion for "Common Shih Poo Health Problems – Everything You Need to Know"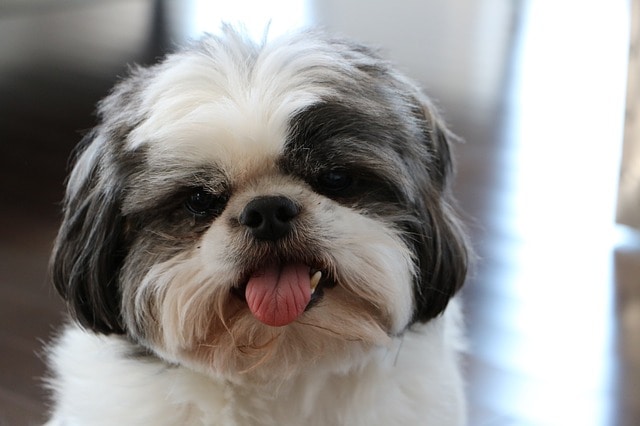 Shih Poos make adorable, affectionate, and energetic pets. However, you must ensure that your best friend is in good hands when health problems arise. Regular veterinary trips are the best way to prevent and treat the numerous Shih Poo health problems this breed inherits from genetics.
Simply follow the advice given above, and consult your veterinarian as soon as possible if you notice any symptoms or signs of the common Shih Poo ailments and health problems. Regular check-ups will ensure years of love from your furry friend.
If you find this guide, "Common Shih Poo Health Problems – Everything You Need to Know" helpful, check out:
Learn more by watching "Shih Poo – The Ultimate Owner's Guide" down below:
Garrett loves animals and is a huge advocate for all Doodle dog breeds. He owns his own Goldendoodle named Kona. In addition, he volunteers at the Humane Society of Silicon Valley, where he fosters dogs and helps animals. Garrett enjoys writing about Doodles and believes that dogs can teach humans more about how to live than humans can teach a dog.
Why Trust We Love Doodles?
At We Love Doodles, we're a team of writers, veterinarians, and puppy trainers that love dogs. Our team of qualified experts researches and provides reliable information on a wide range of dog topics. Our reviews are based on customer feedback, hands-on testing, and in-depth analysis. We are fully transparent and honest to our community of dog owners and future owners.