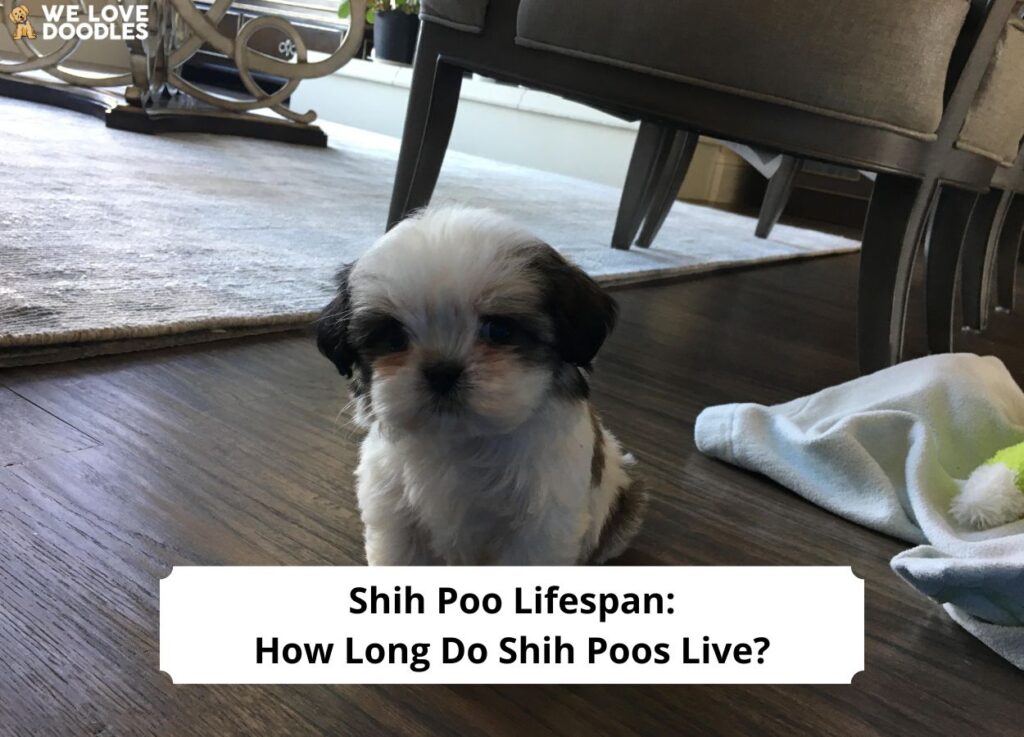 Owning a dog is an incredible experience that brings so much love into your life, making it that much harder to face the fact that they won't be with us forever. If you're looking to adopt a new Shih Poo puppy, you may wonder how long the Shih Poo lifespan is.
In this article, we'll cover the Shih Poo's average life expectancy, the factors that affect lifespan, common health issues, and more!
Before scrolling down this guide "Shih Poo Lifespan: How Long Do Shih Poos Live," check out these other Shih Poo-related guides: Shih Poo Sizes: Toy, Teacup, Mini, and Standard and When Is a Shih Poo Full-Grown?.
The Shih Poo Lifespan
Shih Poos are a mixed breed. They contain genes from the Shih Tzu and Poodle. As small dogs, they have a longer median lifespan when compared to medium and large-sized breeds. That's because their tiny bodies don't strain during growth phases or carry around excess weight that can lead to health issues like hip dysplasia.
Additionally, a perk of hybrid dogs is that they're generally healthier and have longer lifespans than purebreds thanks to something called "hybrid vigor." Simply put, a mixed dog inherits superior qualities from each purebred parent, making them less likely to inherit specific health issues common to the parent breeds.
That said, several factors determine a dog's lifespan, like its diet, health, genetics, etc.
How Long Can a Shih Poo Live?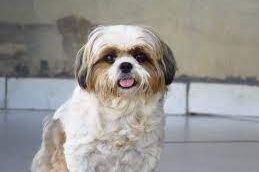 The average life expectancy of a Shih Poo is between 13 and 17 years. However, other factors can influence exactly how long your Shih Poo lives. Fortunately, you have some control over the fundamental health of your pup, so it's vital to ensure you're keeping up with it.
What Affects a Shihpoo Lifespan?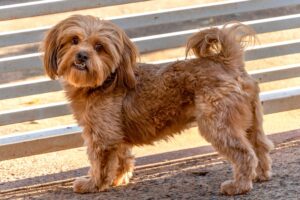 Here are some of the most vital influences on a Shih Poo's life that affect whether or not they have a longer lifespan than other breeds.
Size
Small dogs tend to live longer than larger dog breeds. As a result, Shih Poos with a Toy Poodle parent may live slightly longer than a Miniature Poodle parent. However, the difference here is small. Unless your dog develops a health condition, there is a good chance they will live a long, happy life.
Diet, Nutrition, and Weight
Although a Shih Poo's small size benefits its lifespan, it can be its downfall if they're overweight. Because they're small, even a few extra pounds can affect their health. Excess weight can strain their legs and bodies, leading to joint issues and other health problems. So, make sure your pup eats a proper diet, has plenty of exercise, and regularly visits the vet for checkups.
Exercise
Shih Tzus are a lively breed that needs plenty of playtime and exercise, so it's not surprising that Shih Poos also need an active lifestyle. Proper training can influence a dog's overall health and increase its lifespan.
Shih Poos who are active will gain more muscle mass, which is essential to preventing them from developing weak hips. As a bonus, dogs that get daily exercise tend to have a better temperament since they won't become bored as easily.
Environment
Like humans, dogs can suffer from mental health issues due to poor environments. Stressed Shih Poos who don't receive enough socialization, nutrition, vet checkups, or grooming appointments may risk having a shorter life.
Giving your Shih Poo a safe and comfortable environment with minimal stress can help them live longer.
Grooming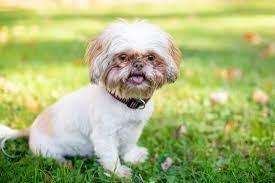 There is a misconception for some that grooming is more about aesthetics with long-haired dogs. However, grooming plays a vital role in your Shih Poo's overall health. A Shih Poo may have a thick curly coat like a Poodle or a long, wavy coat like a Shih Tzu, both of which need regular brushing, trims, and baths.
Improper grooming habits can lead to matting, which is harmful to your dog's health. Matted fur can eliminate oxygen from getting to the skin, leading to skin sores, bruising, poor circulation, and even infections.
Additionally, both of a Shih Poo's parents are prone to developing dental issues, so it's vital to ensure this pup receives care for its teeth and gums. Regular tooth brushing and professional dental cleanings reduce the risk of infection or gum disease.
Healthcare
Healthcare is a vital factor when it comes to keeping a Shih Poo healthy and living a long life. It's best to bring your dog for a yearly vet checkup. You should also bring them to the vet if they show any symptoms or signs that something is wrong.
Make sure your Shih Poo stays up-to-date with its required vaccinations. Doing this limits the risk of unwanted disease or illness.
Healthy Bloodline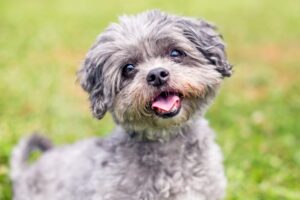 When looking for a breeder, finding someone ethical and reputable is essential. Responsible breeders will only choose healthy and DNA-tested dog parents with strong bloodlines. Before choosing a puppy, ensure you've researched and only adopt from a breeding program that transparently follows health testing protocols.
Do Shih Poos have health problems?
Like all dogs, Shih Tzus and Poodles each have health issues they are more prone to develop. Fortunately, both parent breeds are typically healthy dogs. Still, Shih Poos may develop some of the common health issues experienced by Poodles, Shih Tzus, or a combination of the two.
Shih Tzus' long bodies may cause them to suffer from neck and back issues. Shih Tzus also have flat faces with small mouths and noses. Their short noses may cause breathing issues, and their tiny mouths can affect teeth alignment.
On the other hand, Poodles are prone to health concerns like epilepsy, Addison's disease, thyroid issues, hypoglycemia, hip dysplasia, and collapsed trachea.
Here are the most common health issues for Shih Poos:
Joint problems like hip dysplasia or patellar luxation
Skin sensitivities
Eye diseases
Dental issues
Ear infections
Shih Poos are small dogs that can easily get hurt, especially around young children that may play rough. If you have kids, supervise any interactions to help prevent accidents that can harm this tiny pup
Shih Poo Lifespan: How Their Generation Can Play a Role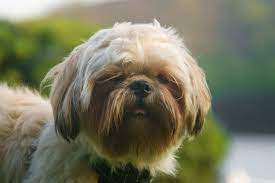 In addition to other factors, a Shih Poo's generation can play a role in their lifespan. Although all mixed breeds generally benefit from hybrid vigor, it's the strongest in first-generation hybrids and diminishes with each generation.
Extending the Lifespan of a Shih Poo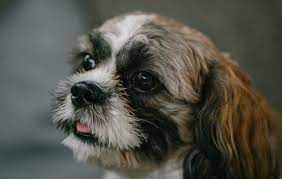 Like other crossbreeds, several breeding methods exist to produce Shih Poo offspring. These methods give breeders more control over each litter's size, coat type, shedding level, and lifespan.
Sadly though, there's no magic pill that will ensure your dog lives forever. However, there are several ways you can improve your dog's health and give them a better chance at a long life.
Proper Diet
No matter the age of your Shih Poo, feeding them a healthy diet is one of the best things you can do to give them the best chance of extending their lifespan. Search for high-quality dog foods that have natural ingredients rather than filler products.
Because Shih Poos are small dogs, you may opt for a formula made for smaller breeds. Additionally, supplementation may be beneficial depending on the parent breed the Shih Poo takes after or their health issues. For example, omega fatty acids can benefit their skin if they suffer from allergies.
Overfeeding and underfeeding can be detrimental to your dog's health. Once you find high-quality dog food, read the label to determine how much you'll feed your pup. Also, remember to take the caloric intake of treats into account.
Obesity in dogs is a common issue that puts them at risk for health problems like joint issues, diabetes, heart disease, and possibly cancer. However, if you notice your dog doesn't seem to be gaining a healthy amount of weight, talk with your vet to determine a plan to help them.
Daily Exercise and Playtime
While nutrition is critical to your dog's health, daily exercise is also at the top of the list. Shih Poos are active breeds that enjoy walks and playtime with their owners. Exercise plays a vital role in keeping your dog at a healthy weight, so ensure your Shih Poo gets at least 30 minutes of daily activity.
Dogs that don't play, run, or engage in other activities will get pent-up energy. This excess energy can affect their temperament, potentially causing them to struggle with behavioral issues. Additionally, exercise is necessary for a dog's health, both physical and mental.
Although Shih Poos need to exercise, these small dogs won't do well with strenuous activities like a long hike. Short walks and playing fetch with toys throughout the day is the best way to ensure they reach their daily exercise goal.
You'll also want to ensure your dog gets to use its intelligence with training. Poodles are intelligent breeds that need plenty of mental stimulation to feel their best. Teach your Shih Poo plenty of tricks, and consider purchasing interactive toys for your pup to play with.
Routine Vet Checkups
Routine vet checkups ensure you stay up-to-date on your dog's health. Even if you don't notice any signs or symptoms, a veterinarian may catch an illness or disease with tools or tests you don't have access to.
Vet visits are also crucial for getting your pup's vaccines. Puppies will need preventative care, deworming, and vaccinations taken care of within the first couple of weeks of life. Once your Shih Poo reaches the proper age, getting neutered or spayed is a good idea.
As your dog ages, there will continue to be various vaccines available that will prevent certain illnesses or diseases. Typically, you can get these vaccinations done yearly, making it an excellent time to discuss any questions you have with your vet.
However, if you notice anything unusual with your dog, whether it be behavioral or physical, schedule an appointment with your veterinarian. Even if you don't think it's serious, it's always better to get them looked at rather than wait for a possible condition to worsen.
Regular Grooming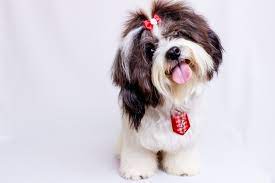 As previously mentioned, Shih Poos require regular grooming to keep their coat and skin healthy and clean. Schedule a professional grooming appointment every 4-6 months. You should also brush your Shih Poo several times per week to prevent any knots.
Not only does regular grooming keep your Shih Poo's coat looking nice, but it also prevents mats from developing. Shih Poos also have hair that grows inside their ears, so you'll want to keep that trimmed to avoid ear infections.
Typically, a groomer will bathe your dog during their appointments. Between bathing at home and the groomers, your dog should have a bath every 3-4 weeks.
Frequently Asked Questions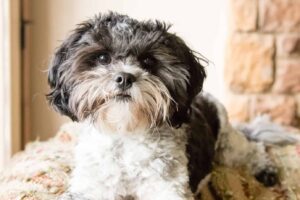 Here are the most frequently asked questions regarding the Shih Poo lifespan.
Are Shih Poos healthy?
Fortunately, Shih Poos are generally healthy pets. However, they are prone to the same illnesses as their parents: Shih Tzus and Poodles. As with any dog, choosing a reputable breeder can eliminate many health issues from the beginning.
Is a Shih Poo a good pet?
Shih Poos make excellent dogs for families, the elderly, and anyone else! The only drawback to owning a Shih Poo is their required grooming. Aside from that, they're loyal, playful, and intelligent dogs that make a little extra brushing worth it.
How often do Shih Poos need to be walked?
Shih Poos need at least 30 minutes of exercise daily. Because they're small dogs, break up their walks and playtime to avoid over-exhaustion or overstimulation. Avoid taking this breed on extended walks or outings that can wear them out.
Shih Poo Lifespan: Small Dogs Live Long!
If you've been wanting to add a new puppy to your family, knowing their life expectancy is likely a top concern. The Shih Poo lifespan can vary depending on their generation, health, and environment, though they typically live 13-17 years.
To help your pup stay around longer, ensure it gets plenty of exercise, eats a nutritious diet, and regularly visits the veterinarian.
If you find this guide, "Shih Poo Lifespan: How Long Do Shih Poos Live," helpful, check out:
You can learn more about the Shih Poo breed by watching "Shih Poo – The Ultimate Owner's Guide" down below:
Garrett loves animals and is a huge advocate for all Doodle dog breeds. He owns his own Goldendoodle named Kona. In addition, he volunteers at the Humane Society of Silicon Valley, where he fosters dogs and helps animals. Garrett enjoys writing about Doodles and believes that dogs can teach humans more about how to live than humans can teach a dog.
Why Trust We Love Doodles?
At We Love Doodles, we're a team of writers, veterinarians, and puppy trainers that love dogs. Our team of qualified experts researches and provides reliable information on a wide range of dog topics. Our reviews are based on customer feedback, hands-on testing, and in-depth analysis. We are fully transparent and honest to our community of dog owners and future owners.