Did you know that there are different types of Cockapoo skin allergies? Skin allergies lead to uncomfortable skin inflammation. There can be various reasons for your itchy Cockapoo. However, scratching worsens their skin. Whether it's contact dermatitis from outdoor allergens or inside your home, there's help.
Although it seems harmless, skin allergies may lead to infection. Different forms of dermatitis can affect your puppy. So, let's uncover various skin irritants, from environmental fleas to food allergies. There are several allergen possibilities, including treatment options. Soon, you'll know everything about Cockapoo skin allergies.
Before you scroll down this list covering the types of Cockapoo skin allergies, you can check out these other helpful guides from our team at We Love Doodles: Everything You Need to Know About Chicken Allergy in Dogs and What You Need to Know About Food Allergy in Dogs.
What is Dermatitis?
Dermatitis affects many dogs. While there are many causes, the reaction causes skin inflammation. Allergies can occur anytime. Environmental allergies can trigger through inhalation. However, dermatitis can also occur from ingesting food. Fleas can also cause allergic reactions.
Cockapoos can also become sensitive to harsh ingredients. For instance, detergents and shampoos can trigger an adverse reaction, causing dermatitis. No matter the allergen in your puppy, pruritus is a significant sign of dermatitis.
Pruritus is a medical condition that means itchy skin. You'll notice biting and scratching if your Cockapoo experiences this health condition. Cockapoo dry skin can also occur. Despite the urge to soothe the affected area, persistent itchiness remains.
Other signs of Cockapoo skin allergies include the following:
Redness
Inflammation
Rashes
If your Cockapoo is experiencing symptoms, an allergy is possible. Cockapoos are susceptible to dermatitis, especially allergic dermatitis. However, figuring out what your puppy is allergic to may be difficult.
Skin testing may be the first step toward healing. Then, healing from various treatments is possible. In many cases, the best treatment is avoidance. Overall, you'll narrow down the causes and find ways to find relief.
Related: Is Sudocrem on Dogs Safe?
Environmental Dermatitis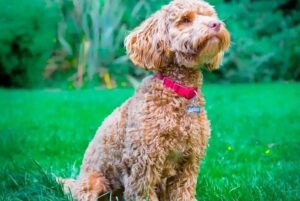 Environmental dermatitis occurs when your Cockapoo has an allergy to its surroundings. Anything that your puppy can inhale can cause a reaction. Allergies can be either indoor, outdoor, or a combination of both. These reactions are mainly seasonal, so relief during particular months is possible.
For instance, environmental allergies include the following:
Dust mites
Pollen
Trees
Weeds
Fleas
Grass
Mold
Like humans, dogs react by inhaling or coming in contact with environmental allergies. You can guess which allergies are prevalent by the time of year. For example, your Cockapoo may be allergic to pollen if the allergen is seasonal. However, dust or mold may be to blame if you live in a cooler climate and experience symptoms year-round.
Biting and scratching are common symptoms when it comes to environmental skin allergies. Hair loss is also common with allergies. Unlike humans, who get itchy eyes, dogs may experience shedding. As the skin dries, it causes flakiness. When your itchy Cockapoo scratches its skin, the sensation promotes hair loss. Excessive licking can mean environmental skin allergies due to an overload of histamines.
Licking hotspots for dogs include the face, ears, paws, and anal region. Relieving itchiness can feel intense for your puppy. So it's crucial to seek a professional for answers. In addition, allergies to your puppy's surroundings may result in infections or complications. However, bathing can provide instant relief in the meantime.
Flea Allergy Dermatitis
Flea allergies can also cause dermatitis, known as flea bites. While humans can be allergic to dog saliva, dogs can also be allergic to flea saliva. So, flea allergies aren't necessarily to the actual flea but to saliva proteins. Cockapoo skin allergies can become incredibly itchy. Skin can become red, along with scabbing.
Cockapoo dry skin can also occur, as well as inflammation. The common skin condition, dermatitis, affects your itchy Cockapoo. One flea bite can cause a reaction for up to a week. While it causes intense itching, it can also lead to hair loss. However, there can be multiple environmental triggers that may affect your puppy.
Hypersensitivity is common with fleas and is the most common skin disease in dogs. Flea allergy dermatitis often occurs in summer but can infest warm climates anytime. While flea allergies may be hard to detect, there are warning signs. Be aware of flea signs, including flea dirt, or look for fleas on their skin and hair.
Cockapoo skin allergies regarding fleas include the following:
Thighs
Abdomen
Lower back
Neck
Ears
Dogs may become uncomfortable and restless. You'll also notice similar symptoms with a flea allergy as with environmental allergies. Flea allergies can cause scratching, chewing, nibbling, rubbing, and licking on affected areas. However, your puppy may experience secondary effects from flea allergy dermatitis.
Related: Best Flea Brush For Dogs and Does Alcohol Kill Fleas?
Conditions Affected by Flea Allergy Dermatitis
While skin dermatitis is hard enough, it can also pose other health issues for your Cockapoo. For example, some dogs may be more sensitive than others. In addition, chronic problems can result from fleas allergies.
Chronic health conditions may include the following:
Erythema
Alopecia
Scaling
Hyperpigmented skin
Papules
Skin testing will adequately diagnose your puppy if you suspect a flea allergy. While fleas are a concern, food allergies can also result in Cockapoo skin allergies.
Related: Does Ortho Defense Kill Fleas?
Food Allergy Dermatitis
It may look different if your Cockapoo has dermatitis due to a food allergy. Determining if your puppy has a food allergy may be challenging. However, Cockapoo skin allergies may also include symptoms such as gastrointestinal issues.
Food allergies can occur at any age, even if your Cockapoo eats the same dish daily. Dogs develop allergies over time. Low-quality food isn't to blame, rather than the allergic ingredient. However, high-quality food avoids filler ingredients that fuel reactions.
Food allergy rashes on your dog typically affect the following areas:
Ears
Paws
Eyes
Toes
Wrists
Ankles
Groin
Underarms
Overall, avoidance is essential once you narrow down allergic ingredients. Although, different treatments are available depending on environmental or flea related.
Allergy Treatments
Luckily, there are different treatment options for your Cockapoo. However, if your Cockapoo skin allergies are severe, seek a veterinarian for treatment.
Treatments include the following:
Hypoallergenic shampoos
Creams, ointments
Oral medications
Allergy shots
Treatment for Environmental Allergies in Cockapoos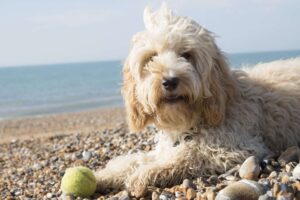 For environmental allergies, it's critical to bathe your Cockapoo after exposure. For example, washing with a hypoallergenic shampoo after playing outside may help. Baths with a medicated shampoo also contain antifungal and antimicrobial ingredients. Ointments and topical creams can help itchiness and promote skin healing.
Oral medications, including antihistamines, can also help Cockapoo skin allergies. Antihistamines are widespread among humans. However, your itchy Cockapoo can also benefit. You can control your puppy's skin reactions using Benadryl, Claritin, or Zyrtec. Overall, they are inexpensive medicines with minimal side effects.
It's also essential to know which allergens affect your Cockapoo. Studies show that environmental allergy testing with saliva or hair isn't accurate.  However, skin and blood tests are beneficial for seasonal allergies. During testing, your puppy experiences mild sedation. Then, the veterinarian injects allergens into the skin.
While there isn't a cure for seasonal allergies, there are ways to manage symptoms. Additionally, veterinarians can do allergy testing for the best outcome and steps forward. For example, skin testing is excellent for environmental allergies in dogs. However, the same testing may not help dogs with food allergies.
Food Allergy Treatment
Food allergy treatment includes a hypoallergenic diet. The diet consists of limited ingredients. Additionally, consuming hydrolyzed items is vital. Hydrolyzed food items are less likely to cause an allergy. Then, within eight to 12 weeks, you'll know whether or not your dog has a food allergy. In addition, medicine such as steroids can help throughout the food trial. Medications can help manage symptoms. During the trial period, your veterinarian will walk you through the process.
For instance, avoid other food items, such as the following:
Over-the-counter food
Treats
Human food
Flavored medications
Overall, you'll pinpoint which food is causing issues for your itchy Cockapoo.
Flea Allergy Treatment
Treatment for a flea allergy includes flea control. Reducing irritants, inflammation, and itchy skin are vital. There are topical products you can use, including Vectra or Advantage. Additionally, oral medications may help, such as NexGard and Simparica. However, your veterinarian will discuss which is best for your dog.
However, flea treatment includes removing eggs, pupae, and larvae. Then, discard it with a vacuum bag. Afterward, treating inside and outside your house is essential for complete flea treatment. No matter what flea life stage is within your home, treatment can help. Unfortunately, you may have to hire an exterminator. However, ending flea development ensures the health and safety of your home.
Plus, your Cockapoo skin allergies will benefit. Overall, skin allergies may cause secondary infections if they go without treatment. For example, bacterial or yeast infections may occur. Therefore, your Cockapoo must stop continuously licking and biting. Further therapy from a professional is critical. Soon, your itchy Cockapoo can find comfort.
Conclusion For "Types of Cockapoo Skin Allergies"
From itchy paws to worsening skin conditions, allergies wreak havoc on your Cockapoo. Dermatitis ranges from mild to severe, with worsening effects. Environmental, food, and fleas all can affect Cockapoo skin allergies. Although treatment ranges from creams, medications, and avoidance, there are steps to help.
Bathing may provide immediate relief while you're waiting for answers. However, many times seeking a professional is the best next step. You won't want to wait too long, as infection may occur. So, your guide is complete. Now you can combat your Cockapoo skin allergies confidently.
If you find this guide, "Types of Cockapoo Skin Allergies," helpful, you can check out these other Cockapoo guides from our team at We Love Doodles:
You can learn more about the Cockapoo dog breed by watching "Cockapoo Pros and Cons" down below: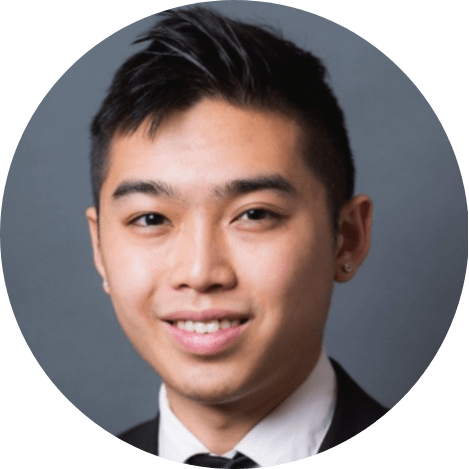 Andy is a full-time animal rescuer and owner of a toy doodle. When he's not saving dogs, Andy is one of our core writers and editors. He has been writing about dogs for over a decade. Andy joined our team because he believes that words are powerful tools that can change a dog's life for the better.
Why Trust We Love Doodles?
At We Love Doodles, we're a team of writers, veterinarians, and puppy trainers that love dogs. Our team of qualified experts researches and provides reliable information on a wide range of dog topics. Our reviews are based on customer feedback, hands-on testing, and in-depth analysis. We are fully transparent and honest to our community of dog owners and future owners.