Is lamb or chicken better for dogs to consume? It's no secret that we all want our beloved pooches to live long, healthy lives. While there are a few things out of your control, one thing you can do is ensure that your puppy is getting the best nutrition possible.
Unfortunately, you may struggle to determine which option is healthiest regarding dog food. This struggle brings us to a vexing dilemma: is lamb or chicken better for dogs? Both have their benefits, but only one can be superior.
If you're wondering what meat base you should incorporate into your dog's diet, you don't have to sweat it. We'll break down everything you need to know and more in the lamb vs. chicken dog food debate, so keep reading.
Before you scroll further down this guide, "Is Lamb or Chicken Better For Dogs," you can check out these other dog-related articles from our team at We Love Doodles: Healthiest Peanut Butters For Dogs and Can Dogs Eat Bratwurst?
Lamb or Chicken For Dogs: The Short Answer
Is lamb or chicken better for dogs? Here's a short answer to whether lamb or chicken is better for dogs.
Lamb vs. Chicken For Dogs
Overall, chicken is more nutritious, lower in fat, and better for dogs than lamb. Of course, there are a few circumstances where you might consider replacing chicken with lamb in your dog's diet. Firstly, there are quite a few instances of dogs with chicken-related allergies.
Replacing their food with lamb may alleviate or fully eliminate symptoms, making the protein a viable substitute. Additionally, studies show that dogs prefer the taste of lamb to chicken, which may help if your dog isn't eating well and becomes malnourished.
Since lamb is higher in fat, it can also help with healthy weight gain when served in moderation. In short, chicken is king, but there are a couple of circumstances where lamb is the better alternative.
More Dog-Related Guides: Nutracalm For Dogs Review and Can Dogs Eat Ranch?
Lamb or Chicken For Dogs: The Long Answer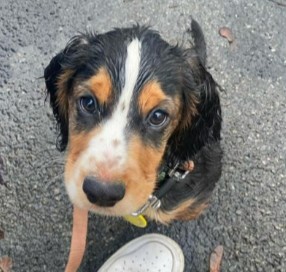 Now that we know that chicken is generally better than lamb, here's a more in-depth look at the topic.
Is Lamb Easier For Dogs To Digest Than Chicken?
No. Lamb is not easier to digest than chicken when it comes to dogs. Like in humans, poultry is digested much faster than red meats. As proof, a Norwegian study comparing the protein and amino acid availability for chicken, salmon, and lamb meal indicates that lamb performed significantly worse than the other two regarding digestion.
So does poorer performance and slower digestion mean that lamb is bad for dogs? Not necessarily. While a dog may not be able to digest lamb as effectively as chicken, slow-digesting foods have their benefits.
First, slower-digesting food provides a steady flow of energy over time as opposed to fast-digesting proteins, which provide energy all at once. This steady flow helps regulate blood sugar and keeps your dog full for longer.
Lamb, or other slower digesting proteins, are better if your local vet recommends only feeding your dog once or twice a day since it will keep them full for longer and help them maintain consistent energy levels.
More Dog-Related Guides: Can Dogs Eat Canned Chicken and Can Dogs Eat Capers?
Which Is Healthier For Dogs, Chicken or Lamb?
As mentioned earlier, chicken is much leaner than lamb, which has a higher fat content. Still, lamb holds up decently to chicken and excels in some instances. Both types of meat are high in protein but low in vitamins.
They're also fantastic sources of essential minerals such as:
In the mineral department, lamb shines because it has significantly higher quantities than chicken. If your dog has a zinc or iron deficiency, it turns out lamb may be more beneficial.
The caveat is that these minerals can be accommodated in the other ingredients (such as fruits or vegetables), so you only want to opt for lamb if your dog is allergic to chicken or is fussy with nutritionally-dense food. Ultimately, chicken is healthier than lamb, but there are quite a few instances where you would choose lamb over chicken.
More Dog-Related Guides: Can Dogs Eat Sugar Cane and Can Dogs Eat Clover?
Is Lamb or Chicken Better For Dogs with Sensitive Stomachs?
Research indicates that chicken is among the most common allergies in canines, despite its widespread use in dog food. L lamb is often used as a replacement if your dog's stomach is sensitive to these allergens.
Poultry is still easier to digest for dogs, so if your pets don't show any signs of an allergy, you'll want to stick with chicken. You may also want to experiment with other meats like beef, pork, and fish.
Some commons signs of chicken allergies are:
Vomiting
Lack of appetite
Gas
Diarrhea
Poor coat
Abominable pain
If your dog shows one or more of these symptoms, consult a veterinarian or an animal dietitian for advice. If they exhibit these symptoms, it might not necessarily be a chicken allergy. It could also be a reaction to a vegetable or other ingredient in their food.
More Dog-Related Guides: Can Dogs Eat Pita Bread and Is Meat Tenderizer Bad For Dogs?
What is the Healthiest Meat For Dogs?
What's healthiest for your dog depends on your dog's independent needs, but a general rule of thumb is that chicken, salmon, turkey, and lean beef are the best meats for your dog. Each of these meats provides a diversity of minerals and nutrients, so it's best to meet your dog's requirements on a need-to-know basis.
Of these four options, it turns out that chicken still reigns supreme in the protein, calorie, and carbohydrate departments. Red meats and fish do provide minerals. However, the nutrient density is not as abundant in chicken, making chicken a better all-around option.
And just because lamb isn't the top choice, that doesn't mean you shouldn't incorporate it into your dog's diet. Sometimes it's better to rotate the main ingredients of your dog food to ensure that it remains well-rounded and nourishing.
This rotation also helps ensure your dog doesn't get tired of the same food. Your dog's dietary habits may also change throughout life and require different ingredients to keep them healthy.
For example, an allergy not present in the puppy stages of a dog's life may show up in its later years. The key is to pay close attention to your dog's habits and attend to any discrepancies that may arise.
More Dog-Related Guides: How to Cook Liver For Dogs and Best Slow Feeder Bowls For Dogs.
Which Meat Has the Highest Protein For Dogs?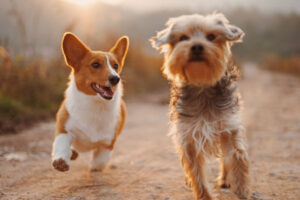 Unsurprisingly, chicken has the highest ratio of protein per ounce of meat. Still, you should always check the nutrition information on your dog food because the amount of protein will depend on the manufacturer.
For example, there are many instances where beef or lamb-based foods have a higher protein value than chicken, so always do your research and compare dog food brands. Turkey meat is a close second regarding higher protein density and is just as low in fat as chicken.
Both turkey and chicken play a similar role and can essentially be used interchangeably in protein. Other meats with high protein values are lean, wild game such as elk, deer, bison, and fish.
Some of these options aren't as common. They may also be more expensive than other ingredients, meaning they aren't as accessible in dog food. If you can find dog food with these types of meat, they make excellent alternatives to chicken.
More Dog-Related Guides: Is Castor Oil Safe For Dogs and Can Peanut Butter Make My Dog Constipated?
Is Lamb Good For Weight Loss in Dogs?
Lamb is not the most optimal meat for weight loss, given that it's much higher in fat and carbs than chicken, but this won't matter as much in the long run. What matters in dog weight loss is the amount of food you give them and how much they exercise.
If your dog needs to cut back on calories just a little, feeding them chicken or turkey is the way to go. If they have allergies to these options, you may want to opt for fish or food with leaner cuts of beef.
More Dog-Related Guides: Is Food Coloring Safe For Dogs and Best Dog Food For Cushing's Disease.
Is Lamb High in Protein For Dogs?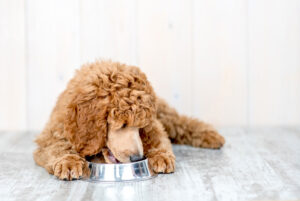 Like most meats, lamb is exceedingly high in protein and provides the sustenance a dog needs to grow big and strong. If your dog has allergies, lamb makes a superb replacement protein for chicken, although you must feed your dog this meat in moderation. As you may have gathered by now, lamb has quite a high-fat content and can lead to weight problems in dogs if left unchecked.
If you're unsure how much you should feed your puppy, don't be scared to take a trip to your local vet and get professional advice for your dog's needs. If you're looking for an alternative to lamb and chicken, you might consider dog food with ingredients such as beef and salmon.
More Dog-Related Guides: Can Dogs Have Condensed Milk and Best Dog Foods For IBD.
Is Lamb Healthier Than Chicken For Dogs?
No, lamb isn't all that healthier than chicken unless we're talking about minerals. While chicken is almost always leaner than red meats, red meats typically have higher reserves of minerals like magnesium, phosphorus, zinc, iron, potassium, and calcium.
Of course, higher fat may lead to problems such as cardiac and blood diseases if your dog eats too much daily and doesn't exercise enough. Additionally, your dog likely doesn't need an excess of these minerals unless they have some vet-diagnosed deficiency. Simply put, there is no single answer to your dog's dietary needs, and you'll need to adjust throughout its life.
More Dog-Related Guides: Is Bag Balm Safe For Dogs and Is Yoplait Yogurt Safe For Dogs.
Conclusion For "Is Lamb or Chicken Better For Dogs"
So, is lamb or chicken better for dogs? In general, chicken is the better meat for your pet. While this article is a good guideline for your dog's diet, it's not the law. In the end, you'll have to find a dog food that works for your pet and fill their tummies with the best ingredients. Always consult your vet if you have any specific concerns or questions. Do you have any questions about your dog's food? Let us know in the comment below.
If you find this guide, "Is Lamb or Chicken Better For Dogs," helpful, you can check out these other dog-related articles from our team:
Before feeding your dog lamb or chicken, you can learn more about which meat to feed your dog by watching "Top Meats For Dogs: The Pros and Cons of Each" down below: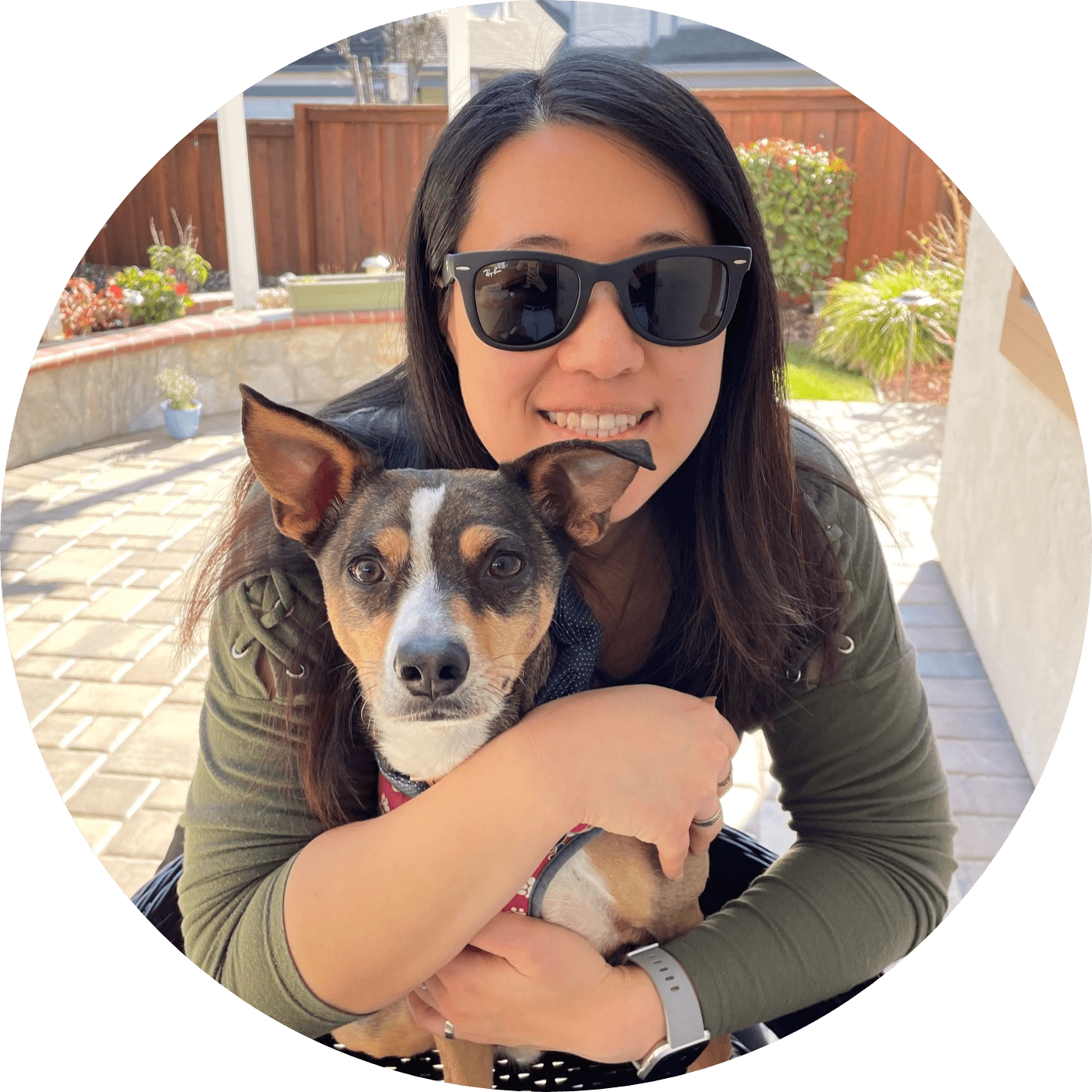 Dr. Sabrina Kong graduated from the Royal Veterinary College in England in 2016 and has been working at a small animal clinic in Northern California since then. She grew up in the Bay Area and got her bachelor's degree from Cal Poly San Luis Obispo. She also became a Certified Canine Rehabilitation Practitioner through a program at the University of Tennessee.
When she isn't in the clinic taking care of her four-legged patients, she enjoys traveling and trying new foods with her friends and her three-legged dog, Apollo. She adopted Apollo from her clinic when he was a puppy with numerous health issues. Dr. Kong truly cares about taking care of animals.