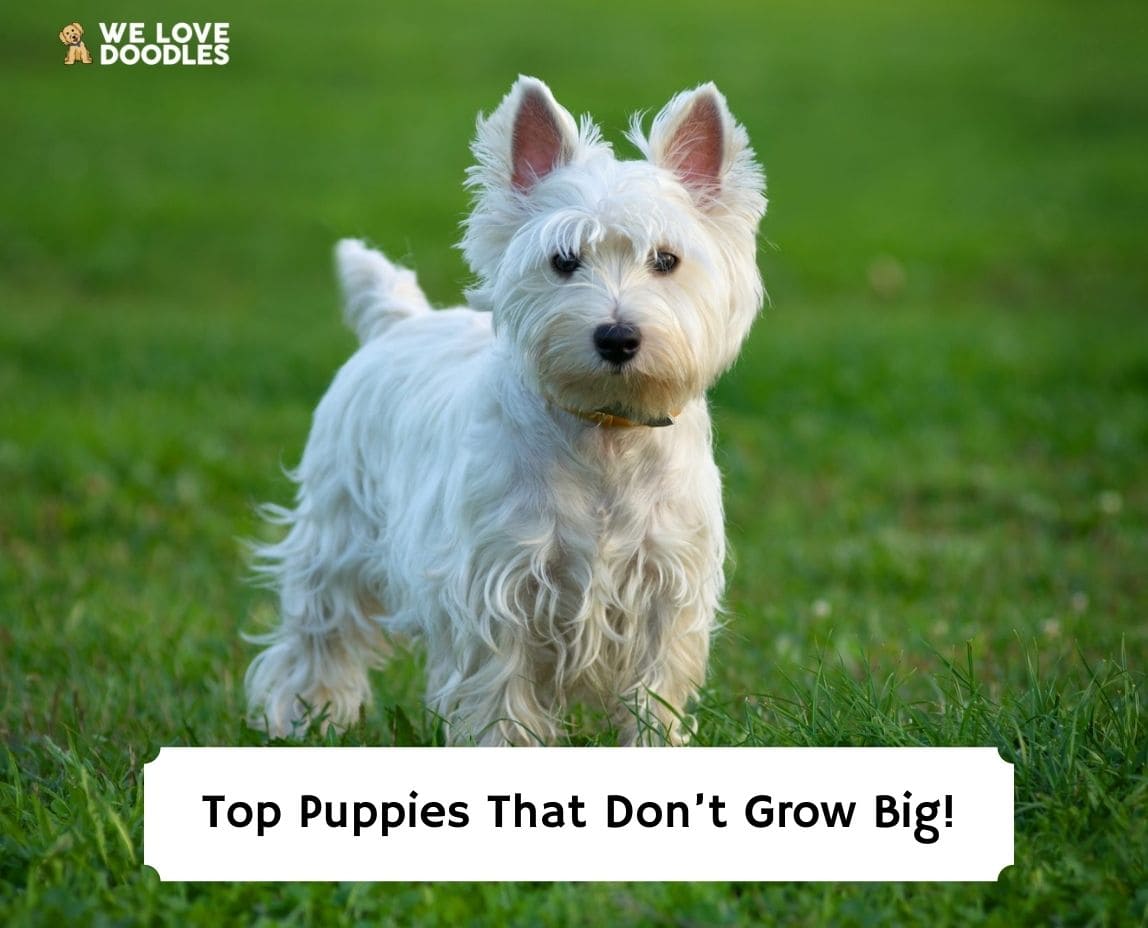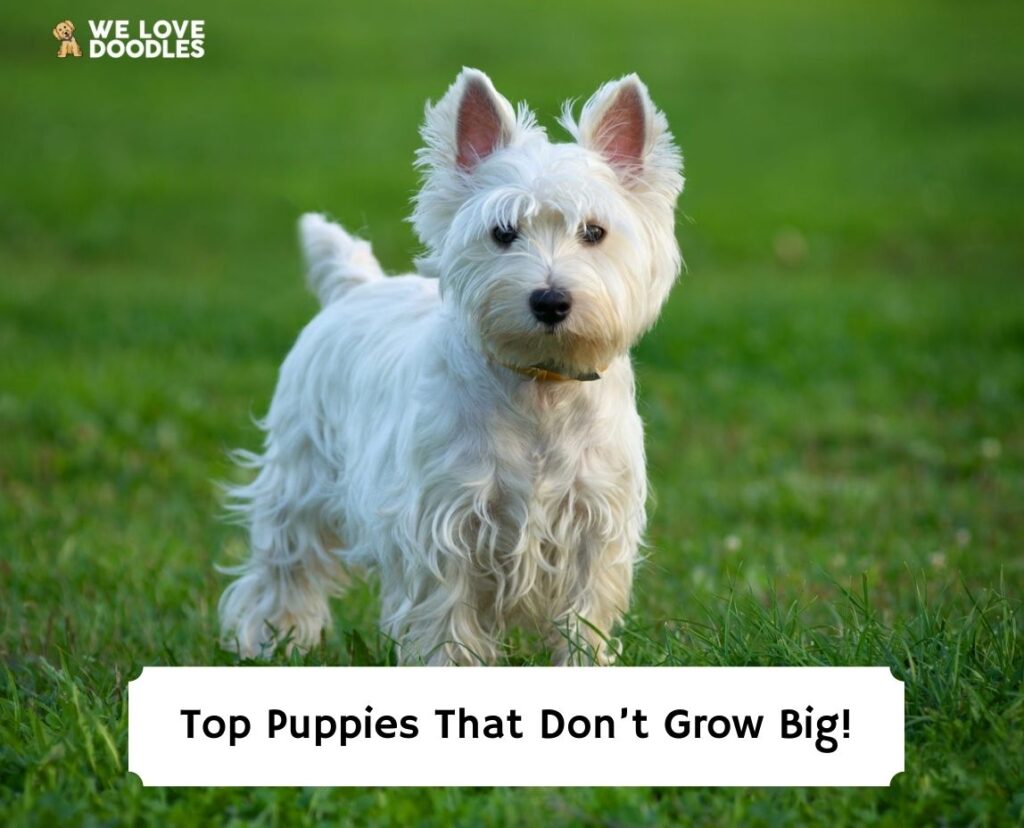 Our team compiled this list of puppies that don't grow big to help you find what you're looking for. All dogs are amazing, whether big or small, but sometimes you may wish to have puppies that don't grow big.
For instance, maybe you live in small apartments or are so occupied with your work that you can't exercise a big dog. You may also need a long-lasting dog that doesn't grow old.
Are you worried about looking for cute dogs that don't grow old? It would be best if you did not worry anymore because a variety of small dogs don't grow, and these dogs have less weight.
You can carry them around without getting tired. One of the best reasons you should consider purchasing a small dog is that it looks like a puppy. The following are small puppies that don't grow big, probably suitable for you.
Before you scroll down this guide of puppies that don't grow big, you may want to check out: Small Non-Shedding Dog Breeds and Shih Poo Rescues & Small Breed Rescues.
1. Yorkshire Terrier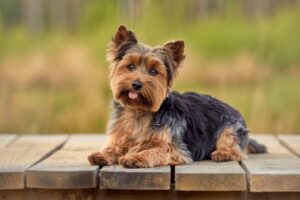 The Yorkshire Terrier is one of the smallest dog breeds. This breed developed during the 19th century in Yorkshire, England. They are the most known toy dog breeds that don't grow in the United States. 
Yorkshire Terrier has a long silky coat and a perky topknot. Puppies are born black with a blue and tan coat developing gradually. The head is bright gold with tan hairs darker at the roots than at the ends.
Size: The Yorkshire Terrier is 8 to 9 inches at the shoulder and weighs not more than 7 pounds. The most preferred weight of this breed is 6 to 7 pounds. You should be careful when purchasing this kind of breed because some smaller dogs are prone to genetic disorders, which may cause health risks in general.
Health: Yorkies are healthy. But just like any other breed, they are also prone to other health conditions. If you need little puppies that don't grow, find a good breeder ready to show you health clearances for your puppy's parents. Health clearance is the best way to make you aware that the dog has been tested and cleared of a certain condition.
Care: Yorkshire Terrier gives the best companion. This breed is always active, and hence it doesn't require you to spend much of your time keeping it well exercised. Yorkies are receptive to training. In addition, Yorkies don't withstand extreme heat and cold. They also love playing with toys, but you should always check them every few days to ensure they haven't chewed them.
Feeding: It's highly recommended that you feed Yorkies daily. The food given to them should be ½ to ¾ cup of high-quality dry food. The amount of food you give your dog depends on the dog's size, age, build, metabolism, and activity level.
Advantages
Yorkies retain their puppy teeth more so do canines.
They are affectionate towards their people.
Yorkies make fine apartment dogs.
Disadvantages
Yorkshire is prone to extreme cold, especially in damp areas.
Because of its small structure and size, Yorkshire is not recommended for households with small children.
Related: Best Pet Insurance for Small Dogs and Best Wet Dog Food For Small Breeds.
2. Chihuahua
Chihuahuas are smaller than the Yorkie. It is named after the Mexican State of Chihuahua. It is unclear where this breed originated from, but two theories elaborate on how it came to be. The first is that it came from a central or south American dog known as the Techichi.
Another theory states that small hairless dogs from China were brought to Mexico by Spanish traders and then bred with small native dogs. The short-haired Chihuahua that is well known today was discovered in the 1850s in the Mexican state of Chihuahua.
Physical Appearance: The smooth-coated Chihuahua has a smooth, shiny coat that's slightly curly. Furthermore, it has thinner hair on the head and ears, and the tail is also furry. The long-coated Chihuahua has a soft coat that's flat. The ears have a fringe of hair and a tail that spreads out over the back. Hind legs are covered with long hair. It has long hair on the stomach, known as a frill.
Size: This dog breed weighs 3 to 6 pounds. There are smaller Chihuahuas in size but are not that healthy. You may also find others that weigh up to 12 pounds.
Health: This breed doesn't have a lot of health complications. However, they may acquire some conditions or birth just like any other breed.
Care: Chihuahua needs exercise and training just like other dogs. This breed is strong and willing to play just as you are. Chihuahuas enjoy walking and playing with toys. However, it would be best if you did not leave them outside alone because they are not safe from hawks or larger dogs. Be sure to enjoy training a Chihuahua.
Feeding: You should give ¼ to ½ cups of high-quality dry food daily to a Chihuahua. The amount of food given to a dog depends on; age, size, metabolism, and activity level.
Advantages
They love children
They get along with other pets in the family.
Chihuahuas are a long-lived breed.
It can be reserved for strangers.
Disadvantages
Their ears are prone to ear wax buildup and dry skin.
They are not the best dogs for young children.
Prone to extreme weather.
Related: Is My Chihuahua Too Skinny and Why is My Chihuahua Howling?
3. Schipperke
Schipperke is a small dog breed that doesn't grow. They came into being in the 1600s in Belgium. Schipperkes are said to have come from a word meaning "little Shepherd."
Physical Appearance: Schipperkes are black with pricked ears and have hair behind their ears.
Size: The male schipperke is between 11 and 13 inches tall at the shoulder and 15 to 18 pounds. In comparison, the females are 10 to 13 inches tall and weigh 11 to 15 pounds.
Care: This breed does well in all types of settings and families. Schipperkes can be hard to housetrain, and care training is recommended. It needs dental and nail care; otherwise, it's always a clean breed with little odor.
Feeding: The dog should be fed with 1/8 to 1 7/8 cups of high-quality food. The food given depends on the dog's age, metabolism, and activity level.
Advantages
Friendly to children
Does well with cats who share a home
Can get along with other dogs
Retains its puppylike qualities.
Protective and naturally suspicious of strangers.
Disadvantages
Training them can be difficult if it's done without patience
4. Maltese
Maltese are small puppies that don't grow and originated from south-central Europe.
Physical Appearance: They are white and have an undercoat that sheds little and is considered hypoallergenic. Maltese has a rounded skull, black nose short, straight legs, and a graceful tail. Additionally, this breed has drop ears and dark alert eyes.
Size: Weighs no more than 7 pounds. Males should be eight to ten inches tall, and females' height should be 8 to 9 inches.
Health: They are generally healthy, but like any other dogs, they are prone to health conditions. Not all Maltese will get these diseases, but you should be aware of them if you have to consider these dog breeds that don't grow.
Feeding: It's recommended that this breed should be given ¼ to ½ cup of high-quality dry food a day.
Advantages
Maltese get along with other pets if they are socialized with them.
They learn quickly and have a lot of energy.
Fearless dog breed
Easy to groom
Disadvantages
Intolerant to small children
Prone to chills
Related: Best Dog Foods For Maltese Tear Stains.
5. French Bulldog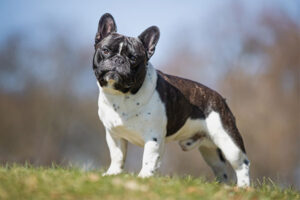 The French Bulldog originated from England and was created to be a toy-sized version of the Bulldog. This breed thrived in France and Europe.
Physical Appearance: The coat of this French Bulldog is short, smooth, shiny, and fine. The skin is also loose and wrinkled, mostly at the head and shoulders. Furthermore, the French Bulldog has a soft texture.
Size: The French Bulldog is about 11 to 12 inches in height. The males weigh 20 to 28 pounds, and the females weigh 16 to 24.
Care: They do not need much exercise because they have low energy levels. It would be best if you cleaned their ears regularly with a damp cloth. Consider trimming their nails. Bathing your dog is as important.
Feeding: Should be given 1 to 1.5 cups of quality food. The food these French bulldogs require depends on size, metabolism, and activity level.
Advantages
Easy to groom
Easy to train
They are ideal for apartments dogs
They also make wonderful watchdogs
Does well with children
Disadvantages
This breed is prone to drooling
Related: Best Pet Insurances For French Bulldogs.
6. Pomeranian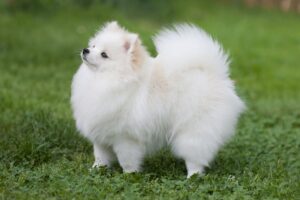 This dog breed was developed in the province of Pomerania. They are also little puppies that don't grow.
Physical appearance:
Physical Appearance: They have thick, double coats with an undercoat of soft, fluffy hair and a top of long, straight hair. They also have plumed tails with hair.
Size: They are 7 to 12 inches tall and weigh 3 to 7 pounds.
Care: These breeds have short attention periods, so you should keep training sessions. They love to learn new things and enjoy being given attention. They also love playing with toys; hence you should always give your pom a toy.
Advantages
They are hearty and can enjoy longer walks
They also have moderate activity levels.
Ideal for apartment dwellers and people without a fenced yard.
They are good with children.
Disadvantages
During old age, they may develop bald spots in their beautiful coats.
7. Pug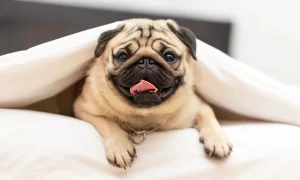 Pugs are dog breeds that don't grow and originated from China. These dogs were prized by the Emperors of China and lived in luxurious accommodations. Two pugs, namely; Lamb and Moss, were brought to England. This breed became popular during the Victorian era, so they were highly featured in paintings, postcards, and figurines of the period. 
Physical Appearance: They are short-nosed dogs that are well known to have been bred by the Chinese. They are double-coated breeds with black color. They have bulging eyes.
Care: They are prone to gum diseases. It is therefore advisable that you brush their teeth regularly.
Advantages
Good choice for apartment dwellers
They love kids
Easy to train
Affectionate with family
Friendly towards strangers
Disadvantages
Although they have short coats, they shed a lot.
They snort and snore loudly
They are risky to eye injuries
They are also greedy eaters.
8. Toy Poodle
The Poodle is the national dog of France. There are three types of Poodles: toy, miniature, and standard. The standard is the largest, weighs about 70 pounds, and is over 15 inches tall. Miniatures weigh 10 to 15 pounds, while toy Poodles are the smallest and weigh between 4 to 6 pounds and are less than 10 pounds in height. View image
Physical Appearance: They have squarish bodies. Their heads are kept high. They also have dark-colored eyes, which always look alert. Additionally, they have curly fur coats.
Care: Brush your toy Poodle teeth two to three times a week.
Advantages
Funny and loving
Their tinny size makes it tempting to carry anywhere
They are brilliant
They can do well with other pests.
They love children.
Disadvantages
Extremely prone to matting because its hair curls in on itself. And if it's left unchecked, then it can cause skin infections.
Related: When is a Toy Poodle Full Grown?
9. Dachshund
The dachshund was created in Germany, where he was known as a badger dog and Hund, which means dog. Today, this breed is the only AKC-recognized breed that hunts above and below ground. They are scent hound dogs that are bred to hunt badgers. And other tunneling animals. Rabbits as well as foxes.
Physical Appearance: The Dachshund has smooth, loose skin. This dog breed also has a long nose and dark eyes. You'll notice that the Dachshund dog breed will have white hair on its chest.
Size: Standard Dachshunds weigh between 16 and 32 pounds. Miniature Dachshunds weigh 11 pounds and are under in maturity.
Advantages
They are clever, lively, and courageous to the point of rashness.
Dachshunds are entertaining and fearless.
Disadvantages
They are stubborn and difficult to housebreak.
They are prone to having slipped discs in their backs which may lead to partial or full paralysis.
10. Italian Greyhound
Last on the list of the best puppies that don't grow big is the Italian Greyhound. This dog breed is an old breed that has been around for more than two millennia. In the 1600s, the Italian Greyhound arrived in England. The American Kennel Club registered its first Italian Greyhound in 1886.
Size: They stand around 13 to 15 inches at the shoulder. The weight ranges from 6 to 10 pounds, and some go up to 14 to 15 pounds.
Advantages
Sensitive, alert, smart, and playful.
Italian puppies are fearless, and they believe that they can fly.
Disadvantages
The breed can be extremely hard to housetrain. They have a short attention span.
Conclusion For "Puppies That Don't Grow Big."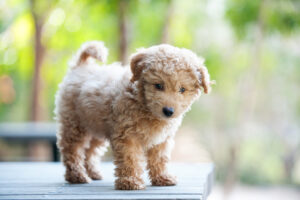 Finding your best dog breeds that don't grow will be like a gift. Many small puppies don't grow, but those highlighted are the best breeds. Make sure that you clearly understand what goes into owning one. It will be best for you if you find a good breeder ready to show you the health clearance of your puppies' parents.
You can learn more about the different types of dogs by checking out these other guides from We Love Doodles:
If you enjoyed this guide, then you might also want to look into the "Things To Know Before Getting A Puppy" video down below:
Garrett loves animals and is a huge advocate for all Doodle dog breeds. He owns his own Goldendoodle named Kona. In addition, he volunteers at the Humane Society of Silicon Valley, where he fosters dogs and helps animals. Garrett enjoys writing about Doodles and believes that dogs can teach humans more about how to live than humans can teach a dog.
Why Trust We Love Doodles?
At We Love Doodles, we're a team of writers, veterinarians, and puppy trainers that love dogs. Our team of qualified experts researches and provides reliable information on a wide range of dog topics. Our reviews are based on customer feedback, hands-on testing, and in-depth analysis. We are fully transparent and honest to our community of dog owners and future owners.