Shaving a Pomeranian isn't easy, so our team at WeLoveDoodles would like to present this guide to help you. Dogs come in a variety of coats, colors, and styles. Even among individual breeds, dogs can have coats that bring in different colors, markings, and lengths of coats. As a dog owner, you have the opportunity and responsibility to groom your dog in a way that both cares for their skin and can keep their natural cuteness. Like many other dogs, Pomeranians are open to a range of different coat styles and cuts, whether a puppy or older adult dogs.
From short to long, a Pomeranian can accommodate simple to complex and high-maintenance coats. Shaving a dog's coat is a common practice in grooming to help make taking care of the dog's coat much easier. But is it the right approach for a Pomeranian? If you're considering shaving your Pomeranian's coat or are interested in the grooming habits for this particular breed, we're here to help. Next, we share some essential things to know about grooming a Pomeranian to be its cute and healthy self.
Before scrolling down this guide "Shaving a Pomeranian: What You Should Know," check out these dog grooming articles: How Long Does Dog Grooming Take and How Do You Groom With a Slicker Brush?
The Pomeranian's Coat
In understanding standard grooming practices for the Pomeranian, it's helpful to know what kind of coat this adorable breed has. With their small frame, they are double-coated. As Pomeranians were initially raised to be sled dogs in cold environments, the double coat is beneficial in keeping the dog warm and well. The undercoat is thick and dense, with long hairs covering their body.
This undercoat is vital in providing insulation and keeping them warm in all seasons. The outer coat is much lighter and often has much more volume and puffiness. The undercoat also protects the outer coat as well as the dog's skin. Their coats can come in a variety of colors ranging from white to tan to darker brown. Most often, when kept naturally, their coats are pretty puffy and very beautiful.
Yet, with the amount of hair and natural physical characteristics, these dogs are known to shed pretty often. While the amount they shed may vary based on the year and how well they are groomed, Pomeranians are just dogs who shed. It's also important to remember that a puppy's coat is different from the coat of an adult dog.
Puppies tend to have softer fur that is lighter and airy. Their undercoats may not be as solidified as well. Pomeranians will typically have their grown-up coat by the time they are one year old. In addition, to change the texture and density of their coat, they may also change the color of their coat. Their coats may become darker over time.
Product Recommendations: Best Dog Grooming Shears.
Can You Shave a Pomeranian?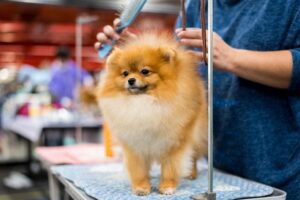 Despite the playful and fluffy appearance of the Pomeranian's coat, some dog owners may choose to shave their Pomeranian. This desired change in appearance is often intended to ease the maintenance and amount of grooming that the dog requires. In addition, owners may choose to shave their dogs to stop them from shedding or make it easier to care for them.
However, shaving a Pomeranian is not recommended. Because of the important purpose that both the undercoat and the outer coat serve, shaving off these layers can negatively affect their overall health and wellness. In addition, effects such as hair growth issues and other skin irritations can have lasting effects on your dog's overall appearance.
Although these cases tend to be quite rare, there may be certain circumstances in which a Pomeranian should be shaved. This may be due to large mats that develop in their fur or other irritations in their coats. When their mats become too much to handle or manage, a shave may be the only way to get them on the right path toward improving their overall appearance and skin health.
Another critical point to make when determining whether or not you should shave your Pomeranian is the chance of whether their coat will grow back or not. Their coat may or may not return to its full length and fluffiness. Therefore, if you choose to shave your Pomeranian, you also accept the chance that they may not get their long, flowy coats back.
In addition to severely dry skin and other issues, alopecia is another issue that can result from shaving your Pomeranian. This is when the dog's hair isn't able to grow back. They'll have patches of bald spots and other issues. If your dog doesn't develop alopecia, their hair may still grow back, but it may be wiry and unpleasant for both you and your dog.
Product Recommendations: Best Slicker Brushes for Dogs.
Best Practices for Taking Care of Your Pomeranian's Coat
Proper grooming is an essential part of caring for your dog's overall health, wellness, and appearance. Grooming regularly and thoroughly can help you to prevent mats and other skin irritations from developing for your Pomeranian. Here are some common tips for taking care of your dog's coat.
1. Groom Regularly
When it comes to grooming, having a routine for your Pomeranian can help keep their coats smooth, hydrated, and soft. Brush their fur regularly and bathe them occasionally as well. In addition, keeping your dog properly groomed can prevent your dog from developing mats and other skin irritations that might force them to be shaved.
The need for grooming becomes much more important when they are shedding. As Pomeranians have two coats, that means they have a lot of hair. Shedding is a natural part of them maintaining their coats. While some owners may want to shave their dog because of the shedding, it usually doesn't solve the issue but may cause even worse issues.
2. Find a Professional Groomer
If you're not sure about doing your dog's coat, it may be best to find a professional groomer who can take care of your dog's coat for you. Getting a groomer who you can trust with their coat can alleviate the stress and pressure you need to be a skilled hairdresser for your dog.
3. Bathe Them Consistently
Baths should occur about every three weeks. Too infrequent, and your dog's coat will begin to smell and stink up the house. Too often and your dog's coat can become more fragile and brittle if they are not well conditioned after being washed. Bathe them with warm water, as they can get cold quite quickly. After washing their coats, it's essential to include a leave-in conditioner to ensure their coat stays soft and cozy.
4. Moisturize
With the texture of their coats, they can quickly be dried out in certain conditions. Especially in dry environments, it's important to keep their skin and coats moisturized and healthy. Prevent their skin from being sunburned with lotion and keeping out of the sun when unnecessary. Proper moisture can help maintain the fluffy and bright coats that the Pomeranian is known for.
5. Take Care of Their Insides
What your dog eats can strongly influence how their coats look and act. Giving your Pomeranian regular supplements like Omega-3s and other antioxidants can help improve your dog's health. It can help their bone health, grow their strength, give them energy and help prevent other chronic issues. In addition, these vitamins and supplements can also help improve their coat health. Antioxidants and Omega-3 can help their coat stay shiny, soft, and smooth.
Product Recommendations: Best Dog Grooming Kit.
Conclusion For "Shaving a Pomeranian"
Shaving a Pomeranian can be difficult for many people. We hope this guide made your experience better. There's a lot you do to help your dog stay healthy and live its best life. Part of that is keeping a regular grooming routine to prevent mats and other skin irritations. Being intentional about caring about both your dog's internal health and external can ensure you have a holistically healthy puppy. Not only will taking care of your Pomeranian's coat by not shaving it help keep their beautiful long coats, but it'll also help them maintain their appearance long-term.
For more articles with mentions of the Pomeranian from our team at WeLoveDoodles, make sure you check out:
To learn more about Pomeranian grooming, watch "How to Groom a Pomeranian" from My Favorite Groomer down below: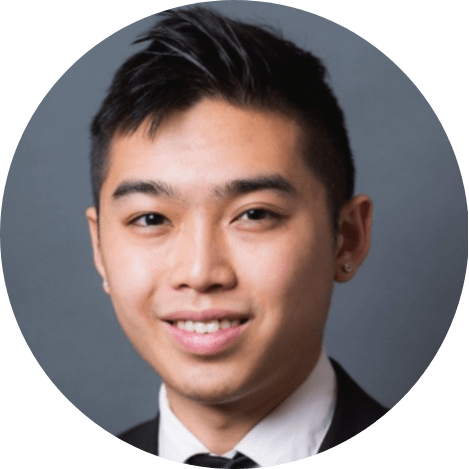 Andy is a full-time animal rescuer and owner of a toy doodle. When he's not saving dogs, Andy is one of our core writers and editors. He has been writing about dogs for over a decade. Andy joined our team because he believes that words are powerful tools that can change a dog's life for the better.
Why Trust We Love Doodles?
At We Love Doodles, we're a team of writers, veterinarians, and puppy trainers that love dogs. Our team of qualified experts researches and provides reliable information on a wide range of dog topics. Our reviews are based on customer feedback, hands-on testing, and in-depth analysis. We are fully transparent and honest to our community of dog owners and future owners.