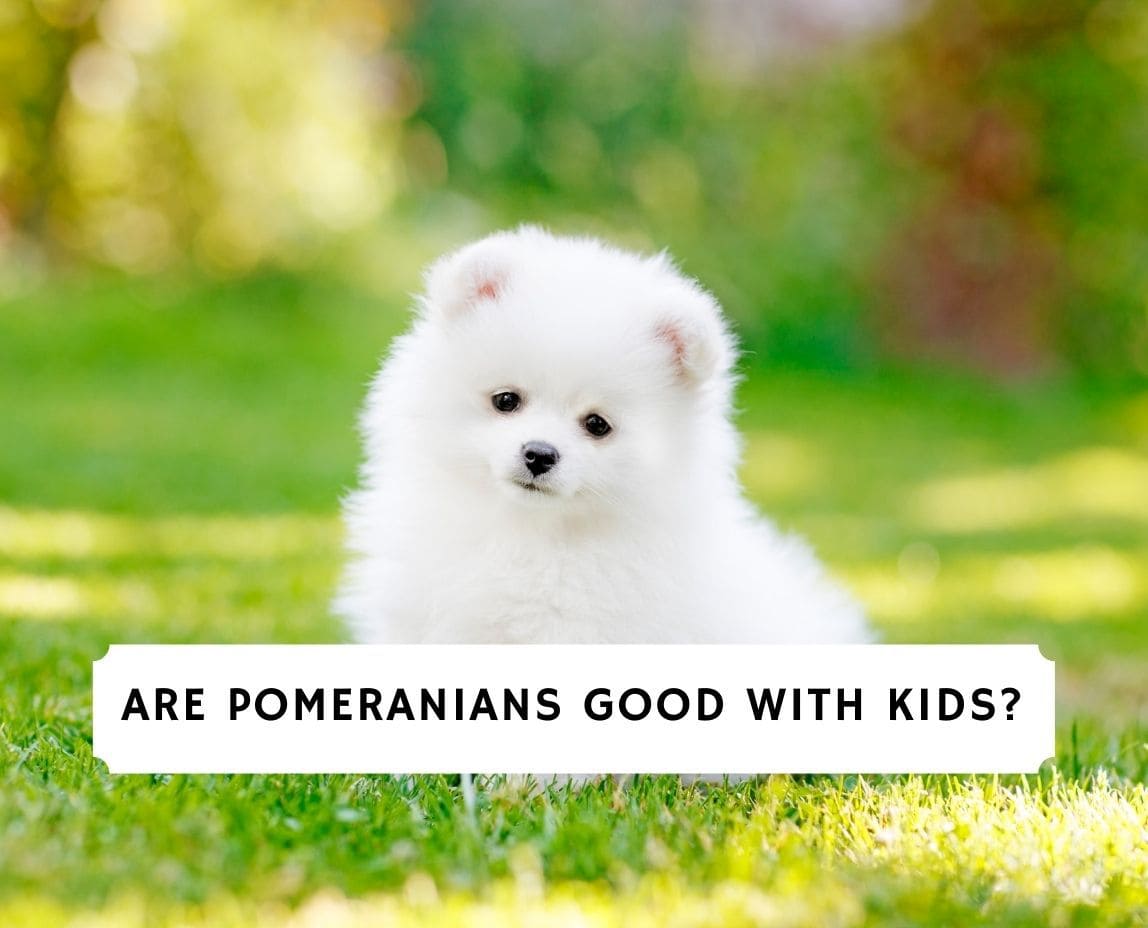 Whether you have a Pomeranian coming over or you're planning to raise on with your children, you're probably wondering: "Are Pomeranians good with kids?" When selecting the right breed of dog for you, your family and kids matter. Especially if you're choosing to add a four-legged friend to your family after you already have children in the home, you'll want a dog that fits in well. Some dog breeds are naturally better with kids than others. Dogs known for being great family dogs include those with a calm, friendly, and easy-going personality. These breeds include those such as a Golden Retriever, a Beagle, or a Newfoundland.
On the other hand, some dogs may not be best suited for playing around with young children. While these breeds aren't always very aggressive, they may not be as compatible with a young child pulling on their tail as with others. What about a Pomeranian? These small dogs are relatively widespread among both individuals and families. Does that mean they are good with kids? With their friendly and playful temperament, they may be the perfect fit for you.
If you're looking to get a dog and either has children or plan your family down the road, the breed you choose matters. So if you're considering a Pomeranian, you'll want to know how they will act around your current or future family members. To help you plan and prepare well, here we share some helpful information in understanding whether or not a Pomeranian is a good choice for kids. We'll share what makes a dog a good choice for children and what that means for Pomeranians.
Before scrolling down this article "Are Pomeranians Good With Kids," you might be interested in our breeder recommendations: Best Pomeranian Breeders in California and Best Pomeranian Breeders in Texas.
What Makes a Dog Good For Kids?
If you've spent any amount of time around dogs, you'll know that some breeds are just more pleasant and friendly to be around than others. This can be due to improper training. If a dog isn't raised well with essential behavior training and rules, really any dog can struggle with getting along with others. Yet, some dogs are just more inclined to be loved by children than others. These breeds share specific characteristics that instill confidence and excitement for both parents and kids. The dog's temperament is one of the essential factors determining whether the dog will be a good fit for the rest of the family.
Typically, dogs that work well within families are pretty calm and have a gentle personality. They are friendly yet usually not overly outgoing where it can become challenging to manage. These breeds also tend to be very patient and tolerant of rowdy behavior from kids running around the house. They should also be loyal and committed to their family, which can help form a strong bond between the dog and children. In addition to temperament, another thing you'll want to consider with choosing a dog breed that's just right for your family is the energy level of the dog.
You'll want to find a dog that has a similar energy level as the rest of your family. If kids enjoy bringing outside, running around, and staying very active, you'll want to find a dog that can keep up with all that activity. Opt for more of an athletic dog that enjoys running and be outside just as much as you. If you're highly active, a leisurely, slower, and tiny dog may not be able to keep up with you as well. Alternatively, if your family is not that active and you can't accommodate much exercise and energy-releasing, a highly active dog may not be the best fit.
They'll need regular walks and runs outside, and you may not be able to accommodate that. As you choose the right dog for your family, be sure to know your lifestyle habits. When considering both the temperament and energy level of a dog, you'll also want to add in the dog's size. While both small and large dogs can work well in a family environment, be careful you don't select a dog that's an overly rambunctious and gigantic dog that could knock over small children as they run past. Incorporating these essential considerations can help you make the right decision for your family. That choice may end up being a Pomeranian.
For more dog recommendations, check out Small Non-Shedding Dog Breeds and Maltipoo vs. Yorkiepoo.
Are Pomeranians Good With Children?
If you're looking for a small dog that's fun to be around, a Pomeranian may be an excellent choice for you and your family. These small toy breed dogs are known for being friendly, engaging, and active. Yet with many types of dogs, the training and behavioral habits a Pomeranian has developed over time. If they haven't been thoroughly taught what types of behavior are acceptable and which are not, you may be more at risk for a Pomeranian acting out negatively. There are some circumstances and characteristics that can mean that a Pomeranian would be good with kids. Other times, however, you may want to go for an alternative breed. Here are some reasons why Pomeranians are good – and potentially not so good – with kids.
Similar Dog Questions: Are Labradoodles Good With Kids and Are Goldendoodle Good With Kids?
Times When a Pomeranian Isn't Great For Kids
Generally, Pomeranians are friendly, outgoing, and loyal to their family. They can be great options for families with kids who are a bit older and know a little more about taking care of a dog properly. Older kids having a dog in the home can teach them valuable skills such as responsibility and bring them a sense of companionship they can't find in other places. Keep in mind that generally, it's essential to supervise your children and dogs when they interact with each other.
While older kids can be more trusted to care for them, take them for walks and spend quality time with them, it's a good idea to keep an eye on all of them to ensure your Pomeranian isn't getting upset. Teach your child to notice signs and behaviors of the dog that may indicate that they are not happy about something. Pomeranians are also very cuddling, which can be an excellent activity for kids when done respectfully and not choking the dog. Early socialization with your Pomeranian puppy can also improve the trust and overall relationship between the dog and your family, best results in friendly behavior.
The size of the Pomeranian can also be an outstanding characteristic to factor into the decision. If you don't have a large backyard where you, your kids, and a Pomeranian can run around and play, that's okay. Due to their small size, they may not require as much room to run outside. They are also not as intimidating as other breeds and have less knocking over other small children. They also don't have a crazy amount of strength, which means kids can take them for walks without being dragged by the dog.
Similar Dog Question: Are Corgis Good With Kids?
When a Pomeranian Isn't Great for Kids
While Pomeranians do have a sweet, cute side, they also can act out in aggression or other negative behaviors. Especially when a dog isn't adequately trained or coached from a behavioral standpoint, you may be putting your family at risk. Typically Pomeranians tend to be very wary of sudden movements or other alarming noises that may scare them. This reaction can end in them snapping and something or someone, which is a very negative behavior you want to avoid.
Especially when young children dash past them or make some other alarming noise, Pomeranians aren't so tolerable of such disruptions. Pomeranians do not tolerate any wrestling or roughhousing. If kids are included to play like that, you may want to opt for a different breed to handle that kind of chaos. They are also quite nervous and suspicious around strangers and other individuals they may not be comfortable with. This anxiety can also be channeled through and result in biting or snapping at others. Supervision is a requirement for this breed in all sorts of circumstances.
Generally, this breed is not recommended for children who are at a very young age. Pomeranians are not as tolerant of the pulling on tails or fur as other dogs may be. When kids can't or are not familiar with the best ways to treat a dog, the Pomeranian may show their aggression. They also require quite a bit of attention and time together. If you and your family can't provide that for your Pomeranian, they may let you know in a not-so-pleasant way.
Other Dog Breed Recommendations: Types of Dogs Born Without Tails.
Conclusion For "Are Pomeranians Good With Kids"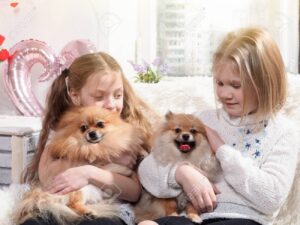 Suppose you're considering adding a dog to your family with kids. In that case, it's crucial to understand how different breeds might blend in well with your family's ages, activity level, and overall lifestyle. For some families, a Pomeranian can be a great choice. By factoring in both the pros and cons of having a Pomeranian around children, you can make an informed decision about what dog will get along with kids well. With the proper research, you'll find a dog that aligns well with your family for years to come.
For articles with mentions of the Pomeranian, check out:
To learn more about the Pomeranian, watch "Pomeranian Pros And Cons" from Cocker Spaniel World down below: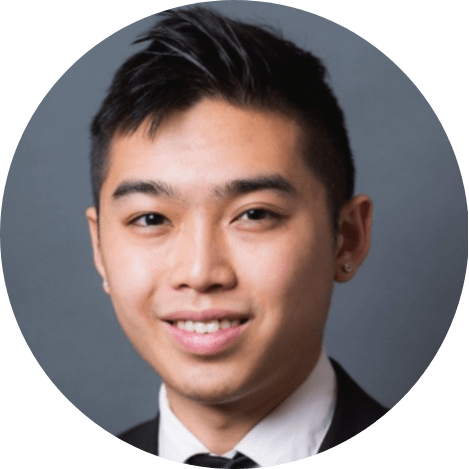 Andy is a full-time animal rescuer and owner of a toy doodle. When he's not saving dogs, Andy is one of our core writers and editors. He has been writing about dogs for over a decade. Andy joined our team because he believes that words are powerful tools that can change a dog's life for the better.
Why Trust We Love Doodles?
At We Love Doodles, we're a team of writers, veterinarians, and puppy trainers that love dogs. Our team of qualified experts researches and provides reliable information on a wide range of dog topics. Our reviews are based on customer feedback, hands-on testing, and in-depth analysis. We are fully transparent and honest to our community of dog owners and future owners.