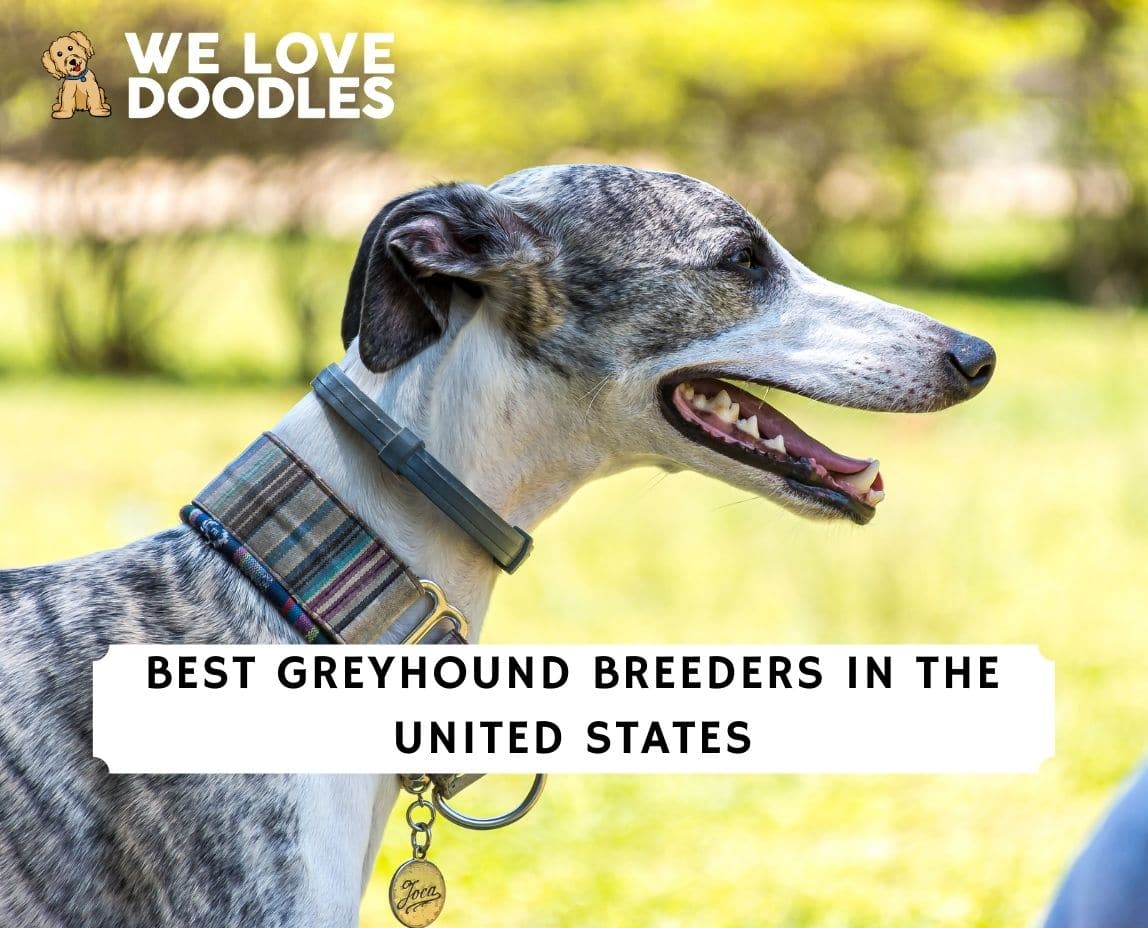 If you're searching for the best Greyhound breeders in the United States, you've come to the right place. Greyhounds are friendly, non-aggressive dogs that are known for their racing ability. While Greyhounds are often bred to race, they can also make great family pets.
You must allow these dogs plenty of room – and time – for exercise, but if you have a suitable living space, a Greyhound can be a great addition to your family. This guide will look at some of the top Greyhound breeders in the United States.
You must select a breeder that is reputable and responsible. Avoiding puppy mills will help ensure that your dog is healthy and happy and that it will be a beloved member of your family for years to come.
Before scrolling down this list of Greyhound breeders in the United States, check out these other recommendations from our team at We Love Doodles: Best Barbet Breeders in the United States and Best American Labrador Retriever Breeders in the United States.
Greyhound Puppies For Sale in the United States
As you read this guide, we encourage you to consider adopting an adult Greyhound. Many race dogs are retired and need loving homes upon retirement. It is difficult to find a Greyhound puppy – they're not commonly bred as pets. Adopting an adult Greyhound can make a big difference in a dog's life.
Greyhound Product Recommendations: Best Dog Football Toys and Best Dog Bells For Potty Training.
1. Windrock LLC
Located in Torrington, Wyoming, Windrock LLC is one of the top Greyhound breeders in the United States. They're an AKC registered breeder that specializes in the breed. While litters produced by Windrock are show and field champions, puppies are also bred to be service dogs and family dogs that are affectionate, healthy, and valued household members.
Windrock LLC is a family-owned business; husband and wife team Colin and Kimberly Fritzler are active in several organizations, including The Greyhound Club of America, The National Greyhound Association, and the American Kennel Club. There is a waiting list for puppies, as litter is only produced once or twice each year.
You will need to apply for the adoption of a Windrock LLC dog; the owners of this kennel want to ensure that their puppies are going to good homes. Puppies cost $3,750 each, and you will need to place a deposit to be added to the waitlist.
Dogs go home between 10 to 12 weeks, and most are sold as pets instead of being sold as show dogs. If you're interested in breeding your dog, speak with the kennel owners directly. For an additional cost, you may be able to acquire complete registration for your puppy.
Windrock LLC Details
2. Harmony Greyhounds
Harmony Greyhounds is located near Charlotte, North Carolina, on Indian Trail. They are small-scale breeders and only produce one or two puppies yearly. As with other breeders, you will need to apply for a dog; you'll need to provide information about your household size, experience with the breed, work schedule, and other aspects of your lifestyle.
Parent dogs are extensively tested for known diseases in the breed; your puppy will come from a healthy pedigree. This ensures a good match between your family and the puppy you adopt. Adult dogs are AKC registered – speak with the breeder directly about whether you will have partial or full registration rights. Dogs cost between $1,500 and $2,000 depending upon gender and other characteristics.
If you're not local to North Carolina, you may be able to arrange for your puppy to be delivered to you. Harmony offers the option to request air or ground transportation. Alternatively, you may pick up your puppy at the breeder's location in Indian Trail or the breeder's local airport. If you do happen to be local to North Carolina, note that Harmony Greyhounds offers training and boarding services.
Harmony Greyhounds Details
3. Greyhound Pets, Inc.
Greyhound Pets, Inc is a rescue operation located in Woodinville, Washington. Puppies are sometimes available, but the kennel specializes in finding homes for retired and adult Greyhounds who need a forever home. You can search available puppies and dogs by age on the Greyhound Pets, Inc website.
You must fill out an application before adopting a Greyhound from this kennel. You'll need to provide information about your home, your breed experience, family size, and more. Once approved, your application is valid for three months.
Using this information, Greyhound Pets, Inc will match you with a dog well suited to your home and lifestyle. The cost to adopt a dog will vary by age, but you will generally pay around $500. Upon approval for adoption, you'll schedule a home visit with the Greyhound Pets, Inc team.
During this time, you will be able to ask questions about the breed, caring for a Greyhound, and whether a Greyhound is ideal for your family. Greyhound Pets, Inc does not deliver dogs; you must be able to pick your puppy up at the Washington facility.
Greyhound Pets, Inc. Details
4. AKC Marketplace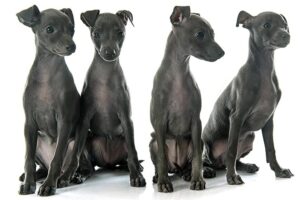 You can search the AKC Marketplace if you're looking to breed, show, race, or adopt a Greyhound puppy as a household pet. The AKC Marketplace is a service provided by the American Kennel Club, and AKC members are permitted to post available puppies for sale on the website.
Using the AKC Marketplace website, you can search by breed, location, and gender. Breeders listed on the website are deemed to comply with the high standards for cleanliness, care, and other requirements set by the AKC. Each breeder is registered with the club, and kennels are inspected at least annually.
You'll find information about the breed that can help you determine whether a Greyhound is suitable for your family. Once you find a breeder you feel comfortable with, you may contact them via the Marketplace to determine details about price, availability, and other adoption requirements.
While the American Kennel Club vets the breeders on this website, you'll undoubtedly want to do your research. Interview the Greyhound breeder before you send any money, and ensure you feel comfortable with them. If possible, speak to references – a good breeder will be able to provide you with information for families that have adopted through them in the past.
Registration may vary with AKC Marketplace breeders. Be sure to speak with the kennel about your intentions – do you want to breed or show your dog? Ensure that complete registration is available before putting any money down on a dog.
AKC Marketplace Details
5. Houndsavers
Houndsavers is another rescue operation that occasionally has Greyhound puppies available for adoption. While the group specializes in retired Greyhounds, you may contact them to determine whether there are puppies who are looking for a forever home.
To adopt a dog, you must first fill out an application. Houndsavers is located in La Mesa, California, and accepts applications for adoption from its surrounding counties. They do not deliver or ship dogs; you must be available to pick up your puppy in the California facility.
The team at Houndsavers will review your information, and upon approval, you will be invited to a phone interview and schedule a home visit. The cost of adoption is $295, regardless of age. Your dog will be microchipped and up to date with its vaccinations and deworming treatments. The Houndsavers team will also include a leash and a safety collar to get you started with your new forever friend.
Houndsavers Details
6. KB's Greyhound Farm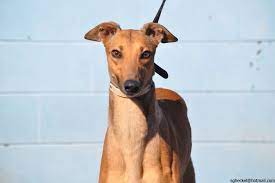 KB's Greyhound Farm is located in Thorndale, Texas, and specializes in providing sires for breeding. While the kennel does produce an occasional litter, this facility is most well-suited to those Greyhound owners who wish to breed their puppies with their dam.
KB's Greyhound Farm welcomes visitors to its facility. You will need to speak with the breeder directly about the pricing of services. By visiting the kennel, you'll get a better idea of the pedigree of dogs, and you'll also be welcome to ask questions.
Ken Biehle, the owner of KB's, is happy to address your questions and concerns about raising Greyhounds and the breed as a whole. Thorndale, Texas, is just outside Austin, but KB's serves a nationwide market. Speak with Mr. Biehle about options for shipment of frozen sperm, or meet with him to schedule your dog to meet with his sires.
KB's Greyhound Farm Details
7. Pearl Italian Greyhound Home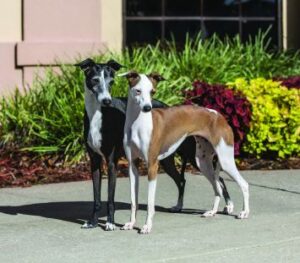 Pearl Italian Greyhound Home has been a kennel in business for over 12 years. The husband and wife team ships Greyhound puppies nationwide, so a Greyhound is available to you no matter where you live in the United States. The breeder's wife is a flight attendant, so you can rest assured that she will safely bring your puppy to your local airport.
Your Greyhound puppy comes with a one-year health guarantee, and your dog will be entirely up to date with deworming treatments and vaccinations when it's time to go home with you. Your puppy will come in a plastic shipping crate that's yours to keep, and instructions will be provided regarding feeding and care of your new Greyhound dog.
Puppies bred at Pearl Italian Greyhound Home are raised in an in-home environment, where they'll have plenty of one-on-one attention and opportunity to play. As your puppy explores their world, it will learn how to handle household life's day-to-day sights and sounds.
Before you're permitted to adopt a Greyhound from Pearl Italian Greyhound Home, you'll be expected to answer questions about your household, lifestyle, and other aspects of how you'll care for your puppy. Upon approval, you may select your puppy from those available. Prices of dogs may vary, but these AKC-registered puppies generally cost around $700.
Pearl Italian Greyhound Home Details
8. Mariaba Italian Greyhound Puppies
Last on our list of the top Greyhound breeders in the United States is Mariaba Italian Greyhound Puppies. This is another kennel that ships dogs nationwide and will also deliver puppies to Canada or Mexico for an additional fee.
The breeder uses a professional pet nanny service, and a human will accompany your dog for its flight to your local airport. Puppies produced by Mariaba Italian Greyhound come with a health guarantee that protects you should your puppy suffer any diseases common to Greyhounds.
Your dog will be current with its vaccinations and deworming treatments upon pickup or delivery, and a vet certificate is provided for plane travel. You can expect to pay approximately $700 for your Greyhound puppy, though the cost of your dog may vary. Speak with the breeder directly about applicable deposits, or choose a puppy from the list of available puppies on the Mariaba website.
Mariaba Italian Greyhound Puppies Details
Frequently Asked Questions
Who is the best dog breeder in the world?
The American Kennel Club adds the best dog breeders for the mentioned years:
2021 David Fitzpatrick, Pequest Pekingese
2020 Gail S. Wolaniuk and Joan E. McFadden, Unique Standard Poodles
2019 Elizabeth and Daniel Karshner, Little Pond Bulldogs
2018 Kent Boyles and Liz Oster, Kenlyn/Marquis German Shepherd Dogs
2017 Helyne E. Medeiros, Seasyde Pointers
2016 Alan Kalter and Dr. Chris Lezotte, HappyLegs Bullmastiffs
2015 John Buddie, Tartanside Collies
2014 Gwen DeMilta and Carissa DeMilta Shimpeno, Alisaton Doberman Pinschers
2013 Winifred Stout, Quissex Smooth Fox Terriers
2012 James W. Smith, Absolutely Smooth Fox Terriers
2011 Plus Davern, Sundowners Sussex Spaniels
2010 Debbie Butt, Sporting Field Whippets
What is the largest breed of Greyhound?
The largest breed of Greyhound is the Borzoi, also known as the Russian Wolfhound. Below is a video where you can learn more information about the largest breed of Greyhound.
Borzoi (meaning "fast in Russian), or Russian Wolfhound, is the largest and heaviest of all the sighthounds. Racing Greyhounds are usually 25 to 29 inches tall, and show Greyhounds are slightly larger, at 26 to 30 inches. Males typically weigh 65 to 85 pounds, females 50 to 65 pounds, with racing dogs tending toward the lower end of the scale.
How much does a good Greyhound cost?
You should do all you can to adopt this breed. The commercial racing industry overbreeds and discards Greyhounds that don't race well. This is a very sweet yet shy dog breed that is easy to train and makes for a great companion.
Greyhounds can be found in many sizes and colors, and ex-racers make good couch potatoes. They are not as hyperactive as they may seem. You can also sponsor a Greyhound and help rescue Greyhounds from the perils of dog racing.
The Greyhound Club of America will also have a litter list to help you if you're looking to purchase a Greyhound.
How much is a Greyhound puppy worth?
Always try to adopt or foster a Greyhound before buying one from a breeder. For example, you may be able to find an adoptable Greyhound for free or for a low adoption fee at a local animal shelter or rescue organization.
If you decide to purchase a Greyhound puppy from a breeder, expect to pay anywhere from $1000 to $4,500 for the pup and even more if you're looking to show your Greyhound. The best website for dog breeders is We Love Doodles. Here are the top Greyhound breeders in the U.S.:
Windrock LLC
Harmony Greyhounds
Greyhound Pets Inc. (rescue)
AKC MarketPlace
Houndsavers (rescue)
K.B.'s Greyhound Farm
Pearl Italian Greyhound Home
Mariaba Italian Greyhound Puppies
Conclusion For The "Best Greyhound Breeders in the United States"
Greyhounds are a unique breed of dog. They're known for their speed and agility, but the dogs also make great family pets due to their trainability and gentleness. If you're looking for a Greyhound, we encourage you to consider the adoption of an older dog.
These rescues are often retired and in need of a forever home. If your heart is set on a Greyhound puppy, be sure your dog comes from a reputable and responsible breeder.
This list is a starting point for your search for a new dog; do your research and interview your breeder to increase the likelihood of adopting a happy and healthy puppy.
For more guides similar to this list of Greyhound breeders in the United States, you can check out:
Before you bring home a Greyhound from a breeder in the United States, you can learn more about the breed by watching "Greyhound Dog Breed Information" down below:
Garrett loves animals and is a huge advocate for all Doodle dog breeds. He owns his own Goldendoodle named Kona. In addition, he volunteers at the Humane Society of Silicon Valley, where he fosters dogs and helps animals. Garrett enjoys writing about Doodles and believes that dogs can teach humans more about how to live than humans can teach a dog.
Why Trust We Love Doodles?
At We Love Doodles, we're a team of writers, veterinarians, and puppy trainers that love dogs. Our team of qualified experts researches and provides reliable information on a wide range of dog topics. Our reviews are based on customer feedback, hands-on testing, and in-depth analysis. We are fully transparent and honest to our community of dog owners and future owners.