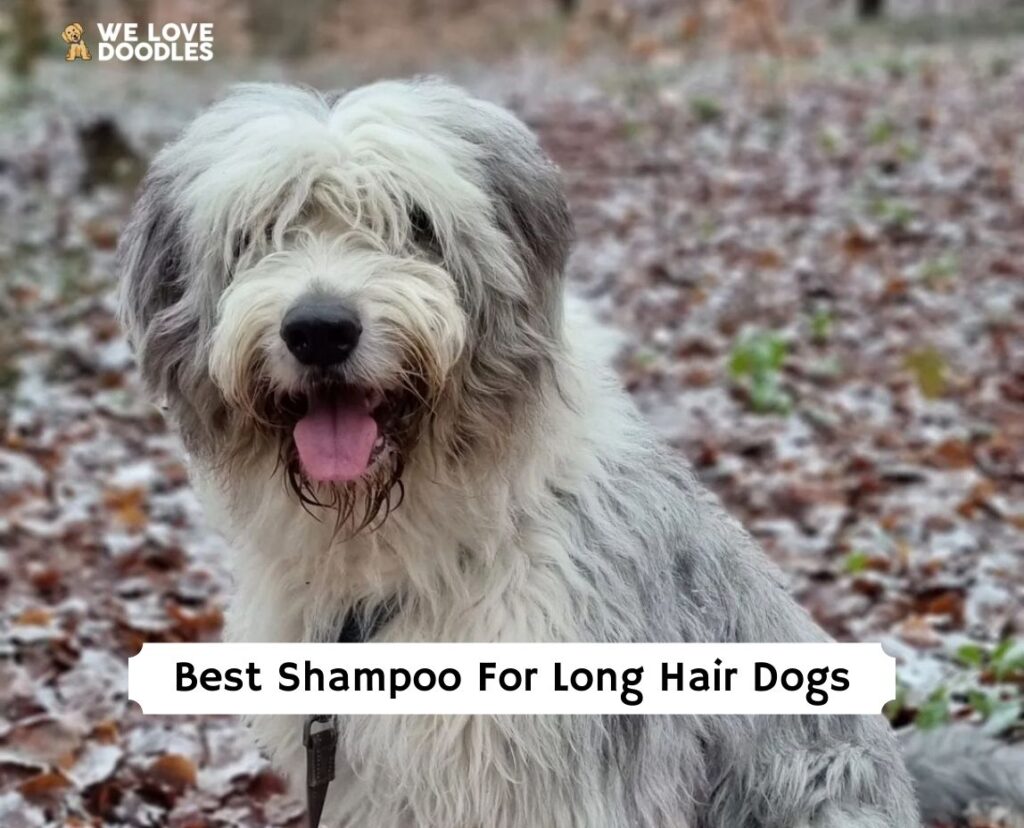 If you're looking for the best dog shampoo to use on your long-haired dog breeds, you're in the right place. We've researched and compiled a list of the six best shampoos for long-haired dog breed types. 
Our top picks for the best shampoo for long-haired dog breeds feature nutritious ingredients and quality lathering power to ensure your favorite long-haired furbaby looks and feels great.
In a rush? Here are the top picks!
Image
Best Overall
Best Medicated Shampoo
Budget Pick
Product
TropiClean Long Coat Shampoo
How to Choose a The Best Shampoo For Long Hair Dogs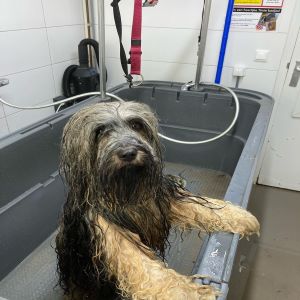 The best dog shampoo for long-haired breeds will be safe and gentle on the skin and coat of your pet. The shampoo should work to maintain a healthy pH balance in your pet's skin and coat without stripping essential oils. We also recommend finding a dog shampoo with antifungal & antibacterial properties as well as deep cleaning & deodorizing power.
Healthy skin & coat in long-haired dogs
You should be able to tell if your dog's skin is healthy by the way it looks & feels. For example, if the coat appears dull or some areas have lost color, then it may be time to bathe your dog with a good dog shampoo. 
Dogs who spend time outside can pick up dirt and debris in their fur, which can cause irritation and itching. Once you determine whether your dog needs a bath, the next step is finding the right shampoo that will not irritate or dry out his skin further.
Long-haired Dog Breeds
Dog breeds with long hair typically require more care than other breeds to keep their coats healthy and clean. In addition, there are grooming tools explicitly designed for long-haired dogs, such as slicker brushes and combs. 
Shampooing is typically required once a month to keep the coat clean, moisturized, and tangle-free. Regular grooming and skincare on the outside will help keep your dog's coat clean and free of tangles, no matter what type of hair coat they have.
What should you opt for when choosing your long-haired dog shampoo?
Antifungal & antibacterial properties are essential to help prevent dandruff, yeast infections, or other bacterial problems typically associated with an unclean coat.
A simple, natural shampoo that is pH balanced and free of harsh chemicals is recommended. This will help reduce the risk of allergies or skin irritation and avoid breakouts on your long-haired dog's skin. We believe that all-natural ingredients such as aloe vera, coconut oil, tea tree oil, and oatmeal can be beneficial to your dog's skin.
Aloe vera is anti-inflammatory, antibacterial & antifungal, which makes it one of the best natural ingredients for dogs. Aloe vera has been known to strengthen hair follicles, reduce dandruff, and acts as an emollient (softens & moisturizes).
Coconut oil and lauric acid feature antibacterial, antiviral, and antifungal properties. This essential fatty acid is believed to promote a healthy coat while also building up the immune system of dogs, thanks to its antioxidant properties.
Tea tree oil has been used in humans for years as a topical antiseptic & antimicrobial ingredient to help treat cuts, burns, and acne. Our canine friends benefit from this powerful essential oil as it can be used to eliminate germs that cause skin problems or irritations.
Oatmeal, specifically Avena sativa (oatmeal), is known for its natural soothing properties, making it a great dog shampoo ingredient. It is commonly found in human anti-itch & anti-inflammatory products, recommended for insect bites, bee stings, or dermatitis.
The best dog shampoo will not dry out the skin thanks to rich moisturizing ingredients. Animal fats derived from beef tallow, lanolin, and jojoba oil are perfect for nourishing the skin and coat. These ingredients also help repel dirt, making it easier to clean your dog's coat between baths.
Ensuring that your dog's shampoo is safe for puppies is essential too. For example, dog shampoos made with oatmeal, aloe vera, or coconut oil are typically safe for use on all breeds and ages of dogs.
The We Love Doodles shampoo was designed for long hair dogs that frequently get tangles, mats, and knots. It's a 4-in-1 dog shampoo that contains a detangler, conditioner, and moisturizer to make future grooming and brushing sessions easier. It also contains a light lavender and chamomile scent which makes your dog smell fresh after a bath.
The dog detangler shampoo is created, tested, and manufactured in some of the top facilities in the United States. It contains USDA-certified organic ingredients and is 98.25% derived from natural ingredients. There are no harsh chemicals like synthetic dyes, parabens, formaldehyde, or alcohol. It's a safe and effective dog shampoo that lathers well on long-haired dogs.
Up until April 2022, this dog shampoo was exclusively sold to professional groomers around the United States. We Love Doodles just decided to make their dog shampoo available to the public via Amazon. It comes with a 100% satisfaction guarantee, so if you or your dog don't like the shampoo you can get a full refund. We highly suggest you check it out.
Features
Lathers well to go deep down into long-haired dogs
Effectively cleans, detanglers, conditions, and moisturizers
Keeps your dog looking good and smelling good
Affordable price point
Made in the USA
Works for puppies over 12 weeks old
Tropiclean Perfect long-haired coat shampoo for dogs is a strengthening dog shampoo. This shampoo contains protein to help remove tangles & strengthen your dog's coat. It will also keep your dog smelling fresh with its tropical scent. 
It's formulated to shield the hair cuticle and restore elasticity to help prevent breakage in long coats. We like this pet shampoo for long coats because it quickly coats to smooth the hair follicle, helping to remove mats & tangles with ease.
 It acts as a shampoo detangler and moisture seal to condition the skin and coat. TropiClean is designed for your dog's unique coat type: Combination, Curly & Wavy, Long Haired, Short Double, Smooth, and Thick Double.
Features
Strengthens coats & restores elasticity

Reduces tangles easily

A TropiClean pet product

Made in the US

Crafted with naturally derived ingredients

Specially formulated for Shih Tzus, Terriers, Lhasa Apsos, Yorkies, and other breeds with long coats.

Soap & paraben free

Formulated for all types of coats 
This organic shampoo conditioner all-in-one features 100% natural ingredients free of harsh chemicals, parabens, sulfates, toxins, & fragrances. This hypoallergenic dog shampoo also conditions while it soothes dry skin and smells fantastic! Bodhi features aloe vera to relieve discomfort associated with skin allergies or skin conditions and is a good option for dogs with sensitive skin and long hair.
The Bodhi moisturizing shampoo is safe to use on pets of all life stages, even puppies and kittens! It is an all plant botanical-based moisturizing pet shampoo that features high-quality natural ingredients including oat proteins, aloe vera, coconut, vitamins A, D & E, and fruit extracts to provide instant cooling and calming relief to inflamed damaged skin. This product has over 1,400 positive reviews and is a must-have. This product features over 1,400 positive reviews.
Features
Shampoo & conditioner all-in-one

Crafted with organic aloe vera & baking soda

Includes oat proteins, aloe vera, coconut, vitamins A, D & E & fruit extracts

All-natural pet shampoo

Naturally deodorizing

100% non-toxic

Winner of the 2020 Family Choice Awards.

Made in the US

A cruelty-free pet product

Plant-based formula

Over 1,400 positive reviews
This dog shampoo for long coats is hypoallergenic and made without parabens, sulfates, or dyes. It contains aloe vera to moisturize dry skin and has a unique formula that makes their fur soft and lustrous every time they take a bath. 
Everyday Isle of Dogs Silky Coating Dog Shampoo is made with a gentle blend of vanilla, jasmine, and floral notes to make bath time smell amazing! It will also help improve your pup's skin hydration without leaving any residue behind. We love this pet shampoo for long coats because it is safe to use on dogs with sensitive skin or prone to dryness.
Everyday Isle of Dogs Silky Coating Dog Shampoo features natural ingredients, safe fragrances, and has what dog owners call the "wow factor." This shampoo is for dogs with long coats that need extra hydration. It's made to help fight against dry skin and improve overall coat health. This product has over 2,000 positive reviews and is best used with silky coating conditioner and brush spray.
Features
Over 2,000 positive reviews

Designed for long or short-coated breeds to help the coat lay flat

Warm floral jasmine & vanilla fragrance

Gentle pet care product that's safe to use

Made in the US
Paws & Pals Oatmeal Shampoo for Dogs conditions detangles, moisturizes, and deodorizes your dog. It will relieve severe itching brought on by allergies or sensitive skin. This shampoo has no parabens, no sulfates, natural scents, phthalate-free fragrances; plus; it's never tested on animals. 
It's enriched with natural oatmeal and colloidal silver to soothe itchy skin and reduce redness. We like this dog shampoo for sensitive skin because it effectively treats severely dry skin relief, itching, hot spots, flaking & scratching. 
This shampoo for long-haired pups features no harsh chemicals or dyes and has over 4,700 positive reviews. This pet shampoo is completely safe for dogs of all sizes. This is one of the best dog shampoos for dry skin and dog breeds with long hair.
Features
Over 4,700 positive reviews

Vegan

Affordable

Includes oatmeal, which will help moisturize and soothe itchy skin. 

Contains all-natural ingredients like aloe & pro-vitamin B5.

Tear-free & soapless dog shampoo 

Made in the Us
Kiehls Cuddly Coat Grooming Shampoo is a gentle, soothing shampoo that soothes dry skin and chapped coats. Blending chamomile flower extract with efficacious and gentle cleansing ingredients, this soap-free pH-balanced dog shampoo formula will leave your pup's coat and skin clean with a light and refreshing lavender scent. 
This is a soap free dog shampoo that effectively removes dirt, debris and odor from your dog's skin and coat.  It features a plant-derived glycerin along with gentle yet effective cleansing ingredients. The pH-balanced formula is gentle enough for a dog's coat, face and skin. It's also crafted in the US, and is suitable for all dog breeds. Kiehls has been around since 1851 and 
utilizes the finest ingredients in unique formulations to assure high-quality skin, hair and body care products. So it's a well trusted brand!
Features
Chamomile flower extract for soothing skin benefits

Soap-free, 

pH-balanced

Clean, fresh lavender scent

Affordable

Made in the US
Ikaria Nourish & Restore Shampoo features a mint, rosemary, and lemon scent and dilutes up to 8:1. It's available in numerous exclusive formulas and brings the ultimate sense of tranquility to grooming with its relaxing bergamot and ginger scent.
This is an especially formulated pet shampoo for all coats that strengthens hair follicles, smoothes over cuticles, releases tangles, reduces mats, and helps maintain a healthy coat. This shampoo eliminates oily buildup from sprays and gels and accumulation from heavy conditioners. 
This is a pet shampoo for long and short-haired dogs formulated with premium salon-quality, human-grade ingredients. Ikaria® Nourish 
The organic dog shampoo helps with unruly, frizzy coats, and it is perfect for dogs with sensitive skin. 
It moisturizes the hair follicles to prevent hair loss and provides intensive conditioning that will improve coat texture, reduce static electricity, and nourish the skin/coat while reducing tangles. This is best used with the Ikaria Nurture conditioner for the best results. 
The spray-on conditioner by Ikaria also works well as an after shampoo conditioner. If you want the tearless option, opt for the Retreat Shampoo, which is the hypoallergenic formula with calming soft rose and sweet milk proteins.
Features
Affordable

Rosemary & herbal scent

Clarifying shampoo. 

Suitable for long-haired dog breeds

Available in 5 formulas

Crafted with argan oil

Reformulated with richer and more luxurious ingredients 

Formulated with natural botanicals for a rich, restorative cleaning experience.

Made in the US

Used by professional groomers
Does the F.D.A. regulate pet shampoo?
The F.D.A. does not regulate pet shampoos the same way they do human products. This means that most dog shampoos are not tested before going to market and may contain harmful chemicals and drying agents. 
The F.D.A. adds that "The animal counterpart of a cosmetic is commonly referred to as a "grooming aid." The Act defines a cosmetic as pertaining only to human use (21 U.S.C. 321(i)). Therefore, products intended for cleansing or promoting attractiveness of animals are not subject to F.D.A. control. However, if such products are intended for any therapeutic purpose or if they are intended to affect the structure or function of the animal, they are subject to regulation as new animal drugs under the Act."
What are the different types of hair coats that a dog might have?
VCA Animal Hospital adds that selective breeding has led to the development of dogs with several different coat characteristics and different grooming needs. They add that some breeds have hair that grows continuously and does not shed. 
VCA explains that these breeds require regular trips to the 'doggy salon' for a shampoo and cut. They add that " Breeds like Siberian Huskies, Alaskan Malamutes, and many Retrievers have long, thick hair coats with both an outer coat of guard hairs and an undercoat of fine hair that serves as an insulating layer. "
VCA goes on to explain that "These breeds often go through two heavy seasonal shedding cycles per year (late spring and late fall), during which much of the undercoat falls out in clumps. Many short-haired breeds lack a distinctive undercoat, and these breeds often shed hair in low levels all year round."
How to use dog shampoo?
Be sure to read the label and follow the directions for proper use based on your dog's age, size, and hair coat type (long or short).
Wet down your dog's hair thoroughly with warm water and gently massage shampoo into your hands and then into their fur after diluting.

Lather the shampoo into a rich foam that will help to remove dirt and debris from fur. Keep lathering until all dirt is gone from your dog's coat.

Rinse & repeat as needed until your dog's fur is clean and odorless. Be sure to rinse correctly so that no shampoo residue is left behind.

Allow your dog to air dry or use a towel to pat their body dry gently. You can also use a pet blow-dryer on the cool setting but be sure to keep it at least 6 inches away from your dog's skin.

Once fully dry, brush the fur in the direction of hair growth to further stimulate natural oils released during the grooming process.
What dog shampoo do veterinarians recommend?
Dog shampoos are made with many different ingredients with beneficial properties for skin health. However, not every shampoo is created equal. Veterinarians recommend using dog shampoo on pets that contain oatmeal, aloe vera, or coconut oil. These all-natural ingredients can help alleviate itching and irritation associated with allergies or other skin conditions. 
Always be sure to reach out to your veterinarian about any changes in your dog's behavior or fur, especially if you suspect an allergic reaction of some sort. First, our advice is to try washing your dog's coat with a gentle oatmeal shampoo. If this does not help, then it is time to call the vet for further assistance.
Do long-haired dog breeds benefit from conditioners?
Yes, long-haired dog breeds often need a little extra help to keep their coats healthy and shiny. Conditioners work by adding moisture & shine to the fur, which helps cut down on grooming time and combing and brushing. Choose dog conditioners containing oils that not only moisturize but also don't overdo it, or you could end up with a greasy residue that picks up dirt. 
How to use a dog conditioner?
If your dog has naturally oily skin (or you like the shiny look), it is best to avoid applying conditioner. Conditioner can be used on both wet or dry fur and applied generously from nose to tail. Be sure that all of the product is fully absorbed into the coat before rinsing well. This can take a few minutes for complete absorption, so plan accordingly.
How often should I use conditioner?
Conditioners are best used after shampooing. Long-haired breeds will need to be conditioned more frequently than short-haired dogs as their fur tends to dry out faster and can become brittle if not properly moisturized.
Is it ok to bathe my dog every day?
Although bathing is an essential aspect of your dog's grooming routine, it is not recommended that they be bathed more than once or twice per week if they're super active outdoors and get dirty with mud or horse manure. Equestrian and farm dogs that are exposed to muddy terrain will get dirty faster than city dogs. 
Is there such thing as too frequent bathing?
Yes, your dog's skin is similar to ours in that too much bathing can lead to dryness and irritation. If you are planning on bathing your dog more than once or twice per week, then use a moisturizing shampoo (like oatmeal) Also consult with your vet for the best grooming approach.
What do groomers use to wash long-haired dogs?
Groomers use a gentle yet effective shampoo to help minimize the amount of time spent rinsing and washing your dog's fur. These shampoos go the extra step to eliminate odors with various odor-killing ingredients, while other shampoos shield odors for a limited period.
Groomers often use a conditioner or detangler on dogs with long coats. The benefit to these products is that they moisturize the fur and help remove mats without ripping through the hair like a brush. Using a detangler can speed up your dog's grooming time and save you money by preventing broken hairs that need to be cut out.
How often should you brush/comb your long-haired dog?
Brushing or combing your dog once per day or more is recommended to minimize matting and tangling. For example, if you are planning on bathing your dog, it is best to give them a thorough brushing beforehand (to remove loose hairs). 
Doing so can cut down on the amount of time you spend shampooing and rinsing them off. Regardless of whether they have long or short coats, all dogs benefit from regular brushing to remove loose hairs and dead skin cells, keep the coat free of dirt, debris, and external parasites, and distribute natural skin oils along the hair shafts.
Owners of dogs with long, silky, or curly coats should brush their pets' hair every day to avoid tangling and mats. It's essential around the ears, armpits/forearms (depending on what kind), back legs near joints & hocks – all areas where knots can form quickly! 
Shorter-haired breeds may require less frequent brushing but still benefit from having it done at least once a week, if not more often, depending on how thickly coated they are.
Grooming your dog is an essential part of their health and hygiene. It's also something you should be doing every day, even if they don't have anything stuck in their fur! 
Regardless of whether your furbaby has a long or short coat, you should inspect your dog's coat daily. When doing so, you should carefully examine all areas where clumps could form- underarms/thighs (or anywhere else), inside leg joints near ankle joint, behind ears, and so forth. 
Finally, look for burrs or twigs coat that might irritate the skin and result in matting or tangles after hiking outdoors. When you regularly check your dog's coat and skin, it will be easier to detect any unusual lumps or bumps on their body as well. You will also notice any new parasites like as fleas and ticks on your dog's coat, and be able to get rid of them early on.
What is a good shampoo to use when my dog is really dirty?
If your dog is particularly dirty, it might be necessary to give them an extra deep clean by using a shampoo containing oatmeal or aloe vera (both calming agents), which are beneficial to the skin. If your dog has an unpleasant odor, then it might be necessary to use a shampoo containing eucalyptus or tea tree oil known for its bacteria-fighting properties.
How do you shampoo a dog with long hair?
Before shampooing your dog, you should brush their fur in the direction of hair growth. Once you have applied the shampoo, thoroughly work it into your dog's coat from the head down. Finally, rinse your dog thoroughly, making sure to get all of the soap out.
What is the best shampoo for dogs with allergies?
Dogs with skin allergies often benefit from using shampoos that contain oatmeal. A hypoallergenic shampoo will not only clean your dog's fur but will also help minimize irritation. Make sure you read the instructions carefully on any medicated shampoo label for the specific brand you are using or follow your veterinarian's directions.
Dry skin can be remedied by slathering on a moisturizing dog conditioner once the fur has been rinsed off. This will provide your dog with much-needed hydration, which leads to a healthier and more manageable coat. Conditioning sprays are also beneficial.
Try to opt for dog shampoo from reputable and established pet brands or recommended by your veterinarian. When choosing a good shampoo for yourself or your long-haired dog breed, you're opting for the same function-to clean hair and skin as naturally and safely as possible. 

Claudia Bensimoun is a writer who specializes in dog content and veterinary topics! Aside from writing for We Love Doodles, Claudia also writes for other major dog blogs like Fido Friendly, Animal Wellness Magazine, and the United States Dog Agility Association (USDAA). She has a ghostwritten over 50 different dog e-books. Her passions include animal welfare, veterinary research, and wildlife conservation.
Why Trust We Love Doodles?
At We Love Doodles, we're a team of writers, veterinarians, and puppy trainers that love dogs. Our team of qualified experts researches and provides reliable information on a wide range of dog topics. Our reviews are based on customer feedback, hands-on testing, and in-depth analysis. We are fully transparent and honest to our community of dog owners and future owners.