It can be challenging to decide which haircut to get your dog if you want to try something new. The teddy bear haircut on a Poodle is one of the best looks and will give your dog an elegant and posh appearance. This style also works well at any age!
The teddy bear Poodle haircut isn't the only haircut for your precious pup, and your dog may prefer one of many other haircuts similar to a teddy bear cut. Keep reading to learn about the teddy bear haircut and styles your dog might like.
Before scrolling down this guide "Teddy Bear Poodle Haircut Pictures & Styles," check out these other related guides: Yorkie Teddy Bear Haircut Pictures & Styles and Teddy Bear Schnauzer Haircut Pictures & Styles.
What Is a Teddy Bear Poodle Haircut?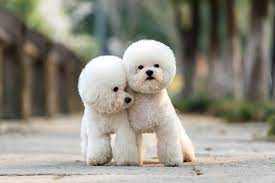 A teddy bear cut is a haircut that showcases a poodle's curly locks and makes it look more like a stuffed animal than a living creature. This haircut is perfect for small dogs, like Toy Poodles and Miniature Poodles.
A teddy bear haircut will leave the hair around your dog's head puffy and adorable. A groomer will usually shave the rest of your dog's hair to be short. This style leaves your dog's hair in a uniform and manicured style. There will be less hair on their underbelly and back legs. This will reduce the mess from potty training accidents and enhance overall cleanliness.
10 Poodle Haircuts Like the Teddy Bear Cut
If you're not loving the teddy bear cut, these other haircuts may be perfect for your Poodle! Browse our top haircuts similar to the teddy bear cut to see which will be your next choice at the dog groomer.
Puppy Cut
The puppy cut is one of the most popular Poodle haircuts, like the teddy bear cut. It only has one significant difference: the amount of hair on the head and neck. The teddy bear cut leaves more hair in these areas, making your precious pup look more like a stuffed animal than a living dog.
On the other hand, the puppy cut will keep the hair around the head, neck, face, and body evenly distributed. However, the hair on the underbelly and toward the back legs will be shorter to help prevent messes from potty training and make your puppy easier to clean.
A puppy cut can be used regardless of age. It will even make senior dogs look youthful and vibrant.
Summer Cut
The summer cut is one of the best options for canine owners who want to ensure their Poodle has the utmost comfort and care. A summer cut will prevent your dog from getting heat exhaustion or heat stroke, especially when the weather is hot.
The summer cut gives your dog an even haircut that will make them feel comfortable as the temperatures spike. It's also easy to do at home! Decide on the length you want for your dog and trim or shave your dog's hair to that length.
If you plan to groom your Poodle yourself, be mindful when trimming to prevent cutting too much. Poodles have a short and fluffy undercoat that helps them regulate temperature. Cutting too much hair can prevent them from being able to cool themselves down.
Kennel Cut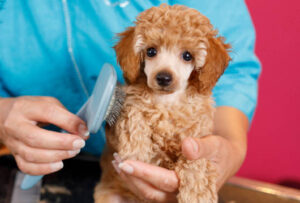 A kennel cut is another top choice for Poodle owners looking for a teddy bear cut alternative. The kennel cut is among the easiest to do and can offer your dog an easy way to keep manicured and cool.
Additionally, a kennel cut makes your dog's hair as short as possible, meaning dealing with skin rashes, medical procedures, lice, fleas, and ticks will be easier. Also, it will make bathing and grooming easier since there is less hair to manage.
The kennel cut t is similar to many short teddy bear Poodle haircuts and can be done at home. Start by deciding the length of your dog's hair and how you want the cut. Also, consider how long you can get the hair without interrupting your Poodle's undercoat. This length can be the baseline length for the body hair.
Modern Cut
A modern cut is similar to the teddy bear cut because it is evenly trimmed. A modern haircut will have your dog fluffed up with an even coat of hair. This haircut is perfect for pet owners who want a polished and elegant look for their dogs.
However, unlike other uniform cuts, the modern cut will trim a strip of hair off your Poodle's tail to ensure its tail has a puff ball poking out. It also ensures your precious pup has two puffy ears.
Some Poodle owners may use dye on their dog's ear hair to make them look even more modern. You can decide on any color or design, but many pet owners will choose a small amount of a light color that won't clash with their dog's coat color.
German Cut
A German cut is less common than most other haircuts, but it has similarities to the teddy bear cut. For example, the German cut is uniform and even around the neck, body, and legs. A German cut also leaves less hair on the underbelly to avoid accidents from potty training.
A German cut is versatile and can be modified to suit your climate and needs. German cuts usually leave a few inches of hair on the body, but you can decide to cut a little shorter if you live in the tropics or other warm locations.
Show Cut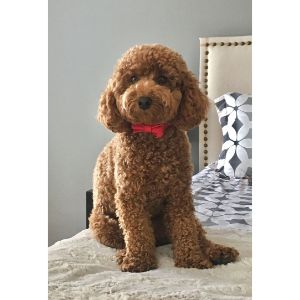 A Poodle show cut is one of the most stunning styles after the teddy bear Poodle haircuts you may be familiar with. The show cut keeps plenty of your dog's hair long and poofy, allowing your precious pup to get plenty of attention.
The show cut is perfect for daily use. However, this haircut is best for dogs who are going to competitions or shows. A show cut will mean your dog has more hair, meaning you'll need to brush, bathe, and manicure them more often.
Lion Cut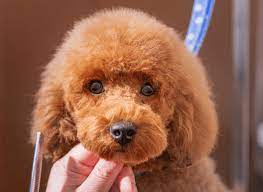 A lion cut is popular for those who don't want a teddy bear Poodle haircut. This haircut will make your dog look like a fierce lion by ensuring they have a lion's mane and a thick coat of hair on the chest and neck.
However, the rest of your dog's body will be shaved short to ensure it doesn't get dirty easily. This haircut is perfect for keeping your dog clean while making them look fierce and elegant.
Additionally, a lion cut is easy to modify. You can have the mane on your dog's neck and head as thick or thin as you like.
Winter Cut
A winter cut is perfect for colder climates and cold months. For example, a Poodle may sport a winter cut as the snowy season rolls around. The amount of hair left on the body from a winter cut makes your dog feel more comfortable. They're also less likely to get sick or have trouble regulating their temperature.
A winter cut will ensure your Poodle keeps a coat of hair that will make shaking off in the snow easy and simple. This haircut keeps the most hair on the top of your dog's body, ensuring your Poodle's face and back are the most protected from the cold.
Lamb Cut
The lamb cut is one of the best haircuts because it can make your dog look innocent and sweet. A lamb cut on a Poodle is similar to a teddy bear cut since they both make your dog look youthful and vibrant. Each haircut also has a similar amount of hair on the body, although in different places.
While a teddy bear cut will make your dog look like a stuffed toy, a lamb cut will make your dog look like an innocent lamb. Poodles can achieve this look by trimming their hair short and letting the remaining hair curl up at the ends. This amount of hair will be even across the body.
Mohawk Cut
The mohawk cut is one of the more spunky haircuts you can choose for your Poodle. This haircut is similar to the teddy bear cut because it has a uniform shave around the body. A mohawk cut is easy to achieve, and this haircut can be done at home with a bit of patience and the right tools.
A mohawk cut can be done by trimming all the body hair on your dog and leaving a mohawk strip that goes from the top of the head and down the back toward the tail. You can modify this haircut to go to the tail or thin out on your dog's back.
Frequently Asked Questions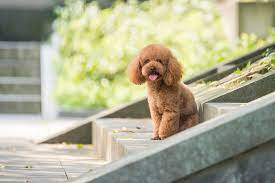 Picking a new haircut for your Poodle can be tricky, so you likely still have questions. These answers will help you decide which haircut to go with for your pup!
How do you do a teddy bear haircut on a poodle?
You can do a teddy bear haircut on a Poodle by starting with the face, using clippers, and having all your tools ready. Make sure your dog is comfortable with your tools and knows basic verbal commands. If you feel uncomfortable doing it yourself, you can always bring your dog to a groomer.
Can a poodle get a teddy bear cut?
A Poodle can get a teddy bear cut easily. This haircut is perfect for a Poodle's luxurious and curly coat of hair. These dogs have puffy strands that make a teddy bear cut come to life.
What is the best haircut for a poodle?
The best haircut for a Poodle is one that keeps them comfortable without sacrificing their needs. The most common haircuts for Poodles are the puppy cut, teddy bear cut, and show cut.
How do you groom a poodle for a teddy bear cut?
Grooming a Poodle with a teddy bear cut is simple and requires a few tools. First, you may need to wash and dry your Poodle. Then, you can trim, shave, and manicure their strands. Take each step slowly to ensure an even cut.
The Teddy Bear Poodle Haircut & Other Options
Poodles are active and elegant dogs who are very proud of themselves. They are highly intelligent and love spending time with others. Poodles also enjoy getting their luxurious coats of hair manicured and maintained. A teddy bear Poodle haircut is among the most popular and common haircuts for a Poodle.
However, some owners may want another haircut similar to a teddy bear cut to give their dog a precious and innocent look. Consider any of the cuts on our list to make your Poodle happy, stylish, and comfortable.
Some haircuts may require more care than others, but choosing the right one means keeping your dog's comfort at the forefront of your mind.
If you find this guide, "Teddy Bear Poodle Haircut Pictures & Styles," helpful, check out these other dog grooming guides created by our team at We Love Doodles:
You can learn more about Poodle grooming by watching "Toy Poodle Grooming Teddy Bear Cut" down below:
Garrett loves animals and is a huge advocate for all Doodle dog breeds. He owns his own Goldendoodle named Kona. In addition, he volunteers at the Humane Society of Silicon Valley, where he fosters dogs and helps animals. Garrett enjoys writing about Doodles and believes that dogs can teach humans more about how to live than humans can teach a dog.
Why Trust We Love Doodles?
At We Love Doodles, we're a team of writers, veterinarians, and puppy trainers that love dogs. Our team of qualified experts researches and provides reliable information on a wide range of dog topics. Our reviews are based on customer feedback, hands-on testing, and in-depth analysis. We are fully transparent and honest to our community of dog owners and future owners.