The Yorkshire Terrier, commonly known as the Yorkie, is an excellent choice for aspiring dog owners. Like all breeds, Yorkies have their share of unique personality traits that make them a favorite among dog lovers. Some of these traits include their gorgeous coats and expressive faces that make them ideal companions.
Additionally, when it comes to grooming, these dogs have a unique set of needs. The Yorkie is a relatively high-maintenance breed due to its long coat that doesn't shed but tumbles down in silky layers. This coat type makes it compulsory for dog owners to have a Yorkie groomed every once in a while.
The good news is that there are a variety of styles for trimming a Yorkie's hair. These styles range from the classic puppy cut to a more daring slicked-back style.
One popular Yorkie haircut is the teddy bear haircut which has been around for quite some time. It is considered one of the more traditional Yorkie cuts, as it is suitable for indoor and outdoor activities.
Here's a comprehensive guide to the Yorkie teddy bear haircut.
Before you scroll down this guide, check out: Yorkie vs Yorkie Poo – Dog Breed Comparison! (2023) and Are Yorkie Poos Hypoallergenic? (2023).
What Is a Yorkie Teddy Bear Haircut?
As a committed dog owner, it's always advisable to understand a particular haircut before attempting to style your dog. After all, if you know what you're doing, you could have a good result.
The teddy bear Yorkie haircut is a style that's popular among dog owners because it comes in several varieties.
For example, some owners like the teddy bear cut because it balances out their dog's sleek glossy coat. On the other hand, some enthusiasts prefer a look that's a bit rougher around the edges.
This haircut incorporates an excellent balance regarding length manageability and coat coverage. It involves framing the Yorkie's face to resemble a teddy bear. The groomer then incorporates a slight maintenance cut on the rest of the body to allow the face to stand out.
Ultimately, you will have a Yorkie looking cuddly and slightly fluffy.
Advantages of a Yorkie Teddy Bear Haircut
The advantages of this haircut include:
It Is Extremely Presentable
The teddy bear haircut is the perfect combination of balance and sophistication. This cut is characterized by its ability to keep a shiny bright coat and highlights while incorporating a smooth pattern that covers most of its body, making it an excellent look for fun occasions.
It Is Suitable for Almost Any Occasion
This haircut is simultaneously suitable for both indoor and outdoor activities. Whether taking your dog out on a walk or traveling to the park, this haircut will remain intact as it's quite practical.
It Matches Your Yorkie's Personality Traits
Being an imaginative dog, the Yorkie is known for its ability to play different games. After all, it's a Terrier with a whole lot of energy! These dogs have exquisite personalities, making them great watchdogs and cute companions.
Therefore, the teddy bear cut can be a perfect choice for dog owners looking to express that cute characteristic of their Yorkie.
It Is Very Versatile
The teddy bear cut is versatile, allowing dog owners to choose how much length they want. For example, the groomer can give the dog a maintenance cut so that the hair doesn't tangle when your dog is out for an adventure, or he can style it to perfection.
Disadvantages
As with anything, there are always disadvantages to consider. A teddy bear haircut is no exception. Here are some disadvantages:
It Can Get Messy
Numerous Yorkie owners have complained that the teddy bear cut can get messy, especially if your dog is an active type who loves to play outdoors. The hair might tangle, especially when your furry pooch rolls in the grass or a dirty puddle.
It Can Be Difficult To Groom
Although this is not a disadvantage to the dog, it can be challenging for some dog owners. There is no denying that the Yorkie is a playful high-maintenance pooch.
When the dog is tumbling in your lap, the cascading locks of the robe can be a bit hard to tame.
It Requires a Significant Investment in Time and Money
It would help if you took your Yorkie to the groomer to achieve the desired teddy bear effect. Although the cost of a Yorkie grooming isn't expensive, you will need to pay for this service on an ongoing basis.
How Do You Do a Teddy Bear Haircut on a Yorkie?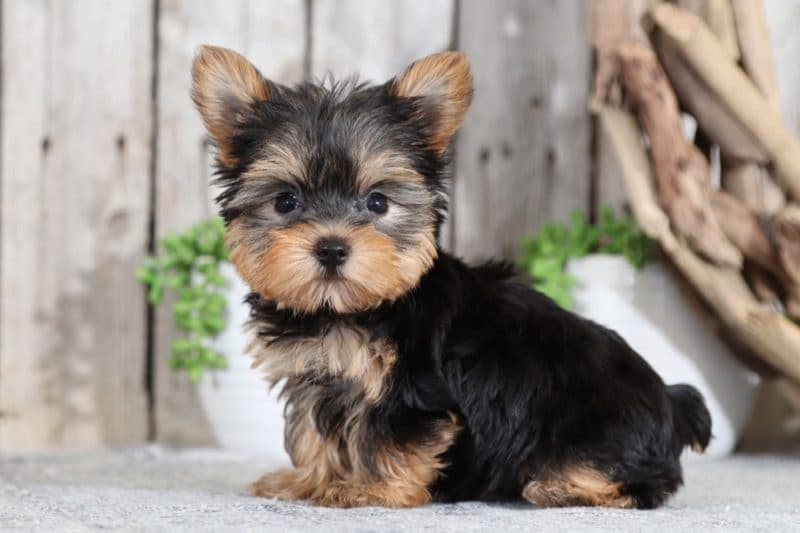 The Yorkie teddy bear haircut is simple if you use the right tools. However, if you lack time to cut your Yorkie's hair or prefer perfection, you can always liaise with a professional groomer to achieve the look.
Here is a step-by-step guide on how to do a teddy bear Yorkie haircut:
Step 1: Clip and Trim the Muzzle
Trimming the muzzle is the first crucial step to prevent its hair from interfering with its vision. Make sure you leave enough length so that the dog can breathe comfortably.
Keep the hair below the eyes even and smooth.
Step 2: Shave the Hair on the Entire Head
Next, you want to shave the hair on your Yorkie's head and maintain it at a medium length. Remember that you want to maintain the face to achieve the teddy bear look.
Step 3: Trim the Ear Tips
After you've cut the hair on your Yorkie's head, trim the ears tips to keep them neat. The ears can get messy and make them look unkempt if you fail to trim them properly.
Step 4: Scissor the Hair on the Head
The next step is to scissor the hair on your dog's head. This step will help you achieve a desirable length, enabling you to shape your Yorkie's head. You should carefully scissor around the face to create a nice frame.
Step 5: Trim the Body Hair
Next, you want to uniformly trim the body hair on your Yorkie. It will allow the groomer to cut the hair in a balanced way and make it easier for you to achieve the desired teddy bear look.
What to Consider to Achieve a Perfect Teddy Bear Yorkie Haircut
You'll need to consider several aspects to achieve a perfect teddy bear Yorkie haircut.
First, detangle your Yorkie's coat so you can easily trim the hair. It would help if you started from the head and slowly worked your way down to the body.
The next crucial thing is to ensure you take your Yorkie on a walk before the grooming session. A long walk will make the dog feel extremely tired and less restless during grooming.
Finally, give your groomer a picture of the desired shape for the teddy bear haircut. This picture will help them know exactly where to cut the dog's hair and what shape you want it to be.
Although it can be difficult during grooming, a teddy bear Yorkie haircut is worth your time and effort.
Can a Yorkie Get a Teddy Bear Cut?
Many dog owners are out there looking for the perfect teddy bear haircut for their beloved Yorkies. With that said, many people tend to wonder whether or not Yorkies can get teddy bear haircuts. Well, rest assured because the short answer is yes!
Yorkies can get teddy bear haircuts because this hairstyle suits them quite well. However, there are some things you have to keep in mind before you give it a try. This is because a teddy bear haircut for the Yorkie does not come naturally.
It takes a professional groomer to cut your Yorkie's hair in the proper shape and style. With that said, you want to ensure you find the right groomer for your beloved dog. You want someone with experience with Yorkies and who specializes in this haircut.
This experience will ensure that the cut turns out as expected. The professionals can also give you instructions on properly caring for the teddy bear look for your Yorkie, which is helpful.
What Is the Difference Between a Puppy Cut and a Teddy Bear Cut?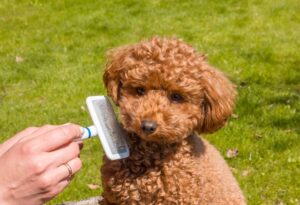 You can choose many Yorkie haircuts, but the most popular is the teddy bear haircut. This cut is just like the puppy haircut but has a couple of differences.
The puppy cut is a simple trim that involves cutting the dog's coat uniformly to around two inches in length, leaving you with an even coat. There is no particular shape or style to the cut. This cut is suited for Yorkies that have thick coats. It gives a nice outline without making your dog's hair look untidy.
On the other hand, the teddy bear cut is a combination of the puppy cut but with a few extra features. The teddy bear cut has a shape that is reminiscent of your pet's face and features a soft curve at the top of its head. The facial features include the teddy bear's round nose and big eyes. So if you have a Yorkie that resembles this shape, getting the teddy bear cut is perfect for them.
Most individuals opt for this cut because they want their dog to look unique. They can customize the cut to look perfect on the Yorkie. You can get a teddy bear haircut in your dog's favorite color, like their beloved plush toy. Some individuals even add a few decorations on their dogs, such as bows and ribbons.
What Is the Best Haircut for a Yorkie?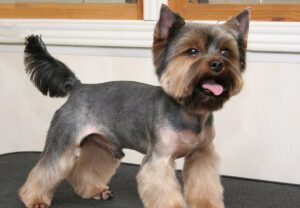 The teddy bear cut is the most popular of the Yorkie haircuts, but there are many other styles that you can have your Yorkie's haircut.
Some prefer the puppy cut, where the hair is cut uniformly to a certain length and left at that length.
The haircut similar to it is called the bob cut, which is slightly longer and dense than the puppy cut. Your dog can wear it with decorations, which is perfect for the playful and fun-loving Yorkie.
The teddy bear cut is a variation of the bob cut but with a long finish on its head. It is also more popular because of the versatility of its appearance. This cut has almost the same length as the bob cut, but it is styled in a teddy bear-like manner that some people find cute.
Getting your Yorkie's hair cut can be challenging because they are independent, self-reliant dogs. They might not respond well to the process, but you should get them used to it. Start with very short cuts and gradually trim more as you continue to groom them. It will help you get the right haircut for your Yorkie.
Frequently Asked Questions
There are common questions when it comes to the teddy bear Yorkie haircut. Read on to find our answers.
How do you cut a teddy bear's face on a Yorkie?
If you want a teddy bear-like cut, you want to pay special attention to what you are doing around the face. The face will be the focal point of the haircut, so you want to ensure that it is carefully cut.

Refrain from trimming around the face; this can lead to an uneven and sloppy look for your dog.

Instead, you should follow the facial features of your dog. You can do this by making a gentle curve at the top of the head and cutting along the outline. It will result in a teddy-bear cut.
Can a Yorkie get a teddy bear cut?
Of course, Yorkies can get teddy bear haircuts! It should be easy to achieve the cut as long as you avoid cutting the hair too short.
What is another good haircut for a Yorkie?
Aside from the teddy bear style, many Yorkie owners prefer the puppy cut.
Conclusion for "Yorkie Teddy Bear Haircut Pictures & Styles"
The Yorkie teddy bear haircut is a popular choice for many Yorkie owners. It is similar to the puppy cut but with a unique shape and style.
You can customize this haircut as much as you like to give your dog a unique yet cute appearance. As long as you follow the instructions for your dog's coat length and density for teddy bear haircuts, you should be able to get a teddy bear haircut.
For more guides similar to this Yorkie Teddy Bear haircut, check out:
If you find this guide interesting, learn more about grooming by watching "Yorkie Teddy Bear Cut | Yorkie 101" down below:
Garrett loves animals and is a huge advocate for all Doodle dog breeds. He owns his own Goldendoodle named Kona. In addition, he volunteers at the Humane Society of Silicon Valley, where he fosters dogs and helps animals. Garrett enjoys writing about Doodles and believes that dogs can teach humans more about how to live than humans can teach a dog.
Why Trust We Love Doodles?
At We Love Doodles, we're a team of writers, veterinarians, and puppy trainers that love dogs. Our team of qualified experts researches and provides reliable information on a wide range of dog topics. Our reviews are based on customer feedback, hands-on testing, and in-depth analysis. We are fully transparent and honest to our community of dog owners and future owners.