In this review for the best-curved dog grooming scissors, we will show you what features you should consider before buying the best-curved dog grooming scissors. Curved shears are used to fine-tune shaping and set angulation for specific clipping areas. This review will give you some recommendations on what to look for when buying curved dog grooming scissors to provide you with the best value for your money. Let's get started! 
Curved scissors are designed especially for pet grooming. They come with two curved blades that are solid. These blades will follow the natural contours of your dog's body, allowing for grooming to be much easier. 
You can also find some safety tips to prevent accidents during grooming. We highly recommend these dog grooming scissors especially if you're new to grooming.
Curved scissors are also suitable for various pet grooming requirements, including trimming around your dog's face. 
In a rush? Here are our top picks!
Product
Best Overall
We Love Doodles Dog Grooming Scissors Kit
Runner Up
HASHIMOTO Curved Scissors
Runner Up
JASON Curved Dog Scissor
Image
The We Love Doodles dog grooming scissors kit was designed to be high-quality yet extremely affordable for at-home grooming. The kit comes with a long 7+ inch curved dog scissor as well as a straight scissor, thinning scissor, and dog comb.
It's made of durable stainless steel, and the blades are sharp, so it will cut through thick dog hair. This product was just launched in October 2022, and it's one of the highest-rated and new dog grooming scissors.
If you're looking for an affordable at-home grooming that is less than the cost of one premium curved dog scissor, we highly suggest that you check out this kit. It comes with a 100% money-back guarantee so you can't really go wrong purchasing it.
Features
Affordable

High-quality dog scissors

100% satisfaction gaurantee

Crafted with 440C stainless steel
The Hashimoto curved grooming scissors feature over 2,000 positive reviews. These curved grooming scissors for dogs are crafted with a level of consistent quality that is hard to come by in the dog grooming industry!
The curved blades allow you to better reach difficult or delicate areas such as between your Golden Retriever's toes, under their legs, and around their hindquarters with ease.
These pet grooming scissors are crafted with high-quality 440 stainless steel blades that stay sharp for longer than usual.
The curved shape of these dog grooming scissors allows for easy maneuverability when scissoring your four-legged friend's body, legs, ears, or face. We like these because they are priced affordably and work well with all coats.
These curved scissors offer the best control when trimming coats, making them ideal for professionals, pet parents, or breeders! 
These come with a limited lifetime warranty, just in case you have any issues down the line. So if you're shopping for a quality pair of pet grooming shears that won't break the bank. Here's the takeaway:
Features
Affordable

High-quality pet product

Over 2,000 positive reviews

Crafted with Japanese Hitachi 440C stainless steel

Features curved blade,6.5 inches
Gladog features over 4,700 positive reviews. This is another excellent option for pet owners to purchase a pair of curved grooming scissors. These shears are all stainless steel, so they will last for years to come if properly cared for. 
They have rounded edges to protect your pet's sensitive skin during use, and the blades are hair. This grooming scissor kit contains thinning scissors, straight scissors, and a pair of curved scissors. It also comes with a close and wide tooth grooming comb. It has everything you need for your next grooming session.
The product comes with a 100% lifetime guarantee. This means that if the manufacturer cannot repair or replace any broken part, they will refund you your total purchase price.
Features
 Affordable

 Kit containing three pairs of grooming scissors

 Pet comb, cleaning cloth, & black leather case included

 Over 4,700 positive reviews

 Crafted with high-quality stainless steel that's long-lasting

 Ergonomic design
The Jason blending curved dog grooming scissors is another must have pet grooming product. These dog grooming scissors are designed to have an offset handle, allowing the user to have a comfortable grip on them to work longer without discomfort. 
We like these curved dog grooming scissors for dogs because you can turn the pet grooming scissors over so that the cutting blade is curved up. This allows the curved scissors to be used comfortably by right-handed groomers and pet parents. These are also lightweight and exceptionally comfortable and suitable for all dog groomers and pet parents, whether a beginner or experienced groomer. 
We like these JASON Dog Grooming Thinning Blending Scissors for dogs because of the many features they offer: – The blades, like any best-curved dog grooming scissors, are crafted from 440 stainless steel sharpened to a fine point, allowing you to groom easily. 
The finger rings allow for excellent control while grooming your dog, and the contoured thumb rest ensures both comfort and optimum speed. The offset handle will ensure that you can work longer without discomfort. Here's the takeaway:
Features
 Japanese 440c stainless steel

 Affordable

1-year warranty

Lightweight and exceptionally comfortable
The Heritage stainless steel convex canine collection pet shears are suitable for blending, feathering, and shaping. They have a good grip and are very comfortable with their rubber finger and thumb loops. Heritage features removable finger rests and bumpers for quiet use on dogs.
The Heritage dog swivel shears are very sharp and are effective for thick fur. These dog grooming shears are curved with a scissor length of 8 1/2 inches and a cut length of 3-3/4-inch. They are also made in the USA, which is good because you can always rely on their quality. Additionally, they come with a 1-year warranty too. These shears also include a complimentary scissor case.
The Heritage curved shears come highly recommended by pet parents to use for blending and feathering fur. Reviews say it works great on dogs with thick coats. Their blades are very sharp, but they need to be handled with care.
The price is in the mid-range, but their performance makes them worth every penny. Heritage is part of Klein Cutlery, and is the largest U.S. manufacturer of hot-forged scissors and shears. All their products are handcrafted and hand-inspected for quality. 
Features
Measures 8-1/2-inch in length and cut a length of 3-3/4-inch

 Crafted with high-quality stainless steel

Dial adjusters allow easily customized tension adjustment

 Heritage is part of Klein Cutlery, and is the largest U.S. manufacturer of hot-forged scissors and shears.
This dog grooming scissor kit is the perfect choice for heavy-duty cutting. The kit has two straight scissors, one thinning scissor, one curved scissor, one grooming comb, and one storage case. 
The grooming scissors are crafted with 4CR stainless steel, resisting corrosion and rust. They don't break or bend easily because of their high hardness. Gimars curved dog grooming scissors are very sharp too. Featuring a curved blade that won't cut you while you're working on your pet's fur, these shears are ergonomically designed for comfort. These grooming shears are made in China, and come with a money-back guarantee. 
The Gimars 4CR scissors are suitable for cutting hair and safely trimming the face and paw areas. They need to be handled with care because they are very sharp most especially if you have an anxious dog.
However, reviews generally say that these dog grooming shears do a great job blending and feathering fur. This product has over 6,000 positive reviews.
Features
 Affordable kit with four pairs of grooming scissors, comb & storage case

 Made of 4CR stainless steel materials

 Dipped in a ceramic coating with optimal polishing & grinding

Crafted with safety tips

Suitable for Yorkie, Poodle, Spaniel, Shih Tzu, Maltese, Schnauzer, Cocker Spaniels, and more

Titanium coated pet grooming scissors

Over 6,000 positive reviews
The Kenchi shear set features stainless steel painstakingly handcrafted with amazingly sharp convex edges. Its ergonomic offset pivot screw provides the perfect balance. This is the best-curved dog grooming shear set you can get on the market today. The entire kit includes:
 8″ Straight Flame Shear 

 8″ Curved Flame Shear 

21 Tooth Thinner (7.5″ Length)

 Faux leather case in black
The set includes a free vegan KEL5 black faux leather 5-shear case. For safety, the shears have rounded tips. This curved dog grooming shear set has incredible detailing, including laser-engraved signatures on the blades and actual flames coming off the handles.
The Kenchii dog grooming scissors for all dog breeds are finely crafted dog grooming scissors with incredible balance. They have a full hollow grind which makes sharpening them easier, but they're not easy to handle when they're new. So you have to get used to them before you can use them easily on your dog's fur.
They come with a high price tag, but they are really worth it if you want the best dog grooming shears for your money.
Features
 Level 3 molybdenum Flame 8.0″ straight shear, 8.0″ curved shear, and 21-tooth 7.5″ thinner.

Semi-convex shear is made from our superior level 3 material for durability.

 Anatomically designed offset handle lessens fatigue and increases control 
Grooming
Grooming dogs is very important, but if you're not sure how to do it correctly, you may hurt them instead of helping them look their best. For example, you should never cut the hair in your dog's ears and feet yourself if you're a newbie to using pet grooming scissors.
If you're not sure how to go about it, find a professional groomer in your area who will trim your dog for a fee. You can also read books or watch videos on dog grooming to teach yourself the basics.
Make sure you only use dog grooming scissors meant for animal coats. You can also ask your vet to recommend a good pair.
Before you start, brush and comb your dog's fur, so it's free of tangles. If you come across tangles, remove them first, or they'll tangle with the scissor blades as you try to cut them out later on.
How to use curved grooming scissors on dogs?
PetEdge explains that "Curved dog grooming shears make dog grooming a snap when it comes to shaping and cutting on a curve. The length of the shear and angle of curvature can vary based on your grooming needs, but any curve will be much easier and more accurate than attempting to use straight shears for this goal. Topknots, ears, feet, and contouring around the face is safer and more accurate as well, especially with a skittish client. The larger the shear, the more gradual the curve, so the larger shears are better suited for larger dogs."
They can be found in different sizes and styles such as the most basic curved shears to more complex ones with wider blades, such as thinning and texturizing (thinning) shears. 
Coat grooming basics
Before you start using curved shears or any other dog grooming tool, your dog's coat must be thoroughly brushed. This decreases the number of snags and cuts the hair more evenly. Pet parents can have their dogs groomed professionally or do it themselves at home with the right tools and knowledge.
Types of grooming shears
Here's what you need to consider when opting for the best-curved dog shears for your furbaby:
Straight shears
With a straight blade, this multi-task tool can be used for essential grooming and to create lines in a dog's coat. When it's time to groom your furbaby and do some stylish cuts, there are few things better than this staple of the trade!
Curved shears
The curved shear is designed to fine-tune and shape specific coat areas, such as paws or rear end. Smaller dogs require a more gradual curve for their fur to look its best with this blade type; larger breeds will benefit from having access to larger models that offer wider blades without being too rigidly sharp so they can easily groom large volumes at once on all parts.
Thinning shears
Thinning shears are great for removing hair in even sections and giving your pet a more natural look. They also help to blend out harsh lines that clippers might create, providing you with an overall smoother appearance when grooming!
Like a true shear blade, thinning scissors feature two notched blades. They are designed to do bulk thinning and remove hair from close-to skin, perfect for use under the top coat of a dog's fur! 
Thinners can be used as an alternative when blending isn't quite enough (or maybe you want more control?), but they take off less than blenders, so this may make tasks more manageable in some ways.
Blenders are great for blending shorter hair into long or bulk thinning. Blenders are a tool for blending short hair into long or bulky coats. They can be used on top of the coat, underneath it, and even in combination with combs to help leave your pet's fur looking nice and smooth without any noticeable bumps or textures!
It's best to go from short hair into long because this will help blend the cut seamlessly. You should angle your scissors down when blending a clipped back with longer fur on the legs.
Chunkers
Chunkers are an excellent addition to grooming shears. They are beneficial in texturizing a cut and work well in removing scissor marks. They're almost like full-blown bladed scissors and can be used for everything from trimming your dogs' fur down at their feet or underlines cutting away excess length on breeds with long coats such as Shelties and Rough Collies – pretty much anywhere else too!
When buying a chunker, get the best pair you can afford! If they're too long or flimsy, it will cross-cut and may nick your furbaby. Avoid this by getting an excellent heavy-duty piece so try not to go over 7″ in length with them as well.
What do you use them for?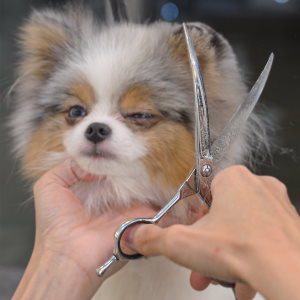 Blenders can be used to create a more natural look in your furry friend by blending away straight scissor/blade lines. They're also helpful when you want an animal-friendly finish on fur that has been cut close near the skin but should only come into contact with hairs about ¼" from their tips for best results (and safety!). Chunking up excess hair around areas such as under jawline is another technique often employed during finishing trimming sessions.
How to choose the right grooming scissors?
When you're buying dog grooming shears, there are a lot of factors to take into consideration. One crucial factor is how comfortable the handles feel in your hand and if they have high traction so that it's easy for them not to slip off while you're trimming your dog's coat.
Pet parents who want to find a great pair of curved dog scissors for their furry friends should consider the following when making a choice:     

 A comfortable handle so that you can use them for long periods and your hands don't get tired out quickly.
 High traction plastic or rubberized handles to prevent slips.

Scissor blades should be as sharp but rounded off at the tip in case of sudden movements when pets are anxious. These will vary from pet to pet.

Safety features include the silent mode designed specifically for nervous animals 
New Dog Groomers – What to look for when buying?
A good set of dog grooming scissors will be sharp and powerful, and comfortable enough for you to use over an extended period. You should consider the handle type as well: some people find that there is better balance with other handles like those made out of rubber or recycled plastic material; others prefer stainless steel because it's less greasy on their hands during hot summer months when working outdoors. Here's the takeaway:
Handle- There are a few different types of handles on the market, from scissors that have been designed with comfort in mind to those that allow you to cut more efficiently. The best dog grooming scissors will be sharp and powerful but comfortable enough for you to use for a more extended period. 
Grooming scissor handles are the last (but still important) consideration when choosing a pair of dog grooming scissors. The appropriate handle increases control, minimizes effort, and reduces fatigue–so it's worth taking some time to find just what kind will work best for you! 
Material: Dog grooming scissors are usually made from either stainless steel or recycled plastic and rubber material. You will want to check that the handle is perfect for your hand, especially arthritis. The size and shape of the blade should also be considered when buying your scissors.
Size: The best dog grooming scissors will be small enough to fit in your hand while being able to feature a sharp blade designed for cutting thicker hair found on some dog breeds. Very small-sized scissors may not be suitable for bigger dogs, while oversized or heavyweight models may prove more challenging to use with smaller pets.
Trimming technique
Many new pet groomers applying too much pressure on their scissors during trimming sessions. However, the blades tend to get stuck and may not glide well over the dog's coat if this is done.
It is best to hold your curved dog shears with a light grip and without putting too much pressure on them so that you do not pull or tear any hair while clipping.
If you are using thinning shears on long-haired dogs, make sure that the area to be thinned is flat.
What should you know before using curved shears?
You need to maintain the proper angle to cut hair with curved shears. The blades may get stuck or clogged up with matted or tangled hair if this angle is not supported.
If you are using thinning shears on long-haired dogs, make sure that the area to be thinned is flat.
Curved shears are designed with the blades facing outward away from the centerline of the scissor handles. This means that when at rest position, your fingers will be in front of the blades instead of behind them.
Curved and straight scissors come in all shapes, sizes, and lengths. For the novice groomer, you must use a pair of blunt-tipped shears because they are safer than having an extra-pointy tip on them, 
The primary function of using different styles is to reach certain areas more efficiently while simultaneously remaining safe. 
Choosing the right size curved pet grooming scissors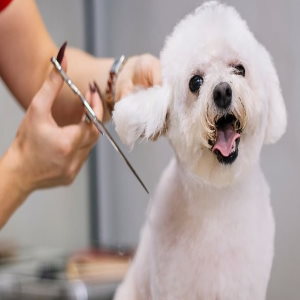 4-inch blade
Choosing your dog grooming scissor length depends on your dog's breed. For example, if you have smaller dogs with shorter coats, look for scissors with 4-inch blades- they're best suited to small breeds like Chihuahuas, Yorkies, and Maltese.
They are typically used for delicate or injury-prone areas, such as face and feet, on toy breeds for grooming use. They give you the most precision. These shorter lengths are also available in safety-tip (or 'ball tip') scissors, with rounded, blunt ends for extra protection from injury.
6.5-7-inch blade
The extra length of 6.5″ to 7- inch scissor blades makes them better for body work on toy and small breed dogs compared to shorter varieties that can be difficult in some cases because they are not as flexible or lightweight enough. This depends on what you're cutting through!
8-8.5-inch blade
The 8″ to 8.5-inch dog grooming scissors are the most popular 'all-rounder' length for bodywork on all breeds and ideal if you have bigger dogs or are more experienced in caring about size preferences when it comes to making changes with your pups looks!
The size of your curved shears will depend on what you are planning to use them for. For example, if you are using it to do fine touch-ups or enhance the position of small ears, then a good choice would be curved shears with smaller blades.
9- inch and longer
Lurking on the edges of popularity, these long shanks are still a standard in any groomer's arsenal. They're worth saving for! On the other hand, if you use it to give bulk to an area of your dog's coat, you need to choose curved shears with larger blades.
How to look after your dog's grooming shears?
Grooming scissors can be a valuable tool for pet owners, but they must be properly maintained. After every haircut your dog gets, you must wash them off and dry them out to not cause any damage or wear on their metal parts. You'll need to keep them as clean and hygienic as possible.
The best way to keep your dog grooming blades clean is by cleaning them after every use with a little bit of rubbing alcohol on cotton balls.
Depending on your type of pet grooming shears, you can add oil so that the tool moves smoothly and doesn't get stuck in one place!
Grooming scissors can get dull over time. If you use them often or have a furbaby with a thick coat, you'll need to sharpen the blades more often than if your pet has fine hair that needs little trimming with regularity.
The best way to tell when sharpening is necessary is by evaluating how much pressure is required when trimming.
Price
As far as price range goes, most people prefer paying more for grooming scissors. But the fact is that the best scissors needs a certain level of expertise to handle. Always start off with safety tips so that you don't accidentally hurt your pup if he suddenly moves.
What should you know before buying?
You need to decide which type of blade is most appropriate for which kind of coat. For example, if you plan to buy one pair of curved dog grooming scissors, the best option is to choose between thinning and texturizing (thinning) shears.
If you need more than one pair of curved dog grooming scissors, then it will be a good idea to look through other types like blade style (serrated, blunt-tip), blade length (3 ¼ in and 4 ½ in), and grip style (thumb rest/handle).
Frequently Asked Questions
Can you use curved scissors on a Poodle?
 Yes. Curved dog grooming shears are handy for dogs with thick fur. If you have a Poodle, curved dog grooming shears will come in very handy, especially when you're trying to blend and feather its hair.
What kind of curve should I buy for a Doodle? Do curved shears work well with a Doodle?
Yes, these shears are best for grooming Doodles. If you want to groom your pup without using a professional dog groomer, you will need top-quality curved scissors like the grooming flame set. You can also use them on other dogs with thick coats.
Do the Kenchii blades have a lifetime guarantee?
 The manufacturer backs these grooming shears with a money-back guarantee, but the shears themselves do not have a lifetime warranty.
What's the difference between Kenchii and ordinary scissors?
Curved dog grooming shears are specially designed for animals with thick coats. They're not just curved- they have wider blades that give you more room to maneuver around your pet's body. They're made with high-quality stainless steel that resists corrosion and rust, unlike regular scissors. They're crafted for people and professional groomers who want to groom their pets at home or at work.
Check out this video to learn more about dog grooming scissors.

Claudia Bensimoun is a writer who specializes in dog content and veterinary topics! Aside from writing for We Love Doodles, Claudia also writes for other major dog blogs like Fido Friendly, Animal Wellness Magazine, and the United States Dog Agility Association (USDAA). She has a ghostwritten over 50 different dog e-books. Her passions include animal welfare, veterinary research, and wildlife conservation.
Why Trust We Love Doodles?
At We Love Doodles, we're a team of writers, veterinarians, and puppy trainers that love dogs. Our team of qualified experts researches and provides reliable information on a wide range of dog topics. Our reviews are based on customer feedback, hands-on testing, and in-depth analysis. We are fully transparent and honest to our community of dog owners and future owners.