Yorkie Poos inherit the characteristics of the Yorkie and the Poodle. Regardless of the hair type that your Yorkie Poo inherits, it will need proper care to avoid problems like tangling and matting. We've compiled a list of the best Yorkie Poo haircut styles to save you time.
Before scrolling down this guide "Best Yorkie Poo Haircut Styles," check out: Yorkie Poo Rescues for Adoption – Top 5 Picks! (2023) and 3 Best Yorkie Poo Breeders in the U.S! (2023).
1. Teddy Bear Haircut
The teddy bear cut is your best bet if you want a style that requires less upkeep. The style resembles the famous puppy cut, but the hair on the dog's body is kept a bit longer and leaves more hair around the head.
Since the cut only requires a pair of scissors, it's simple to maintain at home. However, if you don't trim your dog's genitalia area, going to the restroom may become quite a nasty experience. Because of the style's propensity to tangle, you must maintain a consistent brushing routine.
Be on the lookout for hair mats, as they might result in severe irritation to the dog's skin. A professional groomer can do it if you'd rather not cut your dog's hair.
2. Puppy Haircut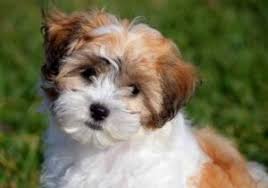 The puppy cut is a common and easy-to-maintain haircut for Yorkie Poos. The style involves giving the hair on the dog's body a short cut, typically around half an inch, while keeping the hair on the face and head a little longer.
Most pet owners often choose this style because it requires no professional grooming and is easy to maintain at home.
If you want a sleek puppy haircut, it's advisable to use electric dog clippers because human clippers aren't as powerful for your dog's thicker hair. You should begin trimming around the top of your puppy's head and work your way down.
Always cut in the direction of hair growth to keep it smooth. Using scissors to make minor adjustments to the cut every two weeks should be enough to maintain its attractive appearance for a long time.
3. Schnauzer Trim
This cut is a good option if you don't want to put much time and effort into your dog's appearance. The style entails shaving your Yorkie Poo's back from neck to tail and leaving the hair on the face, neck, and legs longer. The length might vary depending on your preferences.
The adorable mustache you leave on your dog's face renders this style aesthetically pleasing. You should keep the hair on the dog's stomach long enough to achieve a skirt look.
Nevertheless, the cut is complex and demands more maintenance, so you'll have to weigh how much you're willing to invest in your dog's unique look.
The cut might necessitate professional grooming services and regular back trimming with electric dog clippers. You might also find it helpful to check a couple of tutorial videos on YouTube.
4. Show Cut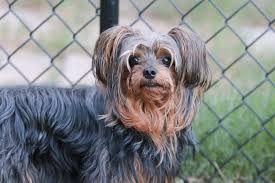 The goal of giving your dog a show cut is to ensure conformity with American Kennel Club breed standards. The groomer typically keeps the hair on the dog's hind legs, ears, stomach, and neck longer.
The groomer will adhere to requirements down to the slightest particulars if your dog is participating in a competition. However, if you only want your Yorkie Poo to look good in your sitting room, the groomer may adopt a more casual approach without sacrificing style.
You can rarely see the haircut outside show dogs due to the high maintenance required. It would be best if you prepared to devote a lot of time combing, washing, and detangling their coats.
5. Lamb Haircut
Typically, the groomer trims the hair on the dog's tail, face, feet, and body to achieve a unique fluffy appearance. The dog's topknot is kept the same length as the hair on the dog's body. The groomer has the freedom to choose how long they maintain the hair.
If you give your Yorkie Poo a lamb cut during hotter months, you may want to make it shorter than average to help them stay cool. The longer hair on their legs helps warm their limbs during the winter.
6. Kennel Haircut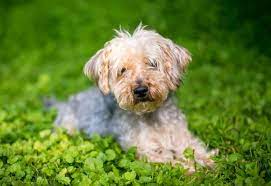 The style is famous among Yorkie Poo owners and is the shortest of all the clips. Typically, the groomer shaves the hair on the dog's face to about half an inch while leaving the rest shorter and close to the body.
It's an excellent alternative for the summer months or if you can't get the time to brush your dog daily. To keep the coat in good condition, you must give your Yorkie Poo a fast trim whenever they need it.
7. Poodle Haircut
The cut is particularly suitable for canines with curly hair, like Yorkie Poos. The style entails cutting the hair short while leaving a longer mane on the dog's head and around the neck.
Although it's ideal for keeping curls fresh and preventing tangles, it does require extra maintenance. It's perfect for owners who can and are willing to maintain their curly dog's coat regularly.
8. Full Shave Haircut
The style involves shortening hair on all the dog's body parts. Although it might be rare to see a Yorkie Poo with a full-shave haircut, it is a viable aesthetic option because it prevents the buildup of knots, tangles, and grime.
It's also a good alternative for dog owners who cannot make regular trips to a professional groomer.
Don't give your dog this haircut during the winter or if you live in a chilly climate. However, if you insist on cutting your dog's hair short, you should equip them with a doggie jacket to keep them warm.
9. Summer Cut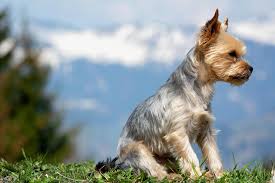 Your Yorkie Poo can overheat in the summer, mainly if you reside in a hot region. That makes the summer cut popular among dog owners in warmer climates. The haircut involves trimming the dog's hair to a length of about half an inch everywhere except the legs, ears, and face.
Creating this clip at home shouldn't be too difficult if you have the right tools. It's essential to have the cut during the onset of summer when the temperature rises. Then, you can allow the coat to grow out entirely so that your Yorkie Poo will have a nice, warm coat by the time the temperature drops in the fall.
10. Topknot Haircut
If you'd love to keep your Yorkie Poo's face and head hair long, you can give them the topknot haircut. You may achieve this style by pulling back and tucking the hair on your dog's head with a comb. Then, hold the topknot in place with a ribbon, hairclip, or bobble.
Try watching a few online do-it-yourself tutorial videos to get some ideas on giving your Yorkie Poo a unique topknot cut. In most cases, you'll achieve excellent results with minimal effort.
11. Modern Cut
If you love keeping up with the latest styles and enjoy watching dog beauty contests, then modern cut is the way to go. The style aims to bring out a tidy and professional appearance without going to the extremes of standard haircuts.
The cut is stylish, but it has a relaxed, elegant look. You should keep the hair on the dog's tail, ears, and head at the same length.
12. Continental Cut
This style involves shaving the hair on your dog's head, throat, feet, and a small section of the tail. The continental cut features a braided topknot, fur pom poms on the tail, ankles, hips, and a thick mane covering the head's back. The hair around the pack region is kept longer and then shaped with scissors.
13. Curls Cut
Since they inherit characteristics from both parents, each puppy in a litter will have its unique appearance and temperament. Some puppies, for instance, may acquire straight hair, while others may get tight curls.
The curls cut is tailored for Yorkie Poos, which inherits the purebred Poodle parent's gorgeous, curly hair. A curly coat is aesthetically pleasing but requires much upkeep to prevent mats. Typically, your Yorkie Poo's coat requires daily brushing down to the skin to keep tangles away.
Dogs with curly hair don't shed heavily. That's excellent news for dog lovers with allergies and people who despise vacuuming.
14. Westie Cut
The groomer may decide to keep the hair on the dog's body medium or long and angle it so it doesn't cover the face. The style highlights the Yorkie Poo's adorable short nose.
The style requires intensive grooming because it leaves your dog's coat on the longer side. Thus, you should choose a different style if you're looking for something that requires less upkeep.
The breed-inspired style focuses on the face, body, and nose.
Frequently Asked Questions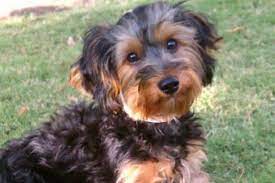 Here are the most common questions dog owners ask about Yorkie Poo haircut styles.
How should a Yorkie Poo's hair be cut?
The standard Yorkie Poos haircut entails keeping the hair on the dog's body short while leaving long hair on the face, neck, and legs. You have complete freedom to personalize the look. However, the ideal cut depends on your puppy's size and appearance.
Do Yorkie Poos need haircuts?
Yes, haircuts are perfect for any Yorkie Poo, regardless of size and age. While trips to the groomer might add up quickly, most dogs only need a once-a-week brush out and an occasional haircut to look great.
How often should you cut a Yorkie Poo's hair?
You should give your Yorkie Poo a haircut every six to eight weeks. However, the exact timeframe may vary with each dog's coat style and the rate at which their hair grows back. You'll need to frequently brush your dog's coat after a haircut to prevent mats and knots, which might be uncomfortable.
When should a Yorkie Poo puppy get their first haircut?
Your Yorkie Poo is ready to get its first haircut when they're four months old. That's when their hair has grown long enough to cause discomfort. Before your first appointment with the groomer, you may clip the hair around your pet's eyes, mouth, and ears to help them stay tidy.
What is a typical Yorkie Poo haircut?
The puppy cut is the typical Yorkie Poo haircut because it conforms perfectly with their size and shape.
Conclusion for "Best Yorkie Poo Haircut Styles"
Before settling on a haircut, consider your dog's natural hair characteristics and the current season. Cut your dog's hair shorter in the summer to stay cool, and leave it a bit longer in the winter to stay warm. Dogs that lead active lifestyles may benefit from shorter cuts.
Furthermore, if you give your Yorkie Poo a short haircut, you'll spend less time and effort maintaining the appearance. You can always consult a professional groomer on the ideal haircut for your dog. Remember that your dog's coat will require daily brushing, no matter the style you choose. We hope you had fun reading our top Yorkie Poo haircut styles guide.
For more guides similar to this list showing Yorkie Poo haircuts, check out:
If you want to learn more about Yorkie Poo grooming, watch "Grooming a Yorkipoo" down below:
Garrett loves animals and is a huge advocate for all Doodle dog breeds. He owns his own Goldendoodle named Kona. In addition, he volunteers at the Humane Society of Silicon Valley, where he fosters dogs and helps animals. Garrett enjoys writing about Doodles and believes that dogs can teach humans more about how to live than humans can teach a dog.
Why Trust We Love Doodles?
At We Love Doodles, we're a team of writers, veterinarians, and puppy trainers that love dogs. Our team of qualified experts researches and provides reliable information on a wide range of dog topics. Our reviews are based on customer feedback, hands-on testing, and in-depth analysis. We are fully transparent and honest to our community of dog owners and future owners.