Deciding that you want a dog and are ready for one is one thing, but figuring out which breed is right for you is quite another! Not only should you consider appearance when selecting a breed, but you should also think about a few other factors like size, activity level, and temperament.
For people who love small dogs, Yorkie Poo puppies are one of the best breeds you can own. They're adorable and incredibly family-friendly, with just the right balance of affectionate and playful qualities. If you think a Yorkie Poo might be the right fit for you and your family, it's time to start looking for a breeder!
This process can be pretty intimidating— there are a lot of breeders to choose from! In many ways, selecting a breeder is just as tricky as selecting a breed. Ideally, you'll want to align with your breeder's morals and philosophies when it comes to raising dogs.
Often, you might find that location isn't the primary factor that you consider when picking a breeder. It's far more important to select one who is dedicated to raising healthy puppies and isn't only interested in getting as much money as they can.
In order to help you select the right breeder for you, we compiled this list of our favorite Yorkie Poo Breeders in the country.
Other articles you would like: Yorkie Poo Dog Breed Guide and Yorkie vs. Yorkie Poo.
Top Yorkie Poo Breeders in the U.S.
Yorkie Poos are able to bond well with humans and are often close and affectionate with all family members. As with many Poodle crosses, the Yorkie Poo is more hypoallergenic than most dogs, and they also don't shed very much either.
These playful and outgoing puppies weigh between 0-25 pounds and live on average from 10-15 years. Compared with many other dogs, Yorkie Poos don't need too much exercise (about 25 minutes per day) and come in a variety of coat patterns and colors.
We firmly believe that good breeders are, first and foremost, concerned with the health and wellbeing of their dogs. This was our top criteria for selecting our top Yorkie Poo breeders in the U.S.
1. Arndt's Happy Tails
Arndt's Happy Tails is a family-owned and operated breeder located in the cozy town of Millerstown, PA. When Arndt's Happy Tails first began over 30 years ago, they started with breeding toy, teacup, and standard poodles. As they've grown, they added many designer Poodle mixes to their catalog, including the adorable Yorkie Poo.
This breeder guarantees the health of your Yorkie Poo puppy with their health guarantee. They also help ease the transition for your puppy into your home by providing a handy puppy kit for you upon adoption.
Their website is full of precious pictures of past and current adoptable Yorkie Poo puppies for sale, as well as a way to book dog boarding and grooming, both of which are additional services offered by the breeder.
Yorkie Poo Breeder Information:
2. Denning Farms

Denning Farms is located in Iowa and is a lovely family-owned and operated breeder. As the name suggests, Denning Farms is a true family farm, which allows their puppies a lot of space to play outside. All of the Yorkie Poo puppies are socialized from birth, and each spends a lot of time with both adults and children alike.
This breeder is devoted to their mission of raising healthy and happy puppies, and part of that mission requires them to thoroughly vet the potential owners of their puppies. In addition to Yorkie Poos, Denning Farms also breeds a wide variety of smaller dogs, although puppies for each different breed are not always available.
Each puppy adopted from Denning Farms comes with a Puppy Care Package to help your new puppy feel right at home with you. The breeder also makes a note that they are always available for your questions about your new puppy, and would love to be updated about your puppy's progress in your home.
Yorkie Poo Breeder Information:
3. Deborah's Yorkies

Deborah's Yorkies is another Pennsylvania-based Yorkie Poo Breeder. Deborah is incredibly passionate about her work and absolutely loves raising Yorkie Poos, which is a good thing, since she's been doing it for almost 40 years!
Unlike some other breeders, Deborah keeps all of her puppies in her home with her, where they live and socialize as any family pet should.
Deborah breeds several puppy breeds, including Maltese, Poodles, Shih Tzus, and, of course, Yorkie Poos. All their Yorkie Poo puppies for sale are fully vaccinated and de-wormed, although Deborah insists that you must have your new puppy examined by a licensed vet within 48 hours of receiving your new puppy. This way you can be sure that your puppy is as healthy as Deborah claims.
Yorkie Poo Breeder Information:
Should You Adopt a Yorkie Poo?
When many people decide the time is right to add a puppy to the family, they are often faced with the dilemma of whether to adopt or shop. In some cases, "shopping" for a dog is strongly looked down on, and many people advocate that you should adopt your pets from animal shelters.
While it is true that many puppies out there in animal shelters would make wonderful additions to your home (and at a fraction of the price of a breeder), it isn't the right choice for everyone to adopt. In many cases, you might have fallen in love with a certain breed and that's ok!
Getting a dog from a breeder is also a fine choice, but there are a few drawbacks to consider. Typically, Yorkie Poo breeders in the United States are very expensive, and owning a purebred puppy can cost you several thousand dollars. Additionally, many breeders have non-refundable deposits that are usually several hundred dollars.
Lastly, it can sometimes take years for you to get a puppy from a breeder. Great breeders have long waitlists and only sire so many litters at a time (in order to ensure that all of the puppies are properly cared for).
If you think that you want a dog right away or simply don't want to pay for a purebred dog, we can assure you that dogs you adopt from the animal shelter are just as good— and kind, intelligent, well-behaved, etc.— as a dog you purchase from a breeder.
The only piece of advice we can really offer is to avoid pet shops, as many of the animals they sell come from puppy mills and are also typically unhealthy and plagued with health issues for life.
Getting a Yorkie Poo Puppy is a Big Commitment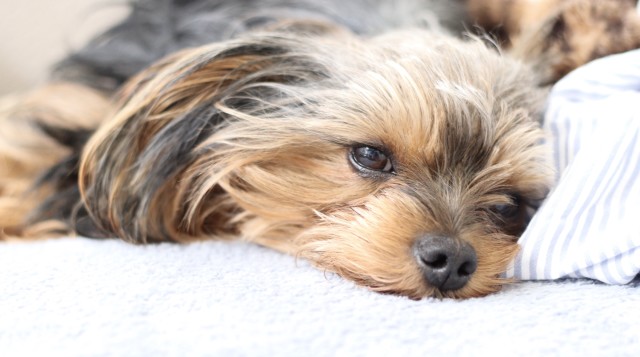 Do you know why there are so many dogs in animal shelters? Many people are surprised (and shocked) to learn that one of the contributors of dogs in shelters is owners who change their minds about owning a dog. Owning a dog really is a lot of work— far more work than many first-time dog owners might believe. For this reason, you should be sure that you're totally ready to own a dog before you bring them home.
In addition to the time commitment of owning a dog, you also need to be prepared for routine and non-routine expenses. Some apartments require pet rent, and your dog will need food, toys, routine medication (like flea and tick prevention), and regular visits to the vet.
On top of that, you should be prepared to pay for any emergency medical care that your dog might need. Dogs are well known for getting into things they shouldn't, and this can lead to expensive medical emergencies.
We urge you to really assess whether you're prepared to take on the responsibility of owning a dog before you adopt one. Dogs are living creatures who are fully devoted to you — you really do become their whole lives! Not only will it be traumatic for you to have to surrender a dog you can't care for, but the dog will also suffer confusion and despair if this should occur.
Only You Know What's Right For You!
The only person who can truly know if the time is right to adopt a dog is you! If you've never had a dog before we know the notion can be intimidating, and the early days of puppy ownership can be challenging for anyone. The rewards are well worth it, though, and owning a dog can enrich your life and bring you and your family limitless joy.
Conclusion For The Best Yorkie Poo Breeders in the U.S
Hopefully, this list was helpful for you in finding the Yorkie Poo breeder of your dreams! Yorkie Poos really are very special puppies and would make a wonderful addition to your family.
Other articles you will like:
Garrett loves animals and is a huge advocate for all Doodle dog breeds. He owns his own Goldendoodle named Kona. In addition, he volunteers at the Humane Society of Silicon Valley, where he fosters dogs and helps animals. Garrett enjoys writing about Doodles and believes that dogs can teach humans more about how to live than humans can teach a dog.
Why Trust We Love Doodles?
At We Love Doodles, we're a team of writers, veterinarians, and puppy trainers that love dogs. Our team of qualified experts researches and provides reliable information on a wide range of dog topics. Our reviews are based on customer feedback, hands-on testing, and in-depth analysis. We are fully transparent and honest to our community of dog owners and future owners.