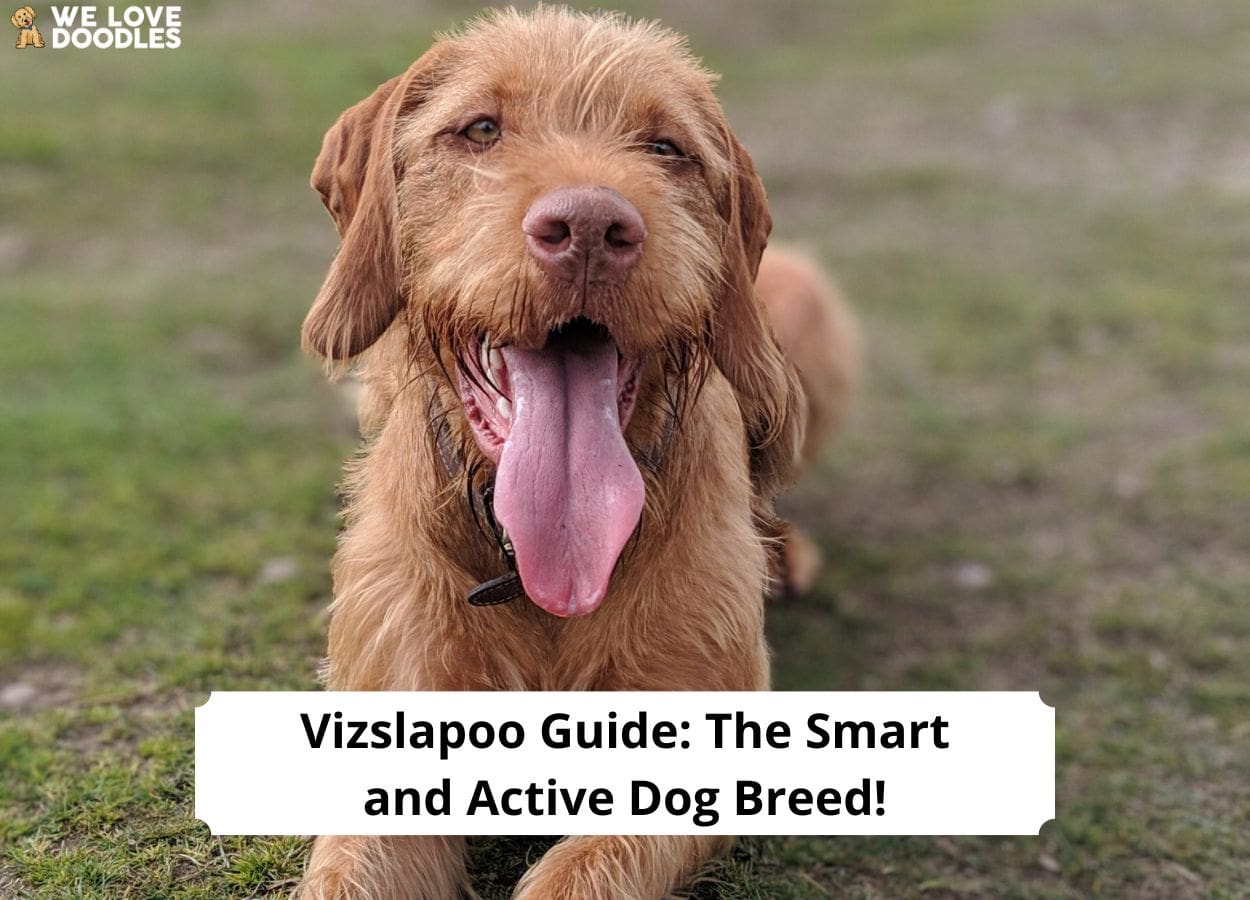 As we'll cover in this guide, the Vizslapoo is a devoted, intelligent, sociable, and highly active dog. The best traits of Poodle and Vizsla parents come together to make a great hybrid breed.
The Vizslapoo has traits from both the Vizsla and Poodle breeds. Since it is not widely known around the world, it is seen as a rather unusual crossbreed. However, this is a remarkable dog with qualities that make it stand out as both a wonderful pet and a versatile performer.
Let's learn a bit about the parent breeds before diving into all the vital information about Vizslapoos.
Before scrolling down this Vizsla Poodle mix guide, check out: Whippet Poodle Mix (Whipoodle, Whipoo) and Bichon Poodle Mix Facts and Images! (2023).
The Poodle
Poodles were initially bred in Germany as water retrievers. Because they are such energetic dogs, they need a lot of physical activity and mental challenge to behave well. They may be easy to train since they are loving and motivated to please.
The fact that Poodles have hair rather than fur is another intriguing detail. They are hypoallergenic as a result, making them excellent dogs for anyone who suffers from allergies. Additionally, they hardly, if ever, experience drooling problems. They are also known for being rather vocal.
Black, blue, apricot, white, silver, brown, grey, red, and silver beige are just a few of the various hues that Poodles may possess.
They are susceptible to a few common medical conditions, including hip dysplasia and eye disorders.
The Vizsla
Vizslas are pointer dogs from Hungary. They are excellent hunting dogs, particularly for birding, and are comparable to Poodles. These extremely energetic dogs like company and crave mental stimulation. They are loving and like being continually close to their owners.
They often behave poorly when left alone for extended periods of time because they readily become lonely and bored. According to experts, Vizslas need at least 40 minutes of exercise each day to maintain their best behavior.
They all share the same shade of golden rust. They shed a tiny bit, and not quite as much as some other dogs, because of their short, silky fur. Furthermore, they hardly ever drool.
Hip dysplasia, epilepsy, and vision impairments are among their most prevalent medical conditions.
Origin and History of Vizslapoos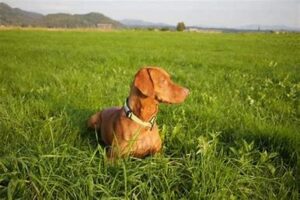 You must educate yourself about the origins of your new furry pet before bringing him or her home.
Vizslas have a long history that dates back roughly 1,000 years. According to historical accounts, the Magyars introduced these long, flappy-eared sports dogs to Hungary, where they were first observed.
Given its versatility as both pointers and retrievers, the Vizsla is known as the pointer-retriever breed. Hunting used to be a necessity for existence, and Vizslas were excellent hunting companions for their owners because of their remarkable alertness.
The Poodle, on the other hand, is German. The breed is quite well-liked in France, though. The Poodle is a cute and arguably the most intelligent dog breed. It was first created as a water retriever. There are three sizes available for these adorable dogs with pompom tails: Standard, Miniature, and Toy.
Appearance
The Vizsla Poodle mixes typically have curly, frizzy, luscious hair when it comes to their fur. The physical shape of the Vizslapoo hybrid is light and muscular, while the rest of its attributes are influenced by the personalities of its parents.
The physical shape of the Vizslapoo hybrid is light and muscular, while the rest of its attributes are influenced by the personalities of its parents.
Given that Vizslas have short, silky, smooth, and sleek coats, it is clear that they don't need a rigorous grooming regimen. The process is further simplified by the absence of the undercoat in addition to the other factors.
Poodles, meanwhile, have curly, kinky hair with short to medium-length strands. Most of the time, the Vizsla parent gives the Vizsla Poodle mix its smooth coat, which makes it less likely to shed.
To keep the coat trimmed and even, you might need to groom and cut their hair once a month. You can even forego the cutting if you are fortunate enough to own a Vizslapoo with really short hair. Simple brushing would be adequate.
Size
Whatever the mix breed possesses depends on the parent breeds that were crossed. The size here is determined by the size of the Poodle and the Vizsla. Vizslas are a breed of medium-sized dogs. In contrast, poodles are medium- to large-sized breeds.
It is therefore not difficult to imagine your Vizslapoo being a medium- to large-sized dog.
Color
Vizslas come in three basic colors: golden, golden rust, and red golden. Furthermore, Vizslas' noses are usually reddish. It is not a Vizsla if the nose is pink, orange, black, or any other color.
Poodles, on the other hand, come in so many colors. Some are red, brown, sable, silvery, black, white, apricot, cream, grayish, and black. It is practically impossible to guess what color the hybrid would be with such a wide range of options.
Your Vizsla Poodle mix will inherit the color of its parents. The most popular colors include tan, brown, red, and golden rust. Also, if one parent has two colors or different shades, those traits may be passed on to the hybrid.
Vizslapoo Personality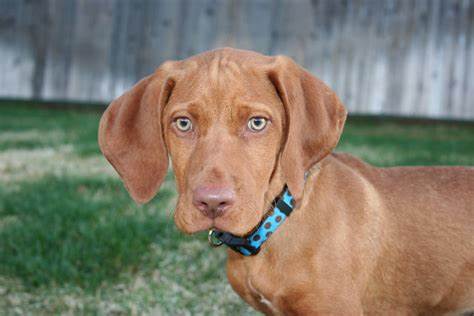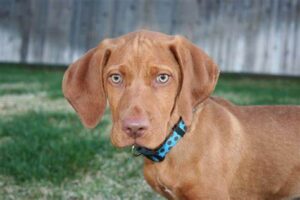 Just like they get their personality traits from their parents, puppies also get their temperaments from them. Vizslapoos are often very smart, like their parents. This makes them easier to train than other breeds.
Due to their sweetness and obedience around children, Vizsla Poodle mixes are great family dogs. Obedience is important since you wouldn't want your hyperactive dog ripping up the carpets or chewing up the furniture. You shouldn't worry, though, as Vizslapoos are obedient.
Be aware that the Vizslapoos detest being left alone. They would get unhappy if you left them home alone. The Vizsla Poodle mixes are also excellent swimmers, so if you own a pool, you won't be swimming solo.
Last but not least, it's extremely likely that your Vizslapoo may pick up some unpleasant traits from its Poodle father, such as barking and making loud sounds to catch your attention. Give your animal companion the attention they deserve if they are acting in this manner.
Potential Health Problems
Some of the health problems and genetic conditions of each parent could be passed onto a Vizslapoo, along with their looks and behaviors. Also, owners should be extra careful about their health because mixed breeds have health problems that are common to both species.
The following is a list of potential problems that your Vizslapoo may experience:
Epilepsy
Dysplastic hips
Hypothyroidism
Lymphosarcoma
Progressive retinal atrophy
Addison's disease
Puppy Bloat
If you see any signs or strange behavior, always visit a veterinarian. Though it could just be a false alarm, let the vet make that call.
Vizslapoo Diet
Food is frequently taken for granted by pet owners. Understanding what best suits your furry buddy is beneficial. The nutritional needs of a hybrid are different from those of its parent or original breed.
A vet can help you come up with a balanced plan that gives your pet all the nutrients it needs. Nevertheless, feeding high-quality meals is advised. Always steer clear of foods that are inexpensive or unbranded. Additionally, make sure the food is full of minerals and high in protein.
Why You Should Adopt a Vizslapoo
Continuing our guide, here are some of our favorite reasons for getting a Vizslapoo.
Affection
Almost all dogs are loving, so this may seem repetitive — but the Vizslapoo raises the bar. Both of its parents are kind breeds that like spending time with their loved ones. They like snuggling as a method to develop a chemical link with their owners.
They can cuddle with you indefinitely if you let them. When you are present, they like to lick feet, stare at you, jump on you, and roll over on their backs. They will lavish your family with love.
Good with Children
It's crucial to pick a dog that gets along with kids if you have children. Sadly, there are some breeds that just don't enjoy living under the same roof as children. Standard Poodles are nothing like Miniature Poodles, which are nervous and shouldn't live with young children. They are energetic and would like to spend the morning outside playing games with children.
Young children are also enjoyable company for Vizslas. Some of them might be too spirited for children under the age of six. Early socialization will solve any issues, too.
Good with Other Pets
Vizslapoos get along well with other animals since neither of the parents have powerful prey drives. They don't have the need to chase little dogs or cats around when they encounter them. Although Vizslas don't typically get along with other dogs as well, they don't often start fights with them either.
Instead, they work to peacefully coexist with each other. Naturally, early socialization will make your dog even more adept among other animals, but even without it, don't anticipate major issues.
Easy to maintain
Like the Vizsla, the majority of Vizslapoos have short, sleek coats. A small number of them will have thick, curly coats and lean toward the opposite side of their genetic inheritance. In either case, this is a moderate-low shredder.
The Vizslapoo is ideal for people who suffer from allergies. They have to be clipped about once a month to maintain a lovely, short coat. If you wind up with a dog who has a short, silky coat, it might simply need to be brushed to keep a polished appearance.
Intelligence and trainability
The Vizsla and the Poodle rank quite highly in the intelligence category, and the Vizslapoo will undoubtedly follow in their parent's footsteps. This mixed breed thinks quickly and picks up new skills like lightning.
Vizslapoos get fired up at the idea of taking on a new project and will do anything to make you happy. Giving them tough toys will keep their mind active for long periods of time. Offer a lot of positive training since that is what works best.
Frequently Asked Questions
Is a Vizsla a good family dog?
The Vizsla is a perfect match for young children and family life in general, though it is an active breed, so you'll need to schedule enough time for walks and mental stimulation.
Is the Vizsla a hypoallergenic dog?
Unlike Poodles, the Vizsla is not a hypoallergenic dog.
What is the friendliest Poodle mix?
In terms of affection, many owners swear by the Labradoodle.
Conclusion for "Vizslapoo Guide: The Smart and Active Dog Breed"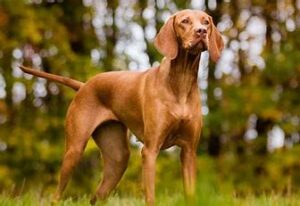 As we've shown in this guide, the Vizslapoo can be wonderful household pets. They like playing, get along well with kids, and are devoted to their entire family.
However, because they require so much activity, only think about getting one of these dogs if you have an active lifestyle and can meet their needs.
For articles similar to this Vizslapoo guide, check out:
You can learn more about Vizsla mixes by watching "12 Most Popular Vizsla Mixes" down below:
Garrett loves animals and is a huge advocate for all Doodle dog breeds. He owns his own Goldendoodle named Kona. In addition, he volunteers at the Humane Society of Silicon Valley, where he fosters dogs and helps animals. Garrett enjoys writing about Doodles and believes that dogs can teach humans more about how to live than humans can teach a dog.
Why Trust We Love Doodles?
At We Love Doodles, we're a team of writers, veterinarians, and puppy trainers that love dogs. Our team of qualified experts researches and provides reliable information on a wide range of dog topics. Our reviews are based on customer feedback, hands-on testing, and in-depth analysis. We are fully transparent and honest to our community of dog owners and future owners.