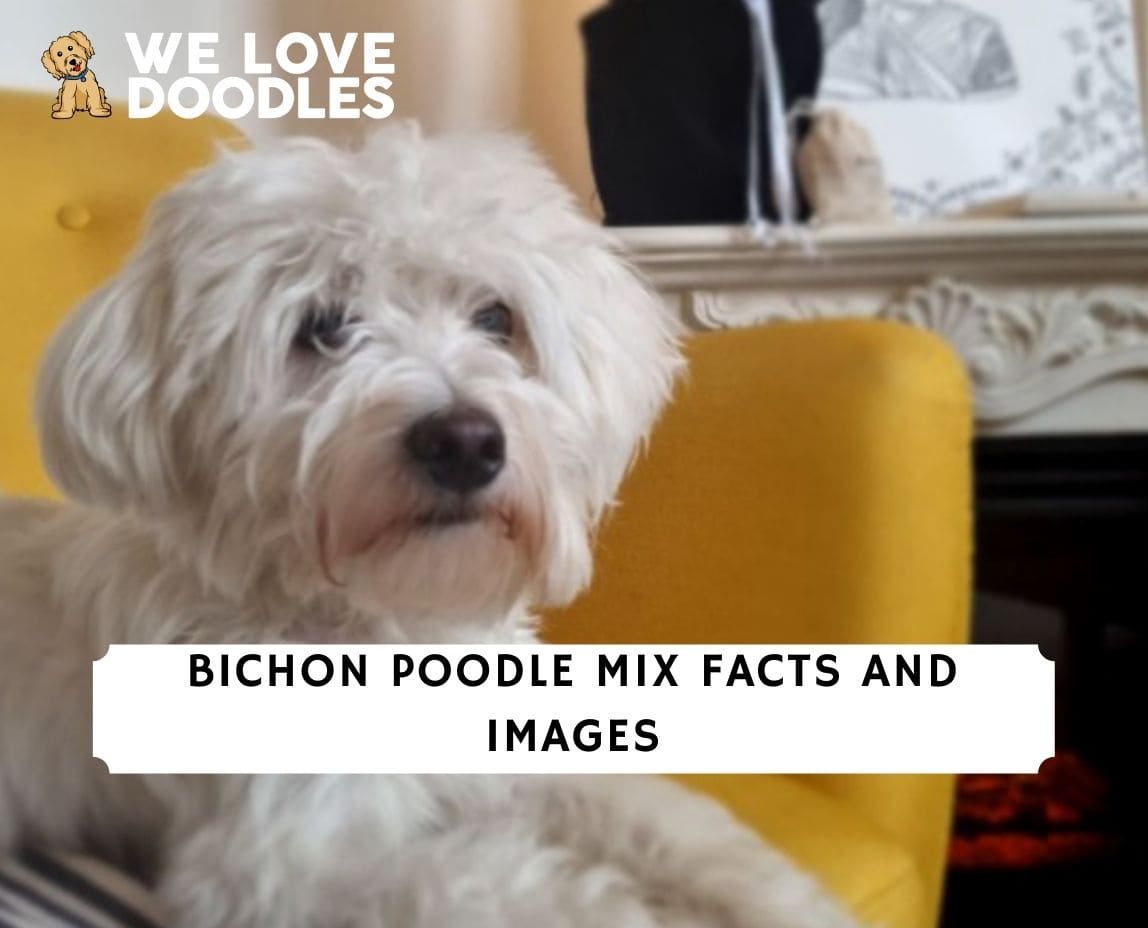 To a visitor, a Bichon Poodle mix might appear "yappy," but there's so much more to this confident breed. The Poochoo, Bichpoo, Bichon Poo, or Bichon Poodle are mixed breed dogs. Fans might even call it a "Doodle."
This cross between the Toy Poodle and Bichon Frise dog breeds is intelligent, small, and sassy. So to talk about the Poochon, we need to talk about the breeds of the parents. Then, learn about their history and personality, talents, and hurdles.
Before scrolling down this Bichon Poodle mix guide, check out these related topics: Mastiff Poodle Mix Guide and Fox Terrier Poodle Mix Guide.
Bichon Frise Information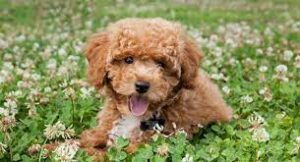 Height: 9 ½" – 11 ½" at the shoulder
Weight: 12-18 lbs.
Life expectancy: 14-15 years
Group: Non-sporting (mainly family/companion dogs)
The AKC group breeds it into seven categories and groups based on shared traits of function and heritage. Let's step into the paws of the Bichon – a curious, alert, loving dog.
The Bichon belongs to the same family of dogs as the Maltese, Havanese, Bolognese, and Coton de Tulear, but it has a double coat. This breed's curly hair is thick and really needs daily grooming.
Find a Bichon Frise Breeder: Best Bichon Frise Breeders in the United States.
History of the Bichon
A powder puff might be what you think of when you imagine this breed. These little balls of personality were found throughout the Mediterranean from at least the 18th Century.
In the 1900s, during the Renaissance, French royalty favored them. In 1956, a French family brought their Bichon to the United States. The American Kennel Club recognized the breed in 1971.
The name "Bichon Frise" means "curly coat," They were labeled as such by French breeders in the early 20th century when the breed standard was born. The Bichon Frise Club of America, Inc., founded in 1964, is the official AKC Parent Club for the Bichon.
How Are Bichon's and Poochon's Energy Levels Alike?
Bichon Frises actually have long stretches of a tranquil countenance (sleeping mixed with your companionship) with bursts of high activity just like many dogs do, including the Poochon.
A great fenced-in yard works well with the Bichon to have an area to have the "zoomies" in when it's outside. They make excellent participants in obedience, agility, and rally competitions.
Even though you won't need to go on long hikes with it, watch closely as you walk to feel how far is good for it. It should be in the 15-minute range. That will get you both in a groove.
How Hard Is It to Train a Bichon Frise?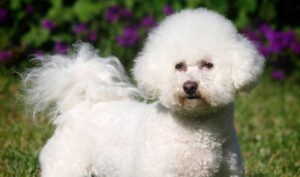 These dogs are bright and catch on quickly to positive-reinforcement training with praise, treats, or whatever motivates it. But, of course, they need to be trained early and socialized, too, so you won't have a tiny tyrant in the house.
House training can be tricky, but they'll catch on with patience and reward-based house training. These dogs will be sociable with children, other dogs, and strangers with early socialization.
They definitely don't enjoy being alone for long periods of time to make arrangements to have Fluffy by your side most of the time. Or social anxiety could be an issue.
When this dog is properly trained and socialized, there will be less of a chance for incessant barking. They are vocal, but it happens if they're not getting enough attention, among other things.
The Poochon has similar characteristics to the Bichon in being easily trained but needs extra care to get early attention like most dogs in their puppyhood.
Related: How to Use an E-Collar to Train Your Dog.
Health Issues of a Bichon Frise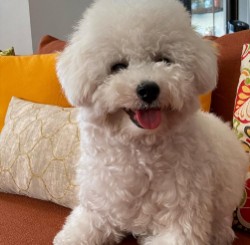 As with any dog, there are several health issues the Bichon can acquire, such as:
Hyperadrenocorticism (HAC)/Cushing's disease
Allergies
Patellar luxation – A knee joint condition
Cataracts
Canine hip dysplasia (CHD)
Legg-Calve-Perthes disease – Causes degeneration of the hip joint
Liver disease
Periodontal disease
Ear issues
Watery eyes
Grooming a Bichon Frise
This wonderful dog's curly, dense coat definitely screams for attention. Ironically, they're not heavy shedders. They just have the type of (double) coat that can quickly develop mattes.
A double coat is what it sounds like. It's made of:
The undercoat: made of dense short hairs and protects a dog from cold and hot temperatures (think: an insulating cup).
The topcoat: made of longer hairs called guard hairs that help repel dirt and moisture.
Here are some other double-coated dogs:
Australian Shepherd
Pekingese
Labrador Retriever
Bernese Mountain Dog
Saint Bernard
Five times a week of good once over with a pin brush is ideal. This practice will get it accustomed to the process, which will make your life easier. The Poochon will definitely inherit this type of coat since the other parent (the Poodle) also has it.
Toy Poodle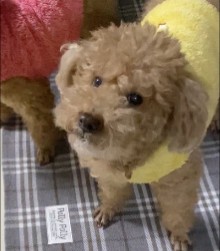 Height: No more than 10" at the shoulder
Weight: 4-6 lbs.
Life expectancy: 10-18 years
Group: Toy
The world-famous Poodle is consistently listed as one of the most intelligent dogs. Not much gets past it. But the Toy Poodle can also be quite vocal like the Bichon, so early training is a must. In addition, it's widely known for its coat and its shape of it from grooming. Speaking of which, there's a reason for that, and we'll get to it.
Find a Toy Poodle Breeder: Best Toy Poodle Breeders in the United States.
History of the Poodle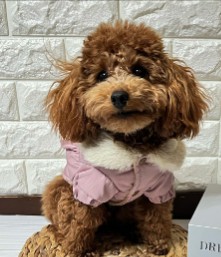 The Poodle originated in Europe more than 400 years ago. Having been bred to be a duck hunter in Germany, it's a magnificent swimmer and retriever. (Give yourself a treat and check one out in action sometime)
Contrary to popular belief, just like there are no "French fries," there is no "French Poodle" either. The country calls it Caniche or "duck dog," and it's the national dog of France. The Toy Poodle was first bred in the early 20th century in America to be a companion for city dwellers.
Related: When is a Toy Poodle Full Grown?
Training a Poodle?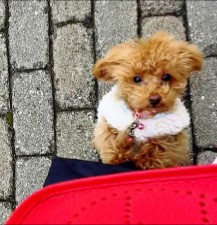 They're such smart dogs. They're easily trainable in every scenario. These are the animals that have been on circus rosters for centuries for a reason.
Health Issues of a Poodle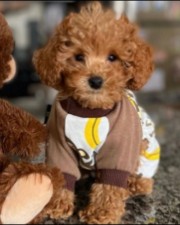 Addison's disease – Affects adrenal glands
Bloat
Thyroid issues
Hip dysplasia
Collapsed trachea
Progressive Retinal Atrophy
Sebaceous Adenitis – Skin disease
Legg-Calve-Perthes Disease
Epilepsy
Grooming a Toy Poodle
The Poodle's creative clip originated to protect its vital organs and joints from cold water. Plus, hunters didn't want them to be burdened by excess hair/fur as they swam. At dog shows, the frou-frou grooming is called the Continental and always "wows" the audience.
Just as with the Bichon, daily grooming of the Toy Poodle is necessary. Otherwise, they can get serious matting which can cause painful infections. If you begin when they're puppies, you may not even need a groomer since they're so small. It's a job you could definitely handle.
The Poochon (Bichon Poodle Mix)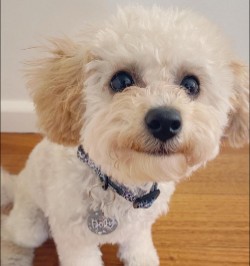 Height: 9"-15" at the shoulder
Weight: 6-17 lbs.
Life expectancy: 12-15 years
Group: Mixed-breed (Bred between two full breed dogs)
As with the countenance of its parents, the Poochon is loving and athletic. In other words, it's a big ball of "affection and play." They inherited the best characteristics from their parents, like intelligence, social temperament, and athleticism. Since there are few unwanted traits in each breed, they're a jackpot of a dog to have.
History of the Poochon
In the 1990s, Australia started breeding the Bichon and the Poodle, and the Poochon was created. The US and the UK weren't far behind, and soon the mixed-breed existed across the pond.
Training a Poochon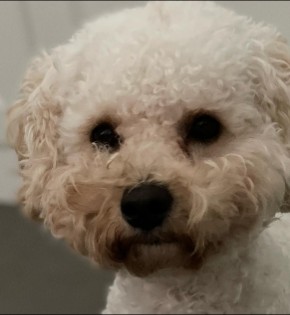 The Poodle is bred into the Poochon from both sides, so even though there may be a little more effort put into housetraining (it's a possibility), you'll have a highly trainable dog.
And that includes obedience and performance training. Although not recognized as a breed by the American Kennel Club, they're incredible show dogs.
However, they're a small dog lover's dream. This mixed-breed loves to be in the middle of the family – children, other animals, and seniors alike – as long as you've put in the work of early training and socialization.
Behavioral Issues of the Poochon
All of us, human and canine, have faults. The Poochon is no different. It does have possible hurdles you might face. Things like:
Separation anxiety: If you can't spend lots of time with this mixed breed, they will exhibit undesirable behavior like being destructive or developing high anxiety. Even five-hour separations would be difficult. So make sure you can either be at home and/or take it with you.
Nervousness: This isn't a good dog for experiencing a major change in its environment or situation. So if you're a homebody who doesn't move a lot or an active, married couple who can include the Poochon, this would be an exceptional animal to have.
Excessive barking: Sometimes, they do get the trait from both parents. Early training and socialization make all the difference in the world with this issue. Also, if they're living their complete life of getting adequate exercise, play-time, and companionship, you should be great.
Preventing Behavioral Issues in a Poochon
Proper obedience training
Socialization from puppyhood
Daily exercise
Daily play periods
Plenty of companionships
Regular vet checkups
Regular groomings
Health Issues of a Poochon
The odds are with you that you'll have a healthy, happy Doodle that lives a long life. However, health risks could be inherited or exist independent of either parent. Conditions/Diseases like:
Retinal atrophy
Allergies
Addison's disease
Bladder issues
Cushing's disease
Depression
Anxiety
You'd need to keep 6-month vet checkups on your calendar.
Grooming a Poochon
If you're now salivating to have one of these little guys, make sure you've given it a lot of thought. Because in exchange for a loving, smart puppy, you'll be getting a high-maintenance one when it comes to grooming.
A commitment needs to be made to make regular monthly appointments. It most likely won't be a big shedder, though, and will be as close to hypoallergenic as you can get (which is never complete with a dog). In between, become best friends with your pin brush for daily primpings. You'll need to keep the mattes at bay.
Related: Best Dog Grooming Kit and Will Groomers Take Dogs with Fleas?
Conclusion For "Bichon Poodle Mix Facts and Images"
Bichon Poodles are family-oriented, social butterflies and need a guardian who can facilitate that personality for its lifetime. Have you made a decision yet? Are you willing to put in the legwork to find your lifelong companion?
Can you commit to the time and energy it will take to raise one of these amazing dogs? Those are some questions you might ask yourself to decide if this is the animal for you. So get ready to have the time of your life making memories with the precious Poochon.
For more Poodle mix guides, you can check out:
You can learn more about the Bichon Poodle mix by watching "Bichon Poodle Mix: Everything About The Perfect Teddy Bear Mix" down below: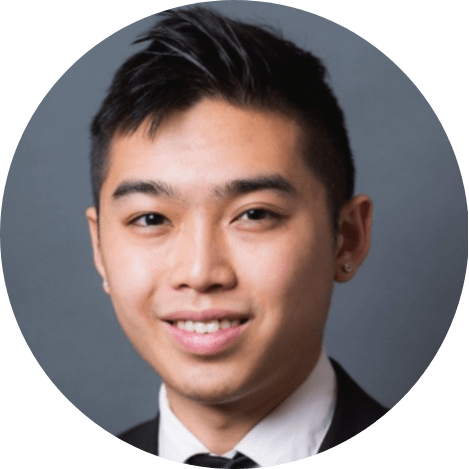 Andy is a full-time animal rescuer and owner of a toy doodle. When he's not saving dogs, Andy is one of our core writers and editors. He has been writing about dogs for over a decade. Andy joined our team because he believes that words are powerful tools that can change a dog's life for the better.
Why Trust We Love Doodles?
At We Love Doodles, we're a team of writers, veterinarians, and puppy trainers that love dogs. Our team of qualified experts researches and provides reliable information on a wide range of dog topics. Our reviews are based on customer feedback, hands-on testing, and in-depth analysis. We are fully transparent and honest to our community of dog owners and future owners.