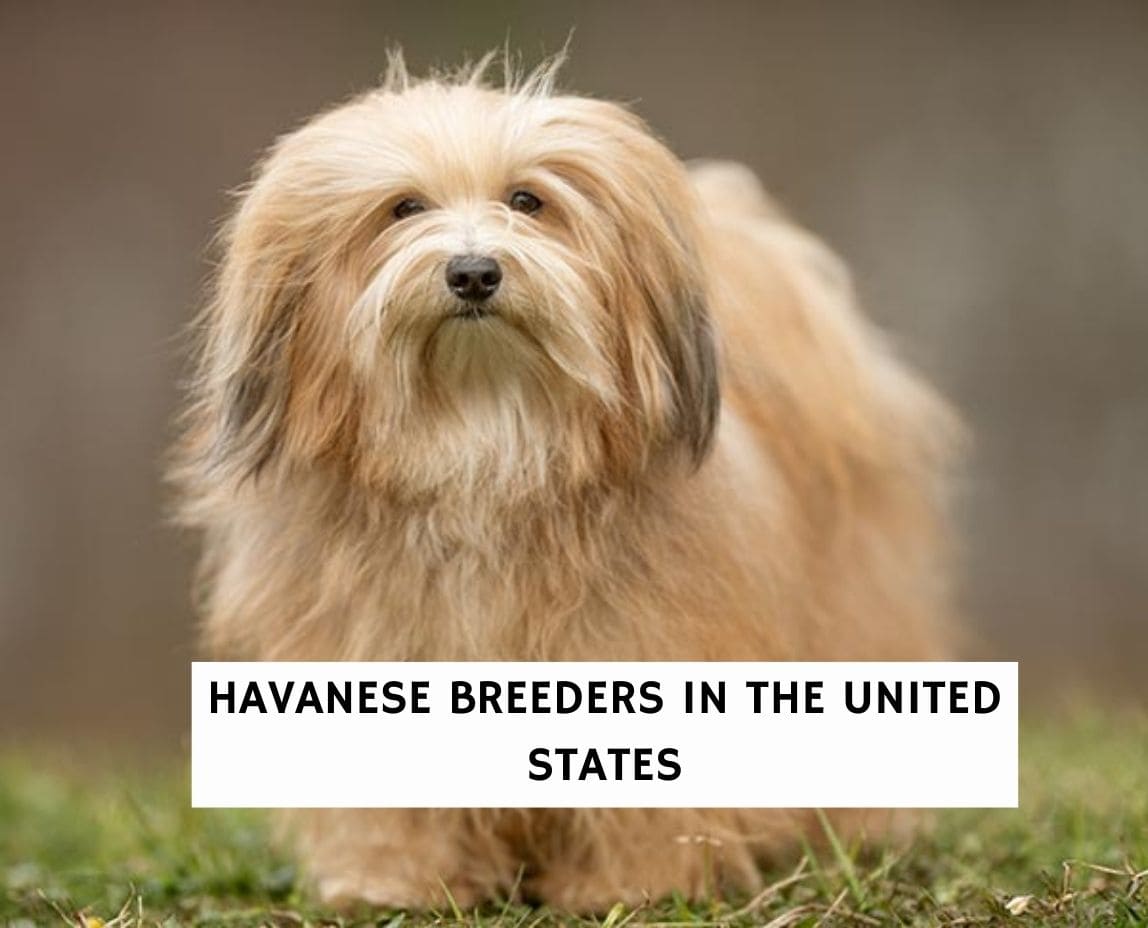 Here's what you need to know if you're searching for Havanese breeders in the United States. The Havanese is an adorable hypoallergenic bichon dog type gotten from the Blanquito de la Habana. Although the Blanquito de la Habana is now in extinction, the Havanese remained and has become the national dog of Cuba.
They are highly intelligent and cute; they make an excellent performance dog and a great family companion. Purchasing a dog from a puppy mill will cost you more compared to the little extra you have to spend getting from a reputable breeder.
They don't have any guide for their breeding program, and their stocks are not tested before crossing. Highlighted below are names and contact of some top Havanese breeders in the United States.
Before scrolling down this list of Havanese breeders in the United States, check out these recommendations: Best Havapoo Breeders in the United States and Best Maltipoo Breeders in the United States.
Havanese Puppies For Sale in the United States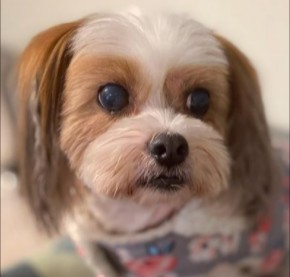 Getting the adorable Havanese as a family addition is a superb decision, especially with the increased demand for dog companions. However, getting your new furry friend from a reputable breeder will save you from emotional stress and unexpected expenses on visits to the vet. Below is the name and contacts of some top-notch Havanese breeders in the United States.
Havanese Product Recommendations: Best Luxury Dog Bowls and Best No-Spill Dog Water Bowls.
1. PuppySpot's Havanese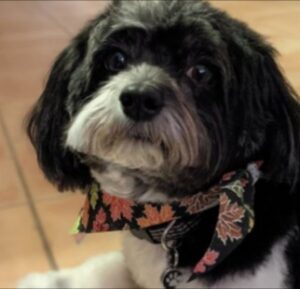 Since you're searching for Havanese breeders in the United States, we highly recommend utilizing PuppySpot. PuppySpot is a reputable platform filled with not only Havanese puppies but other similar breeders that can be shipped straight to your home anywhere in the United States. Before continuing on your search for a Havanese puppy for sale across the United States, check out the link below to start your journey.
PuppySpot Details
2. Havacasa Havanese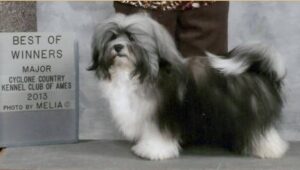 Havacasa Havanese is located in Gilbert, Phoenix area in Arizona and is run by Sue Murphy. For over 20 years, Havacasa had been owning, breeding, and showing exceptional quality Havanese dogs.
They are a registered member of the Havanese Club of America and a Breeder of Merit at the American Kennel Club. Havacasa Havanese is committed to breeding for conformation, good health, and fantastic temperament.
Their intentionality about the wellbeing of their dogs makes them test all parent breeds for genetic diseases before crossing. In addition, they ensure all puppies sent to their new homes from Havacasa are well-balanced, socialized, and healthy.
Havacasa helps families make the right choice of dog that is best suitable for them. They are also available to help clients through the transitioning process of their puppy. Their adoption process is transparent and handled with experience; contact Sue Murphy today for more information.
Havacasa Havanese Details
3. Ohana Havanese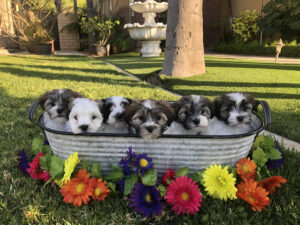 Lisa Estrada is the breeder behind the Ohana Havanese located in Inland Empire, Southern California. Ohana is a small hobby breeder and exhibitor of Havanese dogs with many Champions at AKC.
They are a registered member of the Havanese Club of America, the Havanese Club of Southern California, and AKC Breeders of Merit. As their name implies, Ohana means family in Hawaiian; this name depicts what their dogs mean to them: members of their family.
Their litter is produced and raised in their home and handled daily to enhance socialization and effortless transition to their new home. They are passionate about their dogs, and aside from showing dogs, they match families with a furry friend that is the best fit for them.
All of the dogs at Ohana are thoroughly health tested following the recommendations of the Canine Health Information Center (CHIC) and the Havanese Club of America.
You can be sure of getting a healthy puppy with an outstanding temperament cleared of any generic diseases at Ohana Havanese. Please feel free to contact them today or browse their webpage for more information about their charming Havanese.
Ohana Havanese Details
4. Artwyrks Havanese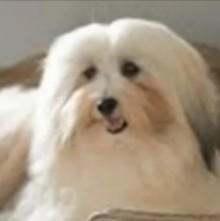 Artwyrks Havanese is located in the beautiful La Habra, Orange County, California, where they believe every Havanese dog is a work of art. The Artwyrks is run by Vicki Gray, a reputable breeder and a proud member of The Havanese Club of America, INC. She is currently one of their Board of Directors at HCA, a breeder of merit at AKC, and recognized by the Good Dog.
The goal and focus at the Artwyrks Havanese are to breed premium-quality Havanese that is healthy and with exceptional temperaments. Vicki has stayed committed to this goal for more than 20 years by breeding according to ethical standards.
She is so passionate about her dogs and always looking to place them in a loving forever home and provide support well after the transition. All the breeding stocks at the Artwyrks Havanese are genetically tested for health and temperament before crossing to produce a healthier litter.
After taking all age-appropriate vaccinations, comprehensive genetic health guarantees, and certifications, their puppies go to their new homes. The adoption process at Artwyrks Havanese is one of a kind: all questions are patiently answered and concerns clarified.
Vicky Gray is a strong advocate for reputable breeders as she believes getting a dog from an unreliable breeder can be emotionally and financially draining, being a victim herself.
Whether you are adopting a puppy or want responses to questions about the Havanese breeds, you are free to contact her. Send her a mail or visit the Artwyrks Havanese website today for more information.
Artwyrks Havanese Details
5. Carneys Havanese Haven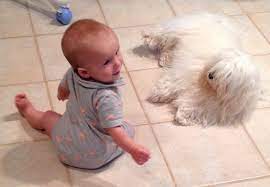 Jacqueline Carney is the brain behind the Carneys Havanese Haven located at Bonita Springs, Florida. The mission at the Carneys Haven is to breed quality, happy, and healthy Havanese produced from health-tested champion parent stocks.
This, they have been doing for over 15 years, and their experience so far is not only making them better but among reputable breeders in the United States. They are a proud member of the Havanese Club of America, American Kennel Club, and its prestigious affiliate for their entire breed.
Also, a member of the Great Lakes Havanese Club has served as the treasurer for seven years now, AKC's renowned Bred with HEART program. Carneys adhere to the ethical standards of the Havanese club in their breeding programs and raising their litter.
Their dogs are produced and raised in their home, where they play and interact with family members and are not placed in a kennel. Their puppies are well-loved and cherished, and the desire to place them with loving families that will provide a loving environment and keep them forever.
They are available to support their clients in the smooth transitioning of their puppies, and their adoption process is transparent; contact them today.
Carneys Havanese Haven Details
6. Zona Rosa Havanese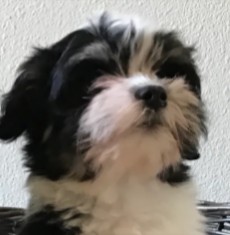 The Zona Rosa Havanese is run by Maria Elena Pereira and is located in Sarasota County, North Port, Florida. They are hobby/show breeders renowned for breeding top-quality Havanese.
They are excited about breeding and deliberate about the health and temperament of their puppies. According to Havanese club ethical standards, they breed as their parent stocks have cleared all health clearances set by the Havanese Club of America.
Their results beat the standards; hence you can be sure of a healthy puppy bred from AKC champion parents. Their breeding programs are quality-driven, and this has brought them to the list of our reputable.
Zona Rosa does not breed on a very regular basis, and their litters are limited. All their dogs are produced and raised in their house, and they live with them in their home as part of their family. This is an excellent step towards great socialization and easy transitioning to their new home.
Zona Rosa Havanese Details
7. Payasa Havanese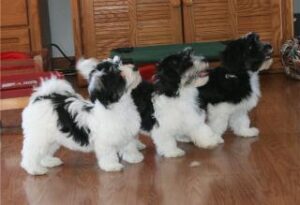 MaryAnne Luke and Dale Suhre are reputable Havanese breeders in Indiana, and they together run the Payasa Havanese located in Greenfield. They have lived with dogs all their lives, but they officially started breeding in the 1980s.
Their passion for dogs is an integral part of their lifestyle, hence their love for their dogs. Their litters are very special to them, and they focus on the health and wellbeing of each of the puppies.
They make use of superior health-tested parents for the production of their puppies to get premium outcomes. Their puppies are raised in their home, and they are among the best you will find around the United States.
Their puppies are well-balanced and well-nourished, and they desire to place them in homes where they will be loved and cherished forever. Payasa puppies go to their new homes after getting the age-appropriate vaccination shot, and they have their health certifications. Their adoption process is transparent and hassle-free; contact them today for your new Havanese pet.
Payasa Havanese Details
8. Heartland Havanese
Sandy and Kevin McCabe are the breeders behind the Heartland Havanese located in Manson, Iowa, and are renowned for quality. Heartland Havanese is a member of the Havanese Club of America, NorthStar Havanese Club, and Fort Dodge Kennel club.
They are compliant with the club's ethical standards for breeding and raising all their dogs and are deliberate about their health. Heartland Havanese has won so many awards as their dogs stand out among many others.
Their beautiful, healthy, and well-balanced dogs have earned them their reputation both in Iowa and Florida. Their dogs are produced and raised in their home and handled daily to enhance great socialization.
Their breeding stocks are health tested before mating to raise healthier litters. Their years of experience are visible in their transparent and fun-filled adoption process. Visit their website or email them to get on their waiting list for an adorable Havanese puppy.
Heartland Havanese Details
9. Bedlem Havanese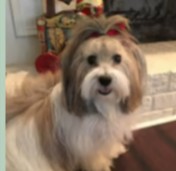 Bedlem Havanese is located in Linwood, Kansas, and is run by a trustworthy and reliable breeder called Deborah McHugh. Bedlem has stayed true to the Havanese dog breed and has been breeding and showing them for about 20 years.
Their passion and love for the Havanese can be seen in their handling of the litter. Bedlem is committed to showing their dog to ensure their clients receive a premium puppy with all the genuine qualities of the Havanese breed.
Their adult Havanese are AKC champions, they are OFA Health certified, and DNA tested for any inheritable diseases. In addition, all their dogs are members of their family as they are produced and raised in their homes.
They have limited numbers of litters in a year; hence, you have to contact them in good time to get on their waiting list. Their adoption process is very straightforward, and lots of support is given during transitioning. Visit their website today or send them a mail to get the adoption process for a Havanese started.
Bedlem Havanese Details
10. Rosalba Havanese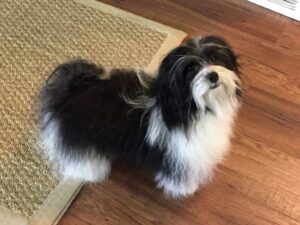 Last on the list of Havanese breeders in the United States is "Rosalba Havanese." Rosalba Havanese is a trusted and dependable Havanese breeder located in Bozeman, Montana, renowned for its premium-quality Havanese.
They are focused on their goal of providing healthy and happy pets to loving homes and have not departed from it to date. Becky Roeder is the breeder behind the Rosalba Havanese, and she has continued to share the companionship she got from her dogs growing up with others.
All their dogs are bred and raised in their home among family members and are well-nourished and handled daily to facilitate great socialization. Additionally, they adhere to the AKC Havanese breed standards in breeding their litters as all parent stocks are genetically tested before mating.
They strive daily to produce healthy and beautiful litters with a loving and exceptional temperament. They are a registered and proud member of the Havanese Club of America and the American Kennel Club.
They desire to place their puppies and older dogs in homes where they will be nurtured and cherished forever. Visit their website today for a transparent and straightforward adoption process, plus be sure you are getting an excellent and healthy pet.
Rosalba Havanese Details
Conclusion For The "Best Havanese Breeders in the United States"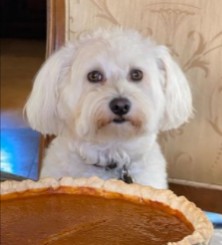 The funny, intelligent, and outgoing Havanese makes a perfect show dog and an ideal family companion pet. Havanese is a pure breed recognized by international kennel clubs with a life expectancy of about 14 to 16 years old.
For your dog to live up to its good old age without genetic diseases, you must adopt from a reputable Havanese breeder. This article highlights the list of some reputable breeders around you in the United States.
For more articles with mentions of the Havanese dog breed, you can check out:
You can learn more about the Havanese dog breed by watching "Havanese Dog Breed Guide" down below: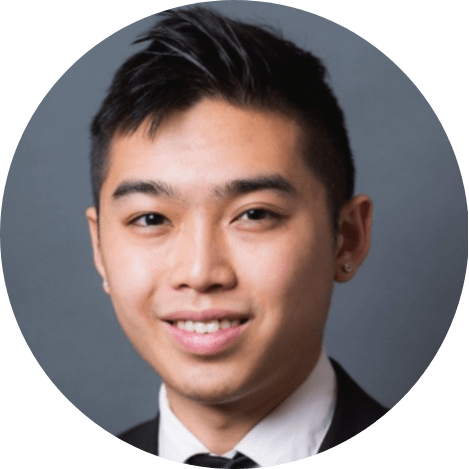 Andy is a full-time animal rescuer and owner of a toy doodle. When he's not saving dogs, Andy is one of our core writers and editors. He has been writing about dogs for over a decade. Andy joined our team because he believes that words are powerful tools that can change a dog's life for the better.
Why Trust We Love Doodles?
At We Love Doodles, we're a team of writers, veterinarians, and puppy trainers that love dogs. Our team of qualified experts researches and provides reliable information on a wide range of dog topics. Our reviews are based on customer feedback, hands-on testing, and in-depth analysis. We are fully transparent and honest to our community of dog owners and future owners.