If you're searching for the best Maltipoo breeders in the United States, then you've come to the right place. Maltipoo, a cross between a Toy or Miniature Poodle and a Maltese, is one of the most sought-after breeds today. A dog that never seems to age, Maltipoos carry their puppy-like charm well into adulthood. Apart from their adorable looks, they're also playful, intelligent, and loving companions. Thanks to the Poodle's smart wits and the sweet disposition of the Maltese, this crossbreed will find its place in the heart of your family in no time.
Before scrolling down this list of Maltipoo breeders in the United States, feel free to check out these other breeds: Best Shepadoodle Breeders in the United States and Best Mini Schnoodle Breeders in the United States.
Maltipoo Puppies For Sale in the United States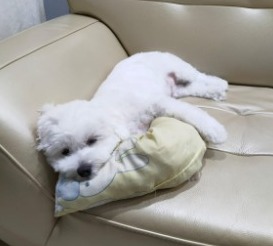 When it comes to bringing home a Maltipoo, you must look for a reputable breeder. However, this can pose a difficulty because Maltipoos aren't available in all states. You have to be open to the likelihood of having your puppy shipped or traveling to the destination of your Maltipoo. Here are the best Maltipoo breeders in the United States to kickstart your journey of bringing home your Maltipoo.
Maltipoo Product Recommendations: Best Dog Food For a Maltipoo and Best Dog GPS Trackers.
1. PuppySpot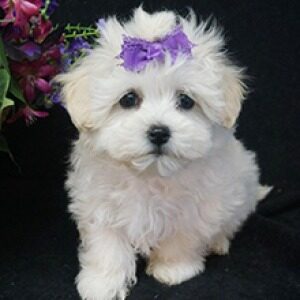 PuppySpot is among the top breeders in the entire United States and has an impressive network of breeders from all states. If there is no Maltipoo available in your current state, PuppySpot will take care of the task of reaching out to their partner breeders to find the specific breed. PuppySpot follows a standard requirement and guideline for all their breeders. All PuppySpot puppies get their initial vaccination and deworming. They are also AKC registered and come with a health guarantee.
PuppySpot Details
2. Maltipoo FurBabies
This Chicago-based Maltipoo breeder has been in the breeding industry for more than two decades. They focus on only breeding Maltipoos and have about 4-5 litters per year. They produce Maltipoos in varied sizes, such as teacup, tiny toy, and toy-sized, and ensure that their Maltipoos are bred from lines carefully chosen for their health and temperament. With a controlled litter, they can better focus on their puppies' overall temperament, health, and quality. All of their Maltipoo puppies are up-to-date on their vaccinations and deworming and come with a one-year health guarantee. Maltipoo Furbabies also takes care never to release their puppies to pet brokers or pet shops, only to loving homes that are duly screened.
Maltipoo FurBabies Details
3. Sherry's Maltipoos
What makes Sherry's Maltipoos a great choice for your future Maltipoo is that they are dedicated to first-generation breeding with champion bloodlines and thus carefully select and screen their breeder parents. All the Maltipoo puppies are born inside their home to allow round-the-clock monitoring. This allows them to provide real-time care to the puppies as well as to the mother dog. Sherry's Maltipoos costs from $1,200 to $1,500, with a non-refundable $200 deposit. All of their puppies have received their first set of shots and their dew claws removed. They also come with a health guarantee and age-appropriate worming, and they are potty trained and crate trained.
Sherry's Maltipoos Details
4. Polos Maltipoos
Polos Maltipoos is a family business that specializes in breeding guard dogs. The owner of Polos Maltipoos is a certified behaviorist and is proficient in the canine world. They are active on their social media. Aside from their website, they usually post pictures of their pregnant dogs so that interested families can see the parents of the upcoming litter. New owners can take home their puppies at eight weeks of age. At this time, the puppies have received their initial vaccines and deworming doses. Before you can bring home your Maltipoo, Polo's partner veterinarian will do a final health check. To ensure that the transition is more manageable, your puppy will go home with you with a blanket that smells like the breeder's environment, his birth certification, a toy, high-quality dog food, as well as an instruction guide for puppy care.
Polos Maltipoos Details
5. Pocketpoo's
Located in Cookeville, Tennessee, Pocketpoo's has been breeding dogs for 20 years. Their Maltipoos typically weigh between 4 and 6 pounds, but they also breed bigger breeds of up to 10 pounds. The owner of Pocketpoo's is well-versed in dogs after having graduated from Columbia College as Veterinarian Technician. As far as their puppy housing is concerned, all the Maltipoo puppies enjoy their surroundings freely. They are not caged and can roam the grounds of the facility at their leisure. The total cost of adopting one of their Maltipoo puppies is $1,200. As part of overseeing the welfare of their puppies, Pocketpoo's don't deliver their puppies via cargo. Instead, they have a dedicated delivery team who will drive the puppy to you if you can't come and pick the dog personally.
Pocketpoo's Details
6. Country Acres Puppies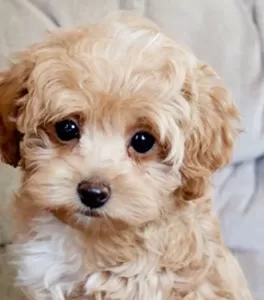 Located in Fairbury, Illinois, Country Acres Puppies specialize in the cuter and smaller breeds like Toy Poodles, Yorkies, Maltipoos, and Maltese. They also breed designer dogs. Country Acres Puppies is a family business, with its success being a combined family effort. The entire family participates in breeding, raising, and socializing the litters. Every puppy is given individual love and attention since birth.
Interested families can schedule a puppy visit, but this is strictly by appointment only. Once your puppy turns five weeks old, you can pick up your new puppy personally. You can fly into IL and meet your puppy at the airport if you are located outside the state. Adoption follows a first-come, first-serve policy, and the cost of a Country Acre Maltipoo is $1,450.
Country Acres Puppies Details
7. Healthy Pups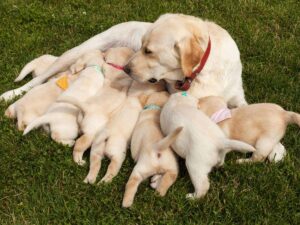 A reputable breeder located in Roaring River, North Carolina, Healthy Pups was founded in 1982 and since then has expanded to breeding a wide variety of dogs. This includes Poodles, Maltipoos, ShihPoos, Puggles, YorkiePoos, and Shorkies. They are dedicated to producing designer dogs and work to foster rescue dogs that will eventually be adopted. Those interested in getting their Maltipoos from Healthy Pups are encouraged to visit the puppies personally. However, the kennel has imposed specific guidelines when it comes to interacting with their dogs. Therefore, visitors are encouraged to go through the rules stated on the kennel's website before visiting.
Healthy Pups Details
8. CR Puppy Love
Based in Iowa, CR Puppy Love is run by Rich Olsen and Colene Olsen, and they specialize in Morkies, Havanese, Maltipoos, and Yorkies. Rich Olsen has 30 years of experience in animals and genetics, which helps ensure that all the puppies that they breed are healthy. Colene and Rich Olsen only entertain personal inquiries, as it is against their belief to collaborate with pet stores and brokers because they don't want to put their puppies at risk. Their puppies are released to not just anyone who expresses interest. All applications are strictly screened to make sure that they match their puppies to the right owner. More than making a perfect match, they also want to ensure that their puppies will go to a safe and healthy environment. Depending on several factors like the color rarity, the cost of CR Puppies can range from $1,800 to $5,000.
CR Puppy Love Details
9. Bear Creek Maltipoo
One of the best Maltipoo breeders in Arkansas, Bear Creek Maltipoo offers a Priority Waiting List because of the high demand for their puppies. They follow a breeding process that promotes quality and plenty of TLC. In addition, the parents of the Maltipoo Bear Creek puppies are OFA (Orthopedic Foundation for Animals) certified and undergo regular DNA testing for breed-specific diseases using Paw Print Genetics.
The puppies are all top-rate first-generation puppies who come with a health guarantee. Once your application is reviewed and approved, you can cement your spot by paying a $300 holding fee. Then, when the breeder finds the ideal Maltipoo puppy match for you, they will contact you based on your position on the waiting list. All the puppies released from this kennel come with a microchip and a registration under your name.
Bear Creek Maltipoo Details
10. Florida Toy Poodles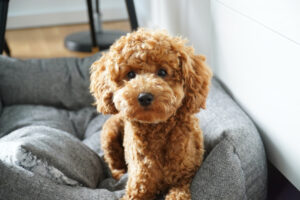 Last on the list of the best Maltipoo breeders in the United States is "Florida Toy Poodles." Florida Toy Poodles have been in the business for 13 years and are reputable breeders of Poodles, Maltipoos, and Shihpoos. To get a puppy from them, you need to visit the breeder's home or arrange a meet-up within 30-45 minutes away from Lakeland, FL.
In exceptional cases, the kennel owners can also meet you in either Clearwater or Tampa airport. Your puppy will come home with you freshly bathed with a puppy pack, health certificate, complete vet check, shots, and a contract. Moreover, as new Maltipoo parents, they also provide you with the necessary guidance and lifetime support. Since this breeder frequently travels from Florida and Michigan, interested owners from either state can sign up for their waiting list posted on the Florida Toy Poodles website.
Florida Toy Poodles Details
Guidelines For Finding the Right Maltipoo Breeder
Consolidating all the possible breeders to source your Maltipoo is an excellent first step. However, there is much research involved before you finally seal the deal with any of these breeders. Here are some of the suggestions that you need to remember:
Be 101% meticulous when it comes to credibility. Visiting the breeder's website, going through their social media accounts, and reading as many reviews and customer feedback as possible can help you further establish the breeder's credibility.
Check the breeder's responsiveness. While you can't expect the breeder to reply within seconds or minutes after you send them a message, they should ideally get back to you in a reasonable amount of time for whatever clarification or question you may have.
Ask to visit their place. This may be a little risky, especially with the health challenges involved. It is easy to download photos from the internet and pass them off as part of the breeder's previous litter puppies. Seeing the puppies yourself is always the best proof of their health.
Discussing the cost should be a pleasant experience. Maltipoos are not cheap, but the pricing should be reasonable. As a potential buyer, questions about the price and the dependents affecting the cost should be discussed without any form of defensiveness or resistance.
Request for transparency in costs. Most of the time, a deposit is needed to secure your slot. But other than that, ask for any possible surprise charges. If the breeder offers to ship the Maltipoo to you, aside from shouldering the travel costs of your puppy, make sure that the breeder is open about additional expenses.
Unfortunately, there are some breeders whose primary goal is only profit. The puppy's health and screening the new owners are the least of their priorities. Here are some of the red flags that you have to watch out for. If the breeder you are talking to exhibits any of these, walk away.
Proactively offers to reduce the cost.
Pressures you to make decisions right away
Declines visitations, personal pickups, and even video calls
Insists that you and their Maltipoo are a perfect match
Sends photos that are too perfect
Maltipoo Guides: How Much Does a Maltipoo Cost and Maltipoo Size Guide.
Conclusion For The "Best Maltipoo Breeders in the United States"
Maltipoos are one of the best dog breeds you can bring home, but the process involved can be difficult. You need to be smart, vigilant, and observant when it comes to finding the right breeder. It's always a good idea to arm yourself with as much information as possible and do your research about how the process works to avoid getting scammed.
For more guides about the Maltipoo from WeLoveDoodles, check out:
Learn more about the Maltipoo by watching "Maltipoo Dog Breed Guide" from Smart Dog Lover down below: