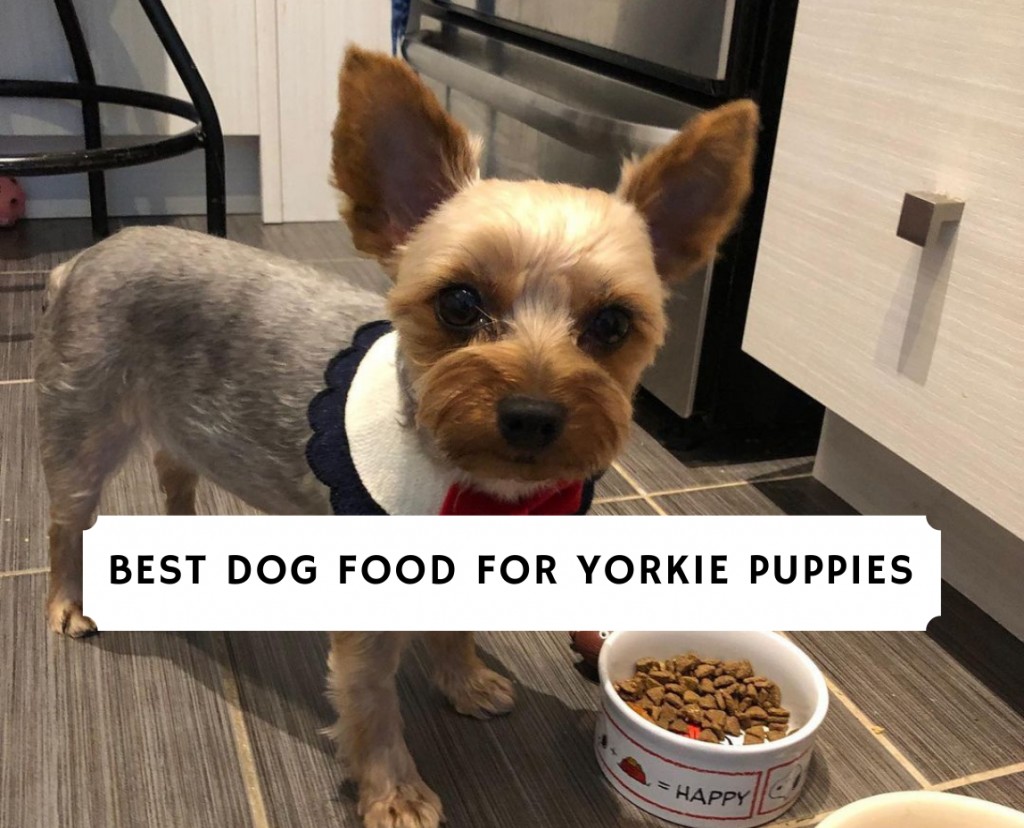 Yorkie dogs are known to be less demanding when it comes to food consumption because of their small stomachs. An average adult Yorkie usually requires not more than 150 calories daily while a senior Yorkie not more than 120 calories daily. However, Yorkie puppies are known to require as much as twice the daily calorie demands of adult Yorkies. Usually, puppy Yorkies require between 240 calories to 400 calories daily to maintain a steady growth rate. Your Yorkie puppy requires that much calorie intake mostly because they are energetic and playful.
Overeating is a common pitfall among Yorkie dogs especially when they are fed dry dog foods. You should be watchful of the quantity of food you'll be feeding to your Yorkie and always follow the recommended feeding guidelines on the dog food bag. If you overfeed your Yorkie puppy, it may experience regurgitation, indigestion, or other health issues. You may split your Yorkie's daily calorie intake by feeding it with half sizes of its daily recommended food size twice a day or four smaller meals in a day if your Yorkie is very active. 
Here are some of the best dog food for Yorkie puppies foods on the market. We've done our own independent research and tested various foods. It's very important that you read all the ingredients on a dog food bag to make sure that there are no filler ingredients.
In a rush? Here are the top picks!
Product
Best Overall
Hills Science
Image
Purina Pro Plan is a chicken and rice flavored dry puppy food that works well with Yorkie puppies. This puppy food offers specialized formulas designed to boost your Yorkie's skin and digestive health, maintain their weight, and ensure your dog ages well.
The major ingredients of this food include real meat and chicken. The chicken and poultry by-products ingredients provide your Yorkie puppy with the necessary amount of protein needed to aid in developing your dog's muscles. Rice present in the composition of this food, which is a grain, will provide your puppy with enough energy to maintain its playful and energetic status. The protein to fat ratio in this dog food formula is optimal. Your puppy Yorkie will find the protein content of this food easily digestible. This dog food also has up to 12% moisture which is pretty low and ensures you're getting a kibble packed with nutrition instead of water.
Additionally, this puppy dog food for Yorkies contains minerals that will aid in developing the teeth and bones of your growing dog. It also contains DHA from its fish oil ingredient which is rich in omega fatty acids. DHA helps in boosting the sight of your puppy and also helps in developing your Yorkie puppy's brain.
You should check if your puppy Yorkie is not allergic to chicken meat and poultry by-products since they are the main ingredients of this food, and there are no other major protein sources available in it. However, most dogs, in general, will not be allergic to chicken since it used in several bland diet foods. This food also contains wheat, brewer's rice, corn, gluten, grains, and dried egg products which may trigger allergic reactions in your Yorkie puppy if they have a grain intolerance.
This feed contains omega 6 fatty acids and zinc to keep the coat of your puppy Yorkie health. Customer reviews of this dogfood on Amazon are an amazing 4.6 out of 5 stars with 83% of the customer ratings this puppy food 5-stars. This means an impressive number of those who bought it were satisfied. 
Pros
Comes with directions to help guide your transition from your old food to this new food and to also help you keep your dog's weight optimal as you food your dog with it.
Well recommended by veterinarians and nutritionists and even pet owners.
Provides the necessary nutrients for your Yorkie during the puppy stage.
Cons:
Poor packaging as some packages were found defective. Expect to put this dog food in your own containers.
The Hill's Science dog food for puppies is dry kibble and it has small sizes that are easily digestible. Your Yorkie puppy will find this food easy to chew. This dog food is also rich in proteins and minerals. The proteins in this food will contribute to helping your Yorkie have healthy skin, hair, muscle and tissue development. It is specifically designed for small dog breeds like the Yorkshire Terrier.
The main ingredient of this food is chicken meal which is a rich protein source. The minerals in this food will help in strengthening your puppy's skeletal structure and it has DHA sourced from its fish oil ingredient. The fish oil will also help in keeping your puppy's skin glowing and long.
Other ingredient include carrots, broccoli, whole grain corn, lactic acid, chicken liver flavor, pork flavor, soybean oil, vitamin  E, and other supplements. The vegetables like carrots and broccoli present in this food will help your dog ease anxiety and also improve your puppy's bone density. Pork meal provides your dog with another source of protein other than poultry which is highly digestible. You'll notice that there aren't much filler ingredients besides corn.
However, you should check that your Yorkshire Terrier puppy is not allergic to some of the ingredients of this food like chicken meat, grain, corn, gluten present in this food. If you see that your Yorkie puppy is itching or biting at their skin, they may be allergic to some of their food ingredients.
This puppy food is extremely popular and rated 4.5 stars on Amazon. If your Yorkie has an extremely sensitive stomach, this food is a good fit. The chicken and barley flavors in this food make it irresistible for your Yorkie and are great bland ingredients.
Vitamins E and C present in this food help to protect your dog from oxidative damage and promote fat metabolism. No artificial flavors, colors, or preservatives were added in this food which saves your Yorkie from the risks of chemical reactions.
Pros
It shares a detailed guide on how to transition from your old dog food to your new dog food.
This food was created to supply the necessary nutrients to guide your Yorkie throughout its growth stages.
Small kibble sizes that are easy to digest for Yorkshire Terriers.
No added coloring, preservatives, or artificial flavors.
Cons
This food is grain and gluten-based. Dog's can have an allergic reaction to grain diets.
Blue Buffalo is a dry, chicken-flavored puppy food. One of its main ingredients is chicken meat which is a rich source of protein for your Yorkshire Terrier puppy. The protein content of this food, which is up 36%, will help in developing your puppy's muscle tissues.
It is wheat-free, grain-free, and soy-free, so you can feed this to your Yorkie and not have to worry too much about allergic reactions. It contains antioxidants which help in protecting your Yorkshire Terrier puppy from the damage caused by free radicals. Another of the ingredients this food is rich in is fish oil which releases Docosahexaenoic Acid (DHA) and Arachidinic Acid (ARA) to aid brain and eye development of your puppy.
Feeding your dog with the small, crunchy kibbles of this dog food will help prevent your puppy from experiencing dental issues like tartar. The transition period from your old meal to this meal should take between 12 to 14 days with a 25% increase after every 4 days. 
Blue Buffalo Wilderness Dog Food contains small dark kibbles regarded as Lifesource bits which comprise of a rich mixture of antioxidants, vitamins, and minerals carefully selected by holistic veterinarians. They are mixed with the main dog food. These Lifesource bits were structured to resist degradation by heat so their composition can remain potent. Each cup of this dog food contains 423 kilocalories while a kilogram of its contents weighs 3662kcals/kg.
You should note that the main ingredients of this food are chicken meal and deboned chicken which are high protein meats. If your Yorkie is allergic to chicken meat, this food is not for your puppy.
Pros:
It is free of corn, wheat, soy, artificial flavors, or preservatives which usually triggers allergies in dogs.
This food contains Menhaden fish meal (source of the 0.05% omega 3 fatty acid in this food) and 0.9 percent min omega 6 fatty acids which will reduce the likelihood of heart diseases in your puppy and also promote healthy skin development as your puppy grows.
Cons
May increase thirst levels in some dogs and cause plaque build-up.
Royal Canin ,ini puppy food was manufactured for Yorkshire Terrier puppies up to 10 months old. The texture and size of each kibble coupled with the flavors make it irresistible to your puppy. The protein, fat, moisture, and fiber contents of this food are at 29.0%, 18%, 10.0%, and 3.3% respectively which is very healthy for a dog's diet. The main ingredients are chicken by-product meal and brewer's rice.
The major source of protein in this food is the chicken by-product meal. Brewer's rice is the primary source of carbohydrates in this food, and it provides fiber in your dog's diet. This puppy food was also designed for small dog breeds so it is also easily digestible. Some of its other ingredients include wheat gluten and corn wheat gluten meal. With the proteins and carbohydrates in this food, your puppy Yorkie will be energetic and grow up healthy.
This food contains chicken fat which is unsaturated and healthy for consumption. The chicken fat also adds flavor to the food. The prebiotic ingredients in this food will increase the population of healthy bacteria in the guts of your Yorkie so as to aid digestion and secretion of essential vitamins. Its flavors are natural, and will not end up triggering allergies in your dog. In addition, this dog food is rich in vitamins and minerals compared to other puppy foods. If your dog is allergic to fish or gluten, this food is not for your puppy. Lastly, this dog food for puppies is rated 4.7 out of 5 stars which is great!
Pros
It is rich in the necessary nutrients to aid your puppy's growth.
The moisture content will help keep your dog hydrated.
Kibbles are small enough for your puppy to chew and digest. They also carry out a brushing effect on your puppy's teeth as your Yorkie puppy feeds on it.
Feeding your dog with this food will cause its coat to remain shiny.
Cons
You'll need to repackage this food once you open it. Some complaints that the bag gets damaged in shipping.
Taste of the Wild serves the nutritional needs of growing puppies like the Yorkshire Terrier. It is a grain-free dog food and it has a smoke salmon flavor to entice your Yorkie.
It contains probiotics that aid digestion and help in supporting your puppy's immune system to fight harmful bacteria and keep your puppy healthy. This dog food recipe is egg-free in case your dog happens to be allergic to poultry products. The main ingredients are salmon meal, salmon, and ocean fish meal. The crude protein, fat, fiber, and moisture components of this food are 27% minimum, 15% minimum, 5% minimum, and 10% minimum, respectively. This is a solid amount of protein and fat that will help your Yorkie puppy grow.
Taste of the Wild puppy food contains salmon and ocean fish meal as its main source of proteins and major ingredients. It also contains sweet potatoes, a rich source of fiber which will support your Yorkie puppies digestive system. The salmon ingredient is also a source of DHA which will help to boost your puppy's memory as it also provides your dog with high-quality protein and omega fatty acids for skin and coat development.
Tasty flavors from the puppy food include vegetables, legumes, and fruits that will keep your dog stuck to a plate of this food. It has small kibble sizes suitable for your puppy especially if your Yorkie has a smaller mouth. Its crunchy texture also helps in teeth cleaning and tartar removal. In addition, the zinc in this food will help your aid in your Yorkie's metabolic process. This food is also rich in omega 6 and omega 3 fatty acids.
It has no artificial flavors, colors, and preservatives which may trigger chemical reactions in your puppy. It's also well rated on Amazon.
Pros
Great protein to fat to carbohydrate ratio.
No filler ingredients. All high-quality ingredients.
The several vitamins and minerals in this food will help keep your Yorkie's coat healthy.
Cons
Slightly expensive and is a premium dog food.
Should I feed my Yorkie dog wet or dry food?
Your Yorkie puppy's food may come in dry or wet form. Dry food has little moisture content compared to wet food. Dry dog foods usually contain between 6 to 15% moisture depending on the manufacturer. In the dry form, you can easily use and store your dog's food. Dry food is also known to help prevent the tartar buildup on your Yorkie's teeth because it is crunchy. Lastly, dry dog food is oftentimes much more nutritious and cheaper.
To process the food in dry form, it had to be compressed. However, because of the compression, dry foods tend to have high caloric values. With dry food, it's easy for you to overfeed your Yorkie puppy because each kibble has more nutrition by size when compared to wet dog food. Overfeeding your Yorkie will encourage obesity, regurgitation, and upset stomachs.
Wet dog food has more moisture than dry food. Wet dog foods usually contain up to 80% moisture depending on the manufacturer. The moisture present in wet food helps to keep your Yorkie hydrated and is usually tastier than dry foods. If your puppy Yorkie is ill, it is advised to feed it with wet food because it will find it tastier and be more pushed to eat it. It will also hydrate your puppy more since they oftentimes don't drink enough water.
However, you may find the storage of wet food challenging as it is more difficult to store wet food than dry food. In an attempt to store your Yorkie's wet food in your refrigerator,  it will diminish the flavor of the food and your Yorkie puppy may end up not being interested in it.
Dry food usually has fewer proteins and more carbohydrates than wet foods. The best way around making a choice between dry and wet food is that you should serve your dog a mixture of both. While doing that, you should verify the calorie content of the wet and dry foods before serving your dog the mixture so you don't end up overfeeding your puppy.
Which nutrients should your puppy Yorkie food have?
Your choice of kibble for your puppy should be high quality with absolutely no filler ingredients, artificial color, flavors, or preservatives. Puppies begin to eat kibble solids at the age of 3 to 4 weeks of age. The nutritional needs of your Yorkshire Terrier differ based on their ages.
Protein
To build your Yorkie's muscles, you should pay particular attention to the protein content of your puppy's food. You should look for dog food brands with real meat from animals like turkey, beef, fish, lamb, and chicken. Choosing a dog food brand for your Yorkie with high amounts of animal protein as the main ingredient usually means there aren't any filler ingredients like corn.
Carbohydrates
In addition, your Yorkie puppy needs enough energy to both run around and grow big. You should pick foods rich in carbohydrate sources like rice, sweet potatoes, and brown rice.
Avoid dog foods with soy or corn. They could cause some hypersensitivity reactions in your Yorkie's stomach if they are allergic to them. If you choose to go for cheap dog food brands, you may be exposing your Yorkie to the risk of chronic arsenic toxicity. Accumulation of arsenic may cause your Yorkie to experience abdominal pain and also vomiting.
Fat
Having sources of fats like fish oil in your Yorkie's food help in keeping your puppy's coat shiny and long. Fat sources also help in keeping your Yorkie's heart healthy.
If your dog has allergies to carbohydrates, options such as soy, beans, rice, oats, barley, corn, wheat, then fats are good alternatives. Dry foods containing omega 3 and omega 6 fatty acids are considered to be of high quality.
Allergies
The protein part of meats, dairy, eggs may cause allergies. Grains are usually used in dog food to provide carbohydrates and may also cause allergies in a Yorkie puppy. If your dog has allergies to carbohydrates like soy, rice, oats, corn, or wheat you may have to find a grain-free dog food.
Fatty Acids
Dog foods that have omega 3 and omega 6 fatty acids usually mean they are considered high-quality. Fatty acids typically aren't common in cheaper dog foods as it's sourced from fish.
How to Choose a Dog Food for Yorkie Puppies
Ingredients written on the bag of your desired Yorkie food are written in their order of the amount present in the dog food. The number #1 ingredient will always be the main ingredient in the dog food. This also includes water. The list is usually divided into major and minor ingredients.
The major ingredients, which are responsible for the protein, carbohydrates, and fats nutrients, are usually sourced from animals and plants. The minor ingredients usually include minerals, vitamins, and supplements like preservatives, emulsifiers, and conditioning agents.
You should avoid Yorkie foods listing by-products gotten from not natural meat of lamb, chicken, turkey, and ducks as ingredients. Ingredient lists with duck meal or chicken meal have the same protein content as ingredients with fresh chicken, lambs, or duck, but should also be avoided for more natural meat.
Your puppy Yorkie's food should be free of soy, grains, wheat, and corn if your dog is allergic to them. Wheat and corn also contain high amounts of gluten which damages the small intestine and causes pain in the joints of Yorkies. It usually contains no nutritional value and is considered a filler ingredient.
Soy, corn, wheat, gluten, dairy, eggs, dairy, sugar usually are suspected to contain trace amounts of carcinogenic molds that could expose your dog to the risk of cancer. You should keep them away from your Yorkie's meal especially if they contribute a large part of the food. Onions, garlic, and mushrooms are toxic to dogs and they also shouldn't be in your Yorkshire Terrier puppy's food.
High energy and fiber from brown rice or sweet potatoes good nutrients that can be in your Yorkie puppy's food.
Conclusion for Best Dog Food for Yorkie Puppies
After reading the reviews and the information you need to understand which food is best for your Yorkie puppy. I hope you were able to make the right food choice from our list of the best dog food for Yorkie Puppies! If you introduce any of these foods and it causes severe itching or scratching from your Yorkie, you should consult your veterinarian for more advice. They may have an allergic reaction to one of the ingredients.
Garrett loves animals and is a huge advocate for all Doodle dog breeds. He owns his own Goldendoodle named Kona. In addition, he volunteers at the Humane Society of Silicon Valley, where he fosters dogs and helps animals. Garrett enjoys writing about Doodles and believes that dogs can teach humans more about how to live than humans can teach a dog.
Why Trust We Love Doodles?
At We Love Doodles, we're a team of writers, veterinarians, and puppy trainers that love dogs. Our team of qualified experts researches and provides reliable information on a wide range of dog topics. Our reviews are based on customer feedback, hands-on testing, and in-depth analysis. We are fully transparent and honest to our community of dog owners and future owners.