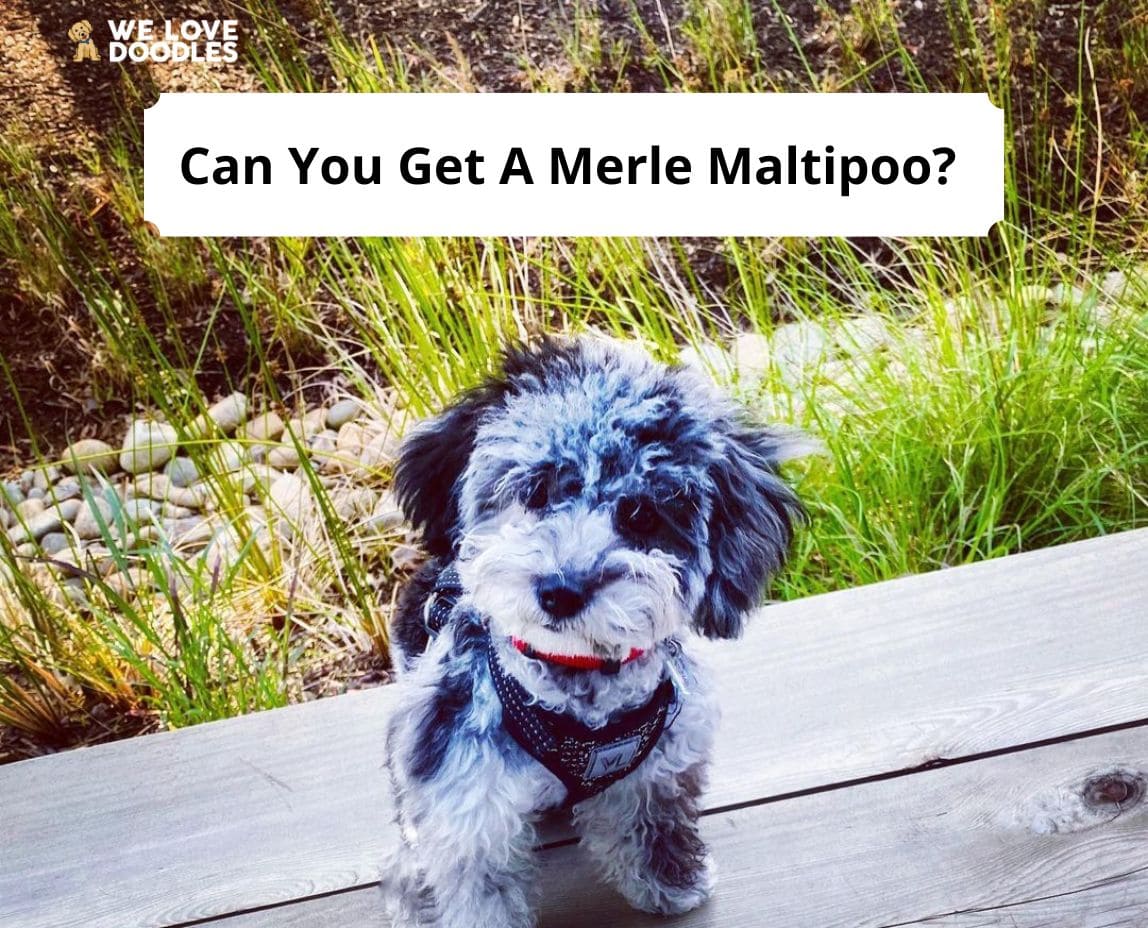 The adorable cross between the affectionate, loving Maltese and the intelligent Poodle, a hybrid dog was developed in the 1990s with the intention of crossing the friendly, laid-back nature of the Maltese with the trainability of the Poodle. The result? The Maltipoo.
These affable, diminutive balls of fluff have hypoallergenic coats that can take after either parent; the white coat of the Maltese, or the many colors of the Poodle ranging from white, black, gray, apricot, and brown. Additionally, there is the merle gene, a dominant gene present in many dog breeds, including the Poodle – although it's very rare.
Merle Maltipoos are exceedingly rare, but you can still get one if you are patient (and lucky!) enough. Poodles are one of the breeds that can carry the merle gene, although it has been argued that the gene was introduced to the Poodle bloodline through another breed.
As of today, the Americal Kennel Club does not recognize merle as an accepted Poodle pattern, nor will they register a merle Poodle as they believe it to be a sign that another breed was introduced, making the bloodline, not pure Poodle. However, merle Maltipoos do exist and we've seen more and more breeders selling them. You can find both red merle Maltipoo as well as blue merle Maltipoos.
What Is The Merle Gene?
Merle is not a color, but rather, a gene that causes the existing coat color to have a mottled or speckled pattern. The gene is a mutation that can occur in many different types of animals, including dogs, cats, horses, and pigs.
The most well-known features of the merle phenotype are the mottled or marbled appearance of the coats of affected animals, as well as causing the eyes of merle animals to become blue, or heterochromatic, meaning one blue and one of another color like brown.
The merle gene is incompletely dominant, which means that animals with one copy of the gene (heterozygotes) will express some, but not all, of the features associated with the gene. Homozygous animals, or those with two copies of the gene, will typically express more severe phenotypic effects. In some cases, homozygous merles may be born with serious health problems, such as deafness or blindness.
For this reason, many breeders avoid breeding animals that are known to carry the gene. However, the merle phenotype can also be quite beautiful, and many people find it to be a desirable trait in their pets.
Characteristics Of A Merle Dog
Merle dogs are known for their unique coat pattern, which creates a dappled or speckled look on top of their original base coat color.
In addition, the merle gene can modify the dark pigmentation in the eyes and change the colors to wholly or partially blue or odd-colored. Pigmentation on the paw pads and nose can also be lightened from brown to pink.
Are Merle Dogs Unhealthy?
Merle dogs born to a single merle parent have no greater health issues than their solid-colored counterparts and differ from them only in coat color. They will have the same genetic predispositions, health issues, and lifespans as their non-merle littermates.
However, the big problem is when a litter is bred, whether accidentally or intentionally, to two merle parents. There are a number of potential health problems that are associated with double merles, the most significant of which is that they can be born blind, deaf, or both.
They are often light-coated, even white, and can suffer from a wide range of serious health issues such as cardiovascular abnormalities, skin disorders, and immune system deficiencies.
In addition, double merles are more difficult to socialize and train than other dogs due to their compromised hearing and visual acuity. Two merle dogs should NEVER be bred, and great care has to be taken by merle breeders to ensure that an accident breeding between two merles never happens.
Are Merle Maltipoos Rare?
Merle Maltipoos are exceedingly rare, unlike other types of breeds that frequently carry the merle gene, such as Catahoula Leopard Dogs, Australian Shepherds, Great Danes, and Collies. The Maltese dog does not carry the merle gene, and it is rare in Poodles, although possible.
The merle gene is denoted by an allele, or M, while a non-merle is characterized by m. An Mm Poodle is a dog born to one merle parent, an MM to two merles, and an mm is a non-merle dog.
An Mm dog has to only be bred with an mm dog, as two merle dogs cannot be bred. Puppies in the litter of such a pairing have a 25% to 50% chance of being born merle, or Mm.
Terribly unscrupulous breeds have been known to breed two merles to produce 25% non-merle, 50% half merle, and 25% double merle puppies, hence, increasing the likelihood of the puppies being born a single merle, or Mm. This should never be done, so check up on any breeder that specializes in merle dogs thoroughly.
How Much Does A Merle Maltipoo Cost?
A Maltipoo in itself is a designer dog breed and can cost anything from $1,000 to upwards of $2,500. Be prepared to add several hundred dollars, if not thousands, for one with the merle gene.
Because the gene is rare for a Poodle, merle Maltipoos are the rarest coat patterns of them all. Merle dogs command a high price, which is why some breeders choose to specialize in the tricky breeding of such dogs, so be extra vigilant in your selection of an ethical, responsible breeder.
How To Find A Merle Maltipoo
You'll first have to look for a merle Poodle or another merle Maltipoo. Make sure to do extensive research as merle breeding is extremely tricky, and breeders need heaps of experience and know-how, in addition to DNA tests of both parents to ensure that only one of the breeding pair is an Mm, or merle dog.
The merle gene is not obvious in many dogs which can look almost exactly like a non-merle. Even a tiny spot on their coats can indicate the presence of the merle gene, and these dogs should never be bred with another merle.
To be sure, make sure you ask for DNA test records for both the parent dogs to make sure that there is only one parent with the merle gene present.
Ask around your kennel clubs, veterinarians, and other doggy professionals to see if there are any merle dogs in your area or in the surrounding states, then get in touch with the breeder to see if there are any litters underway.
When looking for a breeder, do the same as you would while looking for non-merle dogs and conduct your own thorough research to make sure that the breeder is ethical and responsible.
Questions To Ask A Merle Breeder
There are many reasons why ethical breeding for dogs is important. First, it helps to ensure that dogs are healthy and free from genetic defects. Ethical breeders take care to select only the healthiest animals to breed, and they avoid breeding dogs with known health problems.
This helps to ensure that the puppies that are born are as healthy as possible, giving you fewer vet bills and heartache down the road with your pup. When we take the time to only look at responsible, ethical breeders, we are doing our part to ensure the welfare of our beloved dogs.
When looking for a breeder, here are a few things you can ask as screening questions.
Can I visit your dogs and facilities? Backyard breeders often don't permit home visits, as their breeding pairs live in cramped, squalid conditions. Even if you aren't likely to make a cross-country trip to visit their facilities, always ask whether it is possible.
Do your dogs come with health checks, guarantees, and DNA tests?
Do your dogs have AKC papers and OFA certs?
How often do you have litters available? Good breeders have infrequent litters, often about once a year. Unethical breeders will overbreed their dogs and have frequent litters to maximize their dollars.
If I have to give my new puppy up, will you take him back? Without exception, the answer should be yes. Most good breeders will take a puppy from their litter back, no questions asked.
When can I take my puppy home? Another loaded question, Maltipoo puppies are only ready to leave their homes at eight weeks. In some states, it is even illegal to sell puppies that are less than eight weeks old.
What will the puppies be eating, and how are they being socialized?
Keep in mind that responsible breeders will be happy that you are asking these questions. It shows that you have an interest in your new puppy and are doing your homework to make sure you are buying from a reputable source.
Although it might feel like an interrogation, don't be surprised if the breeder asks surprisingly personal questions. They are doing the same thing and ensuring that their puppies go to appropriate, good homes.
Conclusion For Can You Get A Merle Maltipoo?
Merle Maltipoos are rare dogs indeed. However, it still is possible to chance across these unicorns, and with some luck and a lot of research, you might be able to land yourself one of these coveted dogs.
Just be sure you do massive amounts of homework and be very careful in selecting your new puppy which is likely to cost a pretty penny. Good luck!
Garrett loves animals and is a huge advocate for all Doodle dog breeds. He owns his own Goldendoodle named Kona. In addition, he volunteers at the Humane Society of Silicon Valley, where he fosters dogs and helps animals. Garrett enjoys writing about Doodles and believes that dogs can teach humans more about how to live than humans can teach a dog.
Why Trust We Love Doodles?
At We Love Doodles, we're a team of writers, veterinarians, and puppy trainers that love dogs. Our team of qualified experts researches and provides reliable information on a wide range of dog topics. Our reviews are based on customer feedback, hands-on testing, and in-depth analysis. We are fully transparent and honest to our community of dog owners and future owners.