Merle is the multi-color pattern or patches in a dog's coat. The Labradoodle is a mixed breed that can be gotten from different crossbreeds like Poodle and Labrador to many other breeds.
Labradoodle's intelligence and tenacity cannot be overemphasized; hence they are very obedient and easy to train. You can be sure of their cooperation during grooming and training.
Labradoodles come in different colors and patterns as merle can affect all coat colors. The ones with the merle gene are known as merle Labradoodles. These sets of pets are scarce to come by. This article addresses some common merle Labradoodle coat guides.
Before scrolling down this merle Labradoodle coat guide, check out these related articles: Blonde Labradoodle Coat Guide and Chocolate Labradoodle Coat Guide.
What Are The Types of Labradoodle Coats?
Your Merle Labradoodle can come in different types of beautiful coats. Labradoodles are associated with 3 coat types; the wool coat, the fleece, and the hair coat. Wool and fleece are the more common and allergy-friendly 
Wool Coat
The wool coat has a very compact curl resembling that of a Poodle. This coat type is non-shedding and has a little bit of a stiff texture.
Labradoodles are allergy-friendly; people with dog or general allergies can tolerate this coat. Your Merle Labradoodle wool coat pet requires regular grooming and trimming for a greater outlook.
Fleece Coat
The fleece coat type has a very comfy and soft texture. This coat type comes in various forms. For example, it can be straight, wavy, or very curly.
The fleece coat type is almost non-shedding and requires regular brushing and trimming. This coat type is good for people with dog and general allergies.
Hair Coat
This coat type is common with older generation dogs; it has a very tough texture. Ordinarily, Labradoodles are non-shedding; this coat type has mild shedding, although sometimes severe. Regular trimming and brushing can curtail shedding.
This coat type is not advisable for people with a dog or general allergies; hence, it should be considered when getting or breeding a new pet.
Related: Labradoodle Coat Change Guide.
Merle Labradoodle Coat Colors
Breeders can create almost an infinite amount of different Labradoodle coat colors. Merle is fascinating and good-looking on any coat type. The color patches on merle Labradoodle coats give them a very spectacular outlook. 
As a result of merle's ability to affect any coat color, they come in different color patterns and patches. Your pets can come in a blue merle coat, chocolate merle coat, red merle coat, brown merle coat, and black.
Related: White Labradoodle Coat Guide and Silver Labradoodle Coat Guide.
Blue Merle Labradoodles
The blue merle Labradoodles with their irregular black or gray patches are the most popular of them all. The lighter part of the coat varies from a very light powder blue to a very dark steel blue.
Your merle Labradoodle can also come in other colors such as fawn, yellow and sable. What a beautiful sight to behold, you would say.
It is worth knowing that since Labradoodles are a mixed breed and not a purebred dog, numerous factors can influence the adult coat's color. 
Merle Labradoodle's pet keeps the same color coat into adulthood.  However, most Labradoodle coats fade to a lighter color as they grow older.
Merle Labradoodle Genetics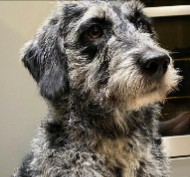 Merle Labradoodles are not pure breeds; they are heterozygotes. They have a very complex genetic basis: they don't have a complete dominant gene as one masks the other's effect. 
When two merles Labradoodles are crossed, on average, one-quarter of the puppies will come out as "double merles" due to their genetic makeup.
The genetic makeup is also responsible for the dog's eye pigment. Sometimes the eye can be partly or totally. Their paw pads and nose are not exempted.
Merle Labradoodle Puppies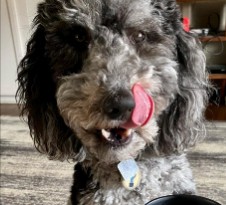 Just like humans, Merle Labradoodle puppies also inherit many of their characteristics from their parents. Your pet's temperament and how healthy it will be throughout its life largely depend on its parents' genes. That is why it is essential to find a good, responsible Labradoodle breeder when crossing your pets.
Related: Straight Hair Labradoodle Guide.
Merle Labradoodle Health Issues
Merle Labradoodles are at the risk of being blind or deaf due to their complex genetic makeup. Research has shown that dogs with two types of the merle gene, like the "double merle," are at higher risk of being deaf and with vision impairments.
Double merle Labradoodles can be deaf or blind; they can be both at the same time.  They carry ocular defects in blue or colored eyes.
Some German researchers found partial hearing loss in 54.6% double merles, 36.8% of single merles, and 9.1% of double merles were fully deaf.
Registered breeders only breed one merle with a non-merle to produce normal healthy merle Labradoodle puppies to curtail health issues. Your deaf, blind, and deaf and blind impaired dogs can have good lives too when taken good care of.
Related: Common Labradoodle Health Issues and Rare Dog Diseases Every Owner Should Know.
How to Care for Your Merle Labradoodle Coat
Irrespective of the Merle Labradoodle's coat type, all coat types need to be properly taken care of. It is highly recommended that your pet is well taken care of by
Giving your pet a good bath: This will make their coats clean and bright.
Trimming and brushing the coat regularly: regular grooming is highly recommended to avoid shedding, especially for pets with Hair coat type.
Paying a regular visit to the vet: regular checkup of your pet's well-being is of utmost importance.
Make sure their crate is clean and in order: this will keep their coats clean.
Make sure your Pet's coat length is not more than 4-6 inches long.
Ensuring your pet's coat is not too dense or heavy: regular grooming is advised to get a fluffy feel.
Regular ear cleaning and nail trimming are encouraged.
Related: Straight Hair Labradoodle Guide.
Conclusion For "Merle Labradoodle Information, Facts, Images"
In puppies, The merle Labradoodle Coat, like any other coat, can be very sharp and bright but changes with time in adult pets.
It is advised that you opt for a merle Labradoodles pet with a darker shade as their color becomes lighter as they become adults. Regular grooming keeps your merle Labradoodle Coat gorgeous.
If you find this merle Labradoodle guide informative and helpful, be sure to check out these other articles from our team at We Love Doodles:
You can learn more about a Labradoodle's coat color by watching "Labradoodle Colors" down below: