It can be challenging to find the right name for your furry friend, especially if they have a unique coat coloring. Yet having a blue or Merle dog can be especially rewarding. With their shiny and well-polished coats, blue, grey, or Merle dogs often become show dogs, movie extras, or just great household pets. We came up with one of the most comprehensive puppy names for blue and Merle dogs. We also provide an explanation for each name!
Dog Names For Blue and Merle Coat Colors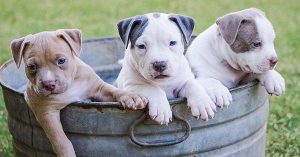 Did you know there are multiple different ways to say grey? Some include,
Ash: Ash is the consistency of burnt charcoal, so it's best suited for a darker blue-colored dog. It can also be a person's name, specifically Ash Ketchum.
Brand: A brand is a burn that can represent a symbol, usually a person or entity. Not to be confused with Brandy (A type of liquor)
Cinder: Cinder is another word for burned or charred wood. It also makes me imagine a curious, cute puppy– looking to make a mess!
Coal: Coal is glowing or burning charred wood. Just as dogs keep our hearts warm, his/her name should reflect that.
Dove: Since doves are pale shades of grey, it makes sense that dove also means grey. I imagine this is a name for a dainty and sweet, light grey dog.
Dusky: Dusky is a hearty name for a hearty dog. Dusky is always down to hike in the forest with you, climb things and bring you back sticks. He also may drool a lot.
Ember: An ember is a lump of small, hot coal that slowly cools as it's exposed to more air. As we lie down and make way for rest, our little Ember could curl up and sleep the day away with us.
Foggy: Foggy is another word for cloudy or misty (two other great names for Merle or blue). The name Foggy transports me to Ocean Beach in San Francisco, where the mist and fog act as a blanket of cover for the Outer Sunset District natives. Foggy can also mean vague, bewildered, or unclear.
Fuzzy: Much like Foggy, Fuzzy is another beloved pet name, bringing with it the feeling of warm, soft hugs, fuzzy sweaters, and maybe a well-thought-out holiday card.
Gris / Grizzly (Silvery): Gris is French for "grey." If you have any French influence within your household, this could be the right choice for your dog. It's also the name of a bear, Grizz (short for Grizzly Bear), from We Bare Bears.
Grigio: Similar to the name above, Grigio is Italian for "grey." If you have Italian influence within your family, you should consider Grigio as a dog name! It personally reminds me of Lady in the Tramp or any cute, possibly scruffy, little grey Terrier.
Hairo: Your new pup Haiiro is loved by all, but where did this name come from? Hairo (haaah-eee-roow) is Japanese for "grey," When written in Kanji, it looks rather beautiful.
Slate: A type of grey shale that has a slight sheen to it. Slate sounds like a dog who's always ready for an adventure. They catch, fetch, and they're always happy to see you!
Edgy Names for blue and Merle Dogs
Banshee: Typically a Banshee is a female spirit who is known as a "Harbinger of Death." It's often said that Banshee's screech and wail throughout the night when someone of magical descent is about to die– more often than not, they show up when a witch or wizard is about to pass.
Moroi: A moroi is traditionally a Romanian vampire or ghost. Unlike your typical vampire, your pup doesn't want your blood but instead wants your love!
Phantom: Phantom has been a popular name over the years, probably because it's such a strong name. Phantom is the kind of dog that will protect you no matter what and always have your back.
Shade: Shade is an excellent name for a darker-colored dog. Shade sounds like a black labrador who's always ready to play and enjoys sprinting across the beach or hiking through the forest.
Blue and Merle Dog Names Based on Movies and Books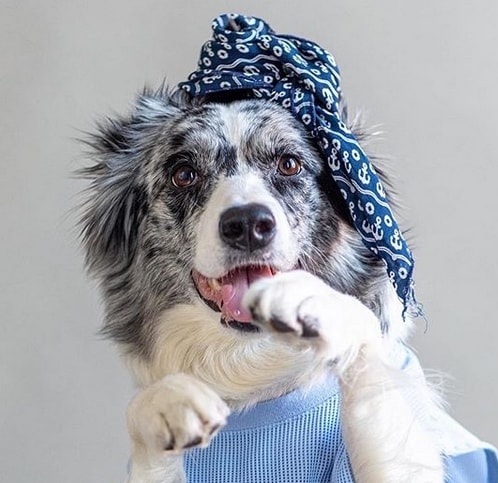 Ash or Ashley: Ash is the consistency of burnt charcoal. It can also be a person's name, specifically Ash Ketchum, from the Japanese 90's television series and game — Pokemon, or "Pocket Monsters," in English.
Casper: You may know him as Casper, the friendly ghost, and he's always ready to play! Casper reminds me of an energetic and playful pup that always aims to please! This name is best suited for a light grey dog.
Darth: Based on the name Darth Vader from the Star Wars franchise. Darth is a dog name that is best suited for a dark blue dog.
Dorian: Dorian is based on the book The Picture of Dorian Gray, written by Oscar Wilde. Dorian, not to be confused with Dory, is a dog with personality. They're smart and maybe even mischievous.
Dory: I'm sure we've all heard of Dory! She's the space cadet of the group who can always make you smile. Dory (although a much more vibrant blue) works for any happy-go-lucky dog!
Dumbo: We love his big ears, goofy smile, and his unabashed will to be free! Dumbo is a name that reflects unconditional love through different obstacles.
Gandalf: Like in the movie and the books– The Lord of the Rings, Gandalf the wizard's full name is Gandalf the Grey.
Grizz / Grizzly: Although Gris is French for "grey." it's also the name of a bear, Grizz (short for Grizzly Bear), from We Bare Bears.
Haze / Myst: Haze or Hazel is perfect for your furry little friend. Why not name your pet Myst? It's easy, breezy, and refreshing. During ancient times, Myst was also spelled with a "y" instead of an "i", making it extra magical. Myst is also the name of a 90's adventure game.
Reardon: The Reardon is a creation by Hank Reardon, the protagonist in Atlas Shrugged. In Atlas, Hank invents a new kind of steel that has a blue-ish green hue. This steel is much more superior than any others!
Conclusion for Blue and Merle Dog Names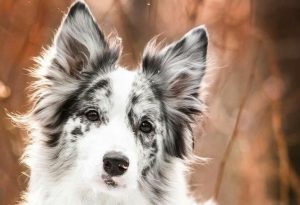 Choosing a dog name is a very difficult task because they will live with the name for the rest of their lives. You will also be saying their name often so it's best to name them something memorable and easy to pronounce. We hope that you found some inspiration for blue and merle dog names from our list! 
Other articles you might like:
Garrett loves animals and is a huge advocate for all Doodle dog breeds. He owns his own Goldendoodle named Kona. In addition, he volunteers at the Humane Society of Silicon Valley, where he fosters dogs and helps animals. Garrett enjoys writing about Doodles and believes that dogs can teach humans more about how to live than humans can teach a dog.
Why Trust We Love Doodles?
At We Love Doodles, we're a team of writers, veterinarians, and puppy trainers that love dogs. Our team of qualified experts researches and provides reliable information on a wide range of dog topics. Our reviews are based on customer feedback, hands-on testing, and in-depth analysis. We are fully transparent and honest to our community of dog owners and future owners.