You're probably thinking of where to get the best Maltipoo puppies in Illinois. When you think of a small dog breed, chances are that this Maltese-Poodle hybrid crosses your mind. This popular Doodle is known to be many things: intelligent, hypoallergenic, nonshedding, and friendly.
This loyal and super affectionate breed loves to be part of the action whether you're playing games or cuddling. One of the hardest aspects you will encounter is finding a reputable breeder in Illinois if you're looking to purchase a puppy.
Before we begin, you should check out these Maltipoo guides: How Long Do Maltipoos Live? and How Much Does a Maltipoo Cost?
Maltipoo Puppies for Sale in Illinois
If you reside in Illinois or neighboring states, here, you will find a list of the top 6 Maltipoo breeders we could find. We created this list because it shouldn't be hard to bring your Maltipoo puppy. We advise you to use this list as a complement to your research. It's important to find a breeder that you can trust that will give you a happy and healthy Maltipoo.
1. Maltipoos & More Illinois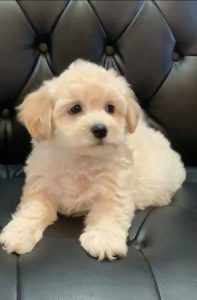 McHenry Maltese is an exclusive group of reputable breeders who breed Maltipoos and other designer dog crosses such as Yorkipoos. The select group has over 30 years of dog breeding experience, exuding expertise and knowledge on all matters of Maltipoos. McHenry Maltese's puppies range between 5 to 12 pounds, depending on the weight and size of the breeding parents they use. They handpick the Maltipoo parents from F1 Maltipoos and purebred parents, some of whom were previous show champions.
Their Maltipoos puppies in Illinois, similar to many designer hybrids, are hypoallergenic and low-shedding. This makes them an ideal selection for people who hate vacuuming dog hair or those with allergies. Typical to F1B and F2 Maltipoo generations, McHenry's Maltese exhibit wavy to curly coats with many color variations. The brewers pride themselves on quality Maltipoo puppies. In fact, the breeders have earned a reputation for rejecting Maltipoo puppy applications regularly.
Their Maltipoo puppies go home at 10 to 14 weeks of age. Compared to other Maltipoo breeders, this wait is 2 to 4 weeks longer to allow the puppies to socialize more with their litter. However, McHenry's Maltese do say the puppy makes the wait worth it. The breeder group has 3 delivery options you can choose from: pickup from the breeder's home, airport delivery service at $100, and flight nanny service at $475 to $574.
Maltipoos & More Details
2. Maltipoo Furbabies IL
Small and ideal are two words to describe Maltipoo Furbabies. The Chicago, Illinois, Maltipoo breeder strives to produce top-notch healthy puppies that will make the perfect companion. Similar to McHenry's Maltese, this breeder's parent dogs trace their lineage to champion dogs who once ruled the show ring. The breeder's strategy is based on over 17 years' worth of experience, expertise, and intense admiration for the Maltipoo breed.
All the breeder's puppies are raised where they receive care, comfort, and love beyond words. Their Maltipoo puppies for sale in Illinois come with a 12-months guarantee regardless of size. If you're looking for a Teacup, Tiny Toy or Toy sized Maltipoos, Maltipoo Furbabies is worth looking into. Maltipoo puppy shipping is available at $350 from Chicago's O'Hare Airport to any major airport in your city.
Maltipoo Furbabies Details
3. B & C Kennels Illinois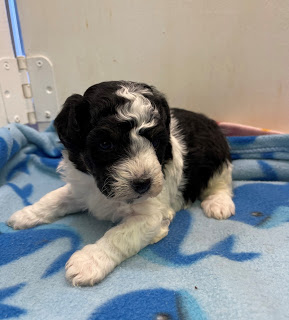 For B & C Kennels, their family of dogs is everything. This family-owned kennel in Clare has been breeding for over a decade. They specialize in Maltipoos, Corgis, Bernedoodles, Bichonapoos, Boston Terriers, Schnauzers, and Shih Tzu's to mention a few. Having owned and loved Doodles since childhood, this breeder understands how hard it is to own and watch your fur baby grow. That's why the breeder's website is filled with tons of information that first-time pet parents might find useful. Although the blog can seem jumbled up, once you get a hang of it, it's easy to navigate.
Aside from breeding Maltipoo puppies in Illinois, the kennel also provides comfortable boarding spaces for your dogs. Whether you're going on a short or long trip, they will stay with your puppy for as long as it takes. B & C Kennels price their Maltipoos according to their gender. Male Maltipoo's are $2450 while female Maltipoo puppies average $2900. This is a common practice amongst Maltipoo breeders in Illinois. 
B & C Kennels Details
4. Mystic Creek Puppies IL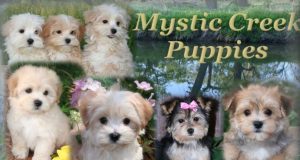 Nestled in Illinois farming country, Mystic Creek Puppies was founded on matchmaking. The breeder, Sarah Moser, believes there's a perfect Maltipoo puppy for you and vice versa. Mystic Creek Puppies select AKC Maltese and Maltipoo puppies from carefully chosen parents. The breeder owns the parents, grandparents, and even great-grandparents sometimes. The sires are certified and cleared of all diseases including genetic ones.
The Maltipoo puppies in Illinois are raised under the breeder's watchful eyes. The puppies are socialized and handled daily to expose them to different scenarios early on. The breeder provides a 1-year guarantee and promises to provide you support for the entire life of your Maltipoo puppy. Mystick Creek Puppies is quite popular and the reserve list fills up fast. If you decide this is the best Maltipoo breeder for you. You will need to reserve a spot as some of their waiting lists are around 1 year.
Mystic Creek Puppies Details
5. Country Acres Puppies
Country Acres Puppies is the home of doodles and small dog breeds like Morkies and Maltipoos in Illinois. The family-run business is very attuned to dog breeding. Their parent dogs are handpicked from the best lineage and undergo extensive health tests before making it into the breeding line. When they retire, the Maltipoo parents spend their days enjoying the country's sunshine.
Their Maltipoo puppies are born in the breeder's home where they receive attention, love, and support around the clock. Unlike many breeders on this list and in Illinois, this breeder doesn't take deposits. Their adoption process is based on a first-come, first-serve basis. This also means they don't have a waiting list until the Maltipoo puppies are born. If you're keen on getting a Maltipoo from this breeder, you will need to continuously check their website for updates and announcements. The breeder's puppies typically sell out like a hot cake. If you decide this is the breeder for you, be sure to follow them on their socials as they usually announce new litters there.
The breeder considers their F1B Maltipoos family even when the puppy goes home to you. If things don't go as expected and life throws you a curveball, you can always bring back your Maltipoo to the breeder. The breeder will take them in with open arms instead of surrendering them to an overflowing shelter or rescue. Their Maltipoos for sale in Illinois are priced at $1,550 plus tax. You can expect your Maltipoo to be red, cream, or apricot with white coat markings.
Country Acres Puppies Details
6. Weaver Family Farms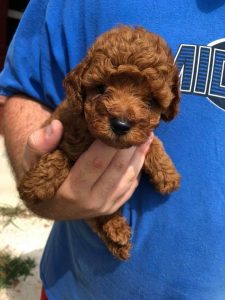 At Weaver Family Farms, Maltipoos are not just pets. They are fiercely loyal companions and loving companions that make a home. The state-licensed breeder has over a decade of experience breeding this designer dog. Their Maltipoo size ranges from toy to mini.
Unlike other Maltipoo breeders on this list, the Weaver Family's price ranges from $900 to $1,100. The Weavers are transparent with the pups' and parents' health records where you can see the age and check with their licensed veterinarian. Aside from raising Maltipoos, the Weavers also raise Cavapoos, Cockapoos, and Toy Poodles.
Weaver Family Farms Details
Conclusion For The Best Maltipoo Puppies in Illinois
Maltipoos get along with everyone and fit in everywhere. They don't need a large house to thrive as they adapt and are even happier in smaller homes. All that matters is that you provide what they need and love the Doodle with all your heart. We wish you an incredible and smooth process as you bring your Maltipoo home.
For other dog breeders in Illinois, you might like these recommendations if you like the Maltipoo:
To learn more about the Maltipoo dog breed, you might want to watch this video:
Garrett loves animals and is a huge advocate for all Doodle dog breeds. He owns his own Goldendoodle named Kona. In addition, he volunteers at the Humane Society of Silicon Valley, where he fosters dogs and helps animals. Garrett enjoys writing about Doodles and believes that dogs can teach humans more about how to live than humans can teach a dog.
Why Trust We Love Doodles?
At We Love Doodles, we're a team of writers, veterinarians, and puppy trainers that love dogs. Our team of qualified experts researches and provides reliable information on a wide range of dog topics. Our reviews are based on customer feedback, hands-on testing, and in-depth analysis. We are fully transparent and honest to our community of dog owners and future owners.