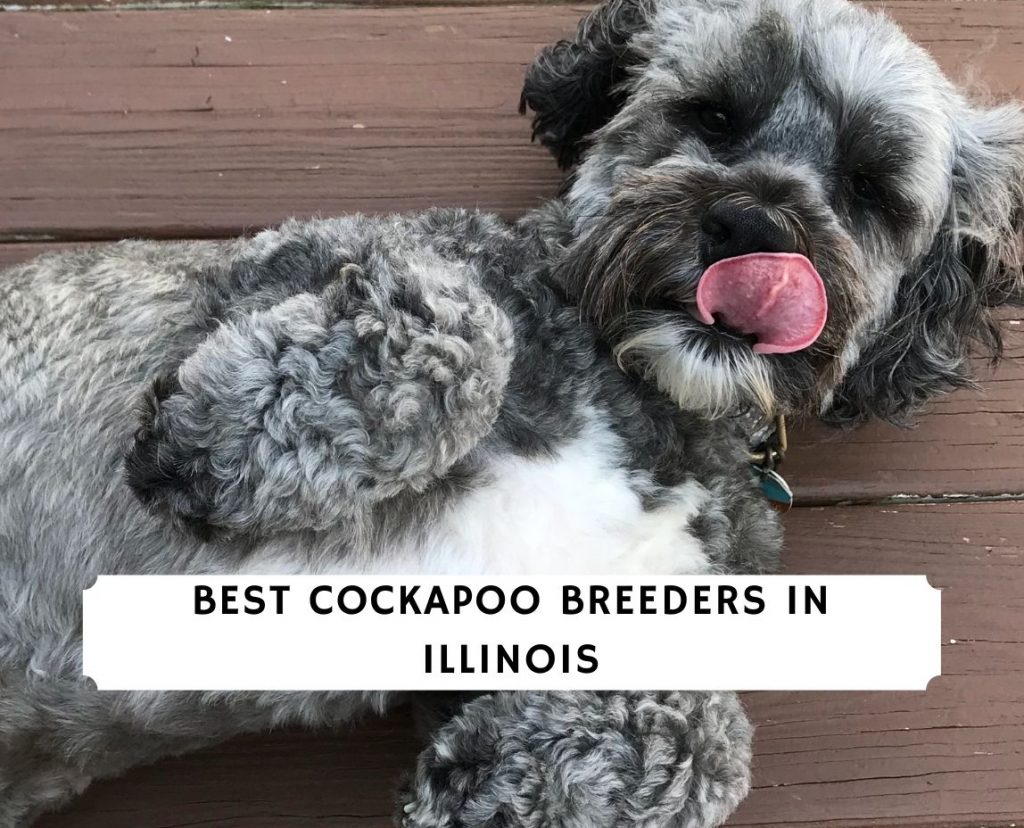 Adorable, fluffy, and cute are the first things that come to mind when you come across a Cockapoo. Cockapoos are very friendly, adapt to any environment with ease, are child-friendly, and will melt your heart at first sight. Not to mention that they are also considered hypoallergenic and nonshedding! It's no surprise that you'll see tons of Cockapoo puppies for sale in Illinois.
You'll want to spend time finding reputable Cockapoo breeders in Illinois. Since Cockpoos typically have a lifespan of 10+ years, you'll want to make sure that your puppy is happy and healthy. This starts by finding a breeder that you can trust. We've done our own research to help you find your Cockapoo puppy in Illinois. 
Other articles you will like: Cockapoo Rescues for Adoption.
1. Creekside Puppy Adoptions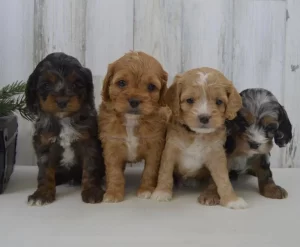 First on our list of Cockapoo breeders in Illinois is Creekside Puppy Adoptions. Located in Arcola, Illinois, Creekside Puppy Adoptions is a family of dog breeders that specializes in doodles including the Cockapoo. They are one of our favorite breeders because they focus on improving the health of their Cockapoos with each generation. 
All of their Cockapoo puppies for sale in Illinois come with a 2-year health guarantee because they truly believe in the health of their dogs. From birth, all of their puppies are socialized with different sights and sounds and exposed to human touch.  At 5 weeks of age, their Cockapoos puppies are microchipped to help you identify your dog in the future in case anything were to happen. Before leaving for a permanent home, each Cockapoo is veterinarian checked and up to date on all vaccinations.
To purchase a Cockapoo from Creekside Puppy Adoptions, you'll have to put down a small $200 deposit. You can schedule a delivery to your home in Illinois or you can pick up your new puppy at their facilities. We highly suggest that you check them out since they not only focus on healthy puppies but also focus on providing great customer service. They also have other doodle breeds in case the Cockapoo doesn't fit your personality.
Cockapoo Breeder Information
2. Fox River Cockapoos
Owned by husband-and-wife Glen and Kim, Fox River Cockapoos started as a way for them to get back the feeling of having kids run around the house. Since this breed is adorable and playful, they were able to revive the youthful commotion that used to engulf their house with puppies.
These breeders offer healthy and adorable Cockapoos for your home. They are a family-owned kennel so you can be sure to get puppies that have been showered with a lot of love.
Fox River Cockapoos know all there is to know about the breed and the health of their puppies is a major concern for them. As their Cockapoo puppies are home-raised, they assure the temperament and well-being of every puppy. Having spent many years breeding the best and quality Cockapoo breeds, Fox River Cockapoos guarantees you a special addition to your family.
Cockapoo Breeder Information
3. Kathy's Kountry Kennel
Kathy's Kountry Kennel belongs to Kathy, a hobby breeder who specializes in Cockapoo puppies and many other dog breeds. With dog breeding experience of over 16 years, she knows exactly which Cockapoo will be a great addition to a family.
Even though Cockapoos tend to vary a lot, Kathy breeds on personality – no matter what color marking or temperament you prefer, Kathy has them for you.
After 3-5 days of the birth of each Cockapoo puppy, they are taken to the veterinarian to get their tails docked and dewclaws removed along with getting dewormed before they leave for their forever home.
Cockapoo Breeder Information
4. No-shed Dogs Illinois
These Cockapoo breeders believe in rescuing and adopting. They are a home kennel that will grant you all the assistance you need in getting your next fluffy addition to the family.
At No-shed Dogs, they breed hypoallergenic and sociable Cockapoo puppies in Illinois. With their help, you will be able to get an adorable Cockapoo that is just perfect for your family. All the puppies are raised in homes with children and other animals and their temperament can be vouched for by the breeders.
Cockapoo Breeder Information
5. Patty's Pups Illinois
From Northern Lake County Illinois, Patty has been connecting Cockapoo puppies to a lot of beautiful families. They have found homes for a lot of pups all over the United States.
With Patty's Pups, Patty has spent most of her adult life in the medical line caring for Cockapoos. By ensuring that the families are aware of every little detail, Patty ensures that both the Cockapoo puppy and family are both happy.
Being a home-owned kennel, the puppies are no strangers to other animals and children. They are showered with enough love and know exactly how to give it back.
Cockapoo Breeder Information
6. Cute Cockapoo Puppies Illinois
Cute Cockapoo Puppies has English Cocker Spaniel, American Cocker Spaniel, or Cocker Spaniel in all of their Cockapoos. They range from small cute Cockapoo puppies to specialty Cockapoo puppies breeds.
However, there is no physical pet store as the puppies are owned by a trusted family. Cute Cockapoo Puppies acts as a broker to connect people looking for Cockapoos with breeders. 
Cockapoo Breeder Information
7. Pet Land
A local pet store operating for over 10 years now, they offer a hands-on approach to help families interact and engage with their pets. This helps families easily understand the requirements and needs of a pet.
The store also has a professional staff that helps families get the best Cockapoo. They assist individuals with the process of interacting with the animals and point out several important features for the families.
Cockapoo Breeder Information
8. Gardner Lane Puppies
With several years of experience, Gardner Lane Puppies are hobby breeders who breed all kinds of dogs including Cockapoos. Homebred and raised with a family, these dogs are an excellent addition to families.
The breeders are very knowledgeable about Cockapoos and offer a lot of information to families who are looking to adopt them. A great place to get Cockapoo as they pick the best Cockapoo based on individual traits for each family.
Cockapoo Breeder Information
More Information About Cockapoo Puppies in Illinois
First bred by designer dog breeders in the United States, the Cockapoos are a crossbreed between a Poodle and Cocker Spaniel. Cockapoos were originally bred to create a healthy dog companion.
With scruffy coats and bright eyes, Cockapoos tend to be a loving companions for many families and retain their young puppy-like charm even after they grow up.
A puppy that stays a puppy is a bundle of joy every family must-have. Retaining their puppy dog charm even after they have grown up is one thing a lot of dog owners cannot get enough of.
Cockapoos raised with a lot of love provide the same love and care to those who raise them. These puppies typically have easygoing temperaments and personalities so they get along with cats and children.
One surprising fact about this hybrid dog can look remarkably different even when they are from the same litter. Each Cockapoo puppy in Illinois will typically have a unique size, color, size, temperament, and activity level.
The diversity of the Cockapoo makes it very difficult to give a specific description of the breed. Generally, Cockapoos are about 30 pounds and some have curly hair while others tend to have wavy hair.
With different stripes and markings, the colors of a Cockapoo also vary. Affection and friendliness are two attributes you can always count on with this dog breed.
However, if you are allergic to dogs, the good news is that Cockapoos are known to be hypoallergenic due to the Poodle aspect of their genes. This means that people who are allergic to dogs can live with them with few issues or allergies.
It should be noted, however, that no specific species of dog causes allergies. The main cause of allergy in dogs is dander or dead skin cells. No scientific proof is present that a particular species of dog is more allergic than the other. However, we do know that a Cockapoos coat carries less dander than those dogs who regularly shed.
Conclusion for Cockapoo Breeders in Illinois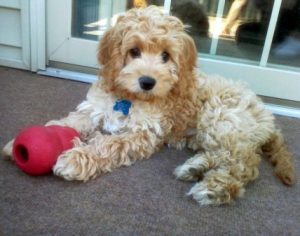 Cockapoo puppies for sale in Illinois have become so popular in recent years. Due to their coats that don't shed and small size, many people prefer a Cockapoo over a Goldendoodle or Labradoodle.
However, it's important to find a Cockapoo breeder in Illinois that you can trust to sell you a happy and healthy puppy. Make sure that you ask any breeder lots of questions to understand what type of puppy you will be receiving.
For other dog guides related to the "Best Cockapoo Breeders in Illinois," check out:
Garrett loves animals and is a huge advocate for all Doodle dog breeds. He owns his own Goldendoodle named Kona. In addition, he volunteers at the Humane Society of Silicon Valley, where he fosters dogs and helps animals. Garrett enjoys writing about Doodles and believes that dogs can teach humans more about how to live than humans can teach a dog.
Why Trust We Love Doodles?
At We Love Doodles, we're a team of writers, veterinarians, and puppy trainers that love dogs. Our team of qualified experts researches and provides reliable information on a wide range of dog topics. Our reviews are based on customer feedback, hands-on testing, and in-depth analysis. We are fully transparent and honest to our community of dog owners and future owners.