With a friendly personality, a moderate amount of energy, and high intelligence, the Cockapoo has become a very popular designer breed. As a mix between a Cocker Spaniel and a Toy or Miniature Poodle, the Cockapoo takes on the best characteristics from both breeds to create an adorable and friendly four-legged friend. With their rise in popularity, you'll see several Cockapoo puppies in Wisconsin.
Whether you've been thinking about a Cockapoo puppy for years or have just developed your fascination with them, finding a reputable Cockapoo breeder in Wisconsin is an important next step in welcoming a furry friend home.
As you search through your options, you may be able to adopt from a rescue shelter, buy from a pet store, or reserve through a breeder. When it comes to you, your family, your budget, and what you're looking for in a puppy, you've got options.
Other articles you will like: Best Dog Food for a Cockapoo and Cockapoo Dog Breed Guide.
Cockapoo Puppies For Sale in Wisconsin
As you search for the right Cockapoo to welcome into your Wisconsin home, you have your choice from different breeders and locations that may have exactly what you're looking for. To help you along with your search, here we share some of the top breeders for Cockapoos in the Wisconsin area. You'll find a brief overview that describes the breeder as well as initial contact information if you're interested in learning more about their adoption process or availability of Cockapoos.
1. Cockapoo of Excellence Wisconsin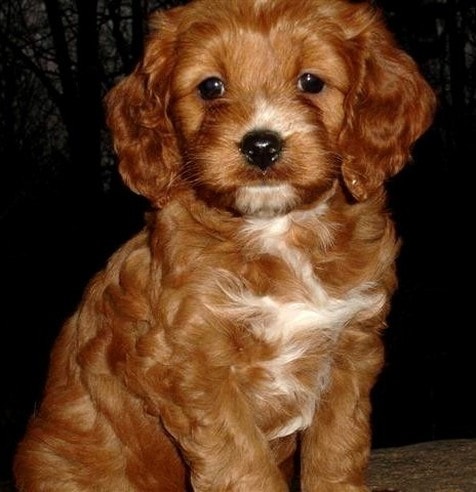 If you're looking for quality Cockapoos with strong health and temperament backgrounds, Cockapoo of Excellence may have what you need. Since 1997, the team here has been raising and caring for puppies and sharing them with happy and welcoming homes. For what it's worth, they are one of the oldest Cockapoo breeders in Wisconsin that we could find.
Their Cockapoo puppies in Wisconsin are all first-generation and have parents that are American Kennel Club (AKC) registered. They emphasize the health and temperament of the dogs that appear in the puppies. The breeder is a member of the American Cockapoo Club, so you can be confident in their dedication to quality and proper breeding practices.
Each Cockapoo puppy for sale comes with a lifetime congenital health guarantee, with a full refund or replacement should a health concern arise. The health care and detailed services are outlined on their website so you know exactly how well your Cockapoo puppy was cared for prior to being welcomed into your home. They focus on a healthy and whole diet that helps puppies grow strong and healthy.
On their website, you can read about their current parent dogs as well as past Cockapoo litters and their stories. You can also see when the next litter is available so that you can plan ahead in adopting. If you're interested in learning more about their availability or want to schedule an appointment, you can email or call them to move forward with your inquiry.
Cockapoo Breeder Information
2. Fox River Cockapoos WI
As a family operation, the team at Fox River Cockapoos are passionate about sharing their puppies with other loving families. Dogs are kept and cared for in their own home, as well as the puppies as they grow and socialize with others. This Cockapoo breeder is located in Trevor, Wisconsin.
Each of the parent Cockapoo dogs is tested in a Paw Print Genetics process that ensures the dog is in good health and status prior to breeding. You can even see the full results of these tests on their website. Also on their website, you can see their availability for current and upcoming Cockapoo puppies in Wisconsin so you can plan when you'd like to secure your puppy.
As puppies transition from this home to another, they come equipped with a full check-up from a licensed veterinarian and appropriate vaccinations. Their Cockapoo puppies are able to be purchased at the 8-week old point in their life.
Placing a deposit prior to then helps confirm your interest in the next available litter. All their Cockapoo puppies for sale in Wisconsin come with a one-year health guarantee that is effective against congenital health concerns.
Families that are interested in purchasing a puppy from Fox River Cockapoos can start with an application submitted online. This brief overview covers key questions about you and your family's lifestyle as they seek to make the right match with your puppy.
From there, you can be put on a waiting list for the next litter. Securing your Cockapoo puppy with a deposit is the easiest way to move forward in purchasing your furry friend.
Cockapoo Breeder Information
Location: Trevor, Wisconsin
Email: kimandglen@wi.rr.com
Phone: 262-716-4002
Website: Fox River Cockapoos
3. Cute Cockapoos Wisconsin

The faces behind Cute Cockapoos in Manawa, Wisconsin, are of a small family that is passionate about puppies. These well-loved Cockapoo puppies are raised alongside their fellow puppies and parents. As they raise their puppies just as if they were their own, you can be confident that those puppies are well cared for before joining your family.
If you're interested in reserving a Cockapoo puppy or getting on their waiting list for these popular dogs, you'll need to submit a deposit. This $300 non-refundable deposit saves your spot and confirms your interest in a puppy.
You can even choose a specific color of the puppy, ranging in coats from dark reds to bold tans to light cream, dark chocolate, bright apricot, and solid black. Keep in mind that their Cockapoo puppies in Wisconsin are sold on a first-come-first-serve basis, so keep that in mind as you make your selections.
When puppies are ready to go home, they come with their relevant vaccinations and deworming procedures. They are also fully examined by a licensed veterinarian and microchipped.
Their Cockapoo puppies can be picked up when they are just 7 weeks old and can be shipped when they are 8 weeks old. Online you can read through their contract and other policies so you know exactly what to expect in bringing home your cute Cockapoo.
Cockapoo Breeder Information
Location: Manawa, Wisconsin
Email: cutecockapoos@gmail.com
Phone: (920) 596-1730
Website: https://cutecockapoos.com/
More Information About Cockapoo Puppies in Wisconsin
As with all other types of hybrid or designer breeds, the Cockapoo comes with a bit of diversity in appearance and temperament. You'll see Cockapoo puppies in Wisconsin with many different coat colors and sizes. This is an important aspect to keep in mind as you shop around for the puppy that most appeals to you.
However, they usually have shared characteristics, such as their high intelligence, which makes them easy to train. They make great companion dogs with a moderate amount of energy and eagerness to be around people. They love to show affection and are considered friendly with both humans and other pets.
Another shared similarity they have with their Poodle parent is their curly and low allergen coat. Although it may be either tightly curled or loose with waves, the Cockapoo's coat is soft and snuggly.
The hair also helps reduce the chance of allergy-related concerns for you and your family if that's an issue. Since a Cockapoo puppy's coat is considered hypoallergenic and nonshedding, you won't have to vacuum around the house as much. However, with a nonshedding coat, you'll need to regularly groom your Cockapoo.
A Cockapoo's small size also enables them to be great fits for small living spaces such as apartments. While they do require regular exercise, they don't need a huge yard to be able to run for hours like a Goldendoodle or Labradoodle.
They come in a variety of coat colors, from bright whites to dark blacks to multi-color. A Cockapoo puppy's size is also limited to weighing between 10 and 30 pounds. This small size also gives them a lifespan that ranges from 14 to 18 years which is longer than the average puppy.
Conclusion for Cockapoo Breeders in Wisconsin
Whether you've been dreaming of having a Cockapoo puppy for years or just consider it to be the right fit for you and your family, these hybrid dogs can be an ideal fit for a variety of lifestyles. Their easygoing temperament and ability to get along well with kids make the Cockapoo one of the most sought after designer dog in Wisconsin.
As you get started in the adoption process, researching Cockapoo breeders in Wisconsin is important to see what kind of availability they have. Ask questions, get to know the breeders who raise the puppies, and be confident in what you can expect in bringing home your own Cockapoo. With the right preparation, you can be one step closer to enjoying life holding a Cockapoo puppy.
Other articles to read:
Garrett loves animals and is a huge advocate for all Doodle dog breeds. He owns his own Goldendoodle named Kona. In addition, he volunteers at the Humane Society of Silicon Valley, where he fosters dogs and helps animals. Garrett enjoys writing about Doodles and believes that dogs can teach humans more about how to live than humans can teach a dog.
Why Trust We Love Doodles?
At We Love Doodles, we're a team of writers, veterinarians, and puppy trainers that love dogs. Our team of qualified experts researches and provides reliable information on a wide range of dog topics. Our reviews are based on customer feedback, hands-on testing, and in-depth analysis. We are fully transparent and honest to our community of dog owners and future owners.