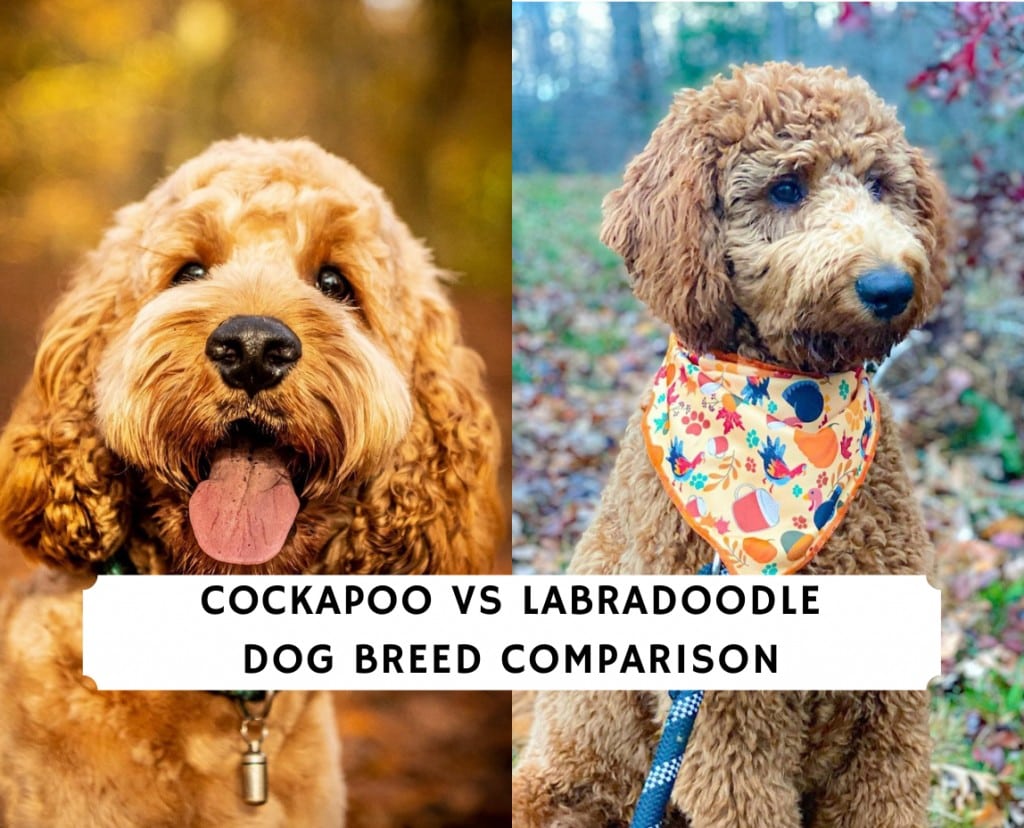 Doodle breeds are wildly popular these days and for good reason. However, it can be overwhelming to understand the difference between all of the doodles and which one is right for your family.
That is why we have put together a guide to define the differences between the Cockapoo vs Labradoodle. These are two of the most popular doodle breeds but they are very different. A Labradoodle could be great for one family but not for all families. The same for the Cockapoo.
This guide will walk you through all of the differences between the Labradoodle and Cockapoo to give you a better idea of which breed would suit your family better. Here's a short summary before we dive into details:
Labradoodles are a lot larger than Cockapoos. Cockapoos could be compared to a mini Labradoodle, but even then the mini Labradoodle would be 5-10 pounds heavier and taller. If you're looking for a smaller Doodle then the Cockapoo is certainly a great choice.
The Cockapoo lives longer than the Labradoodle due to its smaller size.
Labradoodles will require a significant amount of exercise when compared to a Cockapoo. We suggest that you live an active lifestyle for either of these Doodle breeds.
Labradoodles are considered more intelligent than the Cockapoo. However, you will need to mentally stimulate your Labradoodle more or they can be destructive around your house.
Both dog breeds require a significant amount of at-home grooming. This including regular brushing with a slicker brush and comb to prevent mats and tangles. In addition, every 6-12 weeks you will need to take them to a groomer.
Cockapoos are generally considered more hypoallergenic and nonshedding than a Labradoodle. However, it highly depends on the generation and the genetics that these crossbred dogs inherit.
Other articles you will like: Best Dog Food for a Labradoodle and Best Crate for a Labradoodle.
What is the Cockapoo?
A Cockapoo was actually one of the first doodle breeds. It is considered by many old breeders as the original Doodle. This is a popular smaller Doodle breed that is a mix between a Cocker Spaniel and a Miniature Poodle.
A fun fact is that the Australian Labradoodle is a mix between the Cocker Spaniel, Poodle, and Labrador Retriever. Breeders like using the Cocker Spaniel because they have a more uniform nonshedding and hypoallergenic coat.
What is the Labradoodle?
While the Labradoodle is not the first of the Doodle breeds they are still one of the most common and recognizable hybrid dog breeds, only behind the Goldendoodle. This Doodle is a cross between a Labrador Retriever and a Standard Poodle.
The reason that the Labradoodle became so popular is that it is basically a less shedding Labrador. You get the same friendly and active personality without all the shedding and pet allergies. In addition, with a wavy and curly coat, they look like teddy bears!
Cockapoo vs Labradoodle Size: Which is Bigger?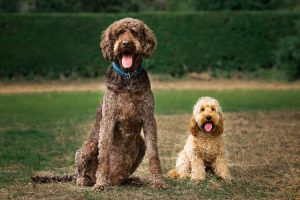 The size difference between the Cockapoo and the Labradoodle is significant. The bigger of the Doodles by far is the Labradoodle. In general, Labradoodles are one of the bigger Doodle breeds as the cross can often be bigger than both of the purebred parents.
However, there are breeders who have started trying to breed smaller Labradoodles. There are three sizes of Labradoodles that common amongst breeders: standard, medium, and mini. Breeders have started to realize that everyone doesn't want a 60 lb lap dog and have changed their programs accordingly.
On the other hand, the Cockapoo is one of the smaller Doodle breeds. As the parents are a Cocker Spaniel, which weighs 15 to 20 lbs full grown, and a Miniature Poodle, the Cockapoo is small. However, the size can vary depending on the size of the parent dogs. However, the Cockapoo usually isn't over 20 lbs full grown but some have been bigger than that. The most comparable Labradoodle would be the mini Labradoodle which weighs less than 35 lbs.
Cockapoo vs Labradoodle Temperament
The Cockapoo is typically a very loving and fun breed of dog. They have tons of energy and need to walk and play every day, even into late adulthood. While the temperament of the Cockapoo is rather stable because they are usually multi-generation dogs, it can still be a little unpredictable. This is true of all of the Doodle breeds.
Because the Cockapoo is very smart, they tend to get bored often. If there isn't enough exercise and mental stimulation then it is a recipe for a destructive dog. This isn't really an issue for most owners as long as the dog is exercised and has adequate playtime. However, if it becomes a problem then it is an easy fix to just exercise them more.
The Cockapoo is generally great with kids and other pets. This can vary especially if you get a puppy from a breeder who is not reputable and doesn't socialize the Cockapoo puppies well. Also, be cautious in rescue situations because you don't know what the Cockapoo has been through. Overall, the Cockapoo is a great family dog.
The Labradoodle does have the traditional Doodle temperament but because the Labradoodle is a cross between a Labrador and a Standard Poodle they can inherit any part of the two breed temperaments. Because both of the parents are incredibly smart hunters and water dogs, the Labradoodle is unbelievably smart. They are also full of energy and need to be walked daily and challenged with play and puzzle toys.
In addition, the Labradoodle is an incredible family dog that does well with children and other animals. It would be wise to remember that there could be a high prey drive that is inherited from the Poodle size so watch them carefully around smaller animals. You can teach them impulse control with proper training so this isn't a problem.
Cockapoo vs Labradoodle: Lifespan
The size difference between the Cockapoo and Labradoodle does play into the lifespan that can be expected from them. Larger dogs naturally have a shorter life expectancy than smaller breeders. A Cockapoo has a general life expectancy of 15 years. However, this does vary from dog to dog. Cockapoos that have been purchased from puppy mills often don't live as long due to poor breeding and health issues.
The Labradoodle does have a shorter life expectancy than the Cockapoo. They generally live to be between 12 and 15 years old. As with the Cockapoo, this can vary depending on different variables. Either way, the commitment is over a decade for these dogs. The decision to add either one of these dogs to your family should not be taken lightly.
Cockapoo vs Labradoodle Health: Are They Prone to Health Conditions?
Generally, crossbred dogs have fewer health concerns than purebred dogs due to a genetic trait called Hybrid Vigor. However, because the Labradoodle or Cockapoo is a mix of two purebred dogs they can inherit some of the same health issues from each parent. Reputable breeders do extensive health and genetic testing before adding a dog to the breeding program in an effort to lower the occurrence of these issues. But even the best testing and breeder can't prevent everything.
Cockapoo Health Issues
Loss of eyesight is an issue for both Cocker Spaniels and Poodles. This is something that can be an issue for a Cockapoo.
Hip dysplasia is a common issue in both breeds. However, a responsible breeder will have the parents checked and OFA certified. This means that the parents will be cleared on this issue which makes it less likely the puppies will have this issue.
Kidney problems are very common with Cocker Spaniels and can show up in the Cockapoo. This is something that can be tested for and avoided for the most part.
Poodles commonly carry a blood clotting disease. This is something to be aware of as they grow. This is a genetic condition that can and should be tested for before a Poodle or Cockapoo is allowed into a breeding program.
Cocker Spaniels are predisposed to glaucoma as they age. This can be true of Cockapoos as well.
Labradoodle Health Issues
Ear Infections are on the top of the list. Labradors and Standard Poodles are both prone to ear infections so proper ear care is essential with a Labradoodle.
Hip and elbow dysplasia are both common in both of the pure breeds. However, reputable breeders do have X-rays taken to rule this out before dogs are added to the breeding program. Often these issues are a result of poor breeding and care of the dogs.
Epilepsy is a common health concern. This is a genetic issue but can be managed well and have little effect on the life span of the dog.
Food allergies are very common for the Labradoodle. If you suspect this may be an issue then talk to your vet about a special diet or even allergy testing to find the specific cause. A change in food can take care of this issue.
Addison's disease is found in both Poodles and Labradors. This is the body's inability to regulate cortisol and manage stress. If the disease is caught early then it can be managed with medication.
Labradoodle vs Cockapoo: Appearance
The Cockapoo is a small dog with a lot of hair. Since both the Poodle and the Cocker Spaniel have quite a bit of hair it stands to reason that the Cockapoo would as well. The hair is sometimes curly and sometimes straight, but always soft. This is a dog that can take on the traits of either the Poodle or the Cocker Spaniel, but often it is a combination of both. The coat coloring is varied depending on the parent's coloring.
Labradoodles are large and sometimes larger than both of their parents. They have an enormous amount of hair that is oftentimes more curly than straight. The colors can vary greatly because of the variety of colors among the Labradors and the Poodles.
Cockapoo vs Labradoodle Grooming
Both of these dog breeds will require a large amount of grooming. If you want things to be more low maintenance then you can shave them down or have your groomer do a low maintenance haircut. However, the fact remains that you will be brushing, washing, and taking the dog for grooming often, regardless of the doodle you add to your home. Grooming can also be expensive. A smaller dog will cost less to have groomed but a Labradoodle can run up and in excess of $100 per grooming session depending on what you have done.
Daily grooming such as brushing is recommended for the Cockapoo and the Labradoodle. If this is not a commitment you can make then you may need to look into a lower maintenance breed. This is one of the major downsides of getting a Doodle dog. On the other hand, you don't have to vacuum or pick up dog hair around the house.
Cockapoo vs Labradoodle: Training
The best feature about the Cockapoo or Labradoodle is how smart they are. These dogs are incredibly intelligent and want to do nothing more than please their owners. This makes training rather easy. That doesn't mean it won't take work, consistency, and time but it will pay off when you have a well-trained Cockapoo or Labradoodle.
Both of these breeds are eager to please but do have a mind of their own. It is best to combine training with a very strict and consistent exercise routine. Making sure your Labradoodle or Cockapoo is well exercised will help the dog focus on the training rather than being distracted by the excess energy they need to burn.
Starting early on training is also recommended. Cockapoo and Labradoodle puppies can be easily molded and trained if consistent. Older Cockapoos and Labradoodles can still be trained but it won't be as easy.
Labradoodle vs Cockapoo: Costs
Being a responsible dog owner is not cheap. There are costs associated with caring for a pet well. Vaccines and veterinarian visits, quality food, training, collars, leashes, treats, beds, kennels, flea, and heartworm control are just a few of the expenses for a healthy dog. When you have a Cockapoo and a Labradoodle you will need to think about things like daily at-home grooming costs and bi-monthly groomer costs.
As long as you get your puppy from a reputable breeder who cares about the health and well-being of the dogs in their care, there shouldn't be anything more than normal pet care costs. However, dog owners should also be prepared for illnesses and injuries. Pet insurance is a great option to offset emergency costs.
Conclusion for Cockapoo vs Labradoodle
Both the Labradoodle or Cockapoo are great options and will be wonderful additions to your family. Remember to always get your puppy from a reputable breeder to get the healthiest puppy possible so you have them for as long as possible. There are also significant differences between the breeds. Most notably, a Labradoodle will be significantly bigger than a Cockapoo. 
Check out these other articles:
Garrett loves animals and is a huge advocate for all Doodle dog breeds. He owns his own Goldendoodle named Kona. In addition, he volunteers at the Humane Society of Silicon Valley, where he fosters dogs and helps animals. Garrett enjoys writing about Doodles and believes that dogs can teach humans more about how to live than humans can teach a dog.
Why Trust We Love Doodles?
At We Love Doodles, we're a team of writers, veterinarians, and puppy trainers that love dogs. Our team of qualified experts researches and provides reliable information on a wide range of dog topics. Our reviews are based on customer feedback, hands-on testing, and in-depth analysis. We are fully transparent and honest to our community of dog owners and future owners.