Cavapoos are adorable and sweet dogs that come from the crossing the Cavalier King Charles Spaniel and Miniature Poodle. Deciding to add one of these small Doodles to your family is a big life-changing decision. If you get a puppy from a reputable breeder then you won't regret it because they will be healthy and happy for many years.
The Cavapoo will be a lovely and friendly companion for the duration of its life. They are also amazing with children if raised properly and socialized early. In addition, they typically don't shed any hair and are considered hypoallergenic.
If you are in Illinois or the surrounding areas and are looking for an ethically bred and raised Cavapoo puppy but don't know where to start, then we can help. We have done quite a bit of research for you to find reputable Cavapoo breeders in Illinois and nearby surrounding states. We've done a lot of the research for you so you will be on the right track to adding a healthy and happy puppy to your family.
Even though we have done the research and don't believe that any of the Cavapoo breeders on our list are puppy mills, you will need to research on your own and request a visit. Visiting the facilities yourself will be the only way of making sure you are not purchasing a puppy from a puppy mill. Breeding practices change all the time, so we suggest you do some due diligence.
Other articles you will like: Cavapoo Rescues for Adoption and Cavapoo vs Goldendoodle.
1. Creekside Puppy Adoptions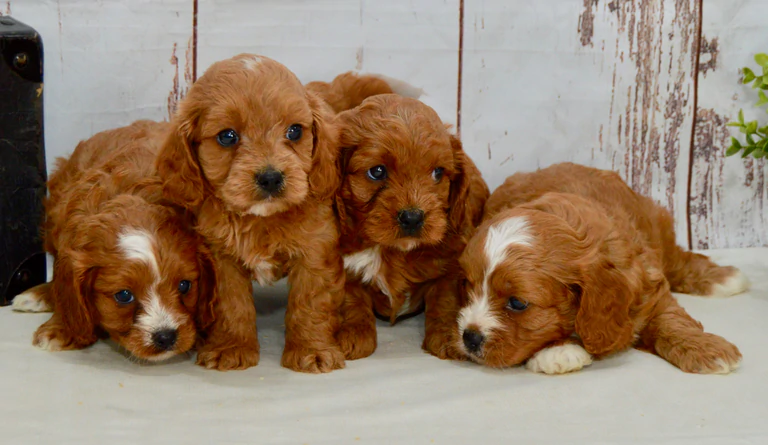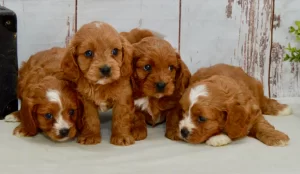 Creekside Puppy Adoptions is the #1 breeder on our list of Cavapoo breeders in Illinois. They are a family of breeders that are located in Arcola, Illinois, that specializes in doodles including the Cavapoo. Additionally, their philosophy is to provide customers with the healthiest puppies and outstanding customer service.
In order to guarantee some of the healthiest puppies in Illinois, they give you a free 2-year warranty on all their Cavapoo puppies. From birth, their puppies are also socialized to various sounds and sights. They are also handled by humans which helps desensitize them and prepare them for the real world. Additionally, at 5 weeks old, each of their Cavapoo puppies will receive a microchip. Before they leave for a forever home, they will also be health checked by a veterinarian and have all age-appropriate vaccinations.
To reserve one of their Cavapoos, a $200 deposit is required. Additionally, you can visit your puppy at their breeder facilities in Arcola, Illinois, or you can have a FaceTime with your future puppy. You can either have your Cavapoo puppy delivered locally or pick it up. We suggest that you check out Creekside Puppy Adoptions if you're looking for a Cavapoo breeder in Illinois.
Cavapoo Breeder Information
Premier Pups sells small-breed puppies from dependable Cavapoo breeders in the USA. They deal with three categories of puppies: designer, purebred, and doodles.
Premier Pups socializes all their puppies at their facility in Ohio so that puppies can play together and develop social skills. Plus, each puppy you buy is nurtured and held close by the on-site staff so that they develop the right temperament to suit families with kids and the elderly.
The team goes out of its way to work with Cavapoo breeders who value quality, care, and accountability in their methods. They also make sure you get a puppy from a USDA-certified breeder. You can also inquire about the puppy's parents and FaceTime it before making a purchase.
With a 10-year health guarantee, you are covered by Premier Pups if your puppy shows genetic defects after it's 8 weeks old and is already residing with you. If you're looking for a lower-cost Cavapoo puppy from a reputable breeder, we highly suggest that you check out Premier Pups. They can ship anywhere in the United States.
Update: Premier Pups is giving We Love Doodles readers $250 off a Cavapoo with code WLD250.
Cavapoo Breeder Information
3. Golden Valley Cavapoo Puppies
Golden Valley Cavapoos specializes in breeding healthy, friendly, and genetically sound Cavapoo puppies that will be a welcome addition to any family. While they aren't located in Illinois, they are right across the river in Oakville, Iowa.
They are only about two hours from Peoria, Illinois. They made our list not only because of the location but also because of the quality of their Cavapoo puppies and their commitment to the breed.
As a family with four young children, it is an all hands on deck operation and each child has their own job when it comes to raising their Cavapoo puppies and caring for the moms and dads. Because of the interaction, the puppies get on a daily basis from children of different ages, you are guaranteed to have a Cavapoo puppy that loves children. Socialization won't be a problem when buying a puppy from this breeder.
Cavapoo puppies from Golden Valley come in two different sizes: mini and standard size. The mini Cavapoos are $4,000 while the standard Cavapoos are $3,500. There is a deposit required of $250.
However, since they are a small Cavapoo breeder and only have a few litters a year, it can take a while to get a puppy. In fact, their waiting list is currently closed to new applicants.
If you are set on getting a Golden Valley Cavapoo, keep an eye on their website and Facebook page for when the applications will open back up. It is always a good sign when a Cavapoo breeder has a waiting list and takes the initiative to close it if the list gets too long. This means they are being very selective with breeding and placements.
Cavapoo Breeder Information
4. DreamCatcher Hill Cavapoos Illinois
DreamCatcher Hill is a large farm in Brighton, Illinois. They have several different breeds of dogs that are on the farm including Cavapoos. While at first glance this may seem like a puppy mill, but it is not. This is an extended family operation and as each person likes a different breed of dog, the operation has grown significantly.
Cavapoo puppies in Illinois are one of the breeds that they love to breed and care for on the farm. With this being a family operation there are plenty of hands to make sure the Cavapoo puppies have the care and attention they need to be socialized well, healthy, and ready for their new homes.
The DreamCatcher Hill farm has many different services that they offer other than adorable and healthy Cavapoo puppies to deserving families. One of the services offered by this dedicated family is pet sitting and boarding. If you live in the area and need someone to care for your pet while you are away, DreamCatcher Hill can help you out.
This is a service that is offered by some breeders but is often limited to puppies and dogs that were purchased from them. DreamCatcher offers the services, when there are space and availability, to anyone in the area. It doesn't matter where the animal can come from.
They also have a transportation service. This isn't always available due to time so make sure you plan well in advance if you need a large animal transported. In addition, Cavapoo puppies purchased from DreamCatcher can be shipped but this does add to the overall cost of the puppy.
It is always better to pick your puppy up in person but shipping can be done safely. Their Cavapoo puppies for sale in Illinois are around $1600 depending on coat coloring. The best way to reserve one of their Cavapoo puppies in Illinois is to contact them and have a conversation about what type of dog you want and why. They will help you get on the right track. They do encourage visits if you are in the area.
Cavapoo Breeder Information
5. Hillview Cavapoo Puppies Illinois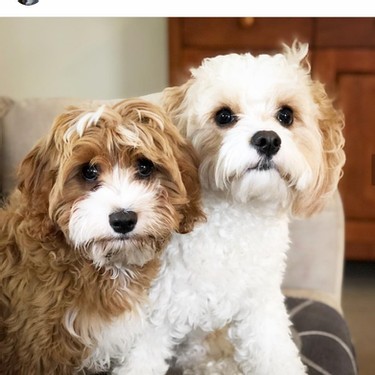 Hillview Puppies have a long history of breeding Cavapoo and Shih Poo puppies. This is a multi-generational breeding operation that focuses solely on these two designer Doodle breeds. There are times when they have some purebred puppies available, but that isn't often. They have been placing Cavapoo puppies in Illinois for 60 years and have no plans of slowing down.
This is a private residence, but they do encourage and offer visits. They are by appointment only and there will be no visits on Sundays. This is time for family and a rest day from their business. There is a waiting list for Hillview Puppies that you can be on if you decide they are the right Cavapoo breeder in Illinois for you.
Prospective owners can get on a list to be notified of upcoming litters of their chosen breed. The notification list doesn't require a deposit but if you decide to be placed on the official waiting list then you will need to place a $100 deposit to secure your place in line. This is a non-refundable deposit.
Hillview doesn't currently have any Cavapoo puppies for sale in Illinois, but they are starting a waiting list for 2021 right now. If you are interested in having a puppy from this breeder you will need to contact them.
This is the best way to get on the list and find out when the planned breedings will happen. The timing is an important factor to consider when choosing a breeder. It is not unusual to wait for at least 6 months with any reputable breeder and Hillview is no different.
Hillview has raving reviews and often they get repeat customers. When Cavapoo breeders have repeat customers it speaks to the health and temperament of their puppies as well as how they treat the new owners.
Cavapoo Breeder Information
6. Windy Acres Illinois
Windy Acres is a different type of puppy adoption business. The owners of Windy Acres are the Mast family from Atwood, Illinois. They are members of a wonderful and supportive community and wanted to help other local family breeders while also making extra money for their young family. That is when the partnership of Windy Acres began.
They only partner with Cavapoo breeders in Illinois who agree to follow very strict health, genetic, nutrition, and socialization standards. All of the dogs, whether adults or puppies are to be treated like family. This is something they do not see as negotiable.
They appear, at first, to be a puppy mill because they have so many different breeds of dogs available. However, that is not the case with Windy Acres. Most of the breeds come from different breeding operations. They don't all live together and some of the dog breeders even use guardian families.
Cavapoos are one of the breeds available through the breeders. However, their Cavapoo breeder in Illinois is small and only has a few litters a year. You will need to join the waiting list and place a deposit to make sure you get one in the next six months to a year.
The best way to get more information is to contact Windy Acres to discuss all of the details. You can also arrange a visit with the Cavapoo breeder which we always recommend.
Cavapoo Breeder Information
Conclusion for Cavapoo Breeders in Illinois
Cavapoos are an up-and-coming Doodle dog breed. They are smaller than the Labradoodle and Goldendoodle with a similar temperament. In addition to their hypoallergenic and nonshedding coat, they have fluffy hair that makes them look like a teddy bear. It's no surprise that you'll find a lot of Cavapoo breeders in Illinois. However, it's important not to choose a puppy mill or backyard breeder to ensure that you get a healthy puppy.
Check out these other articles: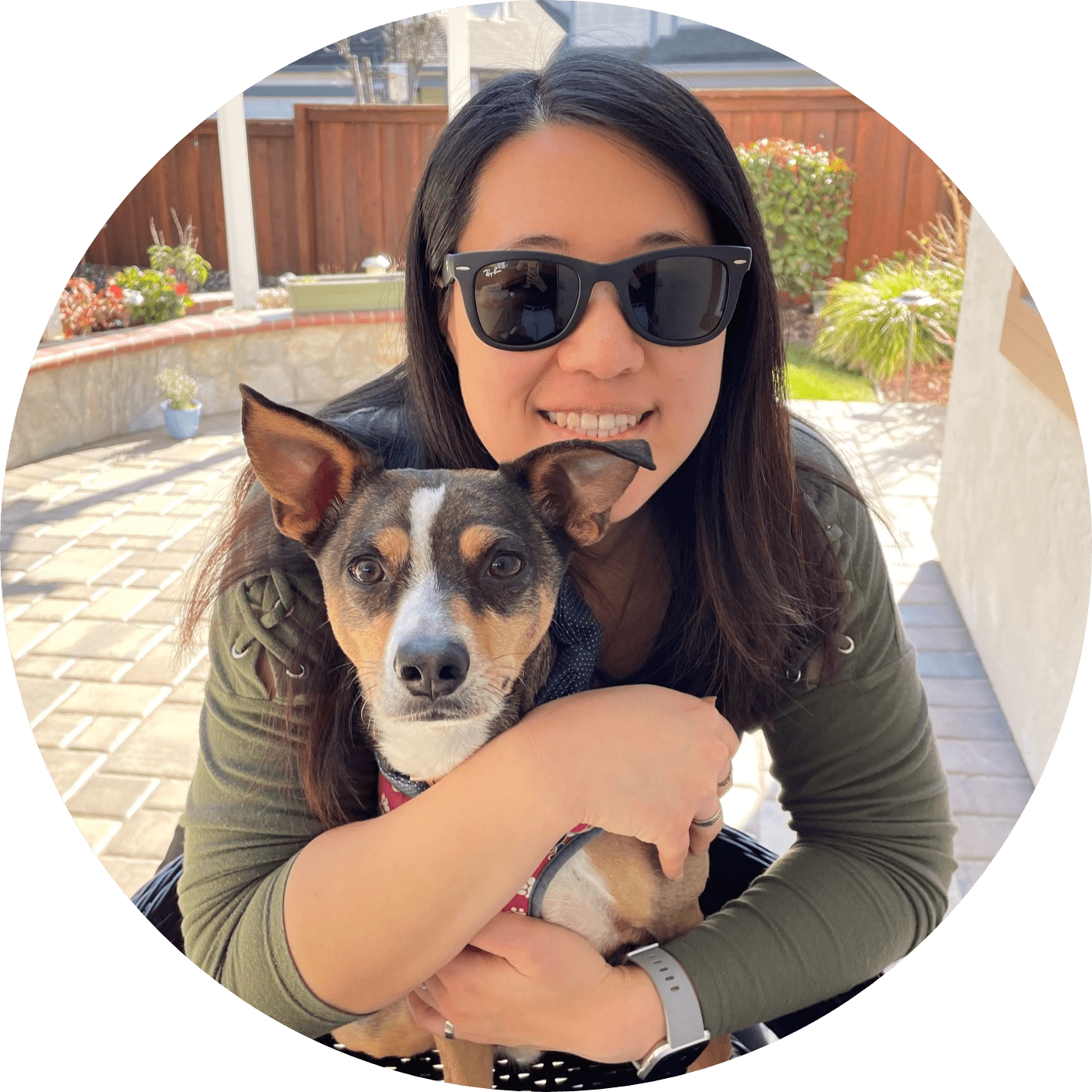 Dr. Sabrina Kong graduated from the Royal Veterinary College in England in 2016 and has been working at a small animal clinic in Northern California since then. She grew up in the Bay Area and got her bachelor's degree from Cal Poly San Luis Obispo. She also became a Certified Canine Rehabilitation Practitioner through a program at the University of Tennessee.
When she isn't in the clinic taking care of her four-legged patients, she enjoys traveling and trying new foods with her friends and her three-legged dog, Apollo. She adopted Apollo from her clinic when he was a puppy with numerous health issues. Dr. Kong truly cares about taking care of animals.