Sorry, cat lovers, but dogs rule the internet. Some people may think that celebrating your dog's birthday is a little wacky, but since your dog is part of the family, it only makes sense that they get their own special day.
When it's your dog's birthday, the world needs to know! Social media dog birthday posts can be fun to make on your dog's birthday. It's an excellent chance to show your dog's personality and express your appreciation for your furry best friend.
We've selected some of the best birthday wishes to your dog that you can use when you make dog birthday posts on social media. These dog birthday captions are the perfect way to show off your dog and appreciate them publicly.
Let's dive straight into some dog birthday captions, including 1st birthday captions, classic captions, funny captions, dog-related quotes, and Instagram-able captions!
Dog's First Birthday Captions
A dog's first birthday is a huge milestone. The American Kennel Club explains that an average-sized dog develops so much in their first year that it equals 15 human years. Luckily, the second year is like nine human years, and every year thereafter is more like five human years.
Social media captions for a dog's first birthday can play off the idea that your dog is a teenager now or that this whole birthday thing is something new and exciting. Any way you celebrate is going to be special for your puppy, so live it up!
Here are some ideas for dog birthday captions for your dog's first birthday:
12 months old. 15 people years old. 365 days of wiggle butting. Let's pawty!
My first dog year is like 15 people years. Does that mean I get 15 cakes?
This is my first time having a birthday. Am I doing it right?
My 1st birthday was the best!
Happy 1st bark-day to me!
It may be "Twos-day," but today I turned one.
The 1st birthday is such a big event in the life of such a little dog.
She's one in dog years but 15 in human years. Teenager in the house!
This is the first time they celebrated my birthday in 15 years.
Classic Dog Birthday Messages
When you're wishing your dog a happy birthday on social media, there are lots of ways you can mark it. Here are some classic dog birthday messages for social media that are perfect birthday wishes to your dog on their special day:
Happy rescue day!
Happy bark-day to you!
Happy birthday to my furry best friend.
I hope your birthday is just like you – paw-some!
It's your birthday. Let's raise the woof!
The world needs less barking and more tail wagging – but since it's your birthday, you can do both.
Life's journey is sweeter when traveling it with a dog.
Have a re-bark-able birthday!
Treat yourself to all the fun you can fetch.
Birthdays are for bringing out the best treats.
Fur-ever young.
Dogs make birthdays wonder-fur-l.
Have a paw-sitively happy birthday!
Hope your day is zoomie-worthy!
Happy birthday to the best Good Boy in the whole world!
Happy birthday to my four-pawed pal.
Wishing my best friend a paw-some birthday.
I hope you have a day filled with lots of fun, tasty treats, and loads of playtime.
Some dogs know tricks, but you know how to touch my heart. Happy birthday.
Every 52 days is a year in a dog's life. Take long walks, enjoy cuddles, and give lots of treats!
Have a bow wow time. Happy birthday.
Happy birthday to Yowuuuuuu!
Happy arfday!
Funny Dog Birthday Messages
If you're the type of person who goes straight to the Shoebox Greetings sections for greeting cards, you'll probably want to mark your dog's birthday on social media with a funny greeting.
Dogs can bring a lot of happiness and silliness to our lives, so giving them a funny dog birthday message on social media is entirely appropriate. Pick one of the following funny messages to give your followers a laugh.
You remembered my birthday? *Gasp*
I was going to fetch you a gift, but then I said, "Oh, fur-get about it."
Birthdays are for breaking out the treats that make you drool a little!
Wag your tail if you're having a happy birthday. I thought so.
I hope there's bacon in that birthday cake.
Thanks for being so funny on your birthday. The guests all enjoyed the performance.
I don't know what I did to deserve all these treats, but I'm willing to give a repeat performance tomorrow.
Happy birthday to a friend that's just as happy to lick me on my birthday as his.
Happy birthday, you filthy animal.
Two things: 1) Happy birthday! 2) I don't know anything about the poop in the kitchen.
I just wanted to wish you a happ… Squirrel!
Happy birthday to my favorite child: my dog.
I've been waiting a whole year for a birthday cake. In dog years, that's a long time!
Forget about the past; you can't change it. Forget about the future; you can't predict it. Forget about the present; I didn't get you one!
What happens when nobody comes to your birthday party? You can have your cake and eat it, too!
Birthday cake? No, I didn't see any birthday cake.
Birthday? Whose birthday? It's MY birthday? Yaaaaay!
Roses are grey. Violets are grey. Have a happy birthday.
Why did you get me all grey and black balloons?
Why wait 'til the candles go out? Happy birthday!
It's my party, and the cat's not invited.
Dog Birthday Quotes
Sometimes it can be hard to contain all the feelings we have about our dog in a single sentence. Luckily, we have eloquent quotes that put all our love for our furry friends into words for us.
When you caption your dog's birthday photo on social media, consider letting the world know how you feel with one of these dog birthday quotes:
"Dogs are not our whole life, but they make our lives whole." – Roger Caras
"If I could be half the person my dog is, I'd be twice the human I am." – Charles Yu
"A dog is the only thing on earth that loves you more than he loves himself." – Josh Billings
"Why does watching a dog be a dog fill one with happiness?" Jonathan Safran Foer
"Dogs are our link to paradise." – Milan Kunundra
"Dogs do speak, but only to those who know how to listen." – Orhan Pamuk
"The greatest pleasure of a dog is that you may make a fool of yourself with him and not only will he not scold you, but he will make a fool of himself, too." – Samuel Butler
"Dogs are the magicians of the universe." – Clarissa Pinkola Estes
"Everything I know, I learned from dogs." – Nora Roberts
Dog Birthday Instagram Captions
If your dog is Insta-famous (or has aspirations of internet fame), staged birthday photos with cake, balloons, and party hats are a must. Here are some sassy and silly dog birthday Instagram captions for dogs enjoying their special day:
I'm just here for the paw-ty!
Ready for my birthday selfie!
Paw-ty time!
Keep calm and paw-ty on!
Birthday bliss.
Birthday cake coma.
If you're happy and it's your birthday, wag your tail.
My therapist is having a birthday today!
Do I get to get on the couch since it's my birthday?
Birthday hat. So embarrassing. Can eat?
Another year with my favorite human. I love birthdays.
My dog sure knows how to celebrate a birthday.
Birthday cuteness overload.
It's my birthday, mother-puppers!
It's my birthday. Can I get a little woof woof?
Don't fur-get my birthday!
The original party animal.
It's my party, and I'll bark if I want to.
Let them eat cake!
Happy [Dog's Name] day!
I'm wishing for lots of treats and belly rubs.
Party pooch!
Birthday queen!
Birthday king!
Time for my birthday hat photoshoot!
I can has burfday cake naow?
Happy berfdaay!
I have no idea what "happy birthday" means, but I love it!
Place all birthday treats here.
I just wanted to eat, but you lit my food on fire.
I made a wish for more treats, belly rubs, long walks, and catching squirrels.
Oh, guys, you shouldn't have!
Weird hat and food on fire day.
This my happy burfday face.
My face when I'm trying to eat my birthday meal in peace, and I see the clapping waiters coming towards me.
Me: I hate attention. Me on my birthday:
Maybe I'll get some food at that campfire. What's the worst that could happen? 1000 years later:
Omgosh! A yum slice! So heckin' happy!
When all you want is cake, but you have to wait for your family to finish the birthday song first.
Happy birthday. Try to contain your excitement.
This is my happy birthday face.
When you're supposed to have a happy birthday, but all you can think about is global warming.
You really gonna scroll by without saying happy birthday?
What is the best way to caption your photos? You can be old school and say something like, "Who let the dogs out?" Or you can simply say, "A huge thank you to all of Fluffy's buddies who came out to play! #FluffysFifth #MansBestFriend #DogsFurever," or something of that nature.
When you're creating hashtags, think of what you want the picture you're posting to represent. If you want the post to appear when people are looking at birthday parties for dogs, then you must include a hashtag that features "dog birthday" in some way.
For example, underneath a photo of your dog cheekily smiling at the camera, you can write, "Dogs can have birthdays too! #dogbirthday #dogbirthdaycelebration #dogbirthdaycake."
All of these hashtags, while a bit on the nose, will show up in feeds of those who follow dog birthday parties. This will increase the possibility of your photo showing up in others' feeds and more people will be able to view it.
You may want to use your photos as memes for dog birthday posts. For example, "My child's first birthday," and the picture shows your dog's first birthday with a gorgeous happy face with a birthday treat.
You can also go the heartfelt route of simply spoiling your precious dog. You can caption your photos with an appreciation post for how happy your dog makes you. For example, "It's Norman's birthday! I just want to make you as happy on your special day as you make me every day. Love you, Norman!" This is a great example of an all-around feel-good dog birthday quote.
Another example could be a dog birthday quote like, "Hope you had a pawsome birthday, Nellie!" When it comes to pets, puns are widely available. We roll our eyes at hearing puns, but everyone has a secret soft spot for such obvious attempts at clever humor.
Celebrating Your Dog's Birthday
If you have adopted a rescue pup, you may not know her actual birthday, but celebrating the day that they came into your life can be a great way to send birthday wishes to your dog and to make her feel special.
You can't have social media posts and captions without the subject itself, so you'll need to have adorable pictures of your furry friend to make captions pop. The best way to get the most photos is to have a birthday party for your canine counterpart. You can make invites for your friends who have dogs and those in your life who love your best friend as much as you do.
Party Planning
When the big day comes, make sure you have plenty of space for your dog and her guests. It's best to have the party outside in a fenced-in area, but this is only possible if weather and circumstance permit.
If you don't have an outside space available, maybe you have a friend, family member, or neighbor who wouldn't mind their space being used as your dog's birthday bash venue – please make sure you have respect for their yard and clean up any messes!
Why should you invite other canines to your dog's special day? One reason is that your dog can make new friends and be reunited with old favorites. It helps to socialize them, and they can get a lot of pent-up energy out in one day.
After the party, your dog will be happily snoozing away. Another reason dog friends are key is that a group of dogs playing together makes for excellent photo ops to caption.
If your dog's birthday celebration falls during the summer months, you can make him sweet frozen treats to enjoy—these also make for great photo ops! Dogs can eat bananas and they love peanut butter; a frozen banana peanut butter treat would make their day extra special.
Another dog-friendly meal idea is making a chicken and rice dish with some added vegetables. Skip the onion, garlic, and other dog-unfriendly ingredients!
This is a nutrient-rich dish that will energize the party guests and fill them up as well. You can offer treats in small quantities, such as little cups of whipped cream, strawberries, or even tiny bits of steak, all in moderation, of course.
Once you have the venue and the food for the furry guests figured out, now you can start to plan what the party will look like. Will it have a theme? Your dog could have a pirate-themed birthday party, or perhaps a superhero party. Mermaid dogs, anyone? What about dogs with unicorn horns? Your imagination is the limit when it comes to the theme of your dog's big day.
Don't forget the party hats and props! What is cuter than a dog wearing a party hat smiling over a special treat? You can also spruce up the surroundings with dog-themed décor, such as balloons and even a banner with your dog's name on it. Dogs feed off human energy, so if you are excited and the atmosphere is cheery, then your dog will be as well.
If you'd rather keep it simple, you can purchase decorations in happy colors and leave them at that. After all, the focus is your precious pup—he is the star of the show.
As long as your puppy is happy (and let's be honest; it doesn't take a huge effort to make a dog happy) and her guests are enjoying themselves, the party will be a success. And that should give you more photos to choose from than you can post!
What are some dog-friendly activities for your party? You can provide kiddie pools for the pups to splash around in! A great caption would be, "Here is Bella splashing into her second year with us! #HappyPupper #BirthdayGirl #GoldenRetrieverLove." You can also have several sprinklers for the pups to run and jump through.
You can also provide plenty of toys for your guests. Frisbees, tennis balls, ropes, and squeaker toys are all excellent options. Be careful of sticks—they can splinter off in a dog's mouth and cause choking or another injury. It's best to stick with rubber toys.
Check out for more: Best Dog Bakery in NYC -Top Picks and How To Deworm a Puppy Naturally
Taking Photos
Now that you've got the perfect party setup for your pup, let the photography begin! You can have some photos where you pose with your pup, and then you can let your pup take the spotlight. Posed pictures are an absolute must to show off your dog's model status, but action shots are also fun!
If you snap a pic of a group of excited dogs jumping in and out of kiddie pools, eating delicious treats, and enjoying each other's company, these are sure to be beautiful mementos and gain a lot of attention on social media.
Make sure your pictures are in focus, and you may want to utilize portrait mode on your device. Portrait mode ensures that the star of your photo is in dramatic focus and that the background of the photo is artfully blurred.
Party with a Purpose
If you purchased your dog from a breeder or if you know your fur baby's mom's human parents, chances are that you know your dog's actual birthday.
You can celebrate the day on the bona fide occasion that your dog graced the earth with his or her presence. However, if you adopted a rescue dog (or a dog adopted you as part of their family), you probably won't know the day or even the year your dog was born.
A dog's birthday, regardless of whether it's based on the actual day of birth or another date, such as the day you adopted your puppy, is a priceless opportunity to speak up for dogs who have yet to find forever families.
You can use your social media presence and photography skills to caption your dog's birthday photographs with meaningful messages promoting uniting dogs with loving families. For example, "Today is a celebration of when we welcomed Milo into our home and our hearts.
Milo wants to say that you should take this opportunity to visit the dogs waiting for homes at your local animal shelter. They only have love to give! We don't know who rescued them in this situation. Here's to Milo and many more 'birthday' celebrations together! #AdoptDontShop #RescuedIsMyFavoriteBreed #AnimalShelter #ShelterDogs."
Conclusion for Dog Birthday Captions for Social Media
Remember, use your creativity, and use the relationship you have with your dog for inspiration! If you want to create funny dog birthday messages, if you want to promote animal welfare, or if you just want to remember your dog's special day, hopefully, these tips were helpful to you.
You will also like: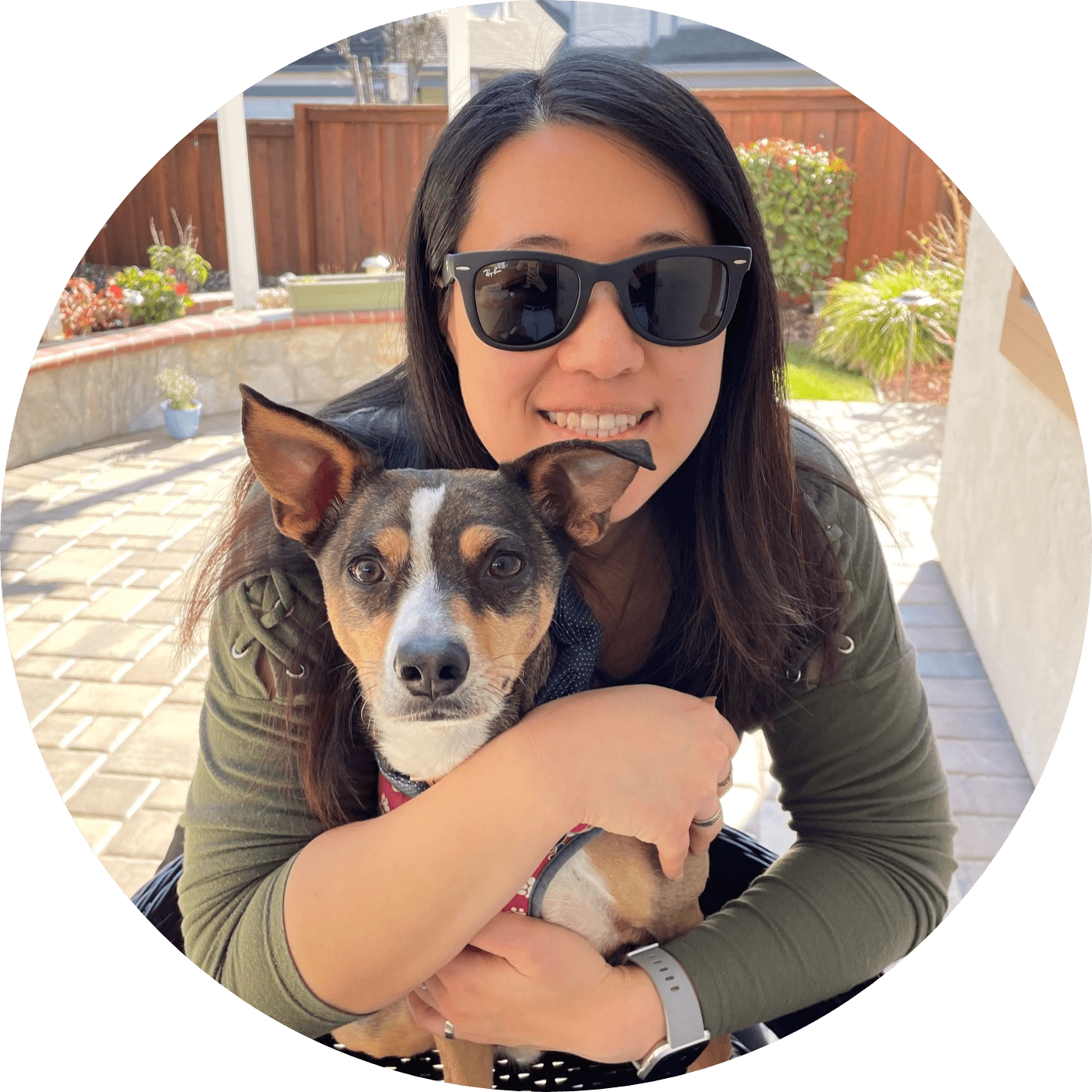 Dr. Sabrina Kong graduated from the Royal Veterinary College in England in 2016 and has been working at a small animal clinic in Northern California since then. She grew up in the Bay Area and got her bachelor's degree from Cal Poly San Luis Obispo. She also became a Certified Canine Rehabilitation Practitioner through a program at the University of Tennessee.
When she isn't in the clinic taking care of her four-legged patients, she enjoys traveling and trying new foods with her friends and her three-legged dog, Apollo. She adopted Apollo from her clinic when he was a puppy with numerous health issues. Dr. Kong truly cares about taking care of animals.