Do Cockapoos bark a lot after you bring them home? You're here because you've developed an interest in raising this cute teddy-bear sized dog but you're worried about the barking. Like everyone else, we worry about annoying our housemates or neighbors. We worry about not waking up on time for work or school because you're a light sleeper. If it mainly affects you, then bringing home a Cockapoo is probably not the right decision. The short answer is yes, Cockapoos tend to bark a lot for a variety of reasons. In this article will tell you why they back and how you can effectively train them.
When you're raising a Cockapoo, you're taking on the challenges and responsibilities of caring for it. Your responsibilities include feeding, grooming, teaching, exercising, and providing the unconditional love your Cockapoo deserves. By being patient and training your Cockapoo, your companion will learn to behave as time goes on. At first, you'll have to cope with its behavior but patience will shape your Cockapoo into a better companion.
Mixed between the Cocker Spaniel and the Poodle, the Cockapoo is known to be quite intelligent with an adorable appearance making them irresistible. Cockapoos come in a variety of colors and many generations such as F1, F1B, F1BB, F2, and F2B. Depending on certain situations, Cockapoos will bark until you train them not to. Training them not to bark can be difficult for anyone because it's instinctive after all.
Before bringing home your Cockapoo companion, you should expect them to bark for many reasons such as excitement, seeking attention, seeking food, boredom, scared, feeling territorial, feeling pain, or possibly dealing with dementia as they become older. For bad barking behaviors, you could teach your Cockapoo to react properly in certain situations. In this guide "Do Cockapoos Bark a Lot," we'll go over the reasons and solutions for this Doodle's barking behavior.
Before you scroll down, check out these guides to ease your process of raising a Cockapoo:
8 Reasons Why Cockapoos Bark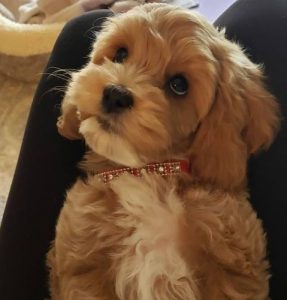 Throughout history, the Cockapoo's ancestors have the ability to understand words and commands. It's believed that dogs could learn up to 1,000 words if they're trained correctly. Like how birds chirp and humans talk, Cockapoos use nonverbal cues to interact with their surroundings. This is one of the reasons why training a Cockapoo or any dog not to bark can be difficult for beginners and experts. When your Cockapoo barks, it's trying to express its feelings. At times, it'll be difficult for dog owners to understand, which is why we have to observe their body language. In this section, you'll learn the many reasons why your Cockapoo barks.
1. Excitement
If you've never raised or lived with a dog before, then you should know that they will sometimes bark because of excitement. I'll share with you one of my personal experiences with my poodle. After being away from home for a while, my poodle will come running to me barking out of pure excitement by the time I return home.
She'll spin around in circles, jump on me, and constantly bark. Another perfect example is taking her out for walks. The moment I picked up her leash, she'll bark at me knowing that she gets to go outside. Yes, these are barks out of pure excitement. Most dogs react this way when they're excited. 
2. Seeking For Attention
The level of a dog wanting attention depends on its age and breed. As for Cockapoos, they love to socialize, which means that they're constantly craving the attention of their peers around them. Since you have a Cockapoo, try to give them as much attention as possible. If you're living at home with family, friends, or other pets – then it'll be perfect because there are more people for your Cockapoo to interact with. When your Cockapoo is seeking attention, it'll likely bark with calm body language.
3. Experiencing Boredom
When humans get bored, we try to find distractions or talk to other human beings. This also applies to Cockapoos! For instance, when a Cockapoo gets bored, it'll try to engage with its surroundings. Sometimes, it'll bark at certain things for attention. If a Cockapoo is dealing with boredom, try to find something for it to do.
If they're not physically or mentally stimulated, it could lead to other unnecessary problems in your home. After all, Cockapoos need to release their energy somewhere. You can tell your Cockapoo is bored if it brings an item to you such as a fetching ball or other items. Throughout the dog community, it's suggested that dog owners should take their companion out for exercise at least once per day.
4. Territorial
For generations, dogs are known to be territorial animals. One of the reasons a Cockapoo will bark is to defend itself. When you invite strangers to your home, there's a chance that your Cockapoo will bark. Whether it's your friend or another animal strolling through your neighborhood, your Cockapoo will find ways to get strangers away from its 'territory.' One way to tell if your companion is being territorial is by listening to how it barks. If your Cockapoo is growling and barking at the same time, then it's a sign of the dog being territorial. 
5. Feeling Pain
When your Cockapoo is dealing with pain, chances are – it'll bark. By barking due to pain, your Cockapoo is trying to communicate with its pack to come help. It wants you to come and help remove the pain it's experiencing. These types of barks are generally easy to distinguish. Many families with children hear this type of bark when their dog accidentally gets hit or stepped on (let's hope that doesn't happen to your Cockapoo!). If this problem does occur in your household and you notice something isn't right, take your Cockapoo to the veterinarian as soon as possible before it leads to bigger problems.
6. Getting Surprised
If you've seen scare prank videos of people's reactions, then it's safe to assume that Cockapoos are the same way. Generally, they'll bark once and then multiple more barks after. Whether it's a surprise or a scare, your Cockapoo will react with its barks. A personal experience of mine with my poodle occurred several months ago. My poodle was walking around the kitchen and wasn't paying much attention. When I walked in, she panicked and started barking. Her reaction was definitely priceless! Unfortunately, it's impossible to train your Cockapoo to not bark after a scare. After all, it's their reaction and not any bad barking habits.
7. Dementia at an Old Age
To me, this is one of the saddest on the list but it's reality. When Cockapoos or any dog breeds get older, they could be suffering from dementia. One example is when a dog is barking at nothingness. Usually, this is a sign of cognitive dysfunction that could occur in older dogs. When your Cockapoo becomes old, pay attention to its barks. If you notice that your Cockapoo is barking for unknown reasons, then bring your companion to the veterinarian to have it checked out.
7. Barking in its Sleep
When your Cockapoo is sleeping, sometimes it'll bark. Your dog could be dreaming or having some sort of nightmare. If you want to wake up your dog from this, try to stay as cautious as possible. Imagine you're half asleep and you experience the feeling of "falling," you immediately jump up and react because it felt real. If your Cockapoo is having a nightmare, it could accidentally bite you. 
How To Stop Your Cockapoo From Barking
If your Cockapoo has a bad habit of constantly barking, there are solutions for you to prevent this. It'll require training but it's possible to shape and reduce the annoying barking habits of your future Cockapoo. In this section, you'll learn the tricks and methods to prevent your dog from barking too much. Several tips you should keep in mind when training your Cockapoo not to bark:
If your Cockapoo is barking, don't scream at it to be quiet.

By doing this, your Cockapoo will think that you're 'barking' along with it.

When training your Cockapoo, try to stay positive.

You want to reward your Cockapoo for being good. Studies show that punishing a dog for bad behaviors isn't as effective as rewarding for good behaviors.

Try not to cause any confusion for your Cockapoo.

If you live with other people under the same roof, explain to them what you're trying to do. Tell them about your training methods and what actions to take when your Cockapoo is barking inappropriately.
With these Cockapoo training tips in mind, we'll go over four tactics for you to control your barking dog.
1. Find Your Cockapoo's Motive For Barking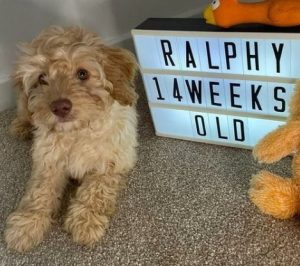 When your Cockapoo is barking, there's usually a motive. Cockapoos bark because they expect a reward or a reaction. To find your Cockapoo's motive for barking, try to observe its behavior. Pay attention to what it's barking at. If your companion is inside of your home barking out of the window, it's likely because of a passerby or other animals nearby. You can control it by covering the curtains.
2. Ignore Your Cockapoo's Barking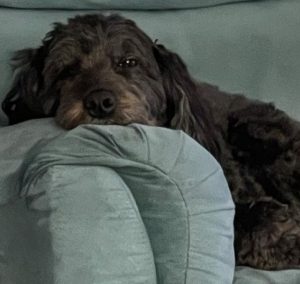 Your Cockapoo could be parking to get your attention. The best way to deal with this situation is to ignore your Cockapoo until it stops barking. By doing this, your dog will stop barking because it knows there will be no reaction from you. This process could be difficult because they can bark for hours. If you pay attention to them or give them anything when they bark, it'll continue to bark for the same rewards. Like all dogs, you have to be patient with them. It'll be frustrating at first but once that barking habit is gone, you won't have to worry as much. Below are several tips to deal with your Cockapoo barking problem:
If you leave your Cockapoo in a dog crate, simply ignore them if they bark.

When you notice that your Cockapoo stops barking, you can reward it with a treat.

They won't understand it at first, so reward them small. If they stopped barking for a few seconds, reward your Cockapoo so it'll understand.
3. Give Commands To Your Cockapoo
If your Cockapoo barks, you can teach it commands that'll reduce the likelihood of barking. At times, when my poodle barks, I would tell her to go to her bed. If it doesn't work out, I would throw a treat on her bed. Every time your Cockapoo behaves, reward it. You shouldn't be punishing your Cockapoo for bad behaviors but reward it for good behaviors. You can teach your Cockapoo commands such as sit, bad, or down. When guests arrive at my home, my poodle would aggressively bark. With time and patience, she slowly understood what it meant when I tell her to "be quiet." 
4. Find Ways For Your Cockapoo To Exercise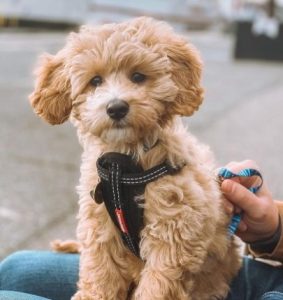 Cockapoos are truly energetic dogs. In case you didn't know, you should let your dog exercise between 30 minutes to an hour every day. It's good for them and it'll get them tired. If you don't let your Cockapoo go out for exercise, imagine how much energy it has by night time. Your companion would constantly run around, bark, and causing more unnecessary trouble around the house.
When you bring home your Cockapoo as a puppy, you should let it exercise for at least 5~10 minutes per day the first month. After every month, you can increase the time in increments of 5 minutes. Once you reach 30 minutes, you could keep it between 30 minutes to an hour. There are many ways to exercise your Cockapoo. You can let it play in your backyard, bring it to a dog park, take it out for walks, or give them a toy that'll make them move a lot. It all depends on your preference and whichever is more convenient.
Conclusion For "Do Cockapoos Bark a Lot?"
Yes, your Cockapoo is an intelligent breed but it'll find ways to bark for attention. From time to time, you'll be frustrated. Training a Cockapoo requires a lot of patience and effort. You have to be observant and find the right moment to reward your companion.
If you live at home alone, try to find a dog sitter or leave it to a family member whenever you're not home. Cockapoos are social dogs, which means they're likely to suffer from social anxiety. They will bark but with time and training, your frustration will fade away. Are you ready to take on the challenges of raising a Cockapoo?
For more guides about the Cockapoo, check out:
If this guide "Do Cockapoos Bark a Lot" helped you, watching this video should educate you more on this unique Doodle breed:
Garrett loves animals and is a huge advocate for all Doodle dog breeds. He owns his own Goldendoodle named Kona. In addition, he volunteers at the Humane Society of Silicon Valley, where he fosters dogs and helps animals. Garrett enjoys writing about Doodles and believes that dogs can teach humans more about how to live than humans can teach a dog.
Why Trust We Love Doodles?
At We Love Doodles, we're a team of writers, veterinarians, and puppy trainers that love dogs. Our team of qualified experts researches and provides reliable information on a wide range of dog topics. Our reviews are based on customer feedback, hands-on testing, and in-depth analysis. We are fully transparent and honest to our community of dog owners and future owners.