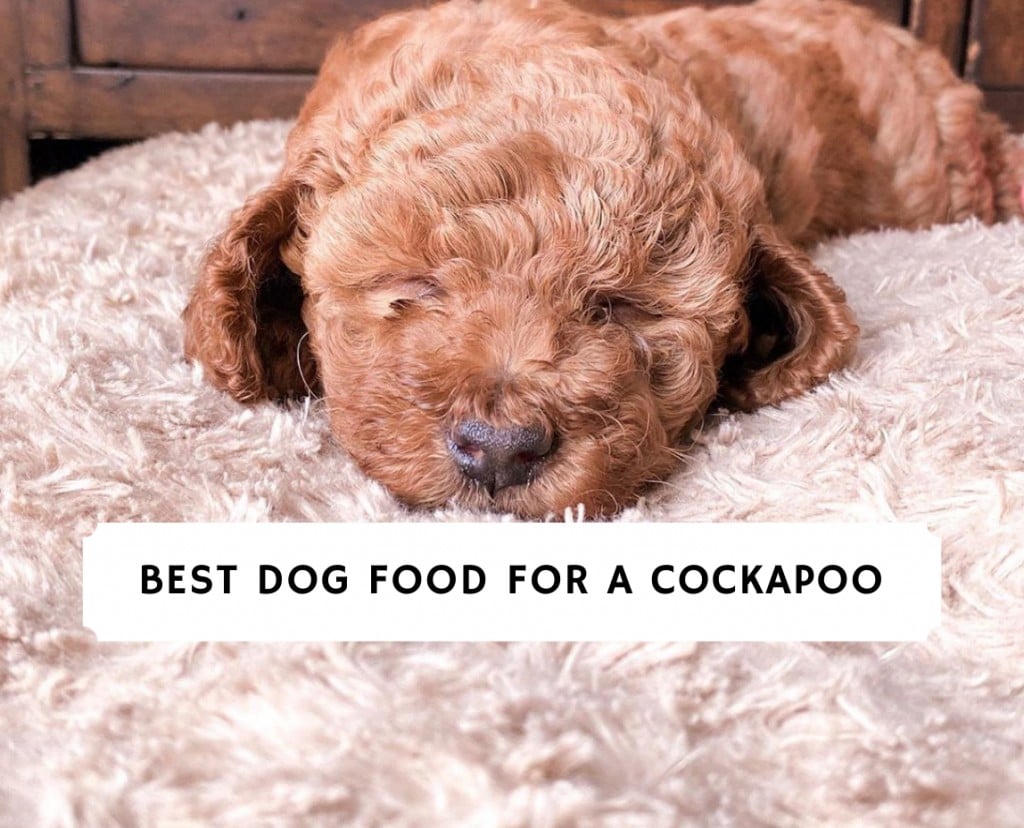 The adorable Cockapoo is one of our favorite designer doodles. They're extremely sweet and nonaggressive, but also having unique personalities that really draw you in. This Cocker Spaniel and Poodle mix is another specialty dog breed that any family would be proud to have.
If you are looking at getting a Cockapoo or you already own a Cockapoo, it's important to know just what dog food they need to be strong and healthy dogs for your household. Nutrition is important for a Cockapoo to live a long life, which is why carefully choosing the dog food that you give them should be a high priority. In addition, Cockapoo's typically have a nonshedding and hypoallergenic coat which needs special nutrition if you want to keep their coat soft. The dog food that you feed your Cockapoo plays a major role in their overall health.
In addition, it is not uncommon for mixed doodle breeds to sometimes struggle with allergies or food sensitivities. You'll have to feed your Cockapoo special food if you see them itching, scratching, or having loose stools. On the other hand, there are plenty of Cockapoos that have no issues and will eat whatever you feed them as well.
There are so many dog food options on the market, but we've sorted through them all and narrowed it down to the very best dog food for a Cockapoo. We have a variety of recommendations from sensitive dogs to adults to puppies and we're quite sure you will find an option to meet your needs.
In a rush? Here are our top picks!
Product
Best Adult Food
Royal Canin
Best For Mini Cockapoo
Hills Science Small Breed
Image
Best Puppy Food
Image
Best Adult Food
Image
Best For Mini Cockapoo
Product
Hills Science Small Breed
Image
Best Dog food for Mini Cockapoo
Mini Cockapoos have different digestive systems than standard-sized Cockapoos. Thus, if you have a mini Cockapoo, we recommend that you purchase a small breed dog food. First, the kibble size is typically a lot smaller which makes it easier to digest. In addition, small dog breeds like the mini Cockapoo require slightly different nutritional requirements. This is due to the fact that small dog breeds are more prone to gastrointestinal issues and dental health. 
Hill's Science is one of the biggest dog food brands in the world. They have created this small breed dog food that is great for mini Cockapoos. With any mini Cockapoo, it's important that you buy dog food that is easily digestible, especially if you dog doesn't chew as much as they should. The Hill's Science small breed dog food is 4.5mm x 7.5mm which is extra small and will be easy to eat for any mini Cockapoo.
Second, it's important to look at the nutritional supplements. The Omega 6 and Vitamin E in this dog food is great for Cockapoos because it supports healthy skin and coat fur. As many Cockapoo owners know, this breed doesn't shed fur so it's important to keep their coat healthy. Lastly, if you look closely at the ingredients, there are no filler products in this dog food. It's made will all natural ingredients and it's high in protein which supports the active lifestyle of a mini Cockapoo.
Best Dog Food for Cockapoo with Allergies
It's pretty common for Poodle mixed breeds to have sensitive skin or skin allergies that cause them to itch or break out. Sometimes, these allergies can be thwarted or at least helped with the right diet. This dog food option was created for dogs with allergies and it will be the perfect dog food for cockapoo with allergies.
P.S. for Dogs is one of the best hypoallergenic dog foods on the market. It can get pretty pricey, but you hopefully won't need expensive skin care treatments, medications, or shots once your dog adapts to this food.
P.S. for Dogs is high in protein, which contributes to a healthy skin and coat for your Cockapoo. Dogs tend to love the flavor of this option and it allergen-free and healthy which makes it even better. This dog food for a Cockapoo with allergies has no grains or soy – both of these ingredients often lead to allergy issues. The ingredients are extremely limited and processing is special and gentle.
This dog food is 90% animal-sourced and contains no additives or artificial flavors. It specifically contains lamb meat and organs, which is a meat that is gentle on Cockapoos with allergies. This food can be used as a dog food for a mini Cockapoo, senior Cockapoo, or even a Cockapoo puppy. If your dog is excessively itching and you think it's attributed to the food you're feeding them, try out this hypoallergenic dog food.
This company even promises that if you aren't satisfied, you will receive a full refund.
Dog Food for Cockapoos with Sensitive Stomachs
Next on our list, we want to draw some attention to stomach sensitivity. Some Cockapoos may deal with this while others never will. You know your dog best, and if they are having gastrointestinal issues or loose stools, that may be a sign that they have a sensitive stomach. Remember that it may take some effort to figure out what works best to ease your dog's sensitive stomach.
The Purina Pro Plan Focus line is specifically for dogs who have sensitive stomachs and skin. Cockapoos are not immune to these sensitivities and this is certainly a good option to try. This option could even work as a dog food for senior Cockapoos who have loose stools, or exhibit vomiting from other foods. It works for all life stages of a Cockapoo.
You do get many options and flavors to choose from with Purina Pro Plan Focus. You will notice that there are more than one size and flavor for your pet. They also serve this line in a wet and dry dog form so you can mix and match to figure out what your Cockapoo prefers.
No matter which flavor you choose, salmon is the forefront ingredient. You can also rely on Purina One Focus to be full of nutrients like Omega 6, which are gentle for sensitive coats and stomachs alike. Omega 6 is especially good at keeping your Cockapoo's coat soft. What you won't find in this dog food is corn, filler, soy, wheat, or anything artificial that could upset your dog.
Purina Pro Plan Focus is designed for the overall health of your dog, with every little aspect taken into consideration. Everything put into this blend is carefully chosen with a purpose and is unlikely to upset your dog's stomach.
The Best Dog Food for Cockapoo Puppy
Now, let's talk about those sweet Cockapoo puppies. Feeding your dog right from the beginning is essential at ensuring a long life! Cockapoo Puppies need to be well-fed with a healthy option to stimulate growth and puppy energy levels. Let's take a look at 3 highly-rated options for dog food for a Cockapoo puppy.
You are probably already familiar with Purina as it's a common pet food brand. This particular option comes from their Pro Plan line and is designed for Cockapoo puppies who are 1 year of age or younger. It has a healthy formula that was made to give your Cockapoo puppy proper nutrition in their first year of life.
This particular formula from Purina Pro Plan is made with chicken and rice and is a dry dog food. The kibbles are small bits so it will be easy to transition your Cockapoo puppy to dry food and not worry about choking!
This puppy food is a high-quality option that has live probiotics for the optimal health of your puppy's immune system as well as digestive health. It is rich with calcium and phosphorous to promote strong bones and teeth. In addition, this food also has antioxidants for immune development.
This puppy food contains DHA for the nourishment of brain development and vision. The first ingredient on their label is real chicken and you won't find any artificial flavors or colors added to this puppy food.
Next on our list of dog food for a Cockapoo puppy is an option from Royal Canin. This is a highly-rated premium dog food that comes in many size options to fit your needs. As a bonus, you can seal the bag in between feedings if you don't have a container to put the puppy food in.
Royal Canin puppy food is focused around immune support and digestive health for your Cockapoo puppy. It is optimal for providing high energy support to your rambunctious Cockapoo puppy. This option was made for medium puppies that are 2 to 12 months in age. After the 12 month mark, you can switch your Cockapoo to an adult option.
This food was designed for a growing puppy and has the nutrients to show for it. The dog food supports healthy digestion and is loaded with antioxidants as well as vitamins and nutrients. This vitamins and nutrients will help support your Cockapoo's hypoallergenic and nonshedding coat. Lastly, the kibble is small and easy for a puppy to eat or transition to.
Our last option comes from Nulo Puppy Food and is one of our top picks. This dog food can get a bit pricey, but it is a high-quality, premium food with plenty of positive ratings to back it up.
Nulo Puppy Food comes in two primary flavors that are turkey and sweet potato flavor or a salmon and peas flavor. Either flavor your Cockapoo puppy should love to eat. The dog food is also grain-free and does not contain any fillers with wheat, soy, corn, potatoes, or similar unhealthy additives.
Morever, this puppy food for your Cockapoo is made in the USA. It contains the company's patented BC30 probiotic which promotes healthy digestion. This food is designed with calcium and phosphorous for healthy bone growth levels that are balanced. The protein in this food is 80% from real animal sources and it is loaded with DHA from real salmon as well. DHA is also really good for your Cockapoo's skin and coat.
This premium puppy food for a Cockapoo really has a lot to offer. Inspire your puppy's inner athlete with balanced nutrition that fuels them and helps them grown in a healthy manner.
Best Brands of Dog Food for Cockapoos
Now, let's talk about an adult Cockapoo. These adult options may meet a variety of needs, including dog food for adult Cockapoos, senior Cockapoos, or dog food for mini Cockapoos as well. Be sure to pay attention to the size and weight recommendations before you make a selection.
Blue Buffalo is a brand that is well-known and readily available at most pet stores as well as online. They are best known for producing high-quality pet foods using only natural ingredients. It's also very affordable compared to many other healthy adult dog foods. Lastly, there are several sizes and flavors to choose from if you just want to try this food out.
Blue Buffalo uses meat as its first ingredient in this dog food and they stand by this promise for all their dog foods. All of the protein in the ingredients is high-quality and comes from real chicken. The food has added whole grains, fruits, and vegetables that make a balanced diet.
This adult puppy food for your Cockapoo is packed with minerals and nutrients that are important for adult canines. It meets adult energy needs and even includes a special addition that was designed by Blue Buffalo, Life Source Bits. These Life Source bits contain a blend of vitamins and antioxidants that are especially good for your Cockapoo's coat. Lastly, Blue Buffalo food has no preservatives, artificial flavors, by-products, wheat, corn, or soy.
Next on our list is a unique option that is human-grade dog food that is dehydrated. You simply add water to make the food and it turns into wet dog food for a Cockapoo. You get 10 pounds of dehydrated dog food which ultimately equals 40 pounds of food when water is added. After you add water, this is honestly one of the best wet dog foods for a Cockapoo.
The box comes with full instructions to create the food and it's easy to make. The nice feature about this food is that it takes up a lot less space and is easily portable if you're on the go. This mix has wholesome ingredients that have plenty of protein and your Cockapoo will love the taste.
The Honest Kitchen dehydrated dog food is made with grain-free and cage-free turkey as the primary ingredient. All of the ingredients come from real foods and the dehydration process actually aids with digestion. Dehydrated dog food retains the natural nutrients in the food better than other methods.
Everything in this dog food meets human-grade standards. The food is made in the USA and free of fillers and preservatives.
Last on our list for adult Cockapoos, we have a premium dog food from Orijen. This is perhaps one of the best brands on the market for Cockapoos. It is optimally designed for adults and works really well for Cockapoos who are active.
As a nice bonus, Orijen's dog food has zipper seal so that the food stays fresh between feedings and you can leave it in the bag. The adult dog food contains only fresh ingredients including turkey and chicken, wild-caught fish, and cage-free eggs. As you can imagine from these ingredients, it's high in protein which works great for a Cockapoo who loves to run around.
There are no by-products or meal products in the Orijen dog food. You will find that the primary ingredients are 85% raw and fresh animal ingredients. In addition to the fresh ingredients, everything in this is produced regionally from the manufacturer.
You will need to slowly transition your Cockapoo to this dog food. Some dogs aren't used to the natural and fresh ingredients to you'll need to slowly mix it in with their current food.
Important Qualities of Cockapoo Dog Food
It's important that you provide your Cockapoo with a balanced diet. Just like humans are encouraged to eat balanced diets with natural and unprocessed foods, you should take a similar approach for your Cockapoo.
Dog food is the primary source for your pet to receive the necessary vitamins, minerals, and nutrients that are essential for their overall health. Without the proper dog food, there is no guarantee that they will live their longest life.
Primarily, the goal is to choose a well-balanced food that has a variety of nutrients balanced across the food pyramid. We've shared some quality food ingredients that you will want to watch for as you review your options.
Carbohydrates
First, dog food should contain some amount of carbohydrates as it is a recommended ingredient! We're not telling you to load up your Cockapoo with carbs, but there does need to be a balanced level of healthy carbs in their food.
Carbohydratess are used to provide healthy energy for your Cockapoo throughout the day. They include simple sugars, glucose, and complex sugars that keep your dog's energy levels high. Fiber also comes from carbohydrate sources and is necessary for a healthy immune system and gastrointestinal health.
Proteins
Protein is perhaps one of the most important ingredients for a Cocka. As humans, we need protein in our diets and for similar reasons as our dogs. They rely on protein to provide them with healthy energy as well as various other health roles. Protein helps with overall dog growth and it also offers restorative assistance for repairing damaged tissue.
Protein is an important factor for your Cockapoo's daily living in terms of overall health, growth, maintenance, and life. Essential amino acids are incredibly important because your dog cannot produce their own so they need to consume it and digest it. At the same time, there are non-essential amino acids that your Cockapoo can synthesize that are not necessary in dog food.
Fats
Healthy fats are another important factor for the best dog food for a Cockapoo. Find a dog food that will provide your Cockapoo with a source of healthy fat for energy and essential nutrients. These play a part in your dog's wellness, health, and coat.
We don't recommend a dog food that is high in fats, particularly unhealthy fats, but we do recommend that you check for the right fats in a dog food. You will want the food to contain fatty acids specifically as these play a role in inflammatory responses.
Additionally, it is the healthy fats in dog food that supplement and contribute to healthy skin and coat for your pet. You'll want to have fat in order to keep your Cockapoo's coat fluffy and soft.
Choosing the Best Dog Food for Cockapoos
When it comes to choosing the right dog food for Cockapoos, you'll want to keep these aspects in mind as you make a decision. As a dog owner, only you can truly know what your dog needs. Remember that not all foods are created equally.
Your Dog's Needs
To start, consider what your dog needs in their diet. Not every dog has the same needs and not every dog will react the same to a specific dog food. You need to take care of your Cockapoo's specific needs as you choose a dog food. Remember that this food is designed for their health and life longevity.
You will find that dog foods are often designed for specific size ranges like puppy, mini, or adult Cockapoos. Many dog foods are formulated differently for various sizes of dogs as different size Cockapoos need different levels of nutrients. Cockapoos are typically mini to medium-sized dogs, but you should check the recommended weight ranges.
Age & Activity Levels
Choosing a dog food that is appropriate for your Cockapoo's age and activity levels is similar to translating your dog's individual needs. Cockapoo puppies need different nutrients and energy resources than adults and therefore you will need separate puppy and adult foods depending on a dog's age.
You can find dog food formulas for all types of ages, including puppy and senior dogs. You can even find options that are designed for performance and endurance so take a look and figure out what your Cockapoo needs.
Consider both age and activity levels as you select the best dog food for your Cockapoo.
Balanced Formula
Most of the dog foods shared here contain only natural ingredients. We felt this was important to truly get the most out of a dog food formula. However, purchasing all-natural dog food doesn't automatically make it a good option. You still want a food formula that is balanced and contains important nutrients without filler ingredients.
Cockapoos need a balanced diet that includes fats, carbohydrates, and proteins at reasonable levels and sourced from healthy ingredients. Don't be afraid to do a bit of research to truly understand what you are feeding your Cockapoo.
Allergies and Reactions
Some Cockapoos tend to be sensitive to foods, shampoos, and their environment. If your dog suffers from any type of allergy or sensitivity to foods, be mindful of that and choose an appropriate dog food. You may have to do some testing to ascertain just what causes them to have reactions or you can go with a hypoallergenic dog food designed for these sensitivities and work from there.
Keep in mind that sensitive dogs may need some adjustment time if you are changing their food. You will need to integrate a new food slowly to allow your Cockapoo to fully adapt.
Conclusion for Best Dog Food for a Cockapoo
Cockapoo's have specific dog food needs because they tend to be mini or medium-sized dogs that have hypoallergenic coats. Thus, it's important to pick the correct dog food for a Cockapoo based on their specific needs. Consider the factors of age, size, and activity level when choosing a dog food. In addition, you'll also want to make sure that the dog food contains a nutritious diet for your Cockapoo with a mix of proteins, carbohydrates, and fats. Always check to make sure that the ingredients are natural and there aren't a ton of filler ingredients.