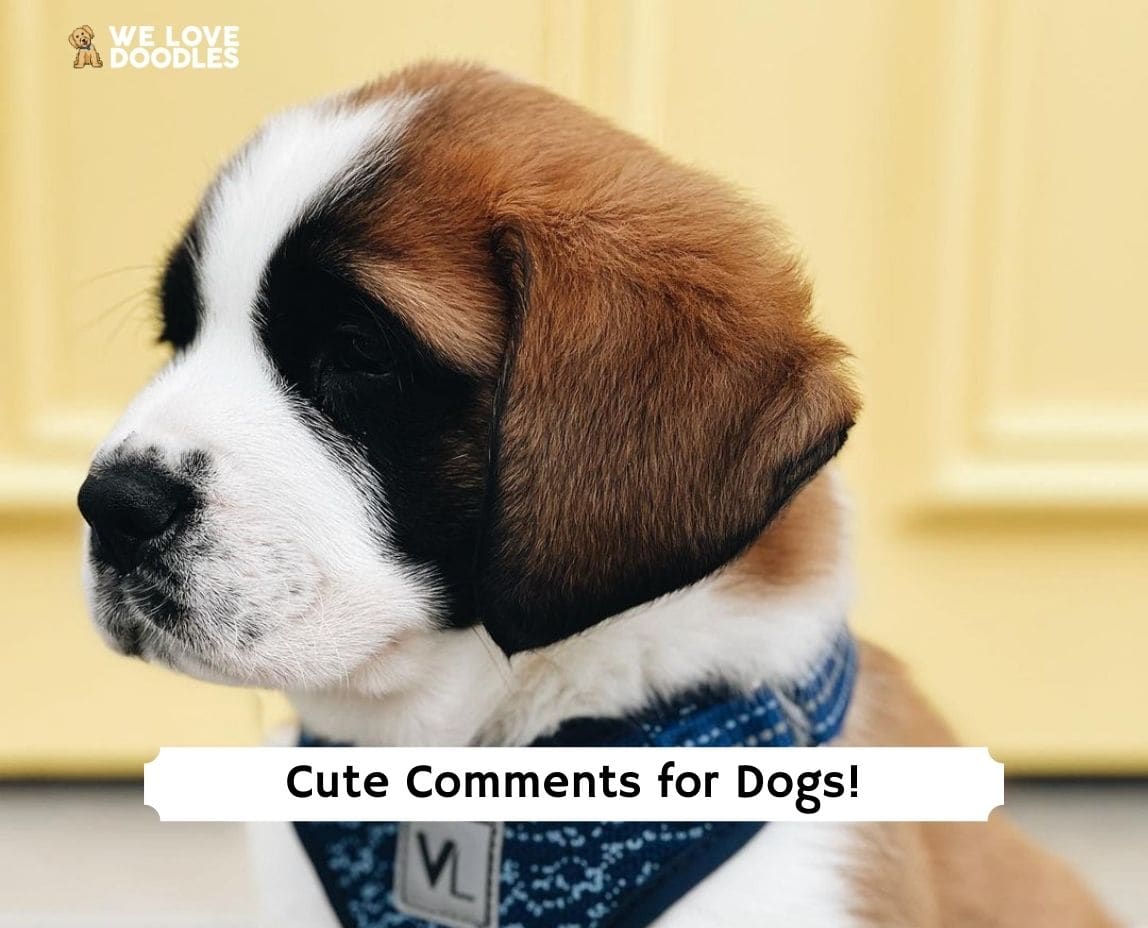 You're hanging out at a friend's house when their dog approaches you, and you want to say something special. Compliments for someone's dog make everyone happy. But what is there to say that they haven't heard before?
Maybe you're taken by their pooch's looks, but don't know a lot about dogs and aren't exactly sure how to express it. Or you want to say just the right thing to make their owner puff up with pride. It could be that you're scrolling on social media and want to leave just the right comment for your friend or a dog you're a fan of.
Whatever the case, there are plenty of cute dog phrases out there to choose from. Keep reading for our favorite comments for any dog, in any situation!
Other articles you would like: Dog-Gone Good Valentine Day Puns and Smiling Dog Memes.
Inspiring Comments For Dogs
"Be the person your dog thinks you are."
"To find fulfillment, you don't need fame or success – just a dog."
"The only downside to dogs is that they don't live as long as humans."
"Happiness is a dog at home and a warm supper."
"If there are no dogs in heaven, then I don't want to go."
"There are no bad dogs, only bad owners."
"The road to my heart is paved with pawprints."
"A dog is the only thing that can love you more than you love yourself."
"Home is where the puppy is."
"Life is so much more interesting with a dog."
"Love sometimes appears on four legs."
"You can't buy happiness, but you can rescue it at the shelter."
"Dogs are not our whole life, but they help make our lives whole."
"Love is a wet nose and a wagging tail."
Maybe you're looking for something specific to compliment. These suggestions will help you find the right words.
Comments on Dog Looks
The most striking aspect of most dogs is their visual appeal. Whether they have a beautiful silky coat, impressive musculature, or a winning smile, a dog owner will appreciate it when you notice. If you're lucky, the dog will respond to your positive tone of voice and be pleased as well!
"Your dog's face is so cute."
"They are so handsome."
"How adorable!"
"It looks like they're smiling."
"Your dog is impossible to ignore."
"What a beautiful coat. You must groom them often."
"Those are some powerful legs."
"Look at those paws! They will be so big when they're full grown!"
"Your dog looks as friendly as they are when I approach them. What a sweetheart!"
"Your pup has an interesting body shape."
"What a long/fluffy tail!"
"Your dog inspires me artistically – may I draw/paint/shoot a picture of them?"
"I never get tired of seeing your dog pics."
"Your dog looks so clean!"
"Your dog feels so soft!"
"What product do you use to get that shiny coat?"
"They look like you take great care of their health."
"Your dog has such shiny, clear eyes."
"I love their wiry/smooth/colorful/interesting coat."
"That's a great home security system right there!"
"Your pup should be the prototype of the canine species."
"I would be so proud to have a dog like that."
"What a stud. Do you plan to breed them? They would make some gorgeous puppies."
"Wow, what mix of breeds is that? They are so unique-looking!"
"I love their gait when they walk/trot/run."
"I want a dog like that."
"Your dog is the cutest fur baby I've ever seen!"
"What did you name that gorgeous animal?"
"Your pup stole my attention right away."
"They are so well-developed according to their breed standard. What a prototype!"
"You've got the best-looking dog at this park/event/apartment building."
"I'm so impressed how your dog doesn't smell at all. You must groom them well."
"What a massive/tiny thing!"
Comments on a Dog's Personality
So maybe they're not the best-looking pup out there, but they show a lot of panache. There are things you can say to complement a dog's personality that add to its appeal – even if their looks are less than show-dog caliber.
"Your dog is so smart!"
"I'm impressed with their ability to follow directions."
"Your pup makes me smile."
"Their exuberance is infectious to watch."
"Their faithfulness is amazing."
"How loyal to you they seem to be."
"They are so interesting to watch when they play."
"It's clear your dog is well-socialized."
"Everyone deserves a dog like yours."
"How is your pup doing these days?"
"They are obviously protective of you."
"That dog makes me want to pet it all day long!"
"What an obedient animal."
"Funny, they're so big but they think they're a lap dog."
"With a dog like that, who needs people?"
"I bet that pooch is great at snuggling."
"Do you have plans to train them as a therapy dog? I bet they'd be well suited to it."
"I could give that dog commands forever. They look like they respond so well."
"Your dog is so very sweet."
"It's nice to meet a quiet, content dog. Yours is so good."
"I love the responsiveness your dog shows when you talk to them."
Comments on the Owner-dog Relationship
The bond between humans and dogs goes back thousands of years. While significantly different than their cavemen ancestors, the modern dog owner wants to strengthen that relationship and will be tickled to hear compliments on their relationship with their dog.
"What an amazing doggie you have!"
"Good boy!"
"Wow, they really show interest in what you're saying."
"They listen to you so well."
"It's amazing how well you've trained them."
"They are so fun to watch when you're giving commands."
"That dog is so well-behaved."
"Your dog inspires me to do some training with my own."
"That dog clearly adores you."
"I bet when you leave on a trip they miss you."
"You guys are clearly best friends."
"Wow, your dog is worth spending time with."
"There are no words for the connection you two have."
"Your dog really knows their stuff! I wonder how much time you have to put into their training."
"I bet your significant other is jealous of the bond you have."
Cheesy Dog Comments
Are you or your friend a fan of puns? Look no further! We have a selection of delightfully cheesy comments that will bring a smile to any dog lover's face.
"Hope your day is paw-some!"
"Well, I'll be dog-gone."
"Looks like he had a ruff day."
"So that's what 'puppy love' means!"
"Your dog looks like it would steal my dinner and my heart."
"These are the dog days of summer."
"Thug life? More like pug life."
"Your dog retrieved my attention!"
"How paw-fect!"
"If someone stole that dog from me, I'd be fur-ious."
"What's up, Dawg?"
"I will always woof you."
"Thanks fur the memories!"
"The friendship between a human and a dog is fur real."
"That dog deserves to be followed by the pup-arazzi."
"Is your daily fashion accessory dog hair, too?"
"They're not fat, they're just a little husky."
"That dog is so cute they drive me mutts."
"I don't mean to hound you, but I like your dog furry much."
"Live, love, bark."
Conclusion for Cute Comments for Dogs
No matter which caption or phrase you decide to use, you're sure to add to a dog owner's day. The love they – and you – feel for their pooch is hard to express, but you might get close if you use just the right words.
Other articles you would like: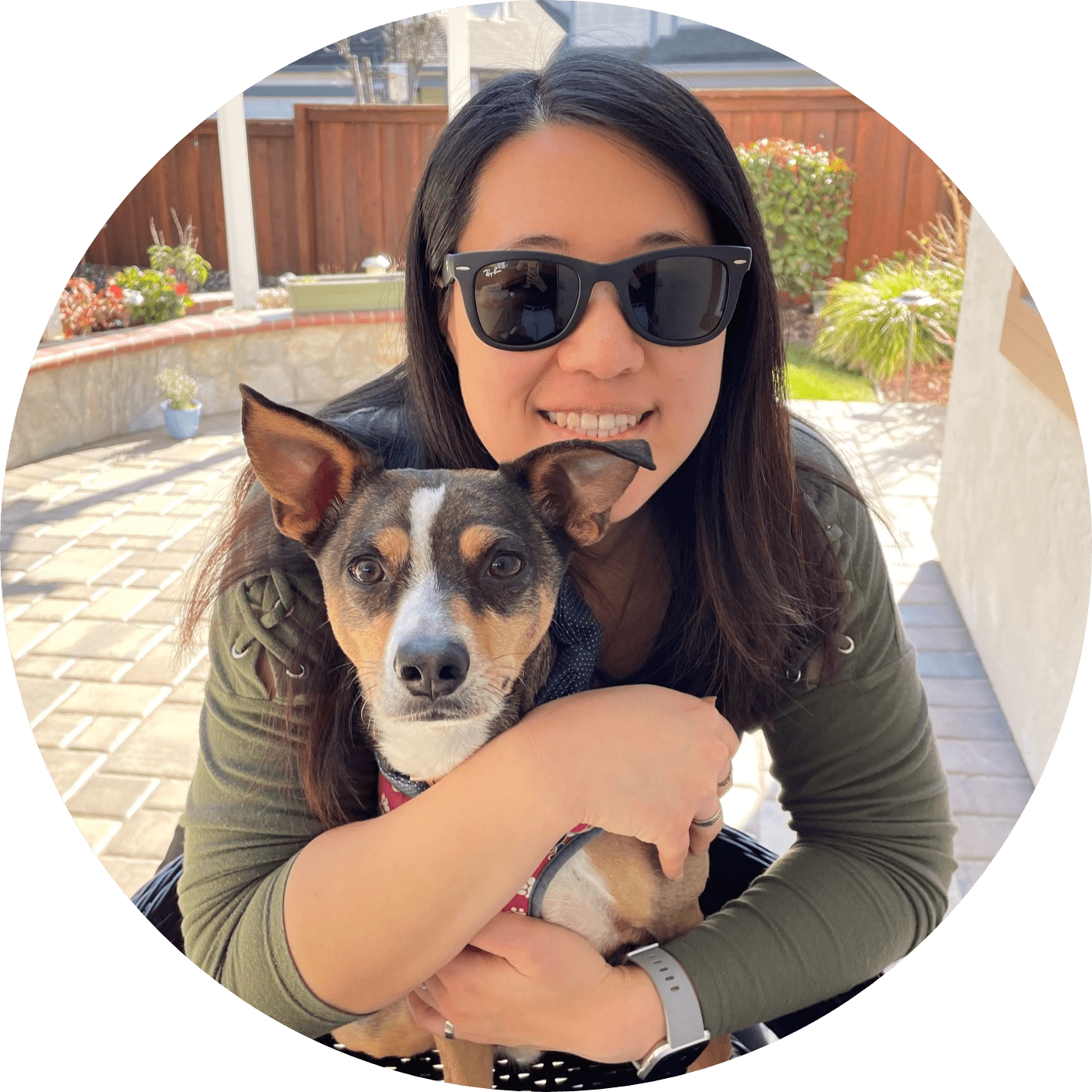 Dr. Sabrina Kong graduated from the Royal Veterinary College in England in 2016 and has been working at a small animal clinic in Northern California since then. She grew up in the Bay Area and got her bachelor's degree from Cal Poly San Luis Obispo. She also became a Certified Canine Rehabilitation Practitioner through a program at the University of Tennessee.
When she isn't in the clinic taking care of her four-legged patients, she enjoys traveling and trying new foods with her friends and her three-legged dog, Apollo. She adopted Apollo from her clinic when he was a puppy with numerous health issues. Dr. Kong truly cares about taking care of animals.