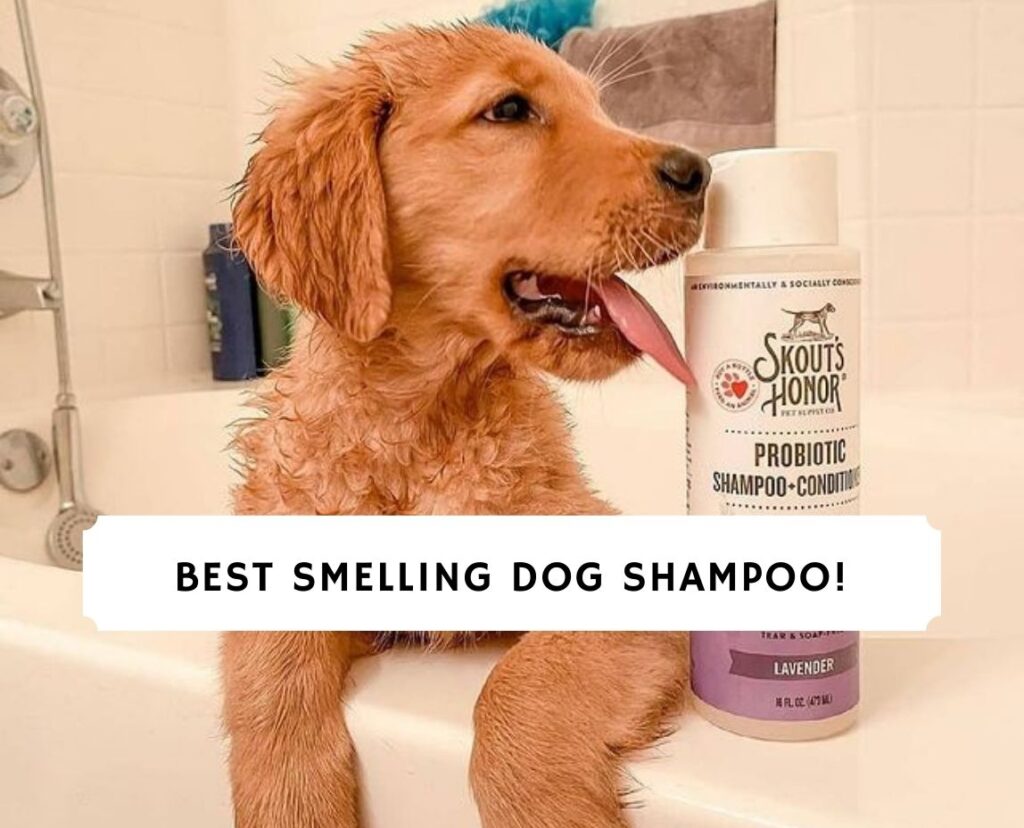 Your dog's skin health can tell you plenty about his overall health and well-being. If you look at the condition of your dog's skin and coat, you may be able to see whether it's greasy or dry, features hot spots or pigment changes, or any other skin abnormalities. These may be an early warning to health issues that are hidden and not apparent.
There are numerous dog shampoos for every need, many with wonderful scents that might tempt you to bathe your dog more often than needed. However, the issue with some of these great-smelling dog shampoos is that they may be crafted with fragrances and other chemical ingredients that could harm your dog's sensitive skin. In this review, we're going to give you the seven best smelling dog shampoos in 2021.
We tested all of these dog shampoos and also verified that they were long-lasting. The main criteria we used to evaluate the shampoos were: there are no harmful chemicals to hurt your dog's skin and the smell lasts a long time. No one wants a smelly dog right after they bathed them.
In a rush? Here are our top picks!
Product
Best Overall
We Love Doodles Dog Shampoo
Runner Up
Skouts Honor Dog Shampoo
Best New Product
Kenic Barktini Shampoo
Image
If you've never smelt the We Love Doodles lavender and chamomile shampoo, prepare to be amazed. The scent isn't overpowering and it lasts long enough to make sure to get rid of the "dog smell". Additionally, the shampoo smell is derived from 98.25% natural ingredients which are USDA certified organic. Thus, you can be sure that the smell is natural and not from chemicals or synthetic flavors. There are no harsh chemicals in this dog shampoo.
It's also a 4-in-1 dog shampoo, conditioner, moisturizer, and detangler. It's proudly manufactured and tested in one of the largest factories in the United  States. You can be sure that you are getting a quality dog shampoo that not only smells good but is great for your dog.
There is also a 100% satisfaction guarantee if you or your dog isn't happy. We Love Doodles just started selling their shampoo on Amazon in April 2022. It was recently only sold to professional grooming shops around the United States. We highly suggest you get one of these affordably priced dog shampoos that smells amazing.
Features
Lavender and chamomile scent that isn't overpowering
Produced and tested in the United States
USDA certified organic ingredients
Keep your dog looking and smelling good
Affordably priced
No harsh chemicals used
Keeps your dog's coat healthy
Skout's Honor is an award-winning pet specialty brand that uses probiotic technology. Released results from a third-party study confirm the efficacy of its ground-breaking topical probiotic technology — the active ingredient in the brand's widespread Grooming & Wellness product lines.
This shampoo works by combating typical dog and cat yeast and fungal skin infections. Skout's Honor is well known for its environmentally and socially conscious everyday pet essentials. We like this brand because it provides a preventative measure for dogs' most common pet skin conditions. This is one of the best smelling dog shampoos that gets rid of the dog smell.
Features
Contains live, colony-forming probiotic kefir culture
Crafted with probiotics to form a protective barrier to push out and protect against harmful yeast
The formulation allows the skin's natural biome to flourish while strengthening the animal's natural defenses
Affordable
Paw Pledge to help rescues
Available in honeysuckle, lavender, and Dog of the Woods (Sandalwood Vanilla)
Barking Blends from Glo-Marr, Kentucky, for dogs means bath time is Happy Hour for you and your puppy. Dogs smell good with this shampoo and it's long lasting. The line includes Daquiri Dog, Pina Colada Pooch, Margarita Mutt, and Cosmopolitan Canine mouthwatering scents in shampoos and spritzers.
You'll have plenty of fun shopping this line. This company has been around for over 50 years and is family-owned and operated. They carry an extensive line of pet shampoos, conditioners, and spritzers. Barking lineup adds a bit of fun at bath time.
We like this brand because its bright and vibrant colors and fragrances make these blends easy to recognize. No shaking or stirring is needed; relax, bathe, and lather for excellent results. If you're looking for a long-lasting dog shampoo that smells good, we highly recommend this one.
Features
Crafted with a fruitful recipe of naturally based fruit enzymes, vitamins, and oils.
It offers a gentle clean, and fun sudsy bathing experience
Daiquiri Dog Pet Shampoo
The line features Pina Colada Pooch, Margarita Mutt, Cosmopolitan Canine, Daiquiri Dog scents.
Buddha Bubbles dog shampoo features organic ingredients for sensitive skin. This is a biodegradable plant-based dog skin cleanser and works as an antiseptic and antifungal dog shampoo. It is beneficial in itch relief to prevent heavy shedding and reduces redness, scaling, and skin inflammation.
Barking Buddha dog conditioner is helpful as a pest repellent and is naturally antibacterial. It helps combat dry scalp and irritation, helps detangle, prevents shedding, and fights dandruff. Additionally, it's one of the best dog shampoos for urine smell if your dog has accidents.
Features
Crafted with certified organic ingredients and botanicals
Neutralizes odors with featured notes of lemongrass
Priced well (3 bottles)
Good for sensitive skin
3 Pack deal good for multi-pet homes
Biodegradable plant-based cleanser
Crafted with botanical anti-inflammatory properties
TropiClean PerfectFur shampoos address breed-specific needs for different types of coats. This includes combination coats, curly & wavy coats, long-haired coats, short double coats, smooth coats, and thick double coats that may be difficult to wash properly. We like this brand because PerfectFur is soap-free, paraben-free, and dye-free and made in the U.S.A. with naturally derived ingredients. TropiClean is a big company and they have good smelling dog shampoos.
Features
Reduces tangling and gives added lift
Priced well
Crafted to facilitate quick drying
Made in the U.S.
For use in pups 12 weeks and older
Features an extensive line of grooming products
Burt's Bees has been around since 1984 and creates products that are cruelty-free and formulated without colorants, sulfates, and added fragrances. Burt's Bees for Dogs 2 in 1 dog shampoo and conditioner is one of our favorites because it's made with natural ingredients, and this product line uses Bamboo & post-consumer recycled bottles.
This is also one of the best smelling puppy shampoo and conditioners on the market. We originally used this shampoo on our Goldendoodle from a young age. It's specifically designed as a tearless shampoo for puppies and cleans them well.
Features
Natural ingredients
Veterinarian recommended formula
Good for young pups
Suitable for dogs with sensitive skin
No harsh chemicals
Priced well
Great smelling
This hypoallergenic dog shampoo and conditioner uses organic ingredients that soothe dry, itchy skin and smells terrific. This product is pet tested and approved and also features over 9,500 positive ratings. ProPet has been around since 2015 and is located in Portland, Oregon. We like this product because you can use it on both cats and dogs. It also features a combination of almond oil and aloe vera.
Features
Crafted for pets with sensitive skin
Priced well
Restores natural oils
Relieves dry, itchy skin
Made in the U.S
Cruelty-free
Features natural ingredients
 All in one shampoo/conditioner formula
Thirty years ago, John Paul DeJoria, co-founder of John Paul Mitchell Systems, revolutionized the professional salon industry by banning the use of animal testing for his line of hair products. We like the entire line because not only are they not animal tested, but John Paul is part of Cruelty-Free International and supports the Humane Cosmetics Act to end cosmetic testing on animals in the U.S.
Features
Made in the U.S
Cruelty-free products
P.H. balanced for pets.
Affordable
A portion of proceeds from each sale is donated to animal and wildlife organizations
The Importance of Regular Grooming & Bathing
Your puppy's coat should be brushed regularly to remove shedding hair and prevent matting and skin issues. Grooming your puppy is more than just brushing your dog every few days. It entails not only ear cleaning, bathing, brushing your dog's teeth, cleaning his eyes, but choosing safe and high-quality products that are dog friendly.
Regular grooming and bathing are essential for all dog breeds, especially those with thick or shaggy coats prone to easy matting and tangling. Dogs on large properties or that spend time outdoors may need more bathing than others.
Proper grooming and bathing are also crucial for flea and tick control. Not only does regular bathing optimize skin and coat health, but you'll also be able to see if there are any sensitive areas. To allow for easy grooming and bathing throughout your pup's life, you should start grooming and bathing during puppyhood. 
Health Issues
You should always consider your dog's health issues when choosing a dog shampoo. Problems like lumps, bumps, hair loss, ear infections, hot spots, and other skin conditions need to be treated first by your veterinarian.
Mobility issues will also affect the length of any dog's grooming and bathing sessions. If your dog is a senior, just bathing him may exhaust him, especially dogs with arthritis. Standing for extended periods while being groomed and bathed may be painful.
Flea Bite Dermatitis
Suppose your pup has been diagnosed with flea bite dermatitis or has hot spots or other skin conditions. In that case, you'll need to address those issues first with your veterinarian before choosing the best smelling dog shampoo. In addition, after being treated, you should always keep an eye out for allergies.
Dry Itchy Skin
This does not necessarily mean that your pup has an underlying health issue but can be caused by harsh commercial dog shampoos. Dogs with dry and itchy skin should always use a natural and gentle shampoo formulated especially for dogs. If you use a blow dryer, the setting should be on the lowest, and the dryer should be held well away from him.
Tiny Red Spots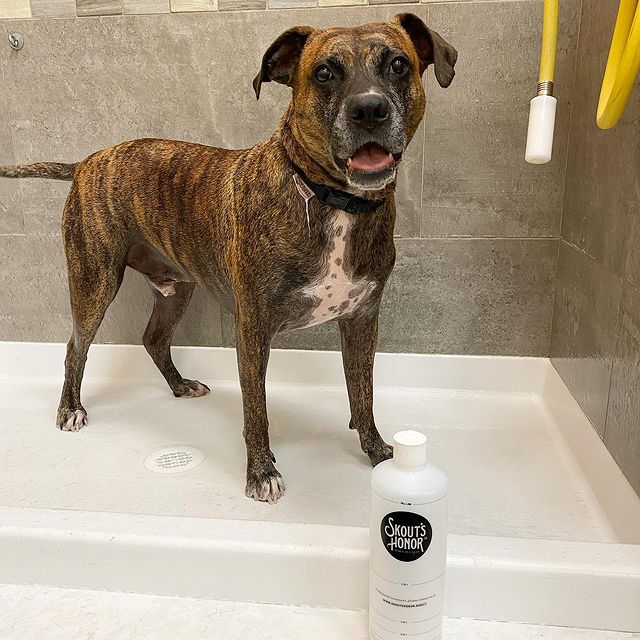 These are usually found under the belly and may result from flea bites, mites, or an allergy. Consult with your veterinarian if you see something unusual.
Patchy Hair Loss
This is known as alopecia and may result from a poor diet, fungal infection like ringworm, or even stress. Because ringworm is contagious, you should visit your veterinarian as soon as possible for treatment. Make sure to wash your hands and dog's bedding very well.
Hot Spots
This is acute moist bacterial dermatitis and results from trauma, like a burr scratch or flea bite. Hot spots don't heal independently and need to be treated right away because they expand rapidly. Visit your veterinarian for treatment. On the other hand, your pup may have a more minor, more localized pustule. This resembles a giant pimple and is caused by a bacterial infection that also needs veterinary care.
Greasy Skin
This happens when the sebaceous glands produce an excessive amount of sebum. Your pup's skin will look and feel greasy and probably also smell funky. This usually occurs on the face, back, hindquarters, and also in the skin folds. Your veterinarian will determine the underlying causes of this via blood work, hormone tests, and skin cultures.
Your dog's skin is the largest organ in the body, protects him from harsh weather conditions, and also helps to regulate his body temperature. It can also show you clues to his overall health and well-being. These can be early warning signs of severe health conditions that should be looked at by your veterinarian. 
Your dog should be drinking lots of fresh, filtered water every day. This also helps to maintain good healthy and healthy skin and coat. If your doggo has skin issues, you can also consult your vet about using digestive enzymes to improve nutrient uptake and gut health. This will improve skin health in your dog. Often after what begins as a coat or skin issue turns out to be an internal health problem, so it's important to always reach out to your veterinarian
Conclusion for Best Smelling Dog Shampoos
With some dogs enjoying bath time and others not, you should set up a routine to get your puppy used to being groomed and bathed. A good routine will help your pup get used to bathing. Bathing will help keep your pup clean and reduce any "doggy smells" that your pup may bring into the home.
You should always opt for a gentle and natural pet shampoo and conditioner instead of a harsh soap-based product. This will be beneficial for your dog's skin and coat and help prevent fleas, ticks, and heartworm treatments from being washed off during bathing.
No matter what type of dog breed you have, regular grooming and bathing is essential for his health and well-being. Opt for always choosing a natural dog shampoo that is cruelty-free and that uses natural ingredients.
Other articles you would like: