The Bernedoodle is a highly intelligent dog breed, making a Bernedoodle service dog a great choice. They are renowned for being easily trainable, and quick learners of new commands and tricks.
If you're thinking of getting a Bernedoodle as a service dog, keep reading. This article will provide you with crucial details on how and why Bernedoodles make excellent service dogs as well as some other fascinating information.
Before scrolling down this article "Can a Bernedoodle Be a Service Dog," check out these other similar guides: Can a Goldendoodle Be a Service Dog? and Are Bernedoodles Hypoallergenic?.
Bernedoodle History
A Poodle and a Bernese Mountain Dog were combined to breed the 2003-era Bernedoodle. They are very lovable and enjoy lots of cuddles from their family because they were only bred for companionship.
The purpose of breeding these two dogs was two produce a dog with the pleasant temperament of the Bernese Mountain Dog and the perceptiveness of the Poodle. Sherry Rupke of Swissridge Kennels is recognized as the first person to begin mixing these two breeds.
Can a Bernedoodle be a Service Dog?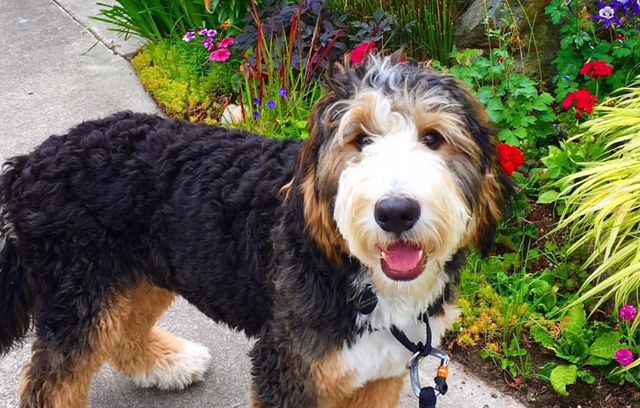 Bernedoodles are often trained as service dogs. They are extremely trainable because of their Poodle parents' intelligence and loyalty. On the other hand, they also take after the Bernese Mountain Dog's endearing, devoted, and joyful nature. These characteristics enable the Bernedoodle to become a great service dog.
When it comes to a Bernedoodle service dog, size is important to consider. There are three sizes of Bernedoodles: mini, medium, and standard. A standard Bernedoodle isn't very large, so individuals who require mobility support shouldn't choose a Bernedoodle as a service dog.
Are Bernedoodles Good Emotional Support Dogs?
It can take a long time as well as a lot of money to train your Bernedoodle to become a good service dog. However, your Bernedoodle can still be used as a good emotional support dog if you don't want it to become a service dog.
Always keep in mind that all a dog needs to become an emotional support or service dog is a calm, pleasant, and adaptable personality. These characteristics, along with others, make the Bernedoodle an excellent option for emotional support.
Are Bernedoodles Good Family Dogs?
Since they are affectionate and amusing, Bernedoodles are the perfect family pet. When they grow up, they become amazing, lifelong buddies and have a special fondness for younger kids. Although they are intelligent puppies, they have a propensity towards silliness and love receiving human attention. Although Bernedoodles adore their family, they can be tentative, sensitive, and wary of strangers at the beginning.
Are Bernedoodle Good Therapy Dogs?
The gregarious, devoted, and attractive characteristics of this breed make them excellent therapy service dogs when properly trained. Although some puppies may exhibit stubbornness, Bernedoodle therapy dogs are generally bright and can learn to be obedient.
Bernedoodles make good therapy dogs because they are friendly and excel at activities involving social connection. They also enjoy being cuddled.
Are Bernedoodles Guard Dogs?
It's hardly surprising that Bernedoodles are inherently cautious considering that the Bernese Mountain dog was initially bred as a guiding dog. They also make great guard dogs. They mostly appear cautious and reserved at first, but are protective of their families.
Bernedoodles can make good working dogs, but a Pyredoodle is a more popular working guard dog. Both breeds are even-tempered, yet protective of their owners when needed.
Bernedoodle Characteristics
Because of their adorable personalities, these puppies are loved by many households. Both the acts of receiving and giving attention are enjoyable to them. They are devoted, lively, and extremely kind.
Besides, they get their high level of activity and social skills from their Poodle parents. These dogs enjoy cuddling and can form very close relationships with their owners. They also make excellent companions since they get along well with kids.
Prey Drives in Bernedoodles
All dogs have prey drives, although some have stronger prey drives than others. The Bernedoodle is on the lower end of the spectrum, renowned for its affinity for and friendliness with smaller animals.
If they are raised together and given the respect and safe environments that they each require, smaller animals and Bernedoodles can come to love one another. When introducing your Bernedoodle to a smaller animal, keep them separated until they become accustomed to one another and your dog becomes desensitized to the other animal. Look out for signs of a heightened predation drive in your Bernedoodle.
Bernedoodle Trainability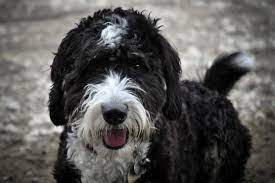 Because of their high intelligence, Bernedoodles are usually very easy to train. They can quickly pick up on both good and bad behaviors, so it's crucial to continue training her even after the puppy stage has ended. It takes a lot of positive reinforcement and patience to train a Bernedoodle.
Can Bernedoodles be Left Alone for Long Periods?
You shouldn't leave these gregarious dogs alone for long periods. A lonely Bernedoodle may engage in bad habits to amuse itself. An example of such a habit may include digging up your yard.
They are also more likely to have separation anxiety because their parent breed, the Bernese Mountain Dog, is known for being attached to its owners. Because of this, owners should start training their Bernedoodle puppies early on so that they feel safe and at ease when left home alone.
Crate Training a Bernedoodle
Crate training might help your dog feel comfortable when you're away from home. However, as socializing is a key component of properly raising this breed, we advise that you spend enough time with your dog and socialize with him/her. It might influence how they act and keep them from picking up bad habits like stubbornness and sensitivity.
Can Bernedoodles Make Good Workout Partners?
All dogs require regular exercise to maintain their health; some breeds require less activity than others. Therefore, when you are exercising, walking, swimming, playing, or engaging in other activities, don't hesitate to take your Bernedoodle along with you.
Can Dogs of Any Breed Become Service Animals?
The ADA does not specify what breeds of dogs can be service animals. A service animal is not limited to one or two specific kinds of dogs. Any breed of dog that has received particular training to do specific activities for a differently abled person qualifies as a service animal. Just like all dogs, service dogs come in a variety of sizes and shapes.
Bernedoodles service dogs range in size but usually fall into the small-to-medium category when assessed as service dogs.
Some small dogs are excellent at alerting their owners to emotional changes. Whereas some large dogs are excellent at giving support to people with mobility issues. All dog breeds can be trained to serve as support animals, even though some breeds may be more commonly used for this purpose than others.
Bernedoodle's Daily Needs
Bernedoodles can provide you with the best of both worlds because they enjoy being active outdoors (hiking, swimming, running, etc.) as well as cuddling up next to you. They should not be left alone frequently. Below we've discussed some of the general daily needs of this Bernese Mountain Dog and Poodle mix.
Bernedoodle Care
A Bernedoodle typically has a wavy or curly coat from its Poodle parent, which is great for people with allergies. However, occasionally, a Bernedoodle will have a straighter coat that resembles that of a Bernese Mountain dog. It will, therefore, shed more. This can be problematic for a dog owner who is allergic to pet fur dander.
A good Bernedoodle breeder will be able to predict the type of coat each puppy will have once the litter is a few weeks old to match the dog with its most compatible owner.
Although a curly-coated Bernedoodle is nearly hypoallergenic, it will also require more grooming. Keep this in mind when choosing a Bernedoodle service dog because hypoallergenic animals are more allergy-friendly in public settings.
Since Bernedoodles with curly coats don't shed much, they'll need to be brushed more frequently to avoid uncomfortable matting. Most doodles enjoy being brushed, and the practice helps owners develop a good relationship with their Bernedoodles.
Bernedoodle Health
A Bernedoodle can live for 12 to 18 years. Fortunately, unlike the Bernese Mountain dog, the hybrid breed does not typically have the same health risks. On the Bernese side of their family tree, the average lifespan is barely seven years, and cancer, hip and elbow dysplasia, heart illness, and epilepsy are very common.
But even though they are significantly healthier than the average purebred Bernese dog, they can nevertheless be predisposed to hip dysplasia, elbow dysplasia, ocular disorders, and some allergies.
Due to their thick coats, skin problems like hot spots are also very common with this breed of dog. Hot spots are usually brought on by excessive licking or chewing at a particular location. Because a Bernedoodle is more inclined to pick at its skin when its coat is unclean and matted, regular grooming is recommended to prevent hot spots.
Frequently Asked Questions
Do Bernedoodles make good service animals?
Bernedoodle service dogs are popular because they are intelligent and loyal. They also shed less than non-doodle breeds, and are very social.
Are Bernedoodles good therapy dogs?
Bernedoodles are very friendly and enjoy being cuddled by anyone. They are also very trainable, making them a great option as therapy dogs.
Are Bernedoodles calm dogs?
Bernedoodles are well-mannered when they are trained well. While they do need exercise and like to play, they are also very happy to cuddle up and enjoy a quiet afternoon with their family.
Conclusion For "Can a Bernedoodle Be a Service Dog?"
A friendly and intelligent breed, the Bernedoodle is well-suited to work as emotional support and other service dogs. They are easy to train for domestic services, but their clingy nature sometimes makes them anxious and makes them stubborn. A Bernedoodle service dog is smart enough to learn the tasks asked of them and typically calm enough to accompany their owner in public.
If this guide helped you get your answer about Bernedoodle being a service dog, check out these other articles:
To learn more about the Bernedoodle dog breed, you can watch "Bernedoodle Dog Breed Information – Are these Dogs High Maintenance | Bernedoddle Dogs 101" down below:
Garrett loves animals and is a huge advocate for all Doodle dog breeds. He owns his own Goldendoodle named Kona. In addition, he volunteers at the Humane Society of Silicon Valley, where he fosters dogs and helps animals. Garrett enjoys writing about Doodles and believes that dogs can teach humans more about how to live than humans can teach a dog.
Why Trust We Love Doodles?
At We Love Doodles, we're a team of writers, veterinarians, and puppy trainers that love dogs. Our team of qualified experts researches and provides reliable information on a wide range of dog topics. Our reviews are based on customer feedback, hands-on testing, and in-depth analysis. We are fully transparent and honest to our community of dog owners and future owners.